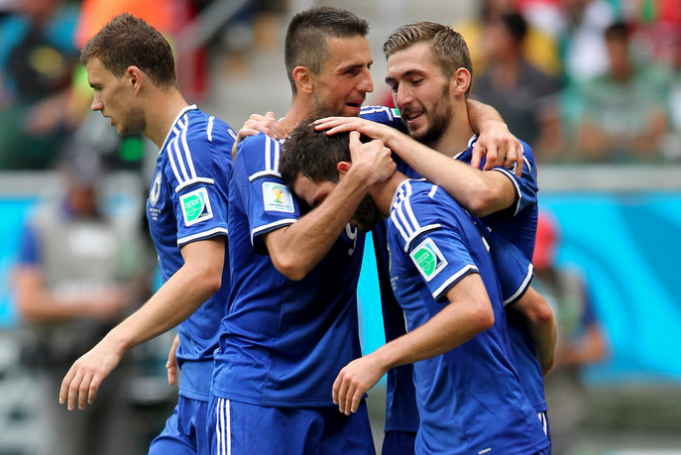 Bosnia finished third in Group F with three points won over Iran.

SBNATION
Bosnia-Herzegovina ended their first World Cup campaign with a win as they overpowered Iran in Salvador.
Kick-off: 5pm BST (UK time)
Group A, World Cup Game #2
- See more at: http://www.tsmbrazil.com/2014/06/WorldCup-Game2-MEXCMR_13.html#sthash.P8bOtK6q.dpuf
Bosnia-Herzegovina 3 - 1 Iran
Edin Dzeko (23'), Miralem Pjanić (59'), Reza Ghoochannejhad (82'), Avdija Vršajević (83')
Kick-off: 5pm BST (UK time)
Arena Fonte Nova, Salvador
Group F, World Cup Game #42

Bosnia subtly emerged as the frontrunners of the game after a slow start from both. Edin Dzeko's shot was saved and a dangerously-positioned free kick went astray in the first 15 minutes. Iran weren't exactly acclimatising themselves for a win.
Edin Dzeko would break the deadlock 23 minutes in. Rising free from a defender, his left-footer clipped the post and went in to put Bosnia ahead.
However, that lead may have lasted a mere 30 seconds, as
Masoud Shojaei hit the crossbar with his spectacular effort. Iran's first glimpse of attack in the game was the closest, non-scored chance yet. Five minutes later and Bosnia were looking concerned as Bosnia hurled an array of numbers toward them.
Iran's attacking would be limited and they would not score for the remainder of the half. After the interval the game followed a similar tone, slow and action-deprived.
Miralem Pjanic doubled the lead 10 minutes after the beginning of the half, as he stopped Edin Dzeko's pass and sweetly struck it past the keeper.
After the hour mark they almost made it 3-0, only for Kolasinac's cross to ricochet of a defender onto the frame of goal.
Reza Ghoochannejhad almost gave Iran a shout just moments later but dragged his shot wide. Seconds later, he would find himself free in front of goal to strike in and score Iran's first (and only) of the tournament.
Iran went from holding back, to putting too much in - almost instantly, Avdija Vrsajevic was on the end of an instant Bosnian break through and hit it across the keeper to keep it well out of Iran's winning potential.
Bosnia finished their campaign by registering a victory, eliminating an Iran fire that burned just for a few minutes - they both said farewell to Brazil in a tame contest.