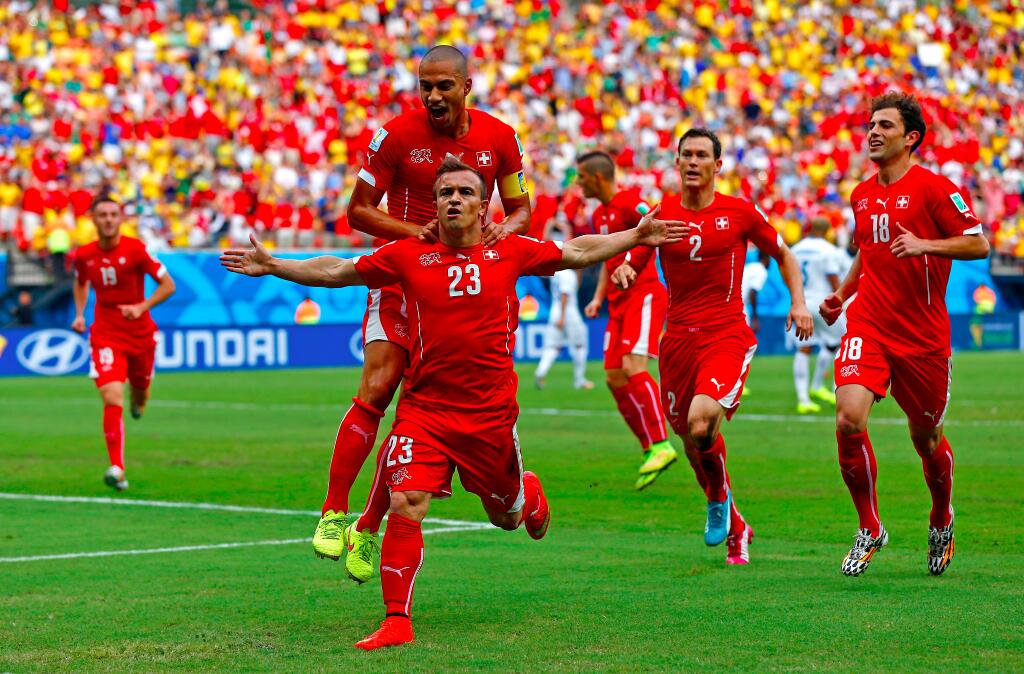 Super Shaqiri...

BEIN SPORTS
Xherdan Shaqiri scored the 50th World Cup hat-trick as he blitzed past Honduras in Manaus to put Switzerland through to the Round of 16.
Kick-off: 5pm BST (UK time)
Group A, World Cup Game #2
- See more at: http://www.tsmbrazil.com/2014/06/WorldCup-Game2-MEXCMR_13.html#sthash.P8bOtK6q.dpuf
Xherdan Shaquiri guided Switzerland through to the knockout stages, opening his delightful game with a beautiful curling goal, before masterful Suiss breaks in either half added up for the total. Slow out of the blocks, Honduras' improvement was eventually packaged and dispersed when Shaqiri completed his hat-trick in the 71st minute.
Honduras 0 - 2 Switzerland
Xherdan Shaqiri (6', 31', 71)
Kick-off: 9pm BST (UK time)
Group E, World Cup Game #41

Xherdan Shaqiri set the tone early for his marvellous performance, smashing in after just six minutes. A beautifully-struck curling ball from outside the box, drifting majestically into goal after his shot was smothered four minutes earlier. Switzerland would take the lead.
Honduras took time to get back into the game, but when they did it opened up.
There was also some, rather, comical issues with the pitch in Manaus, seeming to cruble open in certain areas.
An explosive run from Shaqiri would give both him and Switzerland a second goal after half an hour. His run was picked out well on the break allowing him to pocket it away at ease.
Honduras were strides better in the second phase of play. Palacios penalty appeal was the peak of their awakening, although the referee adjudged it as no penalty. Replays would make you think otherwise.
After the Hondurans continued to somewhat threaten, Shaqiri would complete his hat-trick as the final blow, picked out well by Drmic and making it easy for the Bayern man to bury it.