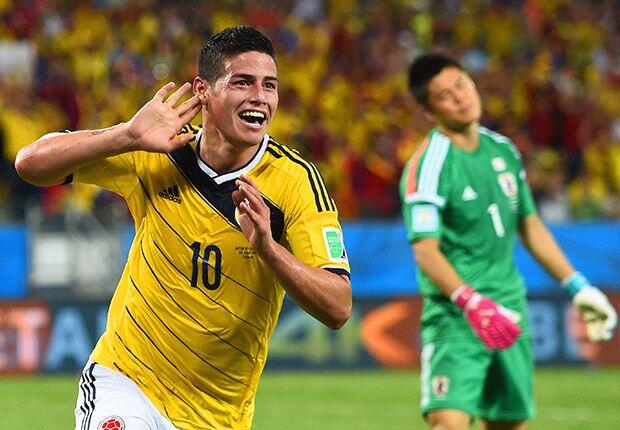 James jolts Japs with incredible performance
Kick-off: 5pm BST (UK time)
Group A, World Cup Game #2
- See more at: http://www.tsmbrazil.com/2014/06/WorldCup-Game2-MEXCMR_13.html#sthash.P8bOtK6q.dpuf
Juan Cuadrado (17' penalty), Shinji Okazaki (45+1'), Jackson Martinez (55' and 82'), James Rodriguez (90')
Kick-off: 9pm BST (UK time)
Group C
, World Cup Game #40
BY MATT LYNCH
Columbia steamrolled into the knockouts with a 100% win record after they powered through Japan in Cuiabá.
With Colombia making eight changes it was expected to be a fairly equal game but that was far off the make with Colombia throughout looking more dangerous.
After 15 minutes of toying with the Japanese defence, Ramos was sent sprawling by the defender to win a penalty, that was cooly put away by one of Colombia's big stars so far Cuadradro.
T
he Japanese rarely threatened up until 25 minutes when the recalled Manchester United man Kagawa forced a good save out of Ospina. Soon after they threatened again when Honda saw his sweetly struck free kick over the bar.
With the pressure building on Colombia and the half time whistle looming Honda sent in a delightful ball to the middle of the area where Okazaki put his head to the ball and placed it beyond Ospina.
Out for the second half and Colombia looked reinforced. With Jackson Martinez on he soon struck. Beating the defenceless Japan goalkeeper with a low shot from a astute Rodriguez pass. Rodriguez continued to pull the strings for the puppet you could say, as on 83 minutes he carved open a weak Japanese defence allowing Martinez to get his second and Colombia's third.
With the game dead and buried The Colombia manager made a magical moment in the World Cup history bringing on 43 year old substitute keeper Faryd Mondragon to become the oldest goalkeeper at a World Cup. Finally on the 89th minute James Rodriguez the main tormentor added Colombia's fourth with a finely worked goal.
Match breakdown
Man of the Match: James Rodriguez, the main tormentor
Flop of the Match: Shinji Kagawa, should have stepped up more than he did
Possession: Japan 56% - 44% Colombia
Shots: Japan 23 - 13 Colombia
Colombia will join Greece in the Round of 16.
With yet another superb performance, can we start to ask if Colombia can go all the way?