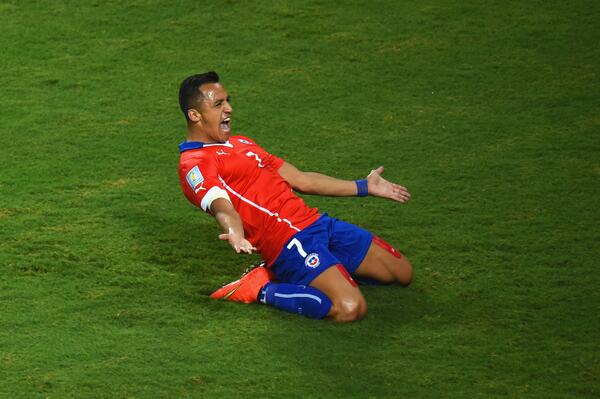 Chile proved that they are a threat to progress to the next stage

ESPN
Chile's early blitz was enough to keep the Aussies trailing as they began their campaign with a win over the Socceroos.
Alexis Sanchez (12'),
Jorge Valdívia (14'), Tim Cahill (37'),
Jean Beausejour (92')
Kick-off: 11pm BST (UK time)
Group B, World Cup Game #4
Australia and Chile met around an hour after a shocker in their group, which saw Holland blitz past Spain, sending shockwaves throughout the tournament. With those dramatic events now unfolding, an opportunity was vacant for one of the sides to take it.
The Socceroos failed to acclimatise to the game allowing Chile to exploit early on. Following successive chances, Sanchez and Valdivia put the Chileans up by two.
First, Charles Aranguiz prompted a spot of trouble for the Australians, breaking into the box and dipping a cross over. After the Aussies failed to clear, it fell towards Alexis Sanchez who rattled home for the opener.
Chile cemented into cruise mode with Sanchez exploding in a surging run down towards Validivia, who took one touch before slotting home. Chile were flying.
Spearheaded by Tim Cahill, the Australians would hold tight up against remaining turbulence to keep the deficit at two. The former Evertonian would rise high to score a delightful towering header to put his side back in it. Cahill, springing up from the box, met Franjic's troubling cross to put the game back on.
Game over, to game on.
The second half progressively opened up. Near to the hour mark, Tim Cahill towered high once again but was up and over the target.
Just after the hour mark, the Australian Wilkinson cleared it off the line in the nick of time, just as Vargas' lobbing attempt went towards goal and almost put the game out of Australia's grasp.
Australia did open up the second half as the strongest of the teams, though Chile were able to put their spin on the outcome while the Aussies were shorthanded on width.
Chile finished off the big win as Jean Beausejour struck the ball from long-out, capitalizing on the parried save that came towards the Wigan player. It would be marked as Chile's night.
Even when riding their luck, when it seemed they were going to run away with it, they managed to keep enough of an edge to comfortably win the game.
Australia though, showed their intent to put on the best effort possible and did make a challenge for Chile.
After a dramatic day, Group B is all so suddenly a blur. All is for the taking.
It's Chile's win. The South Americans would be the ones mining down under for the victory this time round.