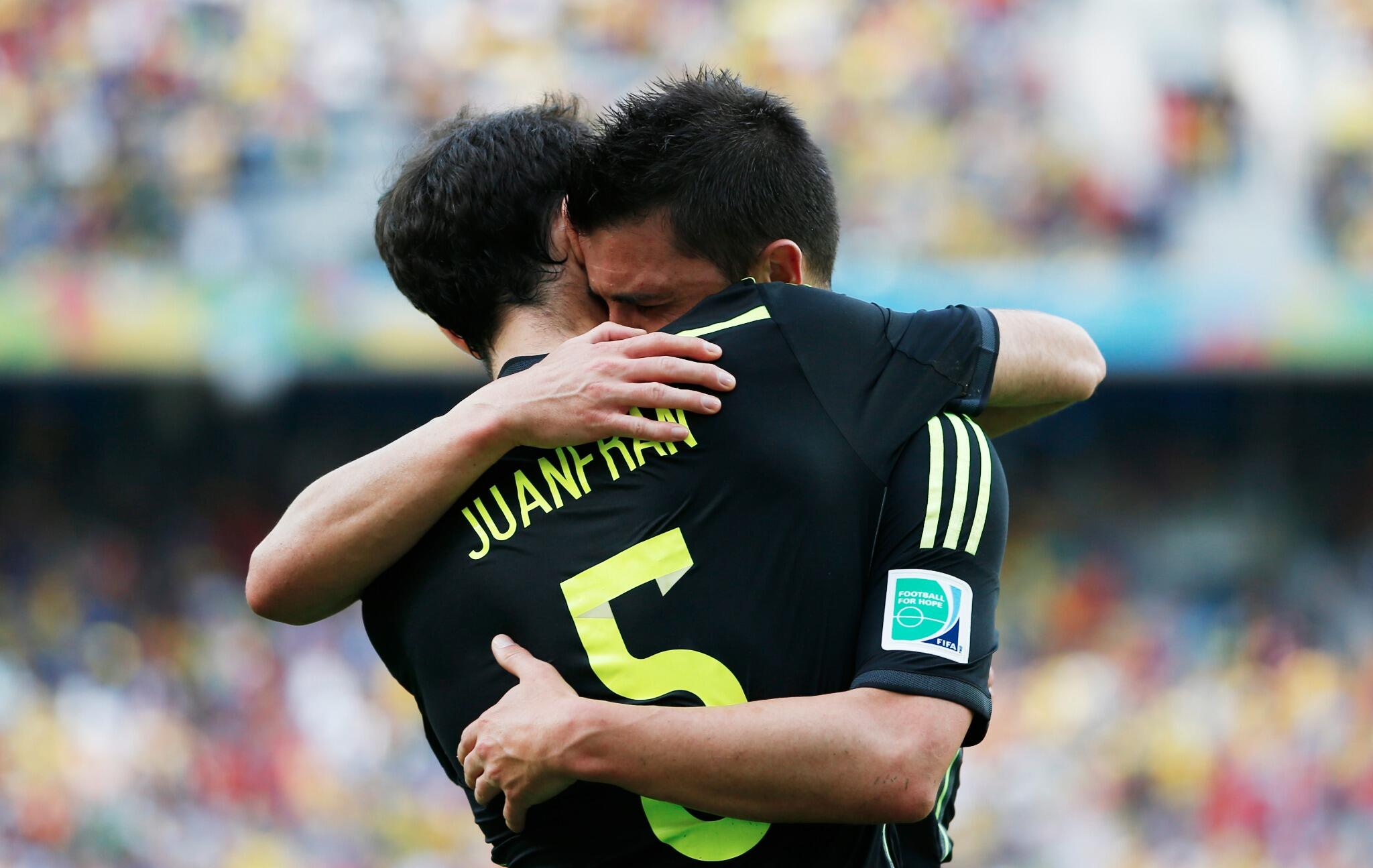 David Villa played his final game for Spain

THESCORE
David Villa, Fernando Torres and Juan Mata struck past Australia to ensure Spain ended their torrid campaign on a positive note in Curutiba.
Kick-off: 5pm BST (UK time)
Group A, World Cup Game #2
- See more at: http://www.tsmbrazil.com/2014/06/WorldCup-Game2-MEXCMR_13.html#sthash.P8bOtK6q.dpuf
David Villa (36'), Fernando Torres (69'), Juan Mata (82')
Kick-off: 5pm BST (UK time)
Arena da Baixada, Curitiba
Group B, World Cup Game #33

A drastically-changed Spanish team dictated the opening of the match, passing it around at their discretion and building up. Villa snatched at an early chance, Iniesta's free kick fizzled off target and on the other end, Reina collected long balls at ease. Spain were portraying glimpses of their renowned play, while Australia rushed.
Spain would emulate some of their finest play, but did so in the combination of lacklustre defending. Juanfran breached into the box and squared the ball to David Villa, in plenty of space, back-heeling the ball into goal.
At the half, the sides were separated by Villa's goal. Spain were controlling although the Aussies were never too far away.
David Villa sustained a knock approximately ten minutes into the second half and was subbed off for Juan Mata - that would be the last time we'd see David Villa in a Spain shirt. A prolific career ends how it played out, with a goal. More: David Villa Ends Spain Career
Australia seemed less motivated as the second half progressed. There was more space, allowing Spain to do what they do best.
Iniesta orchestrated the move for Torres to bag Spain's second, putting through the forward and allowing him to slot it past the keeper.
Spain would turn into cruise mode, easing past the Australians.
Match breakdown
Man of the Match: Andres Iniesta
Flop of the Match:
Mathew Ryan
Possession: Australia 43% - 57% Spain
Shots: Australia 3 - 8 Spain
Ready to Rebuild
At least Spain's whole campaign is not devastating - this win will do great measures in ensuring a much better bounceback at the Euros.
Aussies Run Out
Australia had been so entertaining over the course of the World Cup - but in this game they lacked, and were just too many steps behind.
Passing Prominence
Spain did just that, as they reverted.
Australia finish bottom of Group B, while Spain's win puts them third and registers points.
With nothing to be played for, motivation was low and at times the game was sombre, but both have a lot of work to do.