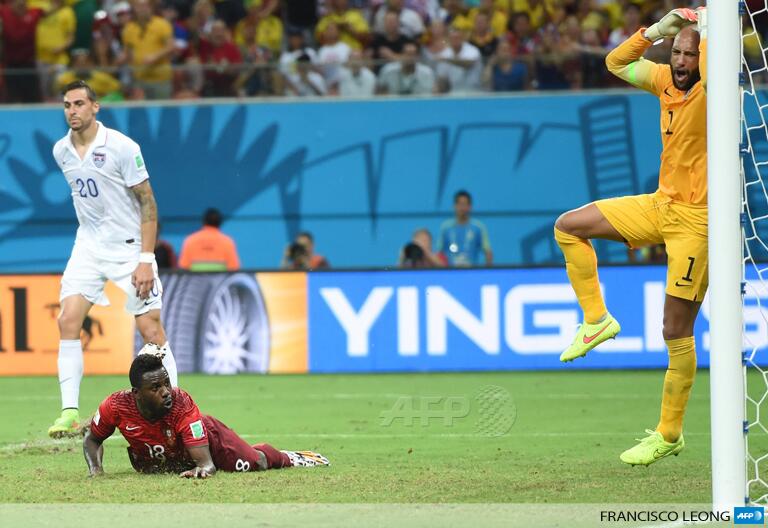 Silvestre Varela scored a 95th minute header to etch despair into the Americans and give Portugal a fighting chance to progress.
Kick-off: 5pm BST (UK time)
Group A, World Cup Game #2
- See more at: http://www.tsmbrazil.com/2014/06/WorldCup-Game2-MEXCMR_13.html#sthash.P8bOtK6q.dpuf
Nani (5'), Jermaine Jones (64'), Clint Dempsey (81'), Silvestre Varela (95')
Group G, World Cup Game #32
Portugal would make their first indent on the game just five minutes in, as Man United man Nani binded on to a USA error, as Jeff Cameron mis-cleared towards his path and allowing him to smash it across Tim Bradley and open the scoring.
The Americans were slightly shifted for the few moments that followed, but managed to recollect themselves. Clint Dempsey marked the first significant USA goal effort, as his shot fizzed over the bar.
Hélder Postiga was soon subbed off for Eder, adding to the concerning list of Portugese injuries. Meireles was also in need of treatment after being struck in the face by Beckerman, but he would be able to continue.
USA were gradually able to force the game into equilibrium, with Bradley smashing over as a result of a high pressure spell. Soon after, Dempsey caused more danger within the penalty area, breaking down the right hand side, forcing Costa to block the shot. Nothing would come from their first corner of the game. A few moments later, Michael Bradley's weak shot just trotted wide of the post, but Portugese keeper Beto could easily have been beaten.
It was the Americans who really developed some good football, again, another break, orchestrated by Clint Dempsey, saw Fabian Johnson register another effort. The full-back's shot had plenty of power but not the precision to give him his 2nd national goal.
Oddly enough, for all of Portugal's substantial resources, USA had room to play. Jones was next to try but his shot came easily for Beto's collection.
With the humidity taking its effect on the players, a water break ensued as Jones was treated for a minor injury. Moments in, Ronaldo broke away, feeding Nani for a shot, denied by Howard's blockage. A free-kick from Ronaldo was in ideal territory, but went soaring harmlessly over the bar.
Tim Howard's heroics were raised when his double save kept the USA in it on the stroke of half time. First, he tipped Nani's long range shot onto the post, before having to re-adjust himself in a dive to tip over Eder's looping shot.
USA would start strong in the second phase, as Ricardo Costa was forced to make a hefty goalline clearance from Bradley's shot, after Dempsey tore through the Portugese. Soon after, Dempsey put Johnson round with a nice backheel, but it was headed out. Eder was finely tackled by Cameron to halt the Portugal counter.
Portugal came again, after dispossession in the middle of the park, but this time Ronaldo's shot on goal hardly affected Howard, drifting on a tangent towards the stands, uncharacteristic to the prolific CR7 we all know.
USA would equalise, very soon.
A corner kick trickled out towards Jermaine Jones, adjusting himself to belt it into goal and put the Americans on level terms. An incredible strike.
The action would hardly simmer down, however, as Raul Meireles was emphatically thwarted by Tim Howard on a half-volley attempt after Portugal threatened on the break.
A goal was becoming imminent with minutes remaining. Portugal threatened, but it was a USA break that would pay dividends.
Clint Dempsey bellied in, from close range, to put America back in it. A deflection fell to a fortunate short cross allowing Dempsey to run it into goal.
TSM

iNPUT

- Great game! End-to-end stuff. USA really rallied in a perfect counter to catch Portugal out when they were least expectant. Considering the conditions, it was outstanding. On a side note, it's great to see the sport really taking mainstream stateside.
Was it all over? Five minutes of stoppage time would suggest otherwise.
Portugal had a promising spell of pressure - but it ended with Ronaldo's header going astray.
Then, then...
Eder dispossessed, sought to Nani who put through Ronaldo - then Ronaldo's cross was inch perfect to Silvestre Varela, scoring an equalizing header to tie it all up.
That's a World Cup moment.
"@TheWorIdCup: Varela's equalizer at the last minute of stoppage time! https://t.co/212AkQN6Fm" I can watch this over and over again
— Tori (@Tooooorrii) June 22, 2014
Match breakdown
Man of the Match: Clint Dempsey
Created many chances early on and scored the vital goal, before being subbed off and drawing. Excellent captain.
Possession:
USA 48% - 52% Portugal
Shots: USA 15 - 20 Portugal
Howard Redeems Himself
Tim Howard made it much easier for Nani to fire home for Portugal's opener, as he went down quickly leaving a big target. However, later in the half his phenomenal double-save was testament to his ability and more importantly kept USA with a fighting chance over the interval.
Counter
Portugal, for a real bulk of the game, were countering on the USA, but none would prove to have the conviction to score.
Dempsey Leads
Clint Dempsey is proving to be the talisman that could lead USA to unexpected success.
Ronaldo's Wait, Not Over
It's been a tough World Cup for CR7 - the highlight, his skill in the opening moments of the game, taking out four or five players. He'll have to rely on his club performances to cement his legacy, surely. Then came the 95th minute equaliser.
Wow, just wow, phenomenal...
Lost for words. 95th minute?! Yes, 95th minute. Epic.
Portugal leave it late, but show they are far from done. Manaus' tough conditions cannot stop these two teams from putting on a dazzling show.