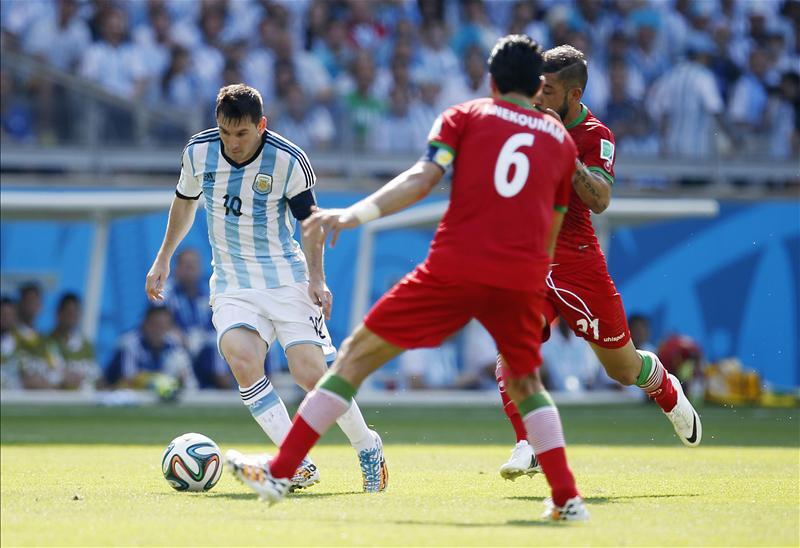 Argentina needed magic to outdo Iran

SQUAWKA
Lionel Messi broke Iran in stoppage time to seal three points and diffuse frustrations for Argentina in a dramatic clash in Belo Horizonte.
Kick-off: 5pm BST (UK time)
Group A, World Cup Game #2
- See more at: http://www.tsmbrazil.com/2014/06/WorldCup-Game2-MEXCMR_13.html#sthash.P8bOtK6q.dpuf
Estádio Mineirão, Belo Horizonte
Group F, World Cup Game #27
Iran keeper Maghighi had to make a top quality save just twelve minutes in to deny Gonzalo Higuain, put through by Gago and saved well. It was the first chance from a riveting start from the South Americans, troubling Iran and forcing them to reinforce an array of numbers behind the ball.
Satisfaction, in brief, was felt by Iran who held up against the onslaught. Argentina's counter-attack from a corner kick was a stern warning of their sheer attacking power.
Alireza Haghighi was forced into action later on to deny Sergio Aguero. An excellent play to manoeuvre through the packed defensive setup saw the Man City man curl it towards goal, only to be denied well. Minutes later, Marcos Rojo squandered a chance to head Argentina in front.
Iran became more permeable for Argentina, but still they couldn't find anything. Di Maria was cut out and Messi was stopped in his tracks. Messi's free-kick shook some hearts for Iran but beat the bar, as well as the keeper.
There was around ten minutes left of the half and, for all their efforts, Argentina were still on level and goalless terms with Iran. Messi picked out Garay with a prompting ball but he couldn't find a goalscoring header to compliment it.
Iran's closest chance came through Hosseini, whose header from a corer kick went over. Argentina could very well have been down.
Frustration was abundant for Argentina as they made their way off the pitch. Iran breathed sighs of relief and somewhat disbelief as they kept on level terms. Argentina had been stuck with the barrage of red Iran shirts - they couldn't get through or test enough. Messi was limited to his magic too as they had numbers around him. Game plans were in need of altering.
It was Iran who were quicker out of the blocks for the second. Reza Ghoochannejhad's header was denied by Romero's save after Iran broke away and got a cross off. Soon after, Dejagah had a viable penalty appeal when he believed he was impeded by Zabaleta. Iran were beginning to enjoy the game.
Argentina sent off some alarm bells though as Messi was free to run down and get a shot off, but it went stray of the post.
Things were frantic, things were slightly more open and things were frustrating for both.
Argentina's chances, including a free-kick and headers, all withered to little as stoppage time was approached. Palacio could have buried it with a header but missed.
Then, Reza Ghoochannejhad had another huge ch
ance, breaking down the left but blasted it straight at Romero.
Four minutes of stoppage time were issued.
In the first, Lionel Messi would diffuse all frustrations.
Touching it to his left, he curled it past Haghighi's reach and scored a terrific goal for the winner.
Finally, Iran were broken. It took over 90 minutes.
Match breakdown
Man of the Match: Lionel Messi
Flop of the Match:
Reza Ghoochannejhad
Possession: Argentina 70% - 30% Iran
Shots: Argentina 8 - 4 Iran
Iran Pride
Iran have nothing to be ashamed of with an incredible effort, gutted for them.
Learning Curve
Argentina had to dig deep through frustration and doubt to get the winner.
Argentina qualify for the second round. Magical from Messi.
It took some doing to undo the Iranians. It's Messi's day, can he lead Argentina further in Brazil?