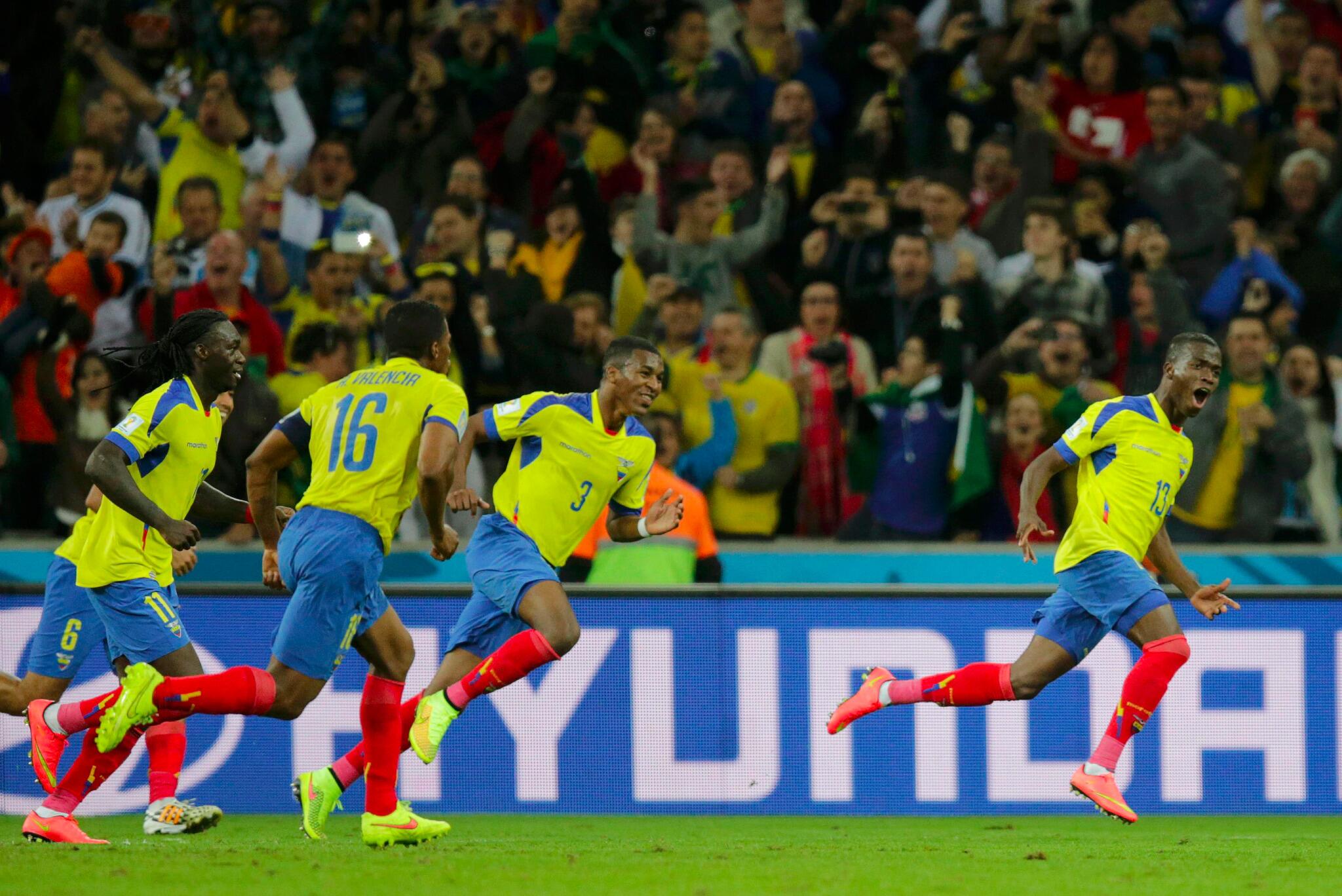 Valencia has emerged as the frontrunning scoring supply for the Ecuadorians

FOX SOCCER
Enner Valencia scored twice in response to Honduras' earlier goal to put Ecuador back in contention for second round progression.
Kick-off: 5pm BST (UK time)
Group A, World Cup Game #2
- See more at: http://www.tsmbrazil.com/2014/06/WorldCup-Game2-MEXCMR_13.html#sthash.P8bOtK6q.dpuf
Carlo Costly (31'), Enner Valencia (34', 65')
Arena da Baixada, Curitiba
Group E, World Cup Game #26

A game between the bottom two sides in group E never really looked like a game to stay up for on paper. But in reality it turned out to be a tasty contest.
I
n the early exchanges Caicedo Manchester City legend... Let fly twice in the opening minutes with one strike being well saved by Dominguez the other deflecting of a Honduras man. Honduras looked on edge with Bernadez going into the referee's book after only eight minutes for hammering into the Ecuadorian man.
Momentum kept with Ecuador with Enner Valencia wasting a good opportunity after latching onto a quick ball by his goalkeeper.
This proved to be costly, quite literally when the Honduras keeper played a long ball straight onto the chest of Carlo Costly who finished with great composure against the scrambled Ecuador keeper on 31 minutes.
The Honduras lead did not last long as on 34 minutes they were punished where Enner Valencia was saved more embarrassment by slotting home a wayward Paredes slice of a shot. The bombardment of the Honduras goal soon happened after the goal with the power certainly in Ecuador's favour.
On the stroke of half time Bengtsons bundled in goal was disallowed rightfully by the Australian referee.
Going into the second half Ecuador scorned some vital set pieces. But soon made Honduras pay with the red alert coming before the winning goal when once again Bengtson was a goal disallowed. But soon after Enner Valencia made it a brace for him and Ecuador with a world class header from a pin point cross from a free-kick.
With the game flung open, Valencia was denied his hat trick in stoppage time with the flag once again ruling another Ecuador goal out. Ecuador could of had a bag full, in a game that was like a rugby match. Physical, feisty, and aggressive.
Match breakdown
Man of the Match:
Enner Valencia, 5 goals in his past 5 games his confidence is rocketing.
Flop of the Match:
Honduras were very poor in general. But for an individual it has to be Bengtson, having a goal disallowed once is understandable but twice is not right.
Possession:
Honduras 16 - 9 Ecuador
Shots:
Honduras 47% - 53% Ecuador
Ecuador pick up a big win in Group E elevating them to possibly challenge Switzerland.
Ecuador express their character through Enner Valencia's double that turns their game around - and puts them back in contention.