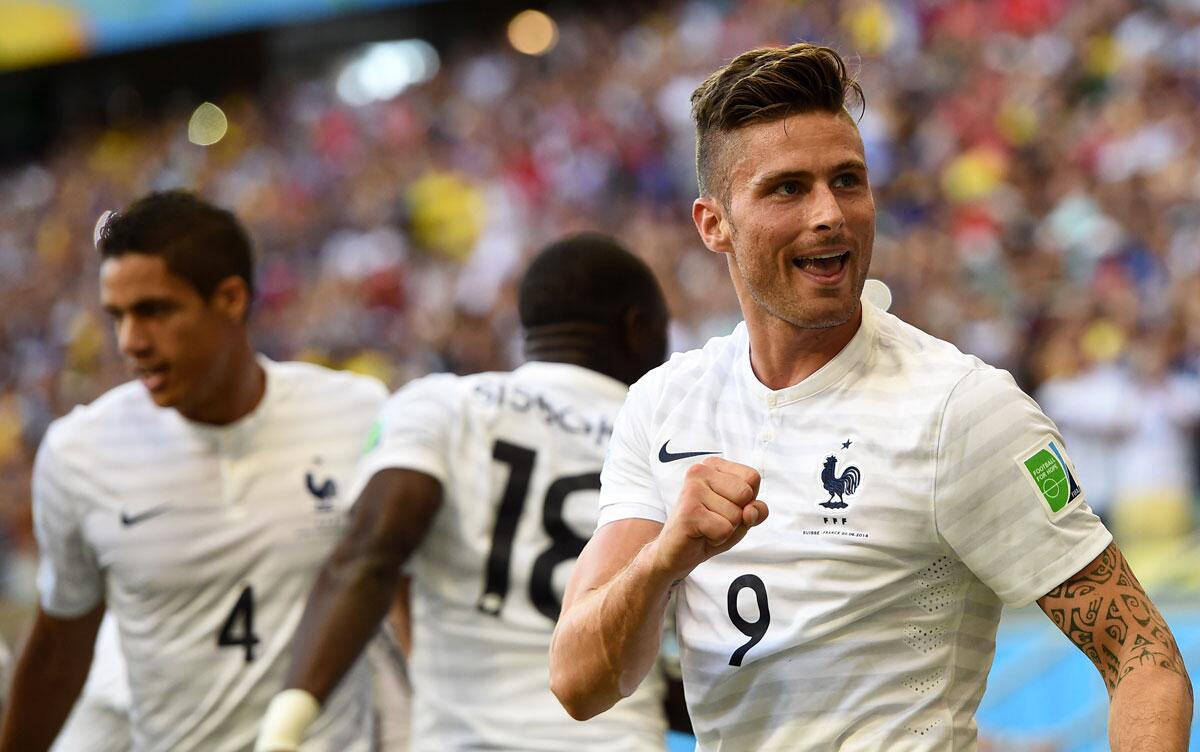 The Euro 2016 hosts dismantled Switzerland with a blistering performance
France raided Switzerland in an exhilarating clash in Salvador as Benzema, Giroud and teammates thrashed them emphatically.
Kick-off: 5pm BST (UK time)
Group A, World Cup Game #2
- See more at: http://www.tsmbrazil.com/2014/06/WorldCup-Game2-MEXCMR_13.html#sthash.P8bOtK6q.dpuf
Olivier Giroud (17'), Blaise Matuidi (18'), Mathieu Valbuena (40'), Karim Benzema (67'), Moussa Sissoko (73'), Blerim Džemaili (81'), Granit Xhaka (87')
Arena Fonte Nova, Salvador
Group E, World Cup Game #25

Karim Benzema registered the first significant chance as his right-footed shot fizzed over the Swiss goal, culminating a delightful sequence of play from France.
Switzerland would be obliged to dig in to their substitute resources early on, as Steve von Bergen required treatment for a nasty-looking facial injury. Former Arsenal man, Philippe Senderos replaced him for the centre-back role.
France's initial approach to the game prepared Switzerland - the 1998 World Cup hosts were intending to control possession and create chances. Cabaye blasted over to end an early buildup. Switzerland showed their threats on the counter, forcing the white t-shirts of France to scurry back.
France won a corner after Djourou poked out Giroud's cross. However, Giroud would tower above others to meet Valbuena's corner and head it into goal, too strong for Benaglio to push out. He proved himself as a valuable asset for Deschamps side.
Less than half a minute later, Blaise Matuidi would double the lead as Switzerland were dazed. 13 seconds from the restart, Benzema picked up a dispossession and played through Matuidi who was completely unchallenged powering down the left. Matuidi crept it past Benaglio with a first time shot to the near post.
France scored their 100th and 101st World Cup goals to break the milestone in less than a minute.
Switzerland managed to slow the tempo down for the next couple of minutes but that would not stop Karim Benzema, while later giving France a stern warning that their counter attacking is prolific, as Shaqiri hit on the rebound of Lloris but it crept inches past the post.
Karim Benzema surged down the left just moments after and broke into the box. He was however fouled clearly by Djourou and a penalty was awarded. Benaglio made a great save to deny him to the bottom left, before it rebounded out to Cabaye who hit the bar on the half volley from 3 inches out. A huge chance was squandered.
Karim Benzema has a penalty saved, Yohan Cabaye follows up with possibly tournament's worst miss yet. #fra https://t.co/ySr6dOCBRi
— Bleacher Report UK (@br_uk) June 20, 2014
France mastered an intense counter-attack to avenge the missed penalty. Varane picked out Giroud who surged down the left after a Swiss corner, and Valbuena was free in front of goal to smash in. Magnificent.
Half-time was salvation for Switzerland in need of a break, while acknowledgement time for France's flying start.
It would develop into a more frustrating outing for the Suiss - constant chances were cut out and France bossed the game.
Mahmadou Sakho was subbed off for Laurent Koscielny after acquiring a minor injury, limping off.
Benzema ensured the scoring rampage would not be over. A ball lofted over the box was not cleared away by Benzema, getting through and tucking it past the keepers legs at the near post.
Soon after, France's football beauty would be further exemplified - as Moussa Sissoko was found free on the left and slotted it past the keeper. It was five.
Switzerland though would take a sweet constellation as Blerim Džemaili fired through the wall with a free-kick, beating Lloris in the bottom corner. He becomes the first player to score a free-kick in the tournament.
Granit Xhaka would continue the goalfest with an incredible first time volley to beat Lloris in the 87th minute. Simply extraordinary.
France conceded two great goals but it was absolute clockwork.
Benzema hit an extraordinary goal at the end but it did not count as the final whistle was already blown.
Benzema scored the goal of the tournament but referee with full time whistle seconds before his shot http://t.co/NHghCGkpR7
— Football Vines (@FootballVines) June 20, 2014
Match breakdown
Man of the Match: Karim Benzema
Flop of the Match: Phillipe Senderos
Possession: Switzerland 54% - 46% France
Shots: Switzerland 16 - 22 France
Combined shots on target: 24
Quick Recap
- France fire two within thirty seconds, Giroud and Matuidi
- Von Bergen off injured
- Shaqiri shot creeps past post
- Benzema misses penalty after being fouled by Djourou
- Cabaye hits bar from rebound
- Valbuena smashes in as Giroud leads counter attack
- France add in second half, Benzema, Sissoko
-
Blerim Džemaili fires long-range free kick, Xhaxa adds Switzerland second
Exposed Vulnerabilities Left Wing
Switzerland were vulnerable in the flanks but most especially the left, where two goals were created in the first 45. Narrow play from Switzerland allowed France to run freely at them. They struggled to block them off in the second.
France's Beautiful Game
I could honestly watch France play football for days. It is amazing. Entertainingly sublime.
Game of the tournament?
What a game of football. Extraordinary. France's five-star performance and just full on action.
What a game. Catch your breath because that is some of the best football you'll ever see.
France raid the Swiss in a phenomenal game. Superb, thrilling stuff. They have qualified in some style.