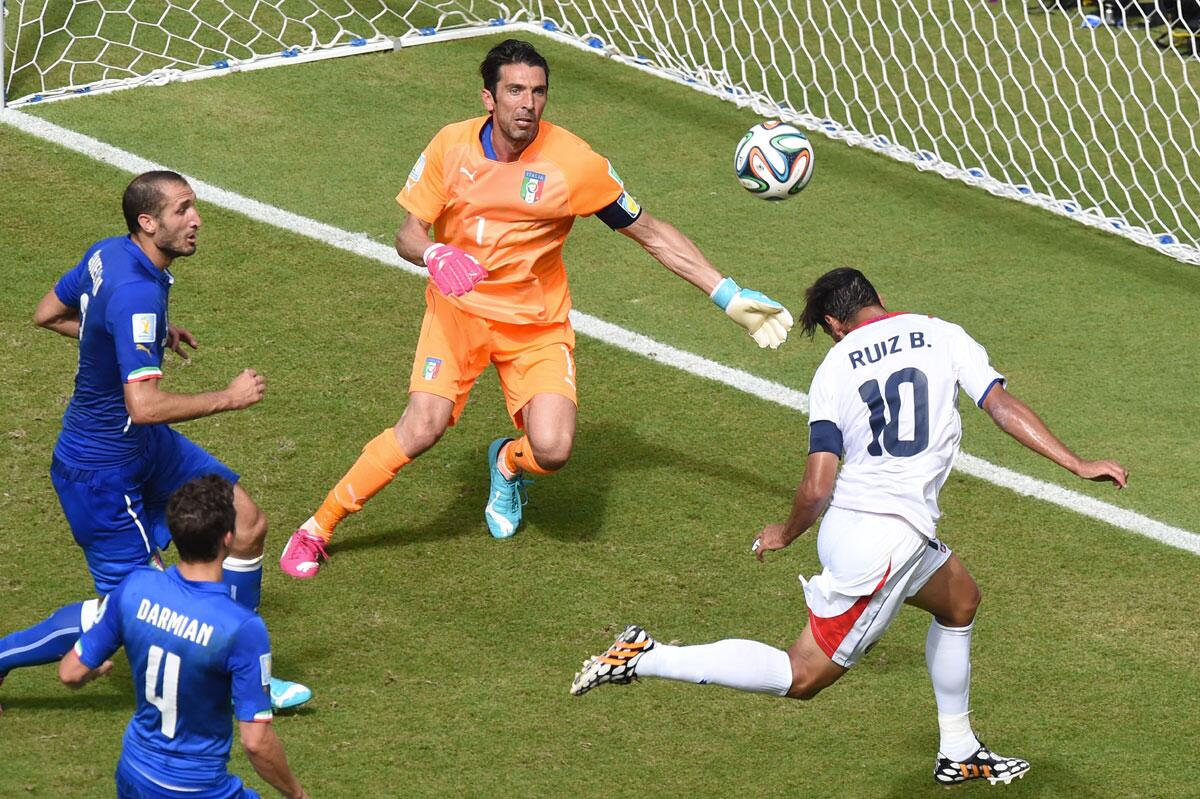 Ruiz heads Costa Rica through

SOCCER.COM
Bryan Ruiz scored a late first-half header to mark a unprecedented triumph for Costa Rica as they halted a poor Italian side to stun Group D.
Kick-off: 5pm BST (UK time)
Group A, World Cup Game #2
- See more at: http://www.tsmbrazil.com/2014/06/WorldCup-Game2-MEXCMR_13.html#sthash.P8bOtK6q.dpuf
Group D, World Cup Game #24

Gialungi Buffon was back in the side, although he was nowhere to be seen when Celso Borges' header went soaring over the bar. It was part of a positive start from the Costa Ricas, who kept Italy at bay for the opening action.
For all of Costa Rica's control, they could not conjure up a goal. There were plenty of wholesome tackles with Italy feeling the impact.
Balotelli, after being knocked down in a big challenge, came close with two quick chances. First, the Italian maestro Pirlo put him through but his chip went wide, and the second saw his volley hit straight at Costa Rican keeper Navas.
Cristian Bolaños sent out another warning on behalf of the Caribbeans, forcing Buffon to push his long-range shot wide.
As the first half drew to a close Joel Campbell had a very good penalty appeal when he was clearly clipped on a surge into the box. Stonewall penalty in my opinion, Thierry Henry's, yours, everyones, except the referee.
Costa Rica would however get what they deserved, the goal. A lovely ball through pinpointed Bryan Ruiz who headed the ball past Buffon and put Costa Rica up ahead for the remainder of the first.
TSM

iNPUT

| Well, well. It's Costa Rica, of all teams and underdogs, pulling off the shocks. They definitely deserved to lead going into the break. Gialungi Buffon was unstable and uncomfortable, punching out corners that could have been easily caught. Balotelli would have rued the chip over the half time break. As for Pirlo, this stat says it all: Pirlo had only 33 first half touches vs Costa Rica, compared to 70 against England. Costa Rica deservedly lead, Italy not good enough.
Italy needed urgency and conviction in their play - yet in the early goings they would be starched of it.
Balotelli was booked, Italy were limited. Costa Rican work ethic was prevailing.
Moments after Bryan Ruiz was subbed off, Pirlo set up Insigne for a volley but he smashed way over the bar. Time was quickly running out.
Costa Rica continued to work and even threatened but were cut down in late stages. Italy's poor play made up for the win.
Brenes almost doubled the lead with a curling shot, attained from a throw-in. Buffon's goal was threatened.
The final whistle blew to mark a deserved win for Costa Rica.
TSM

iNPUT

| Incredible by Costa Rica. Being an England fan I'm gutted we're out but so happy for Costa Rica. Out of all the Group D teams they were the ones I expected to be thrown around. Italy simply had no answer.
Match breakdown
Man of the Match: Bryan Ruiz
Flop of the Match: Mario Balotelli
Possession: Italy 56% - 44% Costa Rica
Shots: Italy 11-9 Costa Rica
Flag Up, Flag Up
This game was full of fouls. Italy were on the ground throughout and didn't look enthusiastic at all. Fouls, fouls, fouls..
Italy's Energy
Italy were hardly energetic. They were sluggish and lackadaisical. Costa Rica's challenge was easier than expected.
Costa Rica Pull Off Upset
Costa Rica limited Italy to 0 goals in the game - the first time Italy have failed to score in 90 minutes of the World Cup finals since France 98.
England Eliminated
England cannot qualify for the next round of the World Cup. Hope will have to be reserved for next time.
Clinical Costa Rica
Costa Rica were superb. They worked throughout the clock and everyone showed the desire to win making for an unbelievable triumph. Hats off to them, they deserved it.
Costa Rica are the first to qualify from Group D - who would have thought?
They simply outplayed the Italians.
A World Cup moment to remember - Costa Rica qualify for the Second Round. It's an unforgettable triumph for a deserving team.