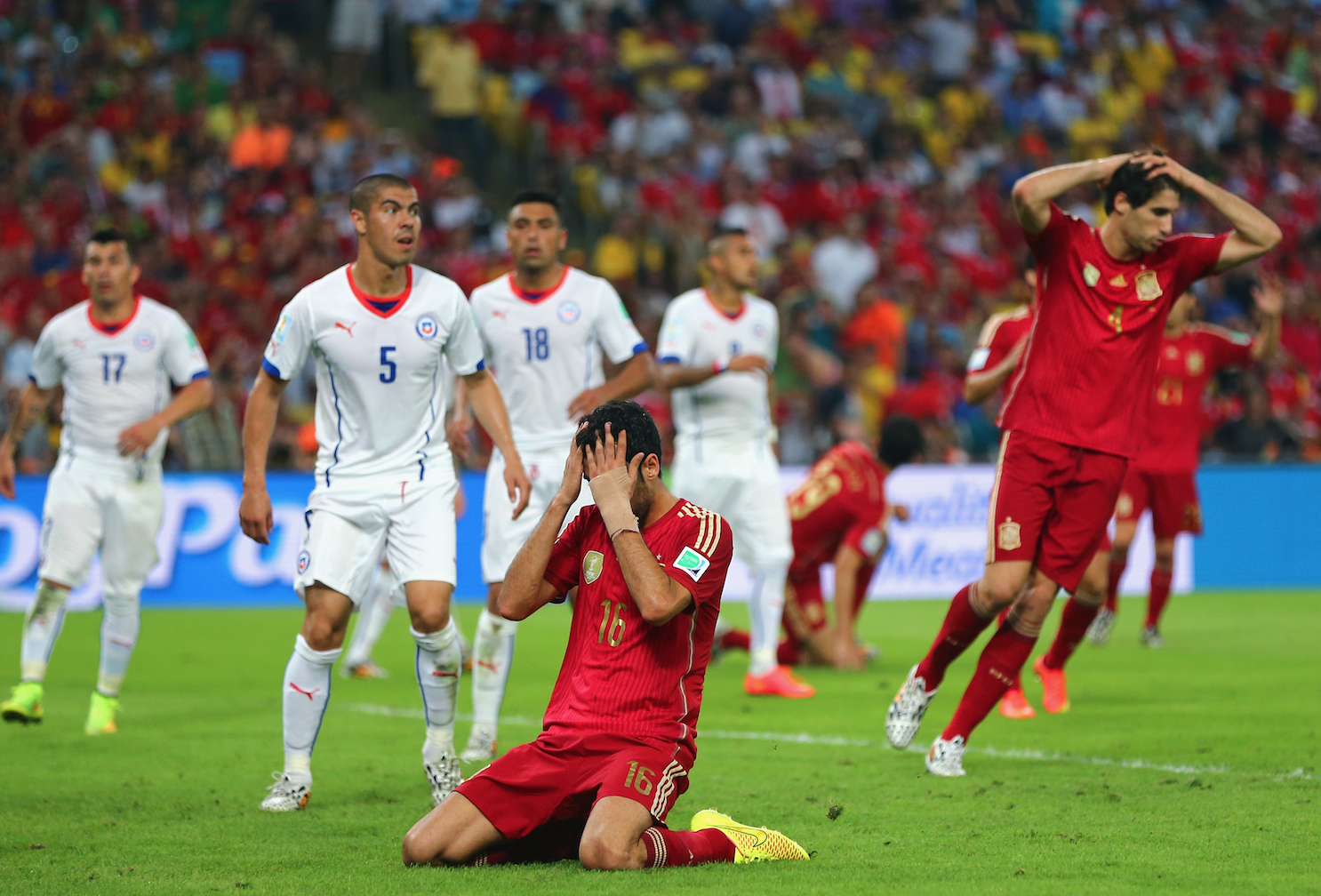 Spain plummet out, with back-to-back losses. Who would have ever thought?
BY MIKEY
Eduardo Vargas and Charles Aranguiz both struck home for Chile as the underdogs thwarted a lackluster Spain to send the World Champions crashing out of the 2014 World Cup.
Kick-off: 5pm BST (UK time)
Group A, World Cup Game #2
- See more at: http://www.tsmbrazil.com/2014/06/WorldCup-Game2-MEXCMR_13.html#sthash.P8bOtK6q.dpuf
Eduardo Vargas (20') Charles Aranguiz (43')
Estádio Maracanã, Rio de Janeiro
Group B, World Cup Game #19
After a crushing 5-1 loss to The Netherlands, Spain were looking to get back to winning ways, but a young, speedy Chile team denied the defending champions as Eduardo Vargas and Charles Aranguiz both scored to shockingly send Vincent del Bosque and Spain crashing OUT of the World Cup in Rio de Janeiro.
15 minutes into the game, after a mistake from a Chile defender, Spain counter attacked, the ball went to Diego Costa, but he took it a bit too wide, and rushed his shot. The ball was parried, Iniesta kept it in and fed Alonso for a shot but was saved by the Chile goalkeeper.
After superb play, Chile struck first as they caught Spain on the counter, with Vidal making the run on the right, he whipped in a low cross, there was a bit of a squabble in the box, it fell to Eduardo Vargas, and he poked it past Iker Casillas into the Spain net, making it 1-0 to Chile.
After a short Iniesta free kick at 26 minutes, the ball was passed, crossed in, David Silva flicked the ball in the air, it fell to Diego Costa, and the Spaniard struck the ball in the side netting, squandering a great chance.
Half an hour gone, and Spain were still trailing by a goal to nil. The Spaniards had more possession but they weren't making most of their chances. At this point, if Chile defeated Spain, Del Bosque's team would be OUT of the World Cup. But all in all, nothing much for the Spanish supporters to cheer about.
The ball was mostly but not all the time in the centre of the pitch, as Spain were looking to break Chile down, but they were unsuccessful. Chile were often putting pressure on Spain, causing them to make mistakes. Xabi Alonso was guilty of that, as he was sloppy in the first half, delivering poor free-kicks and losing the ball a lot.
Xabi Alonso was booked 40 mintues into the game, with a poorly executed slide tackle, lunging in with two feet, taking the Chilean playing to the floor Very naughty tackle as Alonso and Spain's frustration grows.
A few minutes away from half time, shock was among the Spanish players, as Chile doubled their lead. After a free kick was parried, it came out to Aranguiz, he toe poked the ball, and to everyone's surprise, creeped in to the Spain goal. Iker Casillas should have easily caught it, but he dived and just missed the ball. Spain look mentally and physically drained.
The defending World Champions are in big trouble. If the result stayed the same, Spain would be on their way out of the 2014 World Cup.
A few minutes into the second half, Iniesta slides a great ball through to Diego Costa, but he fails to put the ball away, as his shot is parried by the Chile keeper. Costa looking frustrated and un-sharp.
Spain miss a golden opportunity as Diego Costa's overhead kick travels accross the face of the goal, only for the ball to drop to Sergio Busquets (who hasn't scored for Spain in his 67 international appearances) puts the ball wide and past the post. It's not just Spain's night. Frustration increasingly growing as there's only half an hour left to keep their World Cup campaign alive.
After a great Chile breakaway, the ball fell to Isla on the left, and he scuffed his shot at full stretch over the bar. Great chance to score and make it 3-0.
A late chance for Spain just 10 minutes before full-time, Iniesta linked passes and one went to substitute Santi Cazorla, who's left foot strike was kept out by the Chile goalkeeper, who has had a great game.
Claudio Bravo was in action again as Iniesta went for a high curling strike, only to be denied by a great diving save at full stretch.
Full time, and Chile send Spain packing as another shock result ends in 2-0. After the Netherlands game, people expected Spain to bounce back, but Chile have denied the World Champions in Rio de Janeiro.
Match breakdown
Man of the Match: My MOTM would be Claudio Bravo, he made some excellent saves to keep Spain out.
Flop of the Match: Iker Casillas fails to save Aranquiz's slow shot.
Personal Verdict
I wasn't overly confident that Spain would get the job done, because they were up against a young, fresh, quick Chile side, and the defending World Champions were punished for being so poor and lackluster.
Chile send Spain out of the World Cup, so what does this mean for the Spaniards now? An era could well and truly be over.