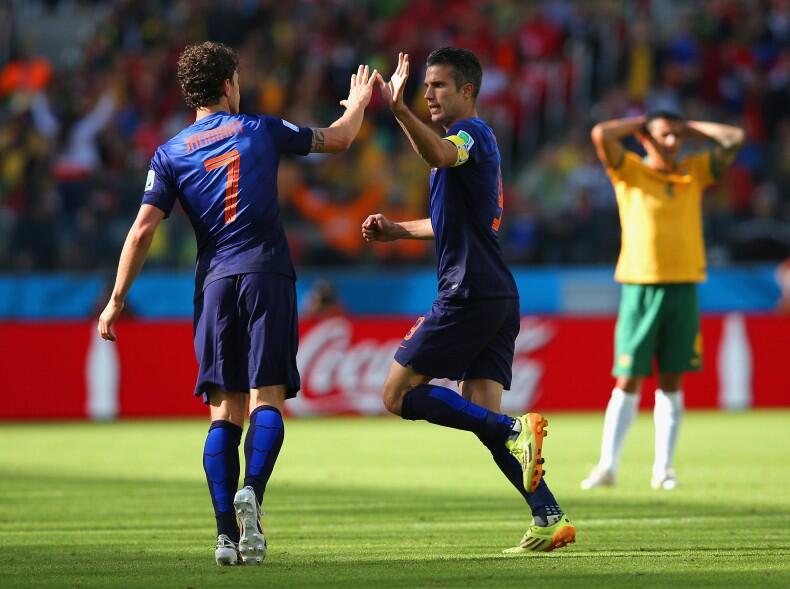 van Persie celebrates scoring in the phenomenal game
Netherlands went to touching range of second round qualification after a late goal from Depay put them up for good against an inspired Australian effort.
Kick-off: 5pm BST (UK time)
Group A, World Cup Game #2
- See more at: http://www.tsmbrazil.com/2014/06/WorldCup-Game2-MEXCMR_13.html#sthash.P8bOtK6q.dpuf
Australia 2 - 3 Netherlands
Arjen Robben (20'), Tim Cahill (21'), Mile Jedinak (Penalty, 54'), Robin van Persie (58'), Memphis Depay (68')
Wednesday 18 June 2014
Estádio Beira-Rio, Porto Alegre
Group B, World Cup Game #18
Netherlands hold on after late goal from Depay to top group B and guarantee their place in the last 16 of the Brazil Fifa World Cup 2014, but it wasn't an easy task.
After Robben scored on the 21 minute mark, 40 seconds later Tim Cahill scored a sublime vollied finish with the outside of his boot on the laces, Robben scored a classic goal into the bottom corner, how simple could it be.
In the second half things went up hill for Australia with a sweetly finished penalty from Jedinak, shortly after Van Persie struck into the top of the net, shortly after to seal the 3-2 Holland win Depay scored a bouncing effort, that deflected of the Socceroos keepers gloves into the bottom corner, to grab all 3 points for Holland that takes them onto 6 points in Group B and keep Spain last in the Group.
Simply an incredible game.