John Brooks scored an 87th minute winner for USA to dispatch Ghana in a thrilling Group G encounter that featured the fifth quickest goal in World Cup history.
BY NISAR KHAN
GHANA 1 - 2 USA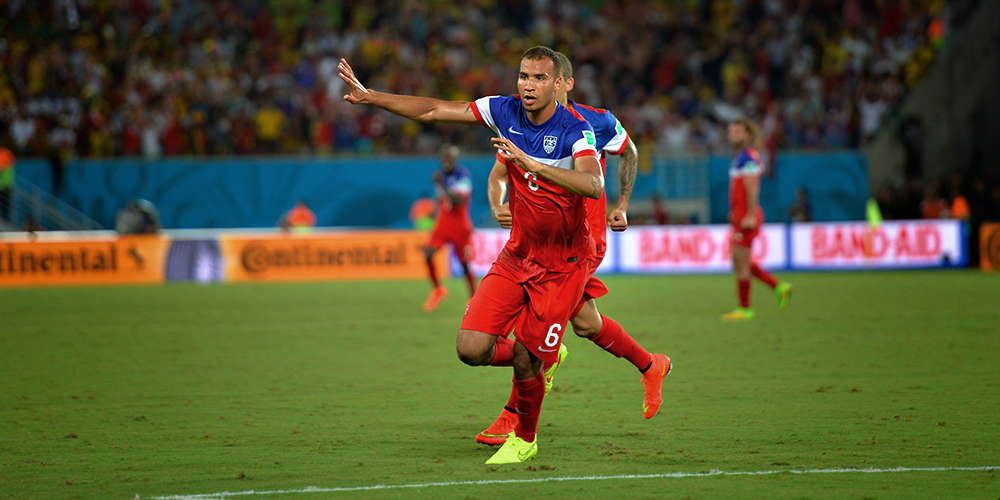 Kick-off: 5pm BST (UK time)
Group A, World Cup Game #2
- See more at: http://www.tsmbrazil.com/2014/06/WorldCup-Game2-MEXCMR_13.html#sthash.P8bOtK6q.dpuf
Dempsey (1'), Andre Ayew (82'), John Brooks (87')
Group G, World Cup Game #14

Both sides were searching for a crucial win, considering the toughness of Portugal and Germany in a difficult Group G. Within seconds, the USA would be ahead.
It took less than half a minute for the United States to go ahead, as Clint Dempsey scored the fifth fastest goal in World Cup history. An excellently organised build-up allowed Dempsey to break into the box, striking it with his left across the keeper and prompting the emergence of USA chants in the stadium.
A rapid start for USA allowed them to assemble another chance though it was broken down. Ghana's defence was subdued to start the game and in later stages made them vulnerable, especially on the flanks that were exploited.
There was plenty of space for USA to play, with little pressure by Ghana who were off the beat to open the game. The few crosses coming in from the early minutes were safely collected by Tim Howard who ensured security between the sticks. Asamoah Gyan was almost through after a cutting pass, but the Evertonian rushed out to pick up the ball.
After being on the ropes from USA's fast start, the Ghanians began to find their rhythm. Down the right wing, Bopare's cross to Gyan was just a few inches above Gyan which would have definitely tested goal.
USA were dealt a big blow in the form of Jozy Altidore. Picking up the ball in the right, he charged past in a fascinating footrace with Boye, but the American would pull up with hamstring problems and was in agony. He was stretchered off and replaced by Aron Jóhannsson.
Asamoah Gyan's first significant chance forced a parrying save. Albeit off-balanced, the 28 year old drilled it low and forced a key save from Howard.
Muntari was involved in a minor scuffle with Jermaine Jones, after the American Jones caught Muntari in his boots and the Ghananian retaliated. The issue quickly diffused and no cards were dished out.
Ghana were worryingly exposed down the right and USA players were free to make runs. However they failed to test as much as they did earlier.
Jordan Ayew squandered a huge chance to draw level towards the end of the half, but his miss hit meant it bobbled towards a clearance.
TSM

iNPUT

- Ghana were way off the beat to open the game and they paid for it with USA's early breakthrough. They did improve but still, the quality of balls depressed their chances.
Ghana changed their gameplan going into the second half with an intense attack, and bombarding the pressure would eventually result in the illustrious goal being scored.
The introduction of Kevin Prince Boateng brought an instant creative spark to Ghana's play and it worked with Gyan testing Howard.
But, for a solid half hour spell, USA stayed firm and resilient towards Ghana attack.
That would soon change though, when the equaliser came. Finally, Andre Ayew caused the breakthrough hitting it across the keeper to put the game level.
USA would have their luck drawn though from a corner. A break forced the corner and it was headed into goal by John Brooks.
All of a sudden, the game had been flipped over again, Ghana had been level for just 3 minutes and 58 seconds.
Unbelievable.
Five minutes of stoppage time allocated made for a dramatic culmination to the game, and Ghana were relentlessly pursuing the equaliser.
But time would run out.
USA embrace the joy after a massive win over the Ghanians, dejected, after giving all they could in the second. The thrills and spills of football in a nutshell.
WRITE FOR US as we are now recruiting more writers. If you are interested in showcasing your sports writing / journalism skills, and have a passion in writing in our wide range of sports, learn more at this page.
- Sports for the Fans, by the Fans.
Connect With Us!