NBA
Game 7, two of the best words in sports. There was a considerable helping of Game 7s in the first round in the NBA Playoffs, bringing with it an abundance in drama, thrills and the extraordinary.
This article contains all the action, information and everything else from each game featured in the
2014 NBA Playoffs Game 7, Round 1
contested between 2 May
and
3 May 2014
. You'll find video highlights of key plays, key stats such as highest points and highest rebounds, times, locations and much more information.
A record of three Game 7s took place on a dramatic Saturday night while two were added on Sunday afternoon for a thrilling weekend in the NBA.
Pacers Cruise Past Hawks to Next Round
Score:
Atlanta Hawks 80 - 92 Indiana Pacers
Location:
Bankers Life Fieldhouse, Indianapolis, IN, USA.
Date: Saturday 3 May 2014
Tip-off: 5:30pm ET (10:30pm BST, UK time)
Highest points: Paul George (IND), 30 pts.
Highest rebounds:
Paul Millsap (ATL), 17 rebs.
Highest assists:
Shelvin Mack (ATL), 7 asts.
Final series score: Pacers 4 - 3 Hawks, Indiana progress to second round
Indiana sealed their first round adverse journey success over the Atlanta Hawks in Game 7, as all their stars turned up for big numbers to roll by the Atlanta Hawks.
Paul George lead the charge for Indiana, coming in as #1 seed, while Roy Hibbert was able to redeem himself after a poor series run, troubling the Hawks throughout.
Pivoting on two key runs, Indiana prowled of Paul George who was paramount in assembling the mass points needed to put Atlanta in the rear-view mirror.
Despite the various struggles and trepidations that Pacers were faced with throughout the series, they had quite the field day at the fieldhouse arena - Atlanta's hard work over the series seemed to unravel.
Jeff Teague, who was significantly limited by Paul George, was blocked by Ian Mahinmi in the final play of the first half that saw Indiana go into the break with a 47-36 lead.
Pacers' biggest margin would begin to fall into place when they outscored Atlanta 10-4 to open the third. After slugging it out further they would be on a 24-6 run.
From then on in, it became a constant and far chase for Atlanta, who never began to threat late - even with it being as close as 8 points at a time, Paul George stepped up late to hit the final, killer blows to the Hawks.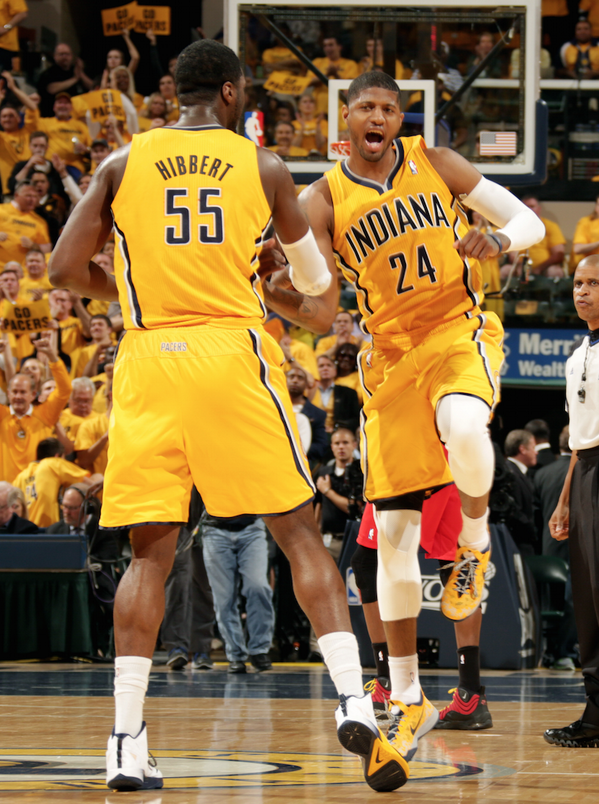 Paul George and Roy Hibbert embrace after
both play key roles in Indiana's massive win
Many believed that their playoff series would be scattered with a doubtful shadow of disappointment having lost poorly to Atlanta in their series' opener two weeks prior to the Game 7. After an on-and-off, turbulent series, the Pacers needed one strong win to get back on track - and they did just that, aligning themselves with the credibility of a #1 seed. Roy Hibbert performing well again allowed Indiana to exploit their size as an advantage. Jeff Teague couldn't carry the Hawks this time round, and neither was any other player, resulting in - at times - a lobsided contest. If Paul George can consistently keep up these big numbers then Pacers have the edge, but it will be further increased if players like Lance Stephenson step up to the mark, and Roy Hibbert fulfils his duty. For a Game 7 it was much less contested than what they had thrown at each other over the series. It's a crucial win for Indiana.
Thunder Barge Past Grizzlies
Score: Memphis Grizzlies 109 - 120 Oklahoma City Thunder
Location:
Chesapeake Energy Arena, Oklahoma City, OK, USA.
Date: Saturday 3 May 2014
Tip-off:
8:00pm ET (1:00am BST, Sun. morning UK time)
Highest points:
Kevin Durant (OKC), 33 pts.
Highest rebounds:
Russell Westbrook (OKC), 10 rebs.
Highest assists:
Russell Westbrook (OKC), 16 asts.
Final series score: Thunder 4 - 3 Grizzlies, Oklahoma City progress to second round
Kevin Durant was, once again, reliable.
He scored 33 points as the Oklahoma City Thunder cruised past a confusing Memphis Grizzlies in Game 7.
Meanwhile, Russell Westbrook was phenomenal, with a triple-double that gave the visiting side very little chance.
The absence of Zach Randolph was made for an abundance of change, after Memphis' power forward was suspended following an altercation in the previous game.
There were glimpses of functionality amid Memphis, though Oklahoma's firepower was far too much to handle. These would occur though when Memphis lead by 11 points in the first quarter, only to plummet out the game in the second with incredible 66% shooting from Oklahoma City.
Mike Conley helped to catalyse Memphis to keep them away from the brink of utter domination. Despite nursing a hamstring injury, he played for over half an hour, dishing out 9 assists and scoring 20 points.
A 10-2 run to start the second half would affirm the lead eventually.
Oklahoma went on to cruise by in the fourth, throwing an alley-oop at one time to add to the euphoria building for the fans, knowing they were on the verge of securing an incredible perseverance.
After a series full of tightly packed games, drama, overtime and much more to the equation of thrilling basketball, Game 7 was a disappointment. Zach Randolph's absence was clear for all to see as Memphis would eventually succumb to the rampant offence of the Oklahoma City Thunder. It can also be argued that Mike Conley would have been more effective, had he not been injured, put managing to put up the statistics that he did gave Memphis a greater chance. What a thrilling series, an absolute triumph for the Thunder.
Kevin Durant scored 33 points to see the Thunder into the second round of the playoffs

USA TODAY SPORTS
Clippers Hang On to Edge Warriors in Game 7 Thriller
Score: Golden State Warriors 121 - 126 Los Angeles Clippers
Location:
Staples Center, Los Angeles, CA, USA.
Date: Saturday 3 May 2014
Tip-off:
10:30pm ET (3:30am BST, Sun. morning UK time)
Highest points:
Steph Curry (GSW), 33 pts.
Highest rebounds:
DeAndre Jordan (LAC), 18 rebs.
Highest assists:
Chris Paul (LAC), 14 asts.
Final series score: Clippers 4 - 3 Warriors, Los Angeles progress to second round


There was almost one final twist to an incredible series.
But the Los Angeles Clippers stayed put and resilient, to deter the Golden State Warriors' late surge that almost saw them take the series.
Not only where the Clippers exhausted from the actual drama of the playoff series, but the Donald Sterling scandal also took its effect, making the triumph all the more sweeter and significant.
As Blake Griffin, Chris Paul and others embraced the Warriors in a sign of mutual respect, they capped off big performances - Griffin scored 24 while Paul scored two less though dished out 14 assists.
Clippers held to their assets of Lob City when they were on course for the win, with Blake Griffin throwing down monster jams and keeping the game just out of reach from Golden State.
With Los Angeles poised to ascend to a big win, a three-pointer from Green cut the lead back down to two points with the Warriors trailing Clippers' 120.
Free-throws hit by Chris Paul, JJ Redick and Darren Collison were enough.
In the plays prior, Grifin barged through for a layup, while DeAndre Jordan emphatically blocked Steph Curry's attempted layup. Jordan then dunked with a rebound before Blake Griffin was incredibly acrobatic to throw up a layup in the final minute.
As the buzzer sounded at the Staples Center, that was it.
Clippers had won and more importantly got closer to closing the door on the racism scandal. Not just blocking it off, but triumphing over it.
An emotional Doc Rivers congratulated his players on the court as they made one huge step.
This basketball game epitomized the two words, "Game 7". Truly a thriller, the Warriors almost shocked the who league on the verge of a fourth-quarter save. However, Clippers' dunks were extraordinarily deflating to the Warriors, and a stand of resilience from Los Angeles who had their homecourt raucous. Steph Curry put up an outstanding effort but this year was simply not to be.
Chris Paul scored 22 points and dished 14 assists to aid his side

SPORTS ILLUSTRATED - SI
Nets Hold On Late, Block Sends Them to Second Round
Score: Brookyln Nets 104 - 103 Toronto Raptors
Location:
Air Canada Centre, Toronto, ON, USA.
Date: Sunday 24 May 2014
Tip-off:
1:00pm ET (6:00pm BST, UK time)
Highest points:
Kyle Lowry (TOR), 28 pts.
Highest rebounds:
Kevin Garnett (BKN), 11 rebs.
Highest assists:
DeMar DeRozan (TOR), 6 asts.
Final series score: Raptors 3 - 4 Nets, Brooklyn progress to second round
Paul Pierce's play decided it all. But this time, it didn't reminisce the typical days of the Boston Celtics' legend, but it came in the form of a thunderous block to Kyle Lowry.
Just as it looked on the verge of crumbling for the Nets who, had plays in their sights, turned the ball over and put Raptors in control.
An inbound after Nets' final timeout fell to Pierce, but he was unable to get the ball, and Terrence Ross got a hand on the ball as he neared the out of bounds area, throwing it against Pierce and going out as a Brooklyn turnover.
It was then down to Toronto. On the brink of a game winner, trailing by 104-103, it fell to Kyle Lowry, who attempted to drive to the basket but was stopped by Nets' forward Paul Pierce.
Raptors were trailing by a larger margin though they managed to revamp with the helpof Johnson's 13 points in the fourth.
After the block, Pierce and the Nets will face the Miami Heat, who they have performed very well against in the regular season.
A massive win for the Raptors. This was one of two game 7s that actually did go down to the wire. Just as it looked like the Raptors could have completed an overwhelming comeback, Paul Pierce's clutch play was all that was needed to finish the Raptors.
Paul Pierce's block means Brooklyn Nets will now face Miami Heat in the second round

GETTY IMAGES
Parker Thrives as Spurs Ease Past Mavericks
Score: Dallas Mavericks 96 - 119 San Antonio Spurs
Location:
AT&T Center, San Antonio, TX, USA.
Date: Sunday 4 May 2014
Tip-off: 3:30pm ET (8:30pm BST, UK time)
Highest points:
Tony Parker (SAS), 32 pts.
Highest rebounds:
Dirk Nowitzki (DAL), 9 rebs.
Highest assists:
Boris Diaw (SAS), Manu Ginobli (SAS), 5 asts.
Final series score: Spurs 4 - 3 Mavericks, San Antonio progress to second round
Tony Parker - and Spurs' shooting from beyond the arc - was in his element as San Antonio routed Dallas to progress to the second round.
It was all but wrapped up in the fourth quarter, with Parker able to bow out in the game with minutes to go knowing that work was done.
Scoring 32 points, the Frenchman had himself a field day. In a game with just 1 lead change and 1 occasion with the game tied, Spurs biggest lead was by 31 points.
With a few minutes left in the second, Spurs lead by 29, with a variety of starters and reserves clicking together to pile up the buckets.
For those who don't like blowouts, there was a comical scene when Tim Duncan dived onto the Mavs' bench to save the ball.
Off to a quick start, it remained that way with a comfortable cushion throughout the game for the Spurs.
Dirk Nowitzki's attempts to salvage Mavs' season was in vein, though the German scored 22 points and crashed 9 boards.
San Antonio really looked like a Championship team out there. Three-point barrages from the Spurs around the course of the game allowed them to runaway with it. Tony Parker, meanwhile, was sublime. The Frenchman thrived not only in scoring but also acting as a sole catalyst for others like Kawhi Leonard and Tim Duncan.
San Antonio are playing in their seventeenth consecutive postseason

GETTY IMAGES
-------------------------------
That's all for Round 1.
Round 2 match-ups
- Indiana Pacers vs. Washington Wizards
- Oklahoma City Thunder vs. Los Angeles Clippers
- Miami Heat vs. Brooklyn Nets
- San Antonio Spurs vs. Portland Trail Blazers
It was an exciting weekend of Game 7s - some went down to the wire while other games were a showcase of excellent basketball. Hand in hand, playoff drama was prolific.
And it was a fitting end to an incredible first round in the NBA Playoffs.
WRITE FOR US as we are now recruiting more writers. If you are interested in showcasing your sports writing / journalism skills, and have a passion in writing in our wide range of sports, learn more at this page.
- Sports for the Fans, by the Fans.
Connect With Us!