An extraordinary series-winning buzzer-beater to marginal wins and a sizeable portion of thrilling basketball - Game 6 of the first round of the 2014 NBA Playoffs had it all.
This article contains all the action, information and everything else from each game featured in the
2014 NBA Playoffs Game 6, Round 1
contested between 1 May
and
2 May
. You'll find video highlights of key plays, key stats such as highest points and highest rebounds, times, locations and much more information.
There were six playoff games contested in this phase. There was a series-winning buzzer, a couple of marginal wins and even some player altercations.
Pacers Force Decider After Inspired Redemption Over Atlanta
Score:
Indiana Pacers 95 - 88 Atlanta Hawks
Location:
Phillips Arena, Atlanta, GA, USA.
Date: Thursday 1 May 2014
Tip-off: 7:00pm ET (12:00am BST Fri. morning UK)
Highest points:
Jeff Teague (ATL), 29 pts.
Highest rebounds:
Paul Millsap (ATL), 18 rebs.
Highest assists: David West (IND), 6 asts.
Current series score: Pacers 3 - 3 Hawks
Indiana Pacers were near to their best again, and it showed, with a convincing win at the Philips Arena to set up a Game 7 decider.
Had the Pacers lost the game, they would have disappointingly crashed out of the NBA Playoffs following a lacklustre start, especially considering the fact that they were the #1 seed. It was, though, another torrid game for Roy Hibbert who did start but had minimal to offer.
As the scoreline continued to fluctuate in the final phase, Atlanta looked to be on course for a monumental win, as Jeff Teague nailed a jumpshot in the final three minutes. However, David West's 24-point barrage included late blocks and shots from the foul-line to turn it back around.
Paul Millsap - crashing 18 rebounds - would miss after another Hawks' turnover where Pero Antic was swatted away by David West. West then went on to score the open up a one-point lead.
For the eighth and final occurrence in the meeting, Pero Antic tied it at 85-all with 1:24 left. Pacers would run ahead for the final margin in the 10th lead change.
Another jumpshot perfected by David West, then George's capitalization on a woeful turnover to score from the free-throw line and add to his final 24 point total.
Jeff Teague, scoring 29 points, came close to winning but he missed what would have been the game winner.
Even though they shot 36%, Atlanta pushed the Pacers and will have a good shout in Game 7.
Back and forth they go. Pacers win is massive here and now with the rallying homecourt behind them, they can really turn up by a gear to win the decider. Roy Hibbert is in a slump as of late and its important that the Pacers recognized this to cut down his minutes. Maybe he shouldn't start Game 7 though, so he could have a bigger presence coming off the bench. As for the Hawks, if Jeff Teague continues his great form, the Hawks are going to push. Both teams have made true intents and cases for progression meaning that it really is up in the air in Game 7.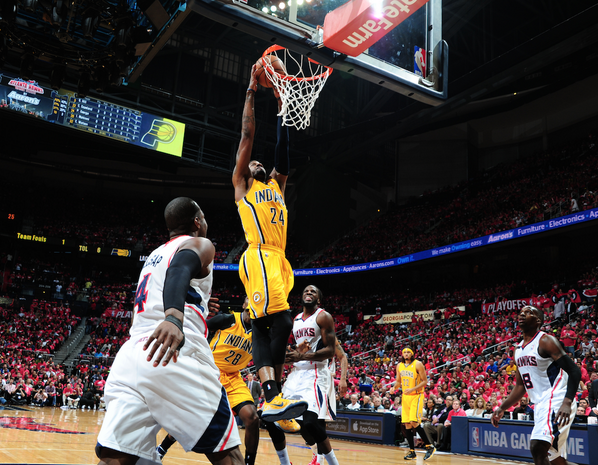 #24 scores 24: Paul George looks to repeat or better his performance in Game 7
Reliable Durant Motivated in Thunder's Rout at Memphis to go to Game 7
Score:
Oklahoma City Thunder
104 - 84
Memphis Grizzlies
Location:
FedEx Forum, Memphis, TN, USA.
Date: Thursday 1 May 214
Tip-off: 8:00pm ET (1:00am BST, Fri. morning UK)
Highest points:
Kevin Durant (OKC), 36 pts.
Highest rebounds:
Kevin Durant (OKC), 10 rebs.
Highest assists:
Mike Conley (OKC), 6 asts.
Current series score:
Thunder 3 - 3 Grizzlies
After a newspaper back in his hometown labelled Kevin Durant as "Mr. Unreliable", the NBA scoring Champion responded in a big way after Thunder took off to force Game 7.
After close games prior, which saw 4 back-to-back overtime finishes, this was anything but.
Kevin Durant scored 36 points which included a dazzling 14 in the opening quarter, ultimately definitive in Thunder's 15 point lead by halftime. Meanwhile, Russell Westbrook's impressive run also continued, scoring 24 points.
Memphis could though have their backs against the wall come Game 7, after Mike Conley prematurely left the game with a hamstring strain. His brief return was a sign of his agony and he left with under 9 minutes remaining. Even by then, the game was in the Thunder's hands and they showed no signs of letting it slip. Grizzlies are now thin on point-guard supplies.
Memphis last lead way back at the 6-4 scoreline, showing how out of the game they were by the final buzzer. They were off course in their shooting statistics too, going 31-83, with a percentage of 37.3%.
A huge win for the Thunder. The criticism in the media towards Thunder forward Kevin Durant was what he needed for one hell of a revamp that saw him torch the Grizzlies. Back on their homecourt, with Mike Conley doubtful, they could easily storm by. However, you must take into account the grit, determination and physicality from the Grizzlies players. While it may not have been on display in Game 6, when the stakes are high it will definitely arouse once again.
Durant was criticized for his performances in previous games of the series but they were silenced

USA TSI

Warriors One-Point Win Sets Up For Game 7
Score:
Los Angeles Clippers
99 - 100
Golden State Warriors
Location:
Oracle Arena, Oakland, CA, USA.
Date: Thursday
1 May 2014
Tip-off: 10:30pm ET (3:30am BST, Fri. morning UK)
Highest points:
Steph Curry (GSW), 24 pts.
Highest rebounds:
DeAndre Jordan (LAC), 19 rebs.
Highest assists:
Steph Curry (GSW), 9 asts.
Current series score:
Clippers 3 - 3 Warriors
In the hostile mix of drama and controversy, a sense of triumph has emerged from an intriguing series between the Warriors and Clippers - in Game 6, it was the Warriors' turn.
Steph Curry lead the charge for the Warriors, who bounced back from a loss at the Staples Center in the previous game, scoring 24 points and providing 9 assists for the likes of Andre Iguadola who scored 15 points and Draymond Green who had 14.
Problems didn't just emerge for the Clippers from their two big men, they also went for 36.8% shooting - meanwhile, the big men DeAndre Jordan and Blake Griffin were significantly cut down, unable to perform dominantly like they have previously in the series.
It's going to be an exciting Game 7. Not just for the fans, but for many Warriors players, who have never experienced the thrills of a game of such magnitude.
Fouls were happening around the clock. 52 in total, which would see Griffin, Reddick and Lee fouling out in the fourth quarter - the fourth quarter of which would go down to the very wire.
Leading 96-89 after Iguadola's corner three-pointer, Warriors were poised and ready to celebrate. But, instantly, Clippers would get a shout back in the game, with back-to-back buckets to wrap up a quick five points.
Hesitation was apparent from the Clippers in a nail-biting final play, missing three consecutive shots though managing to rebound, finally to Matt Barnes who hit the hardest out of the four shots, and in fact got it, cutting the lead down to 100-99.
But all the time had pretty much gone. 1.1 seconds were left after the cruel Clipper chronicles from the three point line. Steph Curry was fouled and aimed his second shot at the rim, back into Warriors possession for time to expire.
Out of the ten games they have played this season in the regular season in the playoffs, the wins are split equally, five a piece. That will be broken in Game 7, in an exchange to progress to Round 2. The most key play of the game was the penultimate one were Clippers missed three straight shots. What's worrying for the Clippers is that they missed the looks. But what's even more worrying for the Warriors is that they conceded 3 straight offensive rebounds. Warriors spirit was feeding off the raucous Oracle Arena, but in the Staples Center they face a tough task. Chris Paul, picking up an injury, obviously limited him, and that made it easier for Warriors to target and lock down Jordan and Griffin.
Klay Thompson looks ahead to Game 7

GETTY IMAGES
Nets Dominate Raptors to Push Game 7
Score:
Toronto Raptors
83 - 97
Brooklyn Nets
Location:
Barclays Center, Brooklyn, NY, USA.
Date: Friday 2 May 2014
Tip-off:
7:00pm ET (12:00am BST, Sat. morning UK)
Highest points:
DeMar DeRozan (TOR), 28 pts.
Highest rebounds:
Jonas Valenciunas (TOR), Alan Anderson (BKN), 9 rebs.
Highest assists:
Kyle Lowry (TOR), DeMar DeRozan (TOR), DeRon Williams (BKN), 4 asts.
Current series score:
Raptors 3 - 3 Nets
Standing tall with their fans at the Barclays Center, the Nets were euphoric, knowing they were one win away from a playoff tie with Miami.
It was a subdued performance by the visiting Raptors, with DeMar DeRozan the only significant performer, scoring a game-high 28 points. But, Kyle Lowry had much less of an impact in Game 6 than he did in Game 5, making the Nets' outing all the more easier.
Deron Williams, who scored 23 points, persevered through an ankle injury when he drove towards the rim. He managed to pull through and help his side ease past the Raptors.
There were no lead changes in the game, and it was only tied on one occasion - simply put, Nets were always in control.
Raptors preserved some dignity and kept an edge over the Nets, as an 11-0 run to open up the fourth quarter cut down the 22-point deficit. Eventually though, they would succumb to the Nets onslaught and lose by 14 points.
Emphatic domination from the Brooklyn Nets. Even with the Raptors managing to assemble a double-digit run, they kept on with their consistent play to draw the game out. DeMar DeRozan has been the best player for the Raptors but, even with his game-high scoring, he cannot hold up the game by himself. Kyle Lowry dipped a lot considering the fact that he scored 36 in the previous game. All of the Raptors will need to be fully on their game to push a progression. As for the Nets, if Deron Williams is okay, they should be okay... pending the veterans step up.
Kevin Garnett embraces rapstar Jay Z after the victory

USA TODAY SPORTS
Ellis Leads Mavs Past Spurs
Score:
San Antonio Spurs 111 - 113 Dallas Mavericks
Location:
American Airlines Center, Dallas, TX, USA.
Date: Friday 2 May 2014
Tip-off:
8:00pm ET (1:00am BST, Sat. morning UK)
Highest points:
Monta Ellis (DAL), 29 pts.
Highest rebounds:
DeJuan Blair (DAL), 14 rebs.
Highest assists:
Tony Parker (SAS), Jose Calderon (DAL), 6 asts.
Current series score:
Spurs 3 - 3 Mavericks
Monta Ellis and his Maverick teammates fulfilled what some thought was a mere fantasy - as Dallas narrowly beat the Spurs to force a Game 7.
An inspired fourth-quarter comeback was lead by Ellis, scoring 12 points in that phase as part of his 29-point game.
Meanwhile, Dirk Nowitzki, looking to to make a marquee milestone to add to his career, matched for 22 points with Tony Parker, with a key two points coming from a vintage fadeaway over Tim Duncan.
DeJua Blair was in his element, after missing Game 5 where he was suspended for a kick to Tiago Splitter when both fell to the ground in Game 4. He finished with a total of 10 points and got 14 rebounds the most in the game.
A hotly contested fourth quarter would contribute to the total of 12 lead changes in the game. After trailing by five, a 14-2 run would give them an eight point lead. But, the game was close going down to the wire with Parker bouncing back in a couple of drives up against Monta Ellis.
Parker hooked a shot over Nowitzki to put the lead to within one, 106-105. Danny Green and Patty Mills nailed shots from beyond the arc to cut down Mavericks' six point lead, but a late score from the Mavs left the Spurs with no time left.
Another close game between these two teams. Mavericks were trailing for a big part of the game, but Monta Ellis' performance showed how he can step up and make the difference. Nowitzki was the key figure for Dallas, and he could replicate some of the best of his career play in Game 7. Tony Parker meanwhile continues to drive through and open up. Roll on Game 7.
Mavericks, Spurs both motivated with veteran and youth

MAVS.COM
Extraordinary Lillard Blazes Rockets With Unbelievable Buzzer Beater
Score:
Houston Rockets
98 - 99
Portland Trail Blazers
Location:
Moda Center, Portland, OR, USA.
Date: Friday 2 May 2014
Tip-off:
10:30pm ET (3:30am BST, Sat. morning UK)
Highest points:
James Harden (HOU), 34 pts.
Highest rebounds:
LaMarcus Aldridge (POR), 13 rebs.
Highest assists:
Nicolas Batum (POR), 7 asts.
Current series score:
Rockets 2 - 4 Blazers, Portland progress to next round
The buzzer sounded. The ball floated. Then, the fans stood up and celebrated as it went in.
Damian Lillard had just shot a series-winning three pointer. It was the first buzzer beater since 1997 to clinch a playoff series.
Acknowledging the triumph in the raucous Moda Center, he shouted "Rip City!" as Portland won their first playoff series in over a decade.
The play earlier saw Chandler Parsons tip the ball in with 0.9 seconds remaining, and many had thought Rockets had the win.
Then, on the inbound, Lillard broke away for a remarkable three pointer.
James Harden's 34 points was not enough to force Game 7, when Rockets were on the verge of winning after Dwight Howard's free throws and Parson's tip.
Rockets began to break away in the first quarter though with a game containing 16 lead changes.
But Blazers would fight back and Rockets would try to run away, though Portland were hot on their heels throughout.
Truly remarkable! What a shot. Its another episode in an incredible start to this year's NBA Playoffs. Parsons, thinking he had won it, was unable to keep on Lillard who managed to create a look, and the rest is history... Portland are looking great, a young team with Aldridge, Lillard and others to take them further.
Job, done. - Lillard

USA TODAY SPORTS
-------------------------------
There will be five Game 7s. What a playoff series this has been so far.
Portland's Lillard takes the spotlight this time round. Simply amazing.
Full NBA Playoffs 2014 Coverage
We've got EVERY GAME covered! For each Game series of each round, we have articles with all the key stats, game information, reports, highlights, videos, photos and more. Here is the current archive:
Round 1
- Game 1 »
- Game 2 »
- Game 3 »
- Game 4 »
- Game 5 »
- Game 6 »
WRITE FOR US as we are now recruiting more writers. If you are interested in showcasing your sports writing / journalism skills, and have a passion in writing in our wide range of sports, learn more at this page.
- Sports for the Fans, by the Fans.
Connect With Us!