WWE

It's the Grandest Stage of Them All - WrestleMania 30 was LIVE in New Orleans. The biggest wrestling event of the year was covered completely with news, results, updates, analysis and more... As it happened!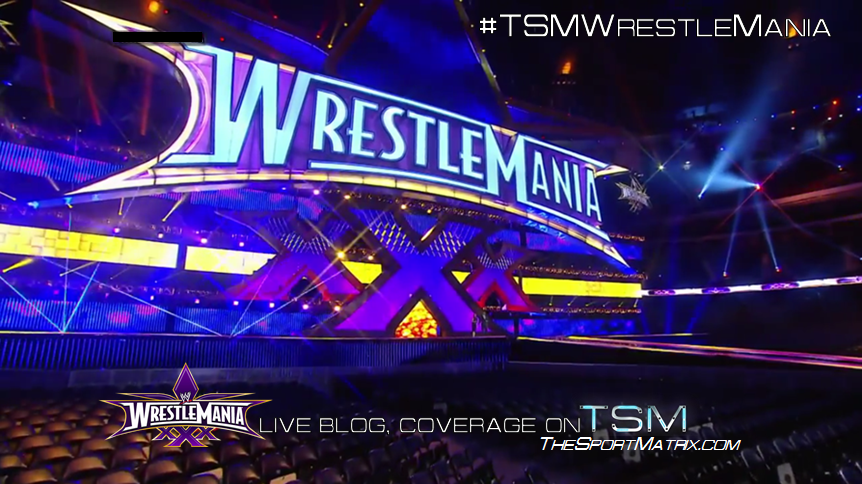 Thanks for joining us! ITS A MIRACLE!

3:49am UK: Batista almost seals the victory but to no avail. Now a Batista Bomb to Orton, he hits it! KNEE OUT OF NOWHERE FROM BRYAN TO BATISTA, YES LOCK TO BATISTA! DANIEL BRYAN IS THE NEW WWE WORLD HEAVYWEIGHT CHAMPION!
3:45am UK: There's just no stopping Bryan. Orton and Batista may have stopped him again, and then Batista kicks out of the RKO!
Updates: Still in shock about The Streak. But Daniel Bryan just got DESTROYED in the main event. Batista Bomb to RKO through the table. INSANE. Daniel Bryan fought off the authority's attempted thwart, but it looks like Batista and Orton's partnership could have halted the YES! movement.
9:55pm (US) - The streak is over. Yes, 21 - 1. Utterly shocked.
9:45 PM (US) - Undertaker has the hells gate locked in on the Beast but Brock lifts up in a powerbomb. After more damage, Lesnar is stuck again, but then gets out... A bit slow from pace earlier on, but picking up now.
9:26 PM (US): The Undertaker is walking down the ramp to defend his prestigious streak against The Beast incarnate. - @OfficialCenafan
2:23am: It's the BIG ONE! Undertaker vs. Brock Lesnar, LIVE NOW!
2:08am: Bray Wyatt and John Cena put on a clinic. Great storytelling. Great match.
1:51am UK: This match has started fantastic, Wyatt kneeling before Cena taunting him. To Cena selling the savage monster Wyatt says he is with the aggressive attacks. Wyatt laughing and telling Cena to attack.
1:34am UK: What an event so far! We've had an incredible start to the show. From the incredible start that saw Hogan, Rock and Austin meet, then an extraordinary match between Bryan and Triple H, plus The Shield's dominance against the Outlaws and Kane followed by Antonio Cesaro's feat of strength. New Orleans is rocking!
1:31am UK: What an amazing feat of strength to conclude this battle royal! Antonio Cesaro threw the Big Show out! Cesaro wins the battle royale with the Hogan slam to Andre, on Big show, over the top rope. Quite an interesting winner and not one I personally had for this. - Brian Hegarty
1
:14am UK:
The crowd have been interested thoroughly throughout the night, this is great.
1:14am UK: Complete domination fro the Shield. From cutting Road Doggs promo short to there ruthless domination of the match. Over in 10 minutes. Dominated with double superman punchs. Double triple powerbomb and several spears. Shield looked super strong in taking these out in a short space of time.
1:12am UK: Well that was quick... The Shield defeat The New Age Outlaws and Kane with an impressive triple-powerbomb to The New Age Outlaws after grounding Kane with a Spear. The Hounds of Justice run riot. Clever booking.
1:06am UK: What an opening to Mania30. Superb match, Stephanie and HHH sold the story so well. Followed by a Bryan win, and then a post match attack by HHH witha chair shot to Bryans injured shoulder. - Brian Hegarty
1:05am UK Daniel Bryan's celebrations are short-lived as Triple H launches a huge attack and damages his shoulder. Wonder how this will change the night. Title shot for Bryan may be hindered? Triple H to involve himself in the match?
1:02am UK Daniel Bryan has stunned the World! One of the biggest upsets ever in WrestleMania. He has beaten Triple H! YES! YES! YES!
00:55am UK This has been a superb opening match, Stephanie playing her part really well, shouting at Bryan constantly. Really cementing Bryan in the match. - Brain Hegarty
00:30am UK HHH is in superb shape, for some one his age its ridiclous The crowd is amazing, so hot for Bryan.

Bryan starts off red hot, and rocks The Game.

Bryan mocking HHH with the handshake after the quick start.
00:29am UK Daniel Bryan vs. Triple H up next! Crowd is without a doubt, READY! - CenaHarpin
00:23am/7:23pm: Perhaps that is the GREATEST WrestleMania moment of all time, what a start! Hulk Hogan, Stone Cold and The Rock, three icons in one ring! Absolutely shocked!
Can you believe this? Nor can we! Out comes The Rock!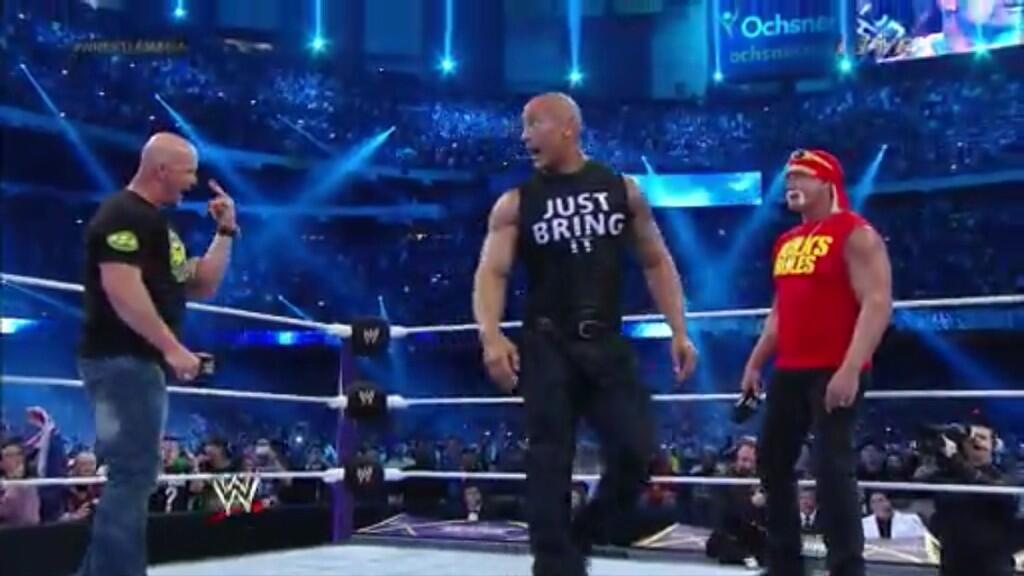 12:10am/7:10pm: It's REAL LOUD in here! Oh my goodness! Hulk Hogan comes out, hardly gets speaking and then glass shatters and out comes Stone Cold Steve Austin. "BAH GAWD!" What a damn pop!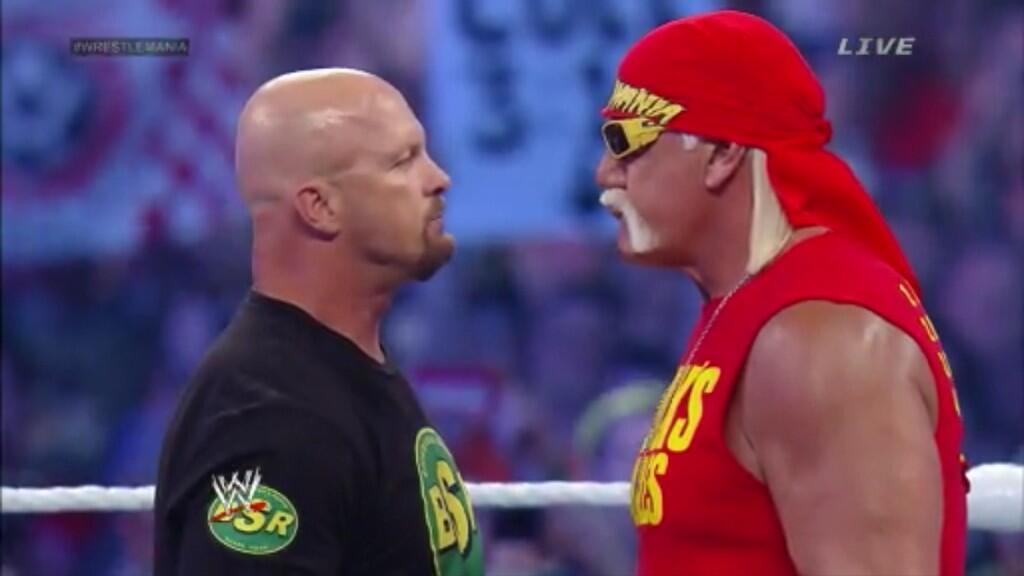 12:00am/7pm:
It's time! Ladies and gentlemen, sit back and enjoy the spectacle that is WrestleMania.
06/04/2014, 9:59pm BST/4:59pm ET
: The night has begun in New Orleans! The pre-show is now live and underway. Catch it on WWE's YouTube.
06/04/2014, 5:00pm BST/12:00pm ET
: Last night the WWE inducted the 2014 Class to the Hall of Fame. Ultimate Warrior headlined the ceremony with a long speech while The Undertaker paid tribute to Paul Bearer in an emotional night.
IMAGE COURTESY: WWE.COM
06/04/2014, 4:45pm BST/11:45am ET: LAST MINUTE PREDICTIONS from
CenaHarpin. Preview the matches with his opinion here.
05/04/2014, 10:10pm BST/5:10pm ET: ORDERING INFORMATION for WrestleMania. Order the WWE Network in the USA (see here) or contact your local cable provider in the States. International viewers can see here for how to watch the action. Meanwhile in the UK, order it on Sky Box Office, just like TheSportMatrix head writer Nisar Khan has done...
ROLL ON TOMORROW NIGHT! #WrestleMania booked on box office, buzzing! pic.twitter.com/rYcmmIbFW3
— Nisar Khan (@iNisarKhan) April 5, 2014
05/04/2014, 6:35pm BST/1:25pm ET: Amazing hairstyle for the big night, uploaded from WWE's Twitter. Would you get this?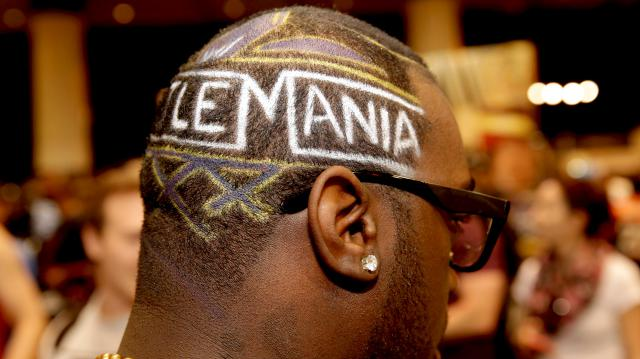 05/04/2014, 6:25pm BST/1:25pm ET: Stephanie McMahon and Triple H earlier revealed the set for WrestleMania 30 on WWE's YouTube.
Page will refresh every 30 seconds.
WRITE FOR US as we are now recruiting more writers. If you are interested in showcasing your sports writing / journalism skills, and have a passion in writing in our wide range of sports, learn more at this page.
- Sports for the Fans, by the Fans.
Connect With Us!