Football
UEFA Champions League 2014
Semi-Finals
First Legs
22-23 April 2014
Atletico Madrid vs. Chelsea
Real Madrid vs. Bayern Munich
BY NISAR KHAN
The 2014 Champions League semi-finals took place over the week as Chelsea battled to a goalless draw against Atletico Madrid and Real Madrid rallied past Bayern Munich at the Bernabeu. Recap all the action here, with stats, reports, match information and analysis.

On Tuesday, Chelsea held Atletico Madrid to a goalless draw while Real Madrid took a one-goal advantage on Wednesday against Bayern Munich.
There was just 1 goal out of the 2 semi-finals, though there was plenty of football to feast on, as the road to Lisbon winds down.
Here, you'll find stats, full scores, bookings, attendance figures, ratings and much more from the two semi-final games played on 22 and 23 April 2014.
Chelsea Execute Defensive Masterclass To Draw Goalless With Atletico
Score: Atletico Madrid 0 - 0 Chelsea
Goalscorers: N/A
Kick-off: Tuesday 22nd April 2014, 19:45 BST (UK time)
Location: Vicente Calderón Stadium, Madrid, Spain.
Attendance: 52 560
Bookings/Cards: Gabi, Miranda, John Obi Mikel, Frank Lampard, Demba Ba
Possession: Altetico Madrid 69%, Chelsea 31%
Shots: Atletico Madrid 25, Chelsea 5
Referee: Jonas Eriksson (Sweden)
Man of the Match: Gary Cahill
Chelsea held Atletico Madrid to a goalless draw at the Vicente Calderon Stadium in the first leg of the Champions League semi-final, leaving the tie even going into Stamford Bridge for the second leg.
The visitors faced Atletico Madrid's attacking prospects with equanimity, as Mourinho's men put on a defensive masterclass to restrict the hosts from scoring.
Chelsea paid a price, though, in the game - Petr Cech and John Terry were forced off, and Blues' keeper Cech will miss the rest of the season, while Terry could play in the final if Chelsea make it.
Petr Cech was down in agony after 17 minutes of play after colliding with Raul Garcia in a corner. A suggested shoulder injury spotted by medics at the scene indicated for an immediate change, as the Czech native was substituted for Mark Schwarzer.
"Job done" for Chelsea could be no better exemplified than the fact that Atletico failed for the first time in 11 games to score in this season's Champions League. It was bittersweet though, with the injuries to Terry and Cech putting a great shadow on Chelsea's hopes.
Mark Schwarzer, replacement keeper for the injured Cech, made one pivotal save to deny Mario Suarez. Suarez fired it towards goal but was denied strongly. That would be the busiest the Aussie would get in the whole match, as Chelsea's defense halted any further threats.
Chelsea loanee Thibaut Courtois was not called into the best of action, with Ramires coming closest, though his goal went well wide. Surging through the middle, he snatched at the shot and the chance went begging.
Fernando Torres, returning to his former club, found little success in threatening the Atletico goal. In spite of his scoring shortage he'll be pleased that Chelsea are still well in the tie.
Due to bookings received in the game, John Obi Mikel, Gabi and Frank Lampard will not play in the second leg.
Atletico went into the second leg with optimism as they closed it out with Gabi and Turan's late chances as the Madrid side made a late bid for the victory.
Analysis and comment
Far from the most pulsating game, but appreciated by many for Chelsea epitomizing the word, 'defense'.
Going into Stamford Bridge, Chelsea have the ball on their homefront and will undoubtedly use that to their advantage. Expect a much more attacking formation, mindset and many more chances.
But of course, with that, comes the inevitable threat of chances on the other side. Atletico will have a better chance to counter and so on, meaning Diego Costa will do much better than this time round.
The Spaniard was hardly seen against Chelsea, shut down and not the predating striker he normally is. With Gabi out, though, Atletico will need solutions in midfield to really provide better.
Injuries will be a big blow for Chelsea - not only their Champions League hopes, but their season. However, with a big, title-implication clash with Liverpool in the weekend, Mikel and Lampard can play without risk of hindering Chelsea's hopes for the tie, considering they are suspended for the game.
Cahill's block to Costa's header has gave Chelsea a big chance come the second leg at Stamford Bridge
Karim Benzema Scores Lone Goal As Madrid Knock Off Bayern At Bernabeu
Score: Real Madrid 1 - 0 Bayern Munich
Goalscorers: Karim Benzema (19')
Kick-off: Wednesday 23rd April 2014, 19:45 BST (UK time)
Location: Santiago Bernabéu Stadium, Madrid, Spain.
Attendance: NUMBER
Bookings/Cards: Isco
Possession: Real Madrid 28%, Bayern Munich 72%
Shots: Real Madrid 9, Bayern Munich 18
Referee: Howard Webb
Man of the Match: Fabio Coentrao
Real Madrid shut down Bayern with a narrow one-goal win at the Bernabeu in the first leg of the Champions League semi-final.
Karim Benzema scored to cap off an eccentric counter-attack from the Spaniards, as Fabio Coentrao set him up for a tap-in after Cristiano Ronaldo's through ball.
In spite of the landslide in possession, Bayern had nothing to show for it.
Their tactic seemed to be taking an effect towards the culmination of the first half as Real Madrid players were showing clear signs of fatigue, after chasing the ball around for the majority of play. However, the German Champions were unable to capitalize to really threaten goal.
Cristiano Ronaldo, just moments later, squandered a huge opportunity to double the lead. Goalscorer turned provider, Karim Benzema sent through a perfect through ball, tough the Ballan d'Or winner smashed over the bar.
Further chances came for Madrid as a result of woeful defending from Bayern, with Angel Di Maria's volley going way wide after Isco deceived Bayern players in the box.
Continuing to control possession, Bayern Munich were almost found a victim again of the vast and powerful counter-attack threat, as Ronaldo's shot was thwarted by keeper Manuel Neuer.
Bayern had one big chance in the late stages of the game. Thomas Muller, who was substituted into the game in the second half, set up Mario Gotze, though the former Dortmund player was unsuccessful in his attempt to slot the ball right, as Iker Casillas made an incredible save to maintain Madrid's lead.
Analysis & comment
Bayern Munich will be scratching their heads when looking at the stats, considering they dominated every statline accept for the most crucial - the score.
Possession, possession, possession - with one sole objective. The Germans attempted to tire Real Madrid and outplay them with passing, though this was unsuccessful.
Consistency was lacking around areas of the pitch, especially the defence, as Bayern's sometimes poor defending was costly.
As for Real Madrid, their counter-attacking football was excellent, leading to a well-worked goal on the break from Karim Benzema.
However, Cristiano Ronaldo and Di Maria went on to miss chances of which they could rue when they meet in less than a week for the second leg.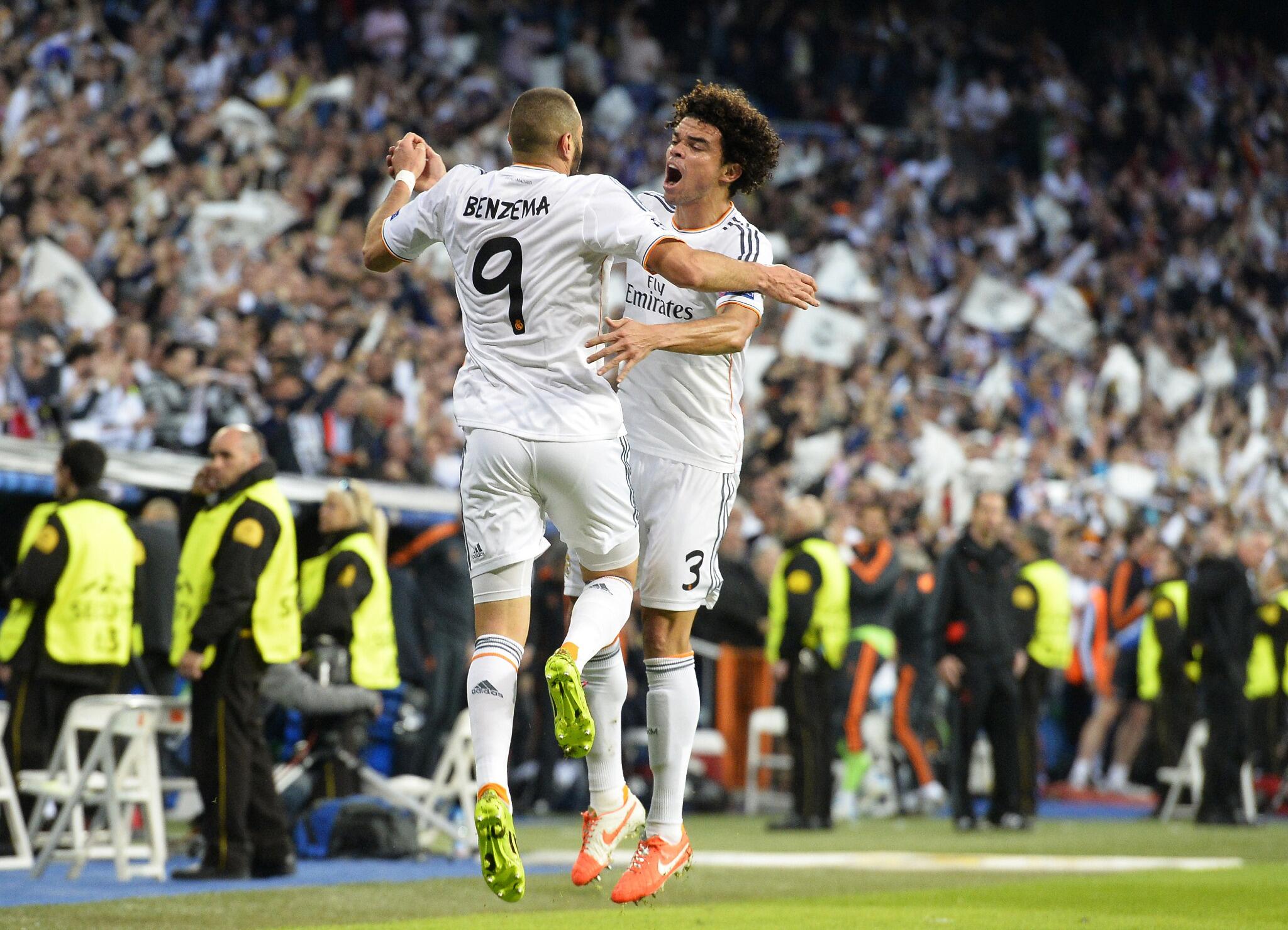 Benzema's goal gave his side an important advantage, but will they rue the missing of other chances?

FOXSOCCER / TWITTER
That's the first legs wrapped up. Onto the second - where it's all to play for.
`
WRITE FOR US as we are now recruiting more writers. If you are interested in showcasing your sports writing / journalism skills, and have a passion in writing in our wide range of sports, learn more at this page.
- Sports for the Fans, by the Fans.
Connect With Us!