Another captivating triple-header of Premier League football saw huge changes on the top and bottom of the league. While Sunderland marched out of the drop zone, Man City capitalized on Liverpool's defeat to Chelsea. Recap all of the action with stats, analysis, reports and more here.

With just two weeks left in the Premier League campaign, football fans are poised for an incredible culmination to a wonderful season of football.
SEE ALSO ·
Five Premier League Managers Who Didn't Deserve The Sack
RECAP ·
Champions League Semi-Final First Legs
POWER RANKINGS
·
27 April: Power Ranking Top 10 Sports Stars Every Week
There was a trio of games on Sunday 27 April 2014, featuring a blockbuster clash between Liverpool and Chelsea. Sunderland faced Cardiff in a high stakes game in the relegation battle before City traveled the Selhurst Park, facing Crystal Palace later on.
In this article, there are detailed reports for each of the three games, with analysis, comment, stats and all the match information like attendance figures and bookings.
The Escape Is On: Sunderland Rattle Cardiff To Keep Safety Hopes Alive
Score: Sunderland 4 - 0 Cardiff City
Goalscorers:
Connor Wickham (26' & 86'), Fabio Borini (45' penalty),
Emanuele Giaccherini (76')
Location:
Stadium of Light, Sunderland, England.
Date:
Sunday 27 April 2014
Kick-off: 12:00pm BST (UK time)
Referee: Phil Dowd
Attendance:
42,397
Possession: Sunderland 59% - Cardiff City 41%
Shots:
Sunderland 21 - Cardiff City 6
Bookings: Vergini, Larsson, Giaccherini, Gardner, Borini, Fabio, Medel, Torris Ruiz (

RED

card), Mutch
Man of the Match:
Connor Wickham
Sunderland lifted from the drop zone after they decimated 10-man Cardiff City at the Stadium of Light, with Connor Wickham twice on the mark.
For Sunderland, the result sees them go into safety for the first time since 10 February.
Connor Wickham, who has been finding some rampant form over the previous games for the Black Cats, scored the first part of a vital double, guiding in a header from a corner.
Cardiff City were handicapped on the brink of half time, after Juan Torres Ruiz was sent off, fouling Connor Wickham. An initial mistake that led to being dispossessed was followed by an act of panic, tugging at Wickham forcing him off goal. Phil Dowd therefore awarded the penalty.
Fabio Boirini comfortably scored from the spot to put the hosts in charge during the interval.
Ole Gunnar Solskjær, who replaced Malky Mackay earlier in the season, saw his side looking vulnerable in a miserable result that put them at the bottom of the table.
Trailing by two goals and a man down, the result was edging imminence, and that was set in stone after Emanuele Giaccherini slotted home before Connor Wickham headed in another corner to complete the rout.
Deemed a "relegation cup final" in the buildup to the fixture, Sunderland were undoubtedly euphoric following a win that could turn their season around. Its the exact opposite for Cardiff.
Analysis & comment
Over their past games, there's been no shortage of good football from Sunderland, although their problem was the results. Now, they've found a solution.
Connor Wickham is emerging much from what he's destined to become, the key goalscorer that Sunderland can go to, on key games.
With an away trip to Manchester United before hosting West Brom and Swansea, the big win here has made safety much more plausible for the club.
Even though they lost a man at the midpoint of the game, Cardiff were vulnerable from the early stages. Simply put, their football and style was no match.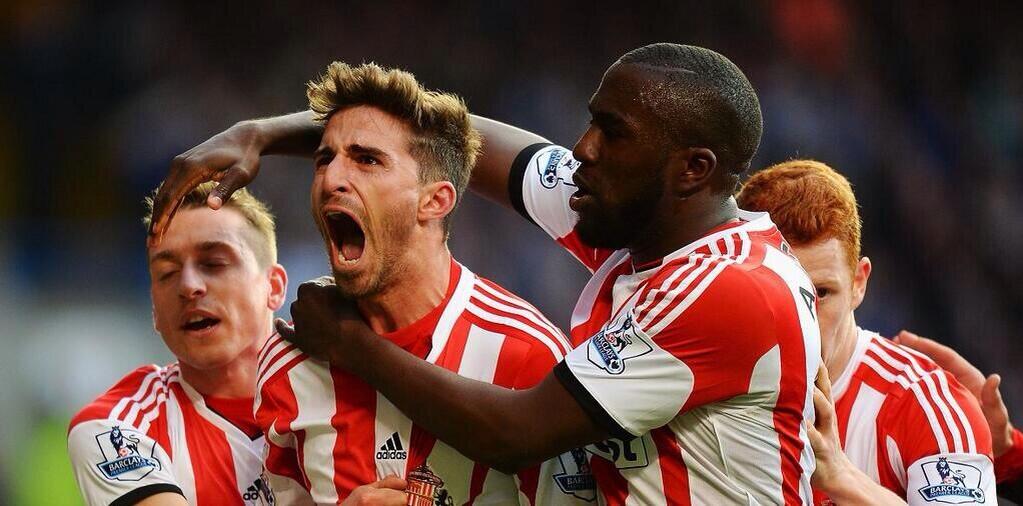 Chelsea Blow Title Race Wide Open As Blues Halt Reds At Anfield
Score: Liverpool 0 - 2 Chelsea
Goalscorers: Demba Ba (45'), Willian (90')
Location:
Anfield, Liverpool, England.
Date: Sunday 27 April 2014
Kick-off:
2:05pm BST (UK time)
Referee:
Martin Atkinson
Attendance:
44,726
Possession:
Chelsea 73% - Chelsea 27%
Shots: Liverpool 26 - Chelsea 11
Bookings: Salah, Lampard, Torres, Cole
Man of the Match:
Demba
Jose Mourinho yet again orchestrated a masterclass win for Chelsea, as Demba Ba and Willian struck to thwart Liverpool at Anfield.
Trailing five points on the league table prior to the game, Chelsea's win puts them two points of the top spot. However, with Chelsea's win, more attention is poised towards Manchester City who, with a game in hand, can equal Liverpool on points, though beating them on goal difference.
A raucous Anfield were indeed a viable source of energy for the Reds' to draw of, though Chelsea were defensively sound to deny any Liverpool attacks.
The gameplan for Chelsea was clear - take their time and tactically frustrate Liverpool. And when the chance came on the other end of the pitch, they made sure it counted.
Steven Gerrard slipped after receiving a pass from Mahmadou Sakho, with Demba Ba latching onto the miss and slotting it pass the onrushing Mignolet.
Visible distraught, Gerrard attempted to redeem himself with long-range shots in the second half, though the shots were not of any trouble.
Liverpool were eager to attack and to go forth, with Iago Aspas, Daniel Sturridge, Raheem Sterling and Luis Suarez all on the pitch at once - though the credit is reserved for Chelsea, defending well and keeping Liverpool at bay.
21 of Liverpool's 26 shots were outside of the box - bus, parked.
Instead, the Reds were forced to shoot from long-range, eventually being blocked, or going wide. And in the rare occurrences whereby Liverpool got a little closer, they were often simple saves for the Aussie keeper Mark Schwarzer.
Frustration was clear on all from Liverpool. Not necessarily where they lackadaisical but Chelsea made them look it with the tactics working to perfection.
Willian delivered the final blow on an excellent counter-attack to expose Liverpool's defense line, with only Steven Gerrard back.
Fernando Torres ran forward after Gerrard was unable to make the tackle, running from behind the half way line towards Mignolet, passing it across to Willian who tapped in easily.
Analysis & comment
Liverpool suffer a league loss for the first time this year. An incredible run for Liverpool with 11-games draws to a halt, though their Championship credentials will truly be proven in how they bounce back.
From the neutral perspective the title race is completely unpredictable. "The tide has turned" in the title race, the loss could be very deflating for Liverpool. Selhurst Park will be hostile, especially with the Eagles' style that could derail them.
Despite remaining on top, Liverpool have two more challenges which they look less likely of winning after the loss.
An insight into the mind of Mourinho has been exploited over the week. Tactically sound for Chelsea to shut down the Liverpool barrage. Mourinho has executed it perfectly against Atletico Madrid and now Liverpool.
Yaya Toure Leads Surge As City Capitalize On Liverpool Misfortune
Score: Crystal Palace 0 - 2 Manchester City
Goalscorers:
Edin Dzeko (4'), Yaya Toure (43')
Location:
Selhurst Park, London, England.
Date: Sunday 27 April 2014
Kick-off:
4:10pm BST (UK time)
Referee:
Howard Webb
Attendance:
24,769
Possession:
Crystal Palace 46% - Man City 54%
Shots:
Crystal Palace 3 - Man City 16
Bookings: Pablo Zabaleta
Man of the Match:
Yaya Toure
Yaya Toure was the driving force behind Manchester City as they fired two past Crystal Palace at Selhurst Park to keep up the pressure on the title race.
Edin Dzeko got the visitors off to a rapid start, as he towered high to head low past the keeper.
Man City didn't seem too urgent to decimate Palace, taking their time to control the game.
With a few minutes left on the clock from the first half Yaya Toure charged through Palace players and curved it into the top corner to excellently double the lead.
In the second half, though, Pellegrini's men tend to have sat back more, even though Palace were unable to capitalize.
Analysis & comment
Advantage City in the title race...
Manchester City's goal difference has provided an essential and comfortable bubble for the rest of the title race. Should Liverpool and Man City win all their remaining games, its most likely that Manchester City will win the title on their superior goal difference.
In the game, Yaya Toure showed how important he is to City. Truly an incredible player, the Ivorian's goal epitomized that.
Crystal Palace are safe, but will want to pick up more wins in order to broaden ambitions for next season. They face Liverpool next.
AP
A remarkable day in the Premier League - the title race has been blown wide open again.
WRITE FOR US as we are now recruiting more writers. If you are interested in showcasing your sports writing / journalism skills, and have a passion in writing in our wide range of sports, learn more at this page.
- Sports for the Fans, by the Fans.
Connect With Us!