NBA
NBA Playoffs 2014
Game 2, Round 1
21-23 April 2014
BY NISAR KHAN
Game 2 from the first round of the NBA Playoffs saw five series get tied, while Wizards, Heat and Blazers still are in contention to sweep. There were thrilling overtime finishes, blowouts, and individual player records... smashed.
After the Playoffs got underway in a contrasting weekend, Game 2 had plenty to offer, giving us the definitive projection on the series to come. Full recap, highlights, stats and more from the Game 1s here
»
Here, you'll find recaps from each game in Game 2, with full scores, information, and the key stats like highest points and rebounds.
Thunder's Revival Falls Short As Grizzlies Win In Overtime
Score: Memphis Grizzlies 111 - 105 Oklahoma City Thunder
Location:
Chesapeake Energy Arena, Oklahoma City, OK, USA.
Tip-off: Monday 21st April 2014, 1:00am BST (Tues. morning for UK) / 8:00pm ET
Highest points: Kevin Durant (OKC), 36 pts.
Highest rebounds: Kevin Durant (OKC), Serge Ibaka (OKC), 11 rebs.
Highest assists: Mike Conley (MEM), 12 asts.
Russell Westbrook and Kevin Durant's efforts to force overtime against the Memphis Grizzlies will fall short in overtime as Zach Randolph - scoring 25 points - and his teammates rattled the Thunder.
Mike Conley had a great game also, adding 19 points and 12 assists to Grizzlies' total.
While Oklahoma thrived on the fast-break to comfortably see off the Grizzlies in Game 1, Memphis managed to execute the perfect hindrance and shut down the fast-break opportunities.
Big names for Oklahoma City Thunder added big totals to the stats, although the poor percentage of shooting compromised this. Scoring 36 points, Durant only had 12-27 shooting, while Russell Westbrook's 11-29 shot percentage made less of his 29 point effort.
A miserable 26 seconds, after Zach Randolph gave his side a two-point lead in overtime, was followed by a Thunder turnover as Serge Ibaka travelled. It was made a four-point game with Courtney Lee's free throws before Zach Randolph added the final pair to seal the game, just nine seconds before the culmination of a tense encounter.
For the Thunder, the hard work coming through a below-par first half to force overtime, was compromised with a sequence of errors for Oklahoma City, allowing the Grizzlies to snatch the game away.
It's back in favor of Memphis, with Game 3 being on their homecourt.
Video: "Amazing OT ending between Thunder and Grizzlies"

YOUTUBE / NBA
Clippers Rout Warriors To Tie Series
Score: Golden State Warriors 98 - 138 Los Angeles Clippers
Location: Staples Center, Los Angeles, CA, USA.
Tip-off: Monday 21st April 2014, 3:30am (Tues. morning UK), 10:30pm ET
Highest points: Blake Griffin (LAC), 35 pts.
Highest rebounds: DeAndre Jordan (LAC), 9 rebs.
Highest assists: Darren Collison (LAC), Chris Paul (LAC), 10 asts.
Did you have to read that scoreline again? You're not alone.
The Los Angeles Clippers revived themselves emphatically after being seen off by Warriors in an action-packed opener.
Blake Griffin, who fouled out in Game 1, was a revitalized player as he scored 35 points and didn't foul in the game.
Intent was made crystal clear as the Clippers laid down the battle lines early. A 14 - 4 run gave them full steam ahead coming out of the blocks.
Klay Thompson, who was the centrepiece of Warriors' win in the previous game, scored just 7 points, while fouling 4 times - the same amount as Steph Curry who scored 24 points.
Curry's terrific third quarter was alas in vein, as his 20 points only helped Warriors get within a 25-point margin. The blowout was inevitable at that point.
Clippers were desperate to get back on track and did so with intense game play to leave Warriors wounded.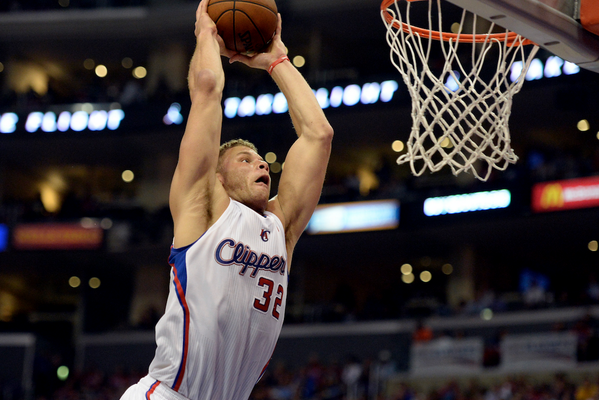 Blake Griffin's 35 points were the highest in his play-off career
Paul George Marshals Pacers To Comfortable Hawks Win
Score:
Atlanta Hawks 85 - 101 Indiana Pacers
Location: Bankers Life Fieldhouse, Indiana, IN, USA.
Tip-off: Tuesday 22nd April 2014 (Weds. morning UK), 12:00am BST, 7:00pm ET
Highest points: Paul George (IND), 27 pts.
Highest rebounds: Paul George (IND), 10 rebs.
Highest assists: Paul George (IND), David West (IND), 6 asts.
After a loss in Game 1 that left the top seed with a lot of nagging questions, Paul George proved the solution in a dominant performance all over the court to see the Pacers past Hawks, evening the series at 1-1.
Soaring high in the stat boards for the game, Paul George's 27 points, combined with 10 rebounds and 6 assists were the cornerstone of Pacers' victory at the Bankers' Life Fieldhouse. In addition, George had four steals and also blocked a shot from Jeff Teague.
Following their defeat on Saturday, the Pacers wanted to rebound with a big win - and on Tuesday, they did exactly just that.
While Hawks ran away with the game in the third quarter of Game 1, Indiana Pacers stepped up for a big third quarter this time round, Hawks had a total of only 33 points in the third quarter.
To go with a perfect free-throw percentage, Paul George went 9 for 16 from the field and had a 3pt FG of 5-7.
Although George spearheaded the charge to the win, he was provided with more than substantial assistance at the hands of Luis Scola (20 pts, 7 rebs), George Hill (15 pts, 5-6 2nd half FG) and others.
It was a dramatic and sudden turnaround from the Pacers who quickly erased doubts, after going into half time trailing 52 - 48.
In the third quarter the Pacers were all guns blazing with a tremedous 31 - 13, and lead 79 - 65 heading into the fourth quarter of the game.
Pacers scored on, and marched on to a big win that ties the series with the Atlanta Hawks.
Looking by far the better team this time round, it has put doubts on hold that aroused following Pacers missteps towards the end of the season. Being 1st seed though, there's still a lot of pressure for them, so taking a game at Atlanta is a must. Paul George stepping up like this are the performances that make the all-important difference.
Video: Paul George And Pacers Take Over In Third Quarter
NBA / YOUTUBE
DeRozan Steps Up To Drop Nets
Score: Brookyln Nets 95 - 100 Toronto Raptors
Location:
Air Canada Centre, Toronto, ON, Canada.
Tip-off: Tuesday 22nd April 2014 (Weds. morning UK), 12:30am BST, 7:30pm ET
Highest points: DeMar DeRozan (TOR), 30 pts.
Highest rebounds:
Jonas Valančiūnas (TOR), 14 rebs.
Highest assists: Grei Vasquez (TOR), 8 asts.
Demar DeRozan struggled in Game 1 against the Nets. Game 2 was the polar opposite.
Putting on an All-Star caliber performance, 17 of his points came in the fourth quarter that gave the Canadian side the final push up against the Nets.
DeRozan was pivotal in contribution to Raptors' attacking prowess, as he went for 9-21 in shots, while his fourth quarter performance go 9-for-11. He missed only two free throws out of his 14 attempts on trips to the line.
Described as a "must-win" by Raptors' Amir Johnson, Raptors saw him score 16 points while Kyle Lowry added 14 points to the winning total.
Paul Pierce was far off his winning performance from Game 1 when he lead the Nets to the victory. Foul trouble and a 2-11 from the field, with no three-pointers scored out of 6 attempts, the former Celtics player scored only 7 points.
Leading 66-64 going into the fourth, Nets had, till then, taken advantage of over 20 turnovers from Toronto. However, after Pierce's three-point play that tied the game at 83, DeRozan hit two jumpers around Pierce's miss. As a result, with just over 2 minutes left, Raptors were up by 4.
Another miss from Pierce lead to DeRozan's rebound, and the Raptors went on to hit 4 free throws within the final 12 seconds, as Raptors marched on to a 100-95 victory.
Paul Pierce simply didn't have it in the game. Had he tied up a few of the many chances that came, especially in the fourth quarter, then the result could have been very different. However, Nets will relish on the fact that they picked up the win away, giving them an upper-hand going into Game 3s and Game 4s at the Barclays Center in Brooklyn.
DeMar DeRozan scored 30 points in Raptors' home win

USA TODAY
Wizards Stun Bulls In Overtime
Score: Washington Wizards 101 - 99 Chicago Bulls
Location:
United Center, Chicago, IL, USA.
Tip-off: Tuesday 22nd April 2014 (Weds. morning UK), 02:30am BST, 9:30pm ET
Highest points: Bradley Beal (WAS), 26 points.
Highest rebounds:
Joakim Noah (CHI), 12 rebs.
Highest assists: Bradley Beal (WAS), Trevor Ariza (WAS), D.J. Augustin (CHI), 7 asts.
Washington Wizards got back-to-back away wins over Chicago and fought really hard to do so.
Nene, who torched Bulls last time round, scores 17 points, 6 of which came in overtime while Bradly Beale finished strong with 26 points.
John Wall, winner of the NBA All-Star Dunk contest in February, had 16 points and 7 assists for the Wizards.
Wizards forced overtime after trailing by 10 points in the fourth quarter, leading 87-77 five minutes in.
After the lead was cut to 91-85, Bradley Beal would prove the difference. Hitting a three-pointer, then a layup followed by one of two free throws, the game was tied 91-91.
For the remaining 42 seconds, neither team could convert, so overtime was on the cards.
Nene scored six points in overtime to get the Wizards going, and after a two-point lead opened up later, Kirk Hinrich squandered the attempt to equalize on the free-throw line.
Washington Wizards have picked up two huge wins for the opening two games away, completely snatching the homecourt advantage. For the Bulls its another story of a big lead squandered, coming closer this time, but not close enough. They lack a key scorer that can consistently be relied on down the stretch - but can they still win it, with two games in Washington to follow?
Video: Beal Leads Wizards To Thrilling OT Win

YOUTUBE / NBA
LeBron Scores 32 As Miami Lock Down Bobcats
Score: Charlotte Bobcats 97 - 101 Miami Heat
Location: American Airlines Arena, Miami, FL, USA.
Tip-off: Wednesday 23rd April 2014 (Thurs. morning UK), 12:00am BST, 7:00pm ET
Highest points: LeBron James (MIA), 32 pts.
Highest rebounds:
Al Jefferson (CHA), 13 rebs.
Highest assists: Kemba Walker (CHA), LeBron James (MIA), 8 asts.
Miami continued their run in search for a third Championship title as they went 2-0 against the Charlotte Bobcats.
LeBron James stepped up to the plate again, as he scored 32 points and dished out 8 assists. Dwyane Wade scored 15 points and was influential as he had a steal to seal the win in the final play.
Charlotte Bobcats were not pushing over easily, though. Al Jefferson, persevering through a left plantar fascia train, scoring 18 points and crashing 13 rebounds. Claiming that the strain worsened in the game, he shot 9 for 23.
For a lengthy spell of the game, Miami's lead was up to double digits, although with 50 seconds left Miami had a 97-94 lead.
LeBron James suffered a knock as he drove to the rim, as McRoberts' elbow struck LeBron knocking him down in agony.
After recovering, the four-time MVP would hit one of his free-throws to make it a two-possession game. Fortunately for Miami, it put it out of reach with a two-possession game, and Kemba Walker's three with less than 12 seconds remaining put the Bobcats within one point.
Charlotte would not score again, and the Heat sealed the victory in the final seconds.
Speaking after the game, LeBron James stated that Miami "can play better basketball", prompting improvements from himself and teammates, who were pushed hard by Charlotte. It was definitely expected though that they would pick up the back-to-back wins. Al Jefferson, even nursing an injury, played exceptional.
Heat were not dominant but did enough

USA TODAY
Mavs Squash Spurs To Pick Up Away Win
Score: Dallas Mavericks 113 - 92 San Antonio Spurs
Location: AT&T Center, San Antonio, TX, USA.
Tip-off: Wednesday 23rd April 2014 (Thurs. morning UK), 01:00am BST, 8:00PM et
Highest points: Manu Ginobli (SAS), 27 pts.
Highest rebounds:
Samuel Dalembert (DAL), DeJuan Blair (DAL), Tim Duncan (SAS), 7 rebs.
Highest assists: Devin Harris (DAL), Jose Calderon (DAL), 5 asts.
Being that Dallas and San Antonio are in the same state, homecourt advantage may not matter. Think again.
Dallas Mavericks tied the series on Wednesday night to thwart Manu Ginobli's game-high 27 points and inflict some vulnerability on last-year's runners up.
Against the tide, the eighth seed snatched a 10-game losing streak to Spurs with a 21-point win.
Monta Ellis' 21 points and Shawn Marion's 20 points, in addition to Nowitski's 16, Harris' 18 and Calderon's 12 points, were more than enough to outscore Spurs' with only three players scoring more than 7 points in the game.
Mavericks played tough, to solute the tough Spurs' defense described as "soft" from Manu Ginobli.
Physicality was epitomized for Dallas anytime Parker and Ginobli made first-half drives to the lane. Quite the shut-out.
Although coach Popovich had complains about fouls, it didn't make a difference, with Spurs shooting poor, just 18-29 from the free-throw line.
Three-pointers, with exception to Ginobli were shut down well as Spurs went 5 for 14 from beyond the arc.
The closest Spurs would get was 5 points from Mavericks. The Texas tandems battle on.
Video: Best of Phantom Cam from Spurs/Mavs

YOUTUBE / NBA
LaMarcus Aldridge Torches Rockets... Again
Score: Portland Trail Blazers 112 - 105 Houston Rockets
Location: Toyota Center, Houston, TX, USA.
Tip-off: Wednesday 23rd April 2014 (Thurs. morning UK), 02:30am BST, 9:30pm ET
Highest points: LaMarcus Aldridge (POR), 43 pts.
Highest rebounds:
Dwight Howard (HOU), 14 rebs.
Highest assists:
Damian Lillard (POR), 8 asts.
LaMarcus Aldridge delivered another standout performance for Portland as they got back-to-back road wins against Houston at the Toyota Center.
Scoring 43 points, he was completely dominant, putting Blazers' in control as he returns to his home state of Texas.
Aldridge smashed a record in the process, becoming the first Portland player to have two-40 point games in the postseason, and his 89 total points in the first two playoff games are the third highest in the past 50 years.
Damian Lillard further sunk the Rockets as his 8 assits and six-free throws down the stretch made the win much more imminent than Game 1's thriller.
Despite Houston's clear focus to shut down Aldridge they weren't substantial enough to halt the wrecking machine known as Aldridge.
Leading into the fourt, Portland led 83-77 and Rockets could not stop them.
Aldridge has scored 89 points in total over the first two games

AP
-------------------------------
Five playoff series were tied in Game 2, meaning we are guaranteed to have five game 5s, while Portland, Washington and Miami still stand for a possible sweep.
Two thrilling overtime finishes, baffling blowouts and LaMarcus Aldridge. That is all.
WRITE FOR US as we are now recruiting more writers. If you are interested in showcasing your sports writing / journalism skills, and have a passion in writing in our wide range of sports, learn more at this page.
- Sports for the Fans, by the Fans.
Connect With Us!