BROOKLYN, NY - The Undertaker struck "fright" into Brock Lesnar, after rising from a coffin, launching Lesnar over the top rope, sending The Beast into retreat - part of another jam packed RAW from Brooklyn with WrestleMania a fortnight away.
Raw kicked off with one of the principle owners of WWE, Stephanie McMahon. She said that Triple H will defeat Daniel Bryan at WrestleMania, and will then progress to become the WWE World Heavyweight Champion. McMahon was then interrupted by the current WWE World Heavyweight Champion, Randy Orton. He went on to talk about how he respects both Stephanie and Hunter, but says he will not be responsible for what he does to The Game, if he enters the WWE World Heavyweight Championship match, at the Showcase of Immortals. And then, both Stephanie and Orton were interrupted by "The Animal" Batista. He came out and made it very clear that he will be the one who walks out of WrestleMania as the WWE World Heavyweight Champion. Tension then started to build between Batista and Orton. Batista then started to throw insults at Stephanie, causing her to slap The Animal, wiping his sunglasses right off his face. As Orton started laughing, Batista turned around, and flattened Randy with a huge spear, nearly breaking The Viper in half. Batista then held the WWE World Heavyweight Championship up high, to close the opening segment.
CHRISTIAN VS. SHEAMUS VS. DOLPH ZIGGLER VS. ALBERTO DEL RIO TO
DETERMINE
THE NO. 1 CONTENDER TO THE
INTERCONTINENTAL
TITLE
To determine the No. 1 Contender to Big E's Intercontinental Championship, Christian, Sheamus, Dolph Ziggler, and Alberto Del Rio battled it out in a Fatal-Four-Way match.
This was arguably one of the best matches of the night, as all men put on some solid high-paced, back and fourth action throughout the match.
Review
: As Sheamus had Alberto Del Rio helpless in a Clover Leaf, Dolph Ziggler crept up from behind, and Zig Zagged both Sheamus and Del Rio, only for Captain Charisma to plant Ziggler flat out on the canvas with a Killswitch, picking up the victory.
Christian will now challenge Big E for the Intercontinental Championship, on this episode of WWE Main Event.
SIN CARA VS. DAMIEN SANDOW
Accompanied by Scooby Doo, Sin Cara battled Damien Sandow, in a match that only lasted around 5 minutes.
It's fair to say that the crowd weren't very interested in this match, and it wasn't anything special. Just a typical squash match.
Review
: Sin Cara defeats Damien Sandow via. Pinfall in around 5 minutes. The crowd was completely dead during this contest, and it's sad to see Damien Sandow jobbing, yet again.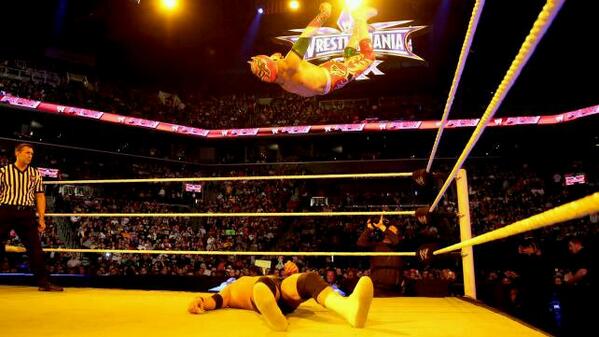 LOS MATADORES VS. CURTIS AXEL & RYBACK
Los Matadores take on Curtis Axel and Ryback, in a simple tag team bout. The match was nothing special.
It was announced last that Axel & Ryback, along with The Real Americans will challenge The Usos for the Tag Team Titles, so a win here for Axel/Ryback would definitely give them some momentum heading into WrestleMania.
Review
: Los Matadores def. Curtis Axel & Ryback via. a Roll-up pin. After Axel & Ryback, along with other tag teams helped beat down The Shield last week on Raw, the Hounds of Justice were back and ready to serve some well-deserved payback. Ambrose, Rollins, and Reigns surrounded the ring, distracting Axel, leading to one of the Matadores rolling him up for the win. After the match, Axel & Ryback stood back-to-back, anxiously waiting for The Shield to pounce. As Roman Reigns stepped up to the apron, Axel went for him, but Reigns then dropped, caught Axel's leg, and dragged him out of the ring. Reigns made quick work of Axel, as Ambrose and Rollins targeted the "Big Guy" in the ring. Ryback managed to get the pair off his back, until Reigns entered the ring, and floored Ryback with a massive spear. The punishment wasn't over just yet, as all members of The Shield Triple-Powerbombed Ryback, sending out a huge statement.
MICHAEL COLE INTERVIEWS TRIPLE H
Michael Cole sat down in the ring with Triple H to discuss why the COO sickeningly assaulted Daniel Bryan last week. This segment was actually good. Cole asked some good questions, which everyone wanted to hear, and put Triple H on the spot.
Review:
Yet again, the Cerebral
Assassin
cut another brilliant, heel promo, grabbing the attention of the WWE fans in attendance. He vowed that he will beat Daniel Bryan, and go on to become the WWE World Heavyweight Champion.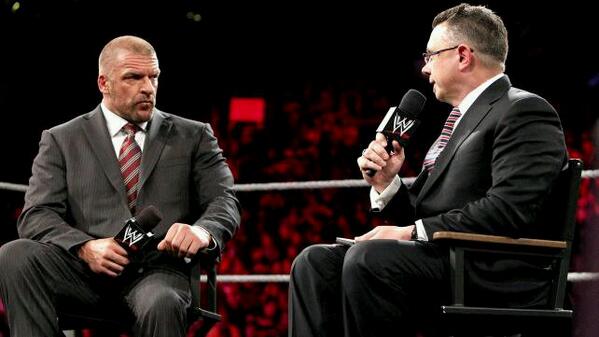 CODY RHODES VS. FANDANGO
With both Goldust and Summer Rae at ringside, this was a half-decent back-and-fourth match, that lasted no longer than 10 minutes.
Review
: Cody Rhodes defeats Fandango via. Pinfall. Like I said, it was a finally decent match, with a few good spots. I do think it's time for Cody to progress up to the main event scene though. Things don't look too good for Fandango though, as he actually got beat by the Disaster Kick, which isn't an actual finisher move.
THE MIZ INTERRUPTE HULK HOGAN, ARNOLD SCHWARZENEGGER & JOE MANGANIELLO
Hulk Hogan, Arnold, and Joe basically cut a short promo each, and then Arnold and Joe promoted their new film that comes out soon, Sabotage.
Review:
After they cut their promos, they were all surprisingly interrupted by The Miz. He came out and went on about how he's the most must see Superstar in history, and then said Hogan doesn't belong in the WWE anymore. Joe Manganiello got in his face, and pushed him, until Miz went after him, only to get a punch by Joe, Arnold, and a whip over the top rope by The Hulkster, Hulk Hogan.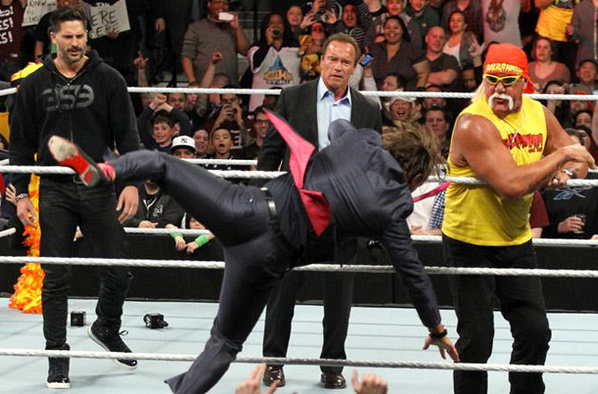 THE BIG SHOW VS. TITUS O'NEIL
Pretty lackluster match if I'm honest. It lasted just over 5 minutes.
Review
: Big Show defeats Titus O'Neil via. Pinfall, after hitting the K.O Punch. Pretty disappointing match, and outcome. I like Big Show, but it's just not fair on Titus. I had a lot of high hope for him when WWE turned him heel last month, but it just seems like they've completely dropped the ball on him. Again, disappointing.
JOHN CENA VS. LUKE HARPER
I actually thought this match was very good. I enjoy both Cena and Harper's in-ring work, and they put on a decent match. It lasted about 10-14 minutes, with some solid spots and maneuvers.
Review
: The match lasted about 10-14 minutes, with some solid spots and maneuvers. Things didn't get well for Cena, as the lights went out, and as we think he was attacked during the blackout, he had his arms trapped between the ropes, and believe it or not, he was wearing a Goat Mask. Yes, you heard it right. John Cena wearing a Goat Mask. So yeah I thought the match was good, and the ending was good too. I'm enjoying this feud.
AJ LEE VS. NAOMI
AJ Lee vs. Naomi in a non-title match lasted around 5-7 minutes. Not good, but not bad. I both Divas are very talented and have a bright future ahead of them in the WWE.
Review
: Naomi defeats Divas Champion AJ Lee via. Count-Out. After AJ and her "heavy" Tamina walked out on the match, they were confronted by Vickie Guerrero, who appeared on the stage. Vickie called AJ a bitch, and announced that she will be defending her Divas Championship at the Grandest Stage of Them All. Vickie said that she will be defending her title in a "Vickie Guerrero Divas Championship Invitational". The match will include every single Diva, including her buddy Tamina, who actually had a grin on her face, after the match was announced. Well the cards are most definitely stacked against AJ now!
DEAN AMBROSE & SETH ROLLINS VS. THE REAL AMERICANS
Many people said that this match stole the show, and I don't think they're wrong. What a match this was. Not just your typical tag team, match. It contained all kinds of wrestling like technical
, powerful, and brutal
stuff.
Review
: Dean Ambrose & Seth Rollins defeat The Real Americans via. Pinfall. In this brilliant match, the ending was spectacular. Rollins took Cesaro out on the outside, and turned his attention back to Jack Swagger in the ring. Rollins managed to get Swagger rocking, and capitalized hitting his finishing move, "The Peace Of Mind", to pick up the victory. After the match, Cesaro attacked Rollins from behind, only to receive a big Superman punch from Roman Reigns. And as Cesaro rolled out of the ring, the Samoan Beast sprinted around the corner, and absolutely flattened Cesaro with a thunderous Spear. The Shield were't done there, as Rollins cleared the announce table. Yep, I think you know what's coming. It's Triple-Powerbomb time! Rollins and Ambrose lift Cesaro up, stack his legs on Reigns' shoulders, and BOOM! Cesaro's body cripples as he crashes through the announce table, with a brutal force. But a
s The Shield stood tall, they were interrupted by the three men who were responsible for the sickening beatdown on them last week, Kane and The New Age Outlaws appeared on the stage. Kane announced that The "Hounds of Justice" will face off against
Kane himself, and The New Age Outlaws. After announcing the match, Kane screamed "BELIEVE THAT!".
BROCK LESNAR CALLS OUT THE UNDERTAKER
I think this was a brilliant segment. Definitely worthy of closing the show. It kept me on the edge of my seat throughout. But, I don't think this feud has been built up correctly. It doesn't help that both Lesnar and Undertaker are part-timers.
Review
: The Beast Incarnate and his manager Paul Heyman entered the ring, and Heyman talked about how Brock was going to Conquer The Streak, but was acknowledging the challenge and Undertaker's accomplishments at WrestleMania, the same time. As Heyman continued talking, Lesnar firmly snatched the microphone out of Heyman's hand, and said "I'm not here to promote. I'm here to fight. I'm here. You're (Undertaker) here. Lets. Do. THIS!" A few seconds after Brock called The Deadman out, the lights went dark and a coffin was slowly brought down to ringside. Lesnar hesitated to open it, as he was prodding, and kicking it. He eventually opened the coffin, and it was empty. Brock got really frustrated and was about to leave, just as he heading towards the ropes, the coffin lid slowly opened, and The Undertaker was laid there. Fear was struck into Lesnar and Heyman, as The Phenom got out, and came into the ring. Him and Lesnar faced-off, until Undertaker went for The Beast, unloading on him with right and left hands to the head and body. With power, The Beast was launched over the top rope, hitting his head on the coffin, and rolling over. The Undertaker definitely has the most momentum out of the two heading into WrestleMania!
RESULTS:
Christian won a Fatal-Four Way Match to become the No. 1 Contender to the Intercontinental Championship.

Sin Cara def. Damien Sandow.

Los Matadores def. Curtis Axel & Ryback.

Cody Rhodes def. Fandango.

Big Show def. Titus O'Neil.

John Cena def. Luke Harper.

Naomi def. Divas Champion AJ Lee, in a Non-Title match.

Dean Ambrose & Seth Rollins def. The Real Americans.
With WrestleMania nearing closer, things got even more heated. Are you ready for New Orleans?
- Sports for the Fans, by the Fans.
Connect With Us!