BY NISAR KHAN
UFC 171: Hendricks vs. Lawler
American Airlines Center, Dallas, Texas (USA)
DALLAS - Johny Hendricks was victorious in his hometown as he edged out Robbie Lawler in a 48 - 47 unanimous decision victory at the American Airlines Center.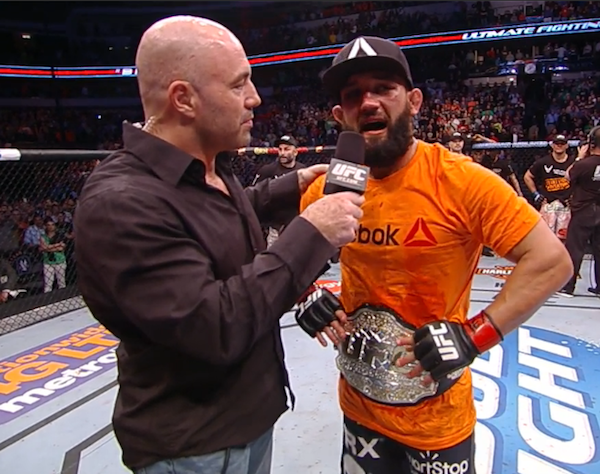 Overwhelmed: Johny Hendricks sports the Gold round his waist.

UFC
Johny Hendricks and Robbie Lawler engaged in a thrilling main-event in Dallas and it would ultimately be decided in the fifth and final round. "Big Rig" controlled the first two rounds with his leg-kicks proving the difference, and making a clear mark on Robbie Lawler - whose right leg swelled in the second round. However, fighting out of the blue corner, Robbie Lawler controlled the third round and put Johny Hendricks in deep trouble, with huge shots. In spite of landing cleanly, Johny Hendricks did not drop throughout the fight, and nor did Robbie Lawler, throughout the fight. Going into the fifth round, it was clear that both men were even on the judges' scorecards. An opportunistic and smart Johny Hendricks seized the opportunity by grinding out the early minutes, before landing a takedown with around half-a-minute to go, ultimately scoring the round in his favor and more importantly getting a grasp of the illusive UFC gold that many thought he should have earned in November last year.
"I know I'll fight him again, and maybe I'll give a better performance" said an overwhelmed Johny Hendricks following his victory. Fighting out of Dallas, Texas, Johny Hendricks fell to his knees and released an uproar of celebration after it was announced that he was the new Champion. Soon after, Robbie Lawler praised his performance and acknowledged how close he came. It was a valiant effort from Lawler, who fell short on the day, and his lengthy reign in the UFC will continue should he want to pursue the gold.
Tyron Woodley defeated Carlos Condit in the co-main event, as the former Interim Welterweight Champion blew his knee out during the fight. An exciting first round saw both come out and trade a few big shots, but in the second, a takedown would seem to tweak the knee of Condit, before a leg-kick to the opposite leg would force Carlos Condit to collapse in pain as his knee buckled. Replays showed that Carlos Condit was in tremendous pain after the takedown, supporting Tyron Woodley's statement after the fight where he claimed it was all his doing. Despite the big win, the nature of his victory may still keep him a fight or two from a title shot.
Myles Jury applied the ultimate game plan in order to defy Diego Sanchez. The Mexican Sanchez, coming off an epic fight at UFC 166, attempted to apply his aggression with exchanges similar to that he had with Gilbert Melendez. Jury played his cards right and backed off slightly, and tactically got the win on points.
Hector Lombard dominated Jake Shields in a unanimous decision victory. It was an impressive opening round for the Judo-Olympian, of who also used some Judo with significant takedowns in the fight. Round 1 would see Jake Shields put into some deep trouble with an outburst of huge shots from Lombard, however he slowed down noticeably in the remaining two rounds. That alone took it far from an impressive win, as he cruised past Jake Shields at ease yet didn't display the credentials needed for a title challenge. It seems like his cardio wasn't good enough to keep up the pressure, and after his win he said "I could have given more in the third round", acknowledging his decreased effort in the fight.
Ovince St. Preux impressively opened the main card with a rare "Von Flue" Choke almost subtlety dispatch Nikita Krylov. The 22-year old was out cold after being submitted in the first round as St. Preux got his tenth career finish.
There was plenty of great preliminary action too in a really stacked card, that included TUF 17 winner Kelvin Gastelum edging out Rick Story with a split decision win, while earlier in the night Jessica Andrade defeated Raquel Pennington.
Analysis, Comment & Breakdown
Rare submission a credit to Saint Preux's ability
Many people watching the action at home were unaware of what exactly happened for a few moments when the fight was stopped and Ovince Saint Preux went to celebrate. Having worked the submission on the ground, it was locked in tightly and even Nikita Krylov couldn't tap before he passed out. A submission like that is an incredible rarity inside the Octagon, further adding to his credentials and ever-growing MMA ability.
Hector Lombard gasses out, needs to show more for title talk
Defeating an esteemed fighter such as Jake Shields is always a big accomplishment. However Hector Lombard may have inadvertently contributed to his own criticism, after he slowed down in the latter two rounds and didn't push for the finish. One could argue that the Olympian showed maturity not to empty the gas tank and go for the first round knockout, but then it could just be a lack of opportunity. Many enjoyed his Judo throws which were a great part of the bout, when they were used, but Lombard simply didn't give it his all, and he even knew it, and said it.
Myles Jury applies perfect game plan to defy Diego Sanchez
Diego Sanchez was completely shut down by Myles Jury in Dallas. In some cases, the Mexican may have beat himself in regards to his mindset and ongoing aggression rather than the more tactical approach. Despite how tempting, Myles Jury did not really engage in any prolonged wild swings, but backed away and created space just to score. It was far from the ideal zone for Diego Sanchez to fight in.
Woodley's win overshadowed by injury, what would have happened if the fight went on?
Its always unfortunate to see a fight end in injury. This has somewhat taken some of the sting out of Tyron Woodley's win. Both exchanged really well in the action we saw, and with all due respect, Woodley cannot exactly take all credit for his takedown injuring Condit, it was an accident. If the fight went on it may have been really close, and Condit was setting up for a finish.
Hendricks finally gets the belt, Lawler humble in defeat, Welterweight showcase
It was a showcase of fine Welterweight action at UFC 171. What a great fight we had between Robbie Lawler and Johny Hendricks. Both stood in front of one another and traded, and it really is a Fight of the Year candidate. Robbie Lawler will have to wait longer for the taste of Gold if it happens, but what a great showing by him too. Joe Rogan pitted Rory McDonald as Hendricks' potential next opponent, do you agree?
Superb fights in a stacked card as Johny Hendricks leads the way for a new era inside the Octagon.
- Sports for the Fans, by the Fans.
Connect With Us!