Lewis Hamilton finished ahead of teammate Nico Rosberg in Malaysia to win the Malaysian Grand Prix in Kuala Lumpur.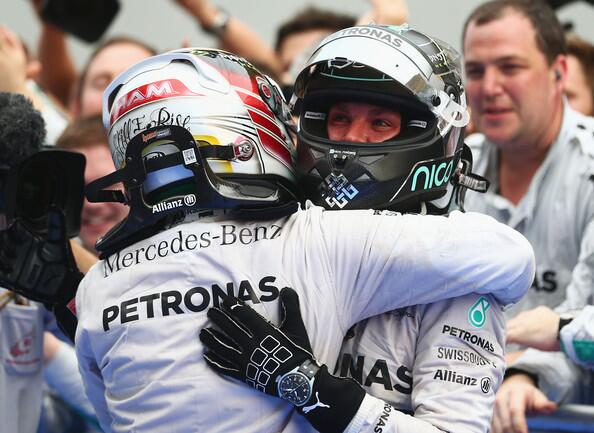 Embrace: Rosberg, Hamilton jubilant
TheSportMatrix Coverage Of Malaysian Grand Prix 2014 »
I
t was the esteemed 1-2 positioning for Mercedes, as Nico Rosberg -
who won the Australian Grand Prix in the race prior
- finished behind his teammate Lewis Hamilton, as the Brit won from his
pole position in the qualifying
.
Lewis Hamilton lead for the entirety of the race.
Sebastian Vettel had much better success in comparison to his early retirement in Australia, finishing on the podium. It would, though, be a much more varied sense of fortune from his teammate Daniel Ricciardo, after he retired in the 49th lap.
The Aussie suffered another torrid outing with his 43rd lap seeing the front wing of his car detach slightly. Later on, the new regulations would come to his misfortune as he was given a 10-second penalty for unsafe release from the pit. A drastic descent from podium challenge to a multitude of problems in the space of two pit stops saw him plummet to as low as 16th.
A rarity occurred in the race as both Sauber racers, Adrian Sutil and Esteban Gutierrez, were retired from the race. They were part of seven retired racers in total that also included Lotus' Maldonado and Force India's Perez. It was the first double-retirement for the team in 2 years.
It was an utterly dominant display by Lewis Hamilton as he finished comfortably in first, helped by a great set of backroom staff whom he thanked after winning, calling them "amazing".
The podium was definitely much less subdued and awkward than last time out, which saw Sebastian Vettel overtake his teammate Mark Webber in one of the most infamous events of the season. Red Bull suffered some turmoil on Daniel Ricciardo's part, with no points on the standings yet, although signs of encouragement from Vettel's podium finish could get the team going again.
Lewis Hamilton's dominance would begin from the very first lap as he broke off from the rest of the pack and created a big lead early on. In the fourth turn, Bianchi and Maldonado made contact with a collision early on.
Kimi Raikonnen finished 12th in the race after suffering a right rear tyre puncture in the second lap and fell to the back. He would eventually make ground in the race to finish ahead of Chilton, Ericsson and Koboyashi.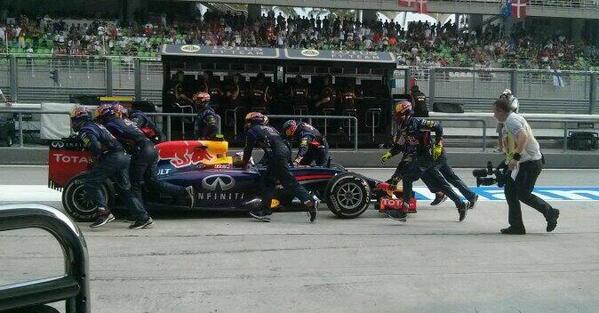 Shambolic: Ricciardo releases too early and has to be pushed back to his pit

ESPN F1
Final Standings
ESPN.
COM
ESPN
Driver-by-Driver Position Changes
ESPN.
COM
ESPN
Lewis Hamilton dominates in a Mercedes' Malaysian Masterclass as the F1 season gets into full swing. While it still may take some time for drivers to grow accustom, the events in Malaysia are setting up for a close Championship race.
WRITE FOR US as we are now recruiting more writers. If you are interested in showcasing your sports writing / journalism skills, and have a passion in writing in our wide range of sports, learn more at this page.
- Sports for the Fans, by the Fans.
Connect With Us!