Steven Gerrard scored two penalties as Liverpool cruised to a dominant 3 - 0 win over Manchester United at Old Trafford.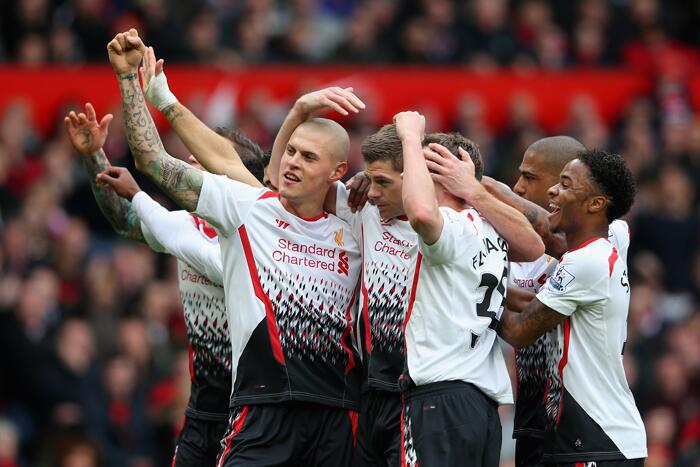 Domination: Steven Gerrard scored two penalties in the match.

PREMIERLEAGUE.COM
Score: Manchester United 0 - 3 Liverpool
Goalscorers: Gerrard (pen x 2), Suarez
Stadium: Old Trafford
Date: Sunday 16 March 2014
Steven Gerrard scored a penalty on either half while Luis Suarez added a third goal in a dominant performance from the Reds.
"We came here to win the game. We need to move on very quickly. We showed today that we are genuine contenders and will be here right till the end for this", said Gerrard to Sky Sports after the game. Steven Gerrard become Liverpool's all-time leading goalscorer against Manchester United.
Manchester United controlled possession in the early few minutes of the game, while Liverpool pressed them back restricting them to Liverpool's attacking half. The visitors were by far the more attacking minded, with Daniel Sturridge scuffing an early chance as Jordan Henderson tracked his great run with a through ball. To the relief of Manchester United fans, Daniel Sturridge was unable to beat David De Gea at the far post and his shot went flying into a bunch of Manchester United fans in the stands.
Penalty appeals seemed a recurring theme throughout the game, with one coming as early as the sixth minute. Luis Suarez had a decent appeal as it appeared that Phil Jones and/or Marouane Fellaini clipped him inside the box.
It would take over eighteen minutes before Manchester United were able to get a shot on goal, Wayne Rooney was controlling the play in midfield yet lacked quality, with his attempted cross to Robin van Persie going out for a throw-in. Robin van Persie got the first shot on goal for the Champions, but it was poor and fired straight at Mignolet for the Belgian to easily collect.
Old Trafford's home fans were far from comfortable in the game especially early on, with Manchester United playing far too defensively for their liking. That in addition with the effect of a derby game creates a restless viewing.
Daniel Sturridge continued to make some promising runs as United's centre-halves failed to pick him up. Another through ball put the Englishman in a threatening position from the near post, where he intricately dummied a shot to see of Nemanja Vidic, followed up poorly with a left-footed shot straight at the keeper. Raheem Sterling and Jordan Henderson were in better space, yet the opportunity went begging.
Despite a nervewracking start to the game for Manchester Untied as their opponents controlled the game, possession evened out around the thirty-minute mark, as approximately 25% of possession was distributed on each side of the pitch, while 50% was contested in the middle of the park.
Joe Allen was denied of a career-high goal against the Red Devils. The opportunity originated from some lovely skill by Daniel Sturridge who cut it across to the midfielder, not capitalized on though as De Gea saved comfortably.
John Flanagan received the first booking of the game, and it was quite some time coming after being built up from a series of fouls from the young full-back. Rafael was booked soon after as he fouled Steven Gerrard during an attempted clearance, and moments later at the other side of the pitch, he came razor-close to getting sent off. Luis Suarez's attempted cross into the box was stopped by Rafael with his hand, and a penalty was awarded. Steven Gerrard calmly stepped up and slotted it to the right while De Gea went the other way, and Liverpool took the deserved lead in the game.
While he embraced the glory of another goal against Manchester United in his celebrations, Steven Gerrard was in a bit of pain after clashing heads mid-air with Marouane Fellaini. The former Everton man Fellaini got worse-off from the collision, with a big cut that required treatment.
As the final five minutes of the half approached, Manchester United enjoyed their best spell of the game, as Michael Carrick and Marouane Fellaini linked up to get a shot on goal. Liverpool had a let-off soon after, with Robin van Persie found in plenty of space to cut and turn, but his shot rattled of Martin Skrtel out for a corner kick.
Wayne Rooney had the closest chance of the game for the hosts in the 44th minute, but it would be denied emphatically by Simon Mignolet with a big save from the top corner. On the rebound, Rooney attempted a volley that was well-blocked from Martin Skrtel. Manchester United would go into the break with some sense of enthusiasm, although overshadowed by Liverpool brimming with optimism with a superb performance and going into the lead that was deserved.
Any so-called sense of enthusiasm for Manchester United, who finished the first half strongly, was almost instantaneously disposed of 24 seconds in as Steven Gerrard scored from the penalty spot, as Manchester United conceded two penalties at Old Trafford in the Premier League for the first time.
Joe Allen was fouled in the box, meaning the skipper would step up and score the penalty hitting it in same direction, with De Gea going the same way, and Gerrard scored. Euphoria for Liverpool was clear as daylight with the skipper going towards the camera and kissing it.
From then on in, it was strength-to-strength for Liverpool, and a recession for Manchester United on a continuous downspiral thorught the game. The rare chances that came for Manchester United were ill-converted with only one shot on target in the game.
Liverpool were awarded another penalty as Daniel Sturridge was fouled from behind by Nemanja Vidic, as a result Vidic received his fourth career red card vs. Liverpool and Steven Gerrard was on the spot to score a hat-trick. Gerrard went the opposite direction and his penalty rattled the woodwork, ultimately meaning that he would not get a hat-trick, being subbed off for Lucas Leiva in the 87th minute.
Luis Suarez enjoyed a significant moment at the ground when he scored Liverpool's third goal. The Uruguayan broke through in front of De Gea and slotted it past him at ease to remove memories of his controversy in the ground in exchange for a triumph.
The Reds comprehensive victory was finished with the full-time whistle, as the fans at the ground were silent, with Liverpool climbing 14 points clear of their Manchester rivals.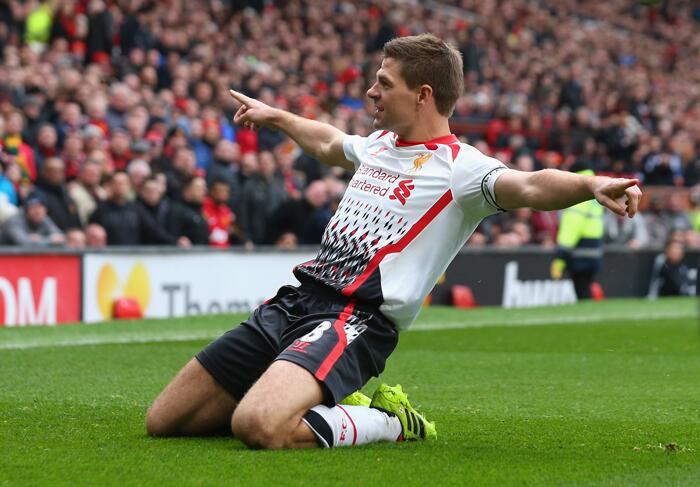 Comment, Breakdown & Analysis: Penalties, Patience, Prosperity
There could have been up to six penalties in the game, but definitely there should have been a fourth. Daniel Sturridge was definitely clipped after the third goal and that should have been a penalty. Regardless, the goals for Liverpool were deserved considering the vast threshold they had on the game and the rare chances for Manchester United.
Patience is something that Manchester United fans are having to endure for this season. Its another humiliating loss, and worst of all to Liverpool. They must stick by now to prevent even worse.
The win brings in plenty of confidence for Liverpool who can really surge for the title. What a big win of epic proportions it is.
This is one of the best performances. Manchester United were completely shut down in the game and Liverpool controlled it. More humiliation for United.
Liverpool pick up a win that could go really far from now on as they shut down Manchester United with a clinical performance. Liverpool run riot at Old Trafford - who thought that we'd ever be saying that.
- Sports for the Fans, by the Fans.
Connect With Us!