Liverpool's 3 - 0 win over Manchester United at Old Trafford on Sunday may become a cornerstone in a historic season for the Reds, while it also shows how much change has come about this season.
Liverpool got the league double over their Manchester rivals.

CAUGHT OFFSIDE
Full match report and analysis for Manchester United 0 - 3 Liverpool here »
Steven Gerrard scored twice from the penalty spot along with Luis Suarez adding a third goal. We could have very well seen a few more goals scored at Old Trafford, with two other significant penalty shouts and chances. The Reds completely controlled the game, and in the process of doing so made a huge statement that sent shockwaves through the Premier League.
Change comes quick when you look at it from this perspective. Last season, when Manchester United went on to lift the Barclays Premier League trophy, Manchester United finished 28 points ahead of their Merseyside rivals, while at this time last year, Liverpool trailed by 19 points off Manchester United.
For this big change to happen within one season comes at a compromise between two extremes - a breakout season of Liverpool on incredible form while Manchester United have disappointed and plotted far off their title-winning season. The game at Old Trafford was a complete exemplification of that.
Manchester United forward Wayne Rooney described the match as "one of the worst in his career".

TELEGRAPH
This win could also come as a vital title race stimulant for Liverpool, whose extraordinary run of form sees them drop only four points (two draws) in their league games from the New Year. They are on one huge hot streak currently, and going into the wind-down of the Premier League season, this win could be the difference.
Not only did Liverpool capitalize on Chelsea's stunning loss at Villa Park, but they made a statement in beating a team that has overshadowed them in the Premier League era. Could this mean that over twenty years of painful absence from a league trophy could come to an end?
As all things in sport,
its not that simple
. Liverpool are in the title race but many continue to write them off. However this win emphasizes their run of form to really push for the title. It's close, and that is what makes the Old Trafford win all the more important.
As for Manchester United, more humiliation was suffered going hand-in-hand with the pressure on the club that increased by tenfold. David Moyes now needs to put on good performances for the remainder of the season and somehow keep his team, whose now low spirits overshadow their season, in the Champions League - a hard feat from two goals down at Olympiacos.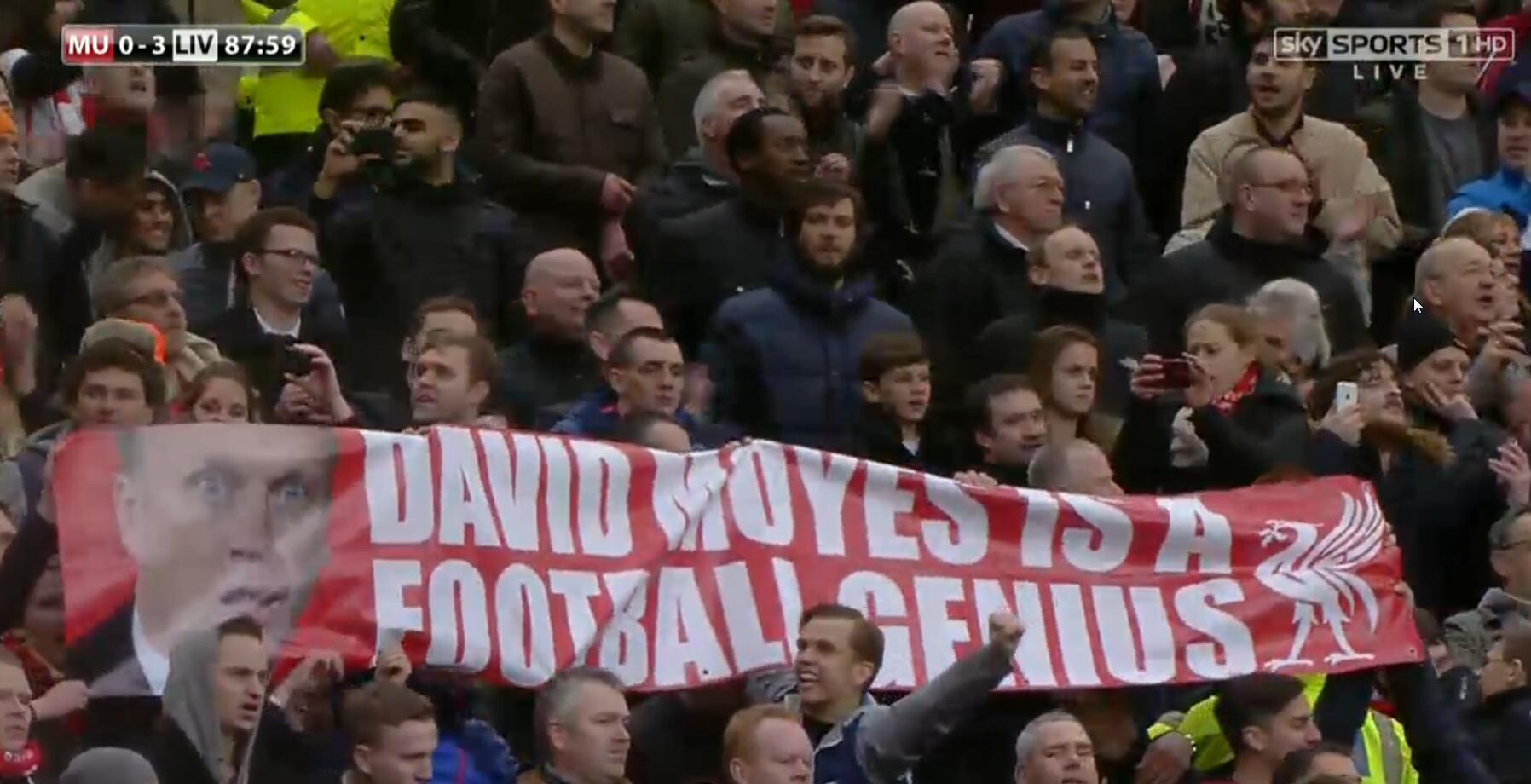 Rubbing It In: A Liverpool fan banner reads "David Moyes is a football genius"

101 GREAT GOALS
Patience is absolutely key for Manchester United now, and especially with this humiliation now nearing a worrying regularity, Manchester United suffering another set back - they need to change mentality from a Champions side to a team well in the Race for Europe.
The statement is made - powerful and prosperous for Liverpool, while a purgatory of patience for Manchester side. If they could have saved one last thing about the season it would be to put a dent in Liverpool's title hopes - and they failed miserably in doing so, unfortunately.
Showcase your opinions with TheSportMatrix.com. You can send us a Tweet, visit our Facebook page or showcase your opinions in the comment section at the bottom of this article. Do you think this can spur Liverpool on to win the title? How will this affect Manchester United? Answer them and get involved. And remember, if you want to take your opinions and sports writing further, why not try writing for us? We are recruiting staff so check out this page to find out more.
- Sports for the Fans, by the Fans.
Connect With Us!