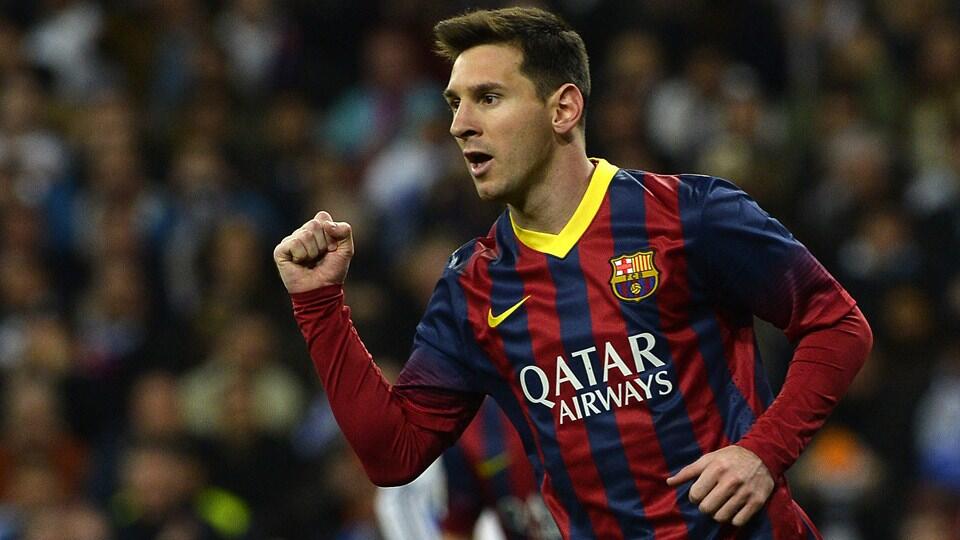 Lionel Messi became the all-time leading goalscorer for the El Clasico fixture.

FIFA.com
Lionel Messi scored a hat-trick as Barcelona emerged victorious from a dramatic seven-goal Clasico thriller to keep the Top Three within one point of each other.
Score: Real Madrid 3 - 4 Barcelona
Kick-Off: Sunday 23 March 2014 at 8:00pm GMT
Location: Santiago Bernabeu, Madrid, Spain.
Goalscorers: Iniesta (7'), Benzema (21', 24'), Messi (43', 65' penalty, 84' penalty), Cristiano Ronaldo (55' penalty)
Man Of The Match: Lionel Messi
Honorable Mention: Angel Di Maria, First half
Lionel Messi scored two penalties, including one with around six minutes to remain, that would ultimately decide the game. However, the penalty rulings were not short at all of their controversial reactions, while Ronaldo's penalty ruling was also under a lot of scrutiny.
Karim Benzema's double within three minutes put Barca on the backfoot, although they would fight back to eventually win a dramatic game, that had plenty of goals, compelling football, and delivered like a Clasico should have, only even more exceptional.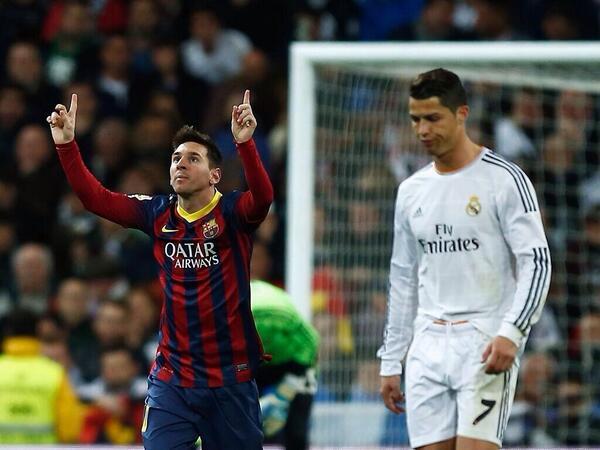 Lionel Messi became the first Barca player to score a hat-trick at the Bernabeu.

101 GREAT GOALS
First half
The Santiago Bernabeu fell silent for one minute in tribute to a former Spanish president, Adolfo Suarez, who unfortunately passed away earlier that day.
A vibrant atmosphere occupied Madrid's home ground as the thousands in attendance prepared for a special game of football that would have major implications in the race for the Spanish title. Both teams quickly grew accustom to the big occasion, and the game followed that description with fast, end-to-end action.
Neymar forced the first save of the game in the third minute, as the Brazillian shot straight at Diego Lopez from the near post for an easy retrieval of the ball. Moments later however, Real Madrid's chance would incur more of a gasp, although that too was not executed in the best manner, as Benzema broke into the box and dragged his shot wide.
Ballan d'Or 2014 winner Cristiano Ronaldo made quite a fool of himself around five minutes in with an over-theatrical dive in an attempt to win a penalty. "#ElClasicoDrinkingGame: Each time someone dives" a Tweet read prior to the game, anyone playing that would have no trouble differentiating whether or not to take the first gulp.
Barcelona made their mark on the game as they grasped a threshold on the contest, passing the ball around at their discretion and waiting for the chance to open up. And the chance would eventually open up. Carjaval once again was drawn in too centrally to defend from his full-back position, allowing Andres Iniesta to run into the space after a sublime pass from Lionel Messi. Andres Iniesta took one touch then blasted it straight past Diego Lopez, onto the crossbar and into goal - and in the process of doing so, broke Real Madrid's twenty-one game streak of scoring first in the game end.
Gareth Bale showed encouraging signs for the Real Madrid hopeful, bulldozing his way down the field through Barca players on the break. He passed it across to Benzema, although the Frenchman's shot was weakly into Valdes grasp.
Moments later however, Karim Benzema would miss an even bigger chance. Di Maria exemplified his attacking prowess, managing to get through four Barcelona opponents and passing it into the box for Benzema, whose shot went over the bar. It was a dreadful miss from a great opportunity.
Real Madrid were the recipients of a stern wake-up call when Lionel Messi was put through with a great air-ball from Cesc Fabregas. Surprisingly to many, Lionel Messi's shot trickled past the post.
While Barcelona controlled the early possession, Real Madrid were showing threats on the break. Barcelona had 67% of possession to end the first half though.
Karim Benzema avenged his sitter-miss to head home a bullet past Victor Valdes and equalize. Yet again, Di Maria put in some great work to get the cross off to his teammate, who headed it powerfully towards goal. Victor Valdes got a touch to it, but it was not enough to push it away from goal.
There was some cause for concern following the goal, as Di Maria slowly sat down on the pitch and looked extremely light-headed and pale. After some treatment, he got back on the field of play and would assist Real Madrid's second.
A surging run from the Argentine down the flank set him up for another cross towards Benzema, controlling it with his chest then volleying it into goal to lead in superb fashion. Just around twenty-five minutes in and the Clasico had already been delivering in.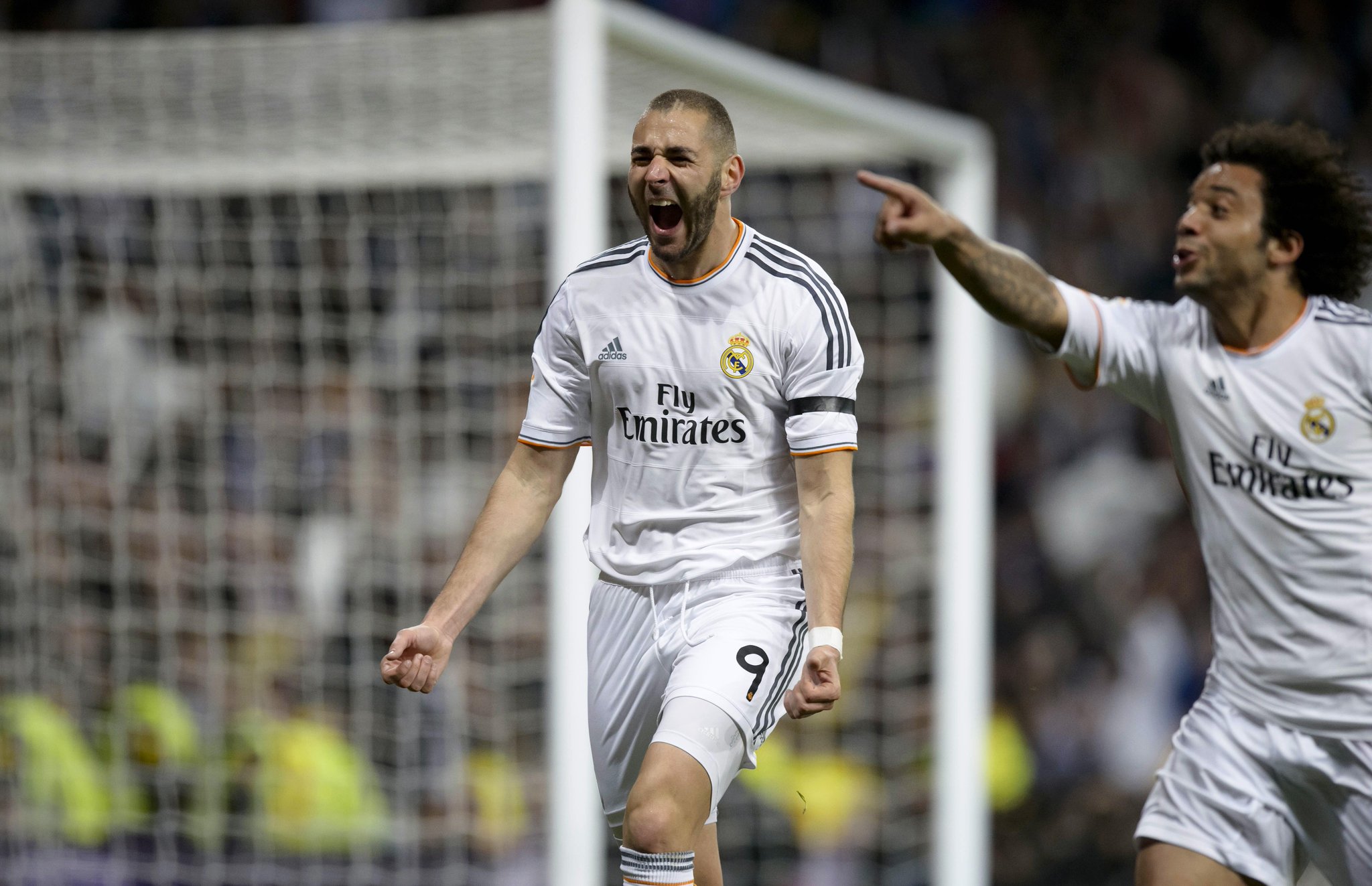 Karim Benzema scored two great goals in the first half, but it wasn't enough.

ESPN FC
End-to-end, pulsating, back-and-forth action, like a Clasico watcher would expect. However, the real animosity was not on display until later on, with no bookings until another goal later on in the half.
Lionel Messi scored exquisitely with an acute touch followed by a precise slotted goal through two defenders and past Diego Lopez to equalize in the 43rd minute. Cesc Fabregas initially created the chance with the pass in the box, and Messi made much better than his previous chance, going forth to equalize. Pepe and Fabregas were booked in the aftermath for a heated confrontation, it looked like the Clasico was now delivering on all fronts.
ANALYSIS for first half: Angel Di Maria playing out of his skin to set up at least four clear-cut chances for his side, Bale promising outbursts also. Madrid may have been concerned on the touchline when he went down, but he was a changed player when he got back up. Karim Benzema would have been subject to a lot of criticism had he missed the sitter and not made up for it with the other goals. The first, headed powerfully into goal, with Valdes' wrist not being strong enough to tip it over, and disappointed in himself for that. The second was just magnificent, controlling it well and striking home on the full. As for Barcelona, they dictated the game with 67% possession and waited for space to open up, like capitalizing on the instance where Carjaval was drawn in allowing Iniesta to get into space with a great strike. As for the second, that was some individual magic by Lionel Messi, as he became the all time leading goalscorer in the Clasico. Plenty of good football, what a first-half. Even by the standards of the fixture, it was an exceptional forty-five minutes. -

#

TSMLive
Second half
The hosts had the first biggest chance following the interval. Gareth Bale had yet another great run, managing to pass numerous Barca players in the process, and put Karim Benzema through in the box. Victor Valdes however thwarted Benzema of a hat-trick, with a great stop falling out to Ronaldo, who passed it to Di Maria, and his cross was stopped half way through due to an offensive foul.
Soon after, in spite of Barcelona's controlled possession and passing threshold in the second half, Real Madrid would threaten again - this time in the form of Cristiano Ronaldo. Ronaldo strived towards the box but was fouled on the way there and a penalty was ruled.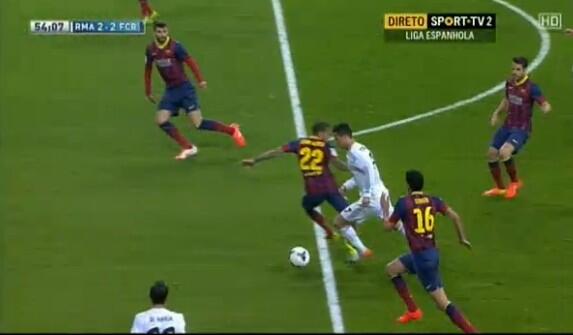 However, it later emerged he was fouled outside the box. So should it have been ruled a penalty?
@iNisarKhan #iNisarNO - He was definitely taken down outside the box.
— •nєνєr gινє υρ• (@CenaOrtonN1Fan) March 23, 2014
Cristiano Ronaldo stepped up and scored the penalty to give his side the lead. Although the keeper dives the same way, the Portugese International struck it with immense power to score.
Barcelona awaited their chance for another opening and it would eventually come as Neymar was taken down inside the box, definitely inside this time. Sergio Ramos got sent off for taking Neymar down as he raced towards a one-on-one opportunity.
Lionel Messi scored his second goal of the game with a great penalty to the right, a superb job from Lionel Messi to equalize again. There was another debate as to whether or not Neymar should have been awarded a penalty, many claimed it was a dive based on one camera angle. Was it a dive, or was it not? Regardless, the goal was scored, and to cancel out any injustice on either end, the game was nicely poised at 3 - 3.
Sergio Ramos' sending off for the foul on Neymar was his 19th career red card, and he also has 180 yellow cards to his name. Discipline.
Neymar and Benzema were substituted at around the hour mark into the game, with Benzema having to facilitate for the absence of Ramos, while Neymar ended his game in replacement for Pedro.
Barcelona were at the stage now of lying in wait, in the form of passing around waiting for a chance, and controlling the game. A prime example was when Dani Alves got a powerful shot of, driven low onto the left post.
Real Madrid were uncomfortably having to wait for the next wave of Barcelona attack, with the sending off to Ramos handicapping them, and Barcelona pushed forward trying to win, with Alexis Sanchez injecting pace into the team in replacement for Cesc Fabregas.
After being booked for a foul on Ronaldo, Mascherano unloaded in an attempt to score his first goal in four years, alas in vein, as it went over the bar leaving Diego Lopez unphased.
Barcelona continued to gamble, and it would pay off with Iniesta pressing down the left. Xabi Alonso fouled Iniesta in the box as he was blocked by two Madrid players when running through, resulting in a third penalty ruled. Lionel Messi remained composed and struck home into the top right corner to surely seal the victory and keep Barcelona in the title race.
Frustration would boil over for Cristiano Ronaldo and Xabi Alonso, who both received bookings in the following plays after the goal.
Real Madrid were desperate to get anything from the game, and worked hard to at least squander a point. Creating for a tense atmosphere as the hoem fans roared at the top of their lungs.
Barcelona would control the remainder of the game, although Madrid's in-vein attempts had them nervous at times. The full-time whistle would mark an undoubted triumph as they kept themselves well in title contention.
ANALYSIS for second half: Plenty more drama. Penalty controversy could have overshadowed the game, but Ronaldo's penalty did not decide the game. They meet again on April 16, bring that game on! Lionel Messi's composure in penalties just makes me wonder how much human emotion he must experience, as he composedly scored the winner from the spot. Thrilling game, one of the best of the season by far.

-

#TSMLive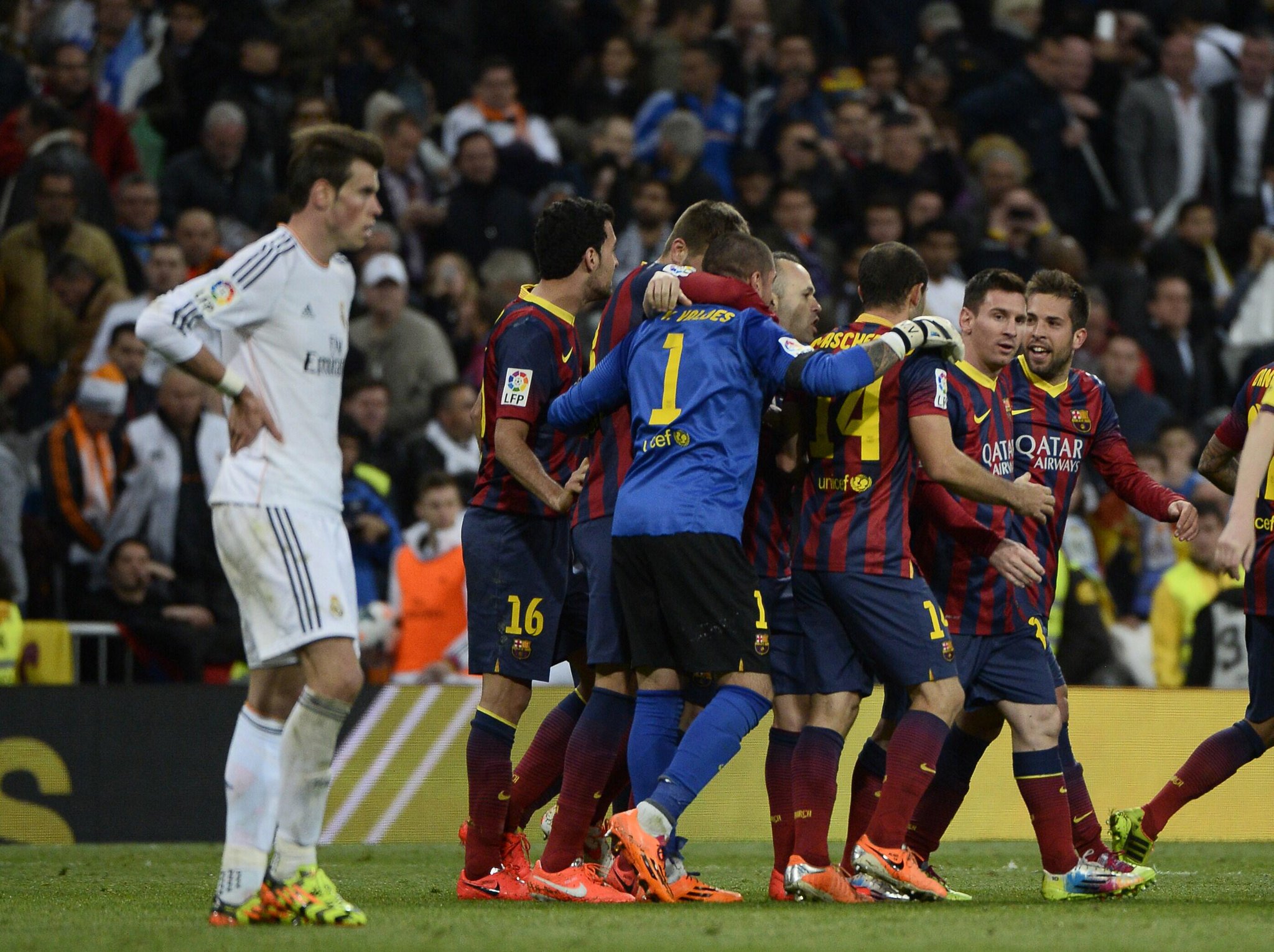 Back In Contention: Barcelona are just one point off their Madrid rivals.

GETTY IMAGES
Comment: "One of the best Clasicos in recent memory, penalties, drama, goals and a great spectacle"
Breathtaking. What a phenomenal game. Thrilling stuff, ninety minutes that epitomized the phrase "Seven-goal thriller", and then some.
Lionel Messi's penalties left no doubt in all honesty, and sets up for a thrilling title race now. Sublime football all round.
Barcelona controlled the majority of the game, passing it around and waiting for opportunities to open. Real Madrid's lapses made it an easy playing field at times, and vice versa.
Angel Di Maria was one of the best performers, while Bale and Ronaldo had key contributions. As for Barcelona, Pedro and Sanchez were key in keeping the lead late on as they were able to run the ball up field.
This is what Clasico's should be like. Roll on April 16! Copa Del Rey Final, even more edge-of-your-seat thrilling action.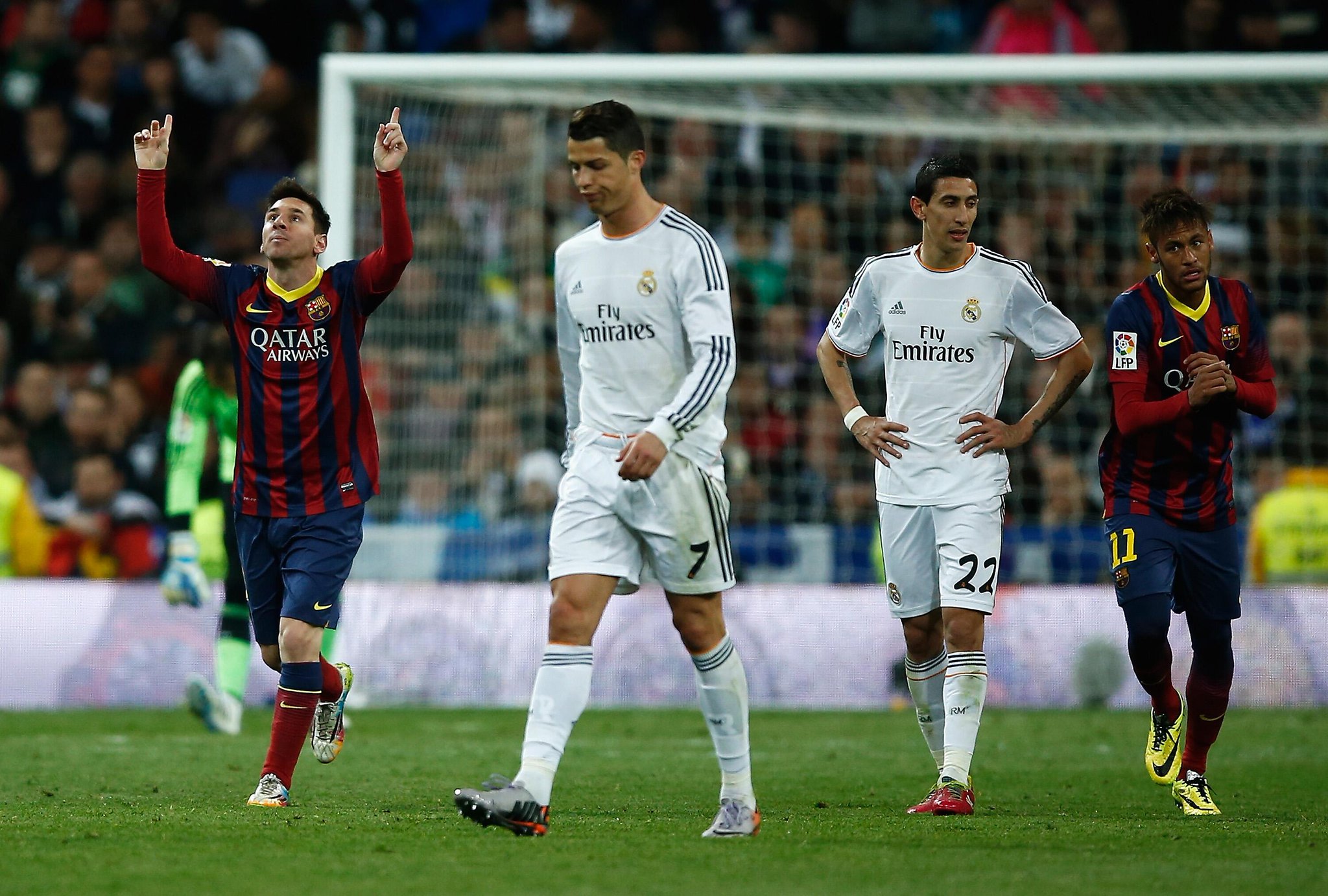 There is now just one point between the top three in La Liga. However, the loss to Real Madrid will mean that they are now disadvantaged on the head-to-head.
It was a truly thrilling El Clasico.
Barcelona close the gap at the top to just a point. Lionel Messi's sublime goalscoring, on a night where he broke yet another record, makes the all-important difference in a truly compelling El Clasico game.