LONDON - Arsenal and Manchester United's attempts to redeem themselves from their poor weekend results were halted at a standstill as their well-contested game at the Emirates finished goalless.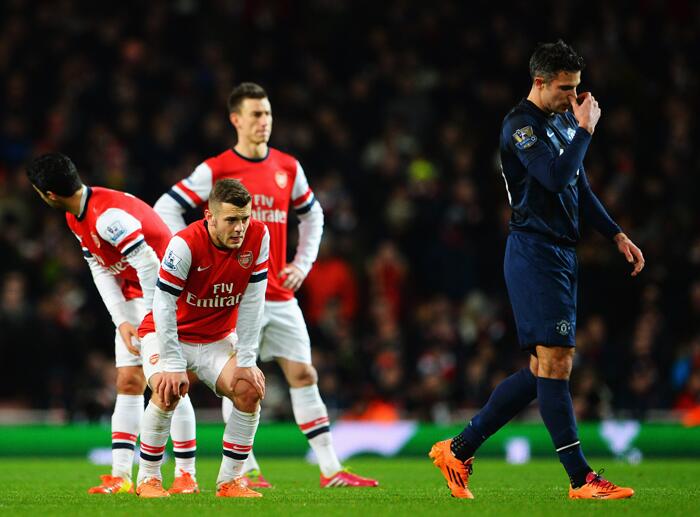 Kick-Off: Wedensday 12 February 2014 at 7:45pm (GMT)
Location: Emirates Stadium, London
Score: Arsenal 0 - 0 Manchester United
Goalscorers: N/A
Man of the Match: Wojiech Sczceny
Although the storms hit the UK causing two postponed games, there was no rain fortunately at the Emirates Stadium.
There would be early chances that easily could have opened the game, however the opportunities were not capitalized on and they took a point each - of which could have been more for either side.
First half
Manchester United got the ball rolling to start the game, and approximately one minute in, Robin van Persie came close to scoring at his former club after latching onto Mikel Arteta's mistake. Going one-on-one with Szczęsny, the Dutchman fired it straight at Arsenal's keeper to squander a chance for an early lead.
Soon after, the hosts would come close to opening the scoring as Jack Wilshere beat Nemanja Vidic, but his shot was courageously blocked by Chris Smalling. From the corner, Olivier Giroud would get even closer, with his header going wide - a huge chance gone begging.
Merely minutes in, and the game was already wide open with big chances that easily could have made their mark on the scoreline. Arsenal were more active to start.
David De Gea had to think twice from Thomas Rosicky's shot, which initially looked to pose no threat and was going off target, until it deflected off Nemanja Vidic's back forcing the Spaniard to dive and safely grasp the ball.
Robin van Persie scuffed another chance for his side, after Juan Mata set him up for a shot, he seemed to hesitate and poorly hit wide. Looks like the barrage of boos were leaving him unfocused.
Olivier Giroud looked to pose more threats when he beat Nemanja Vidic off a corner to head wide. Manchester United's centre-half was having a bad game.
With a fiery start to the game, the tempo had slowed down slightly with Olivier Giroud having another chance only to slash the ball wide. Two injuries followed, including Kieran Gibbs' head injury after a collision when heading the ball and moments later Rafael landed awkwardly on his neck - fortunately both could carry on.
It would finish goalless as the teams went in for the interval. Arsenal finished on top with plenty more possession to close out the half and passing around with class and composure.
First half comment: "A really well-contested first half of action. The biggest goal chances / threats came early on in the game. Robin van Persie was provided with the service needed but could not convert in the first half. It was another story on the other side for Nemanja Vidic, sluggish defending from the centre half with Olivier Giroud beating him in numerous aerial battles, being out dribbled many a time and almost a goal-costing deflection too. As for Arsenal, Mesut Ozil was promising, with a few runs and passes that promised some chance, but he did not have enough options - that was a clear problem. Arsenal did not have the creative spark, or the final ball and needed urgency. As the first half closed out, things got slower and Arsenal would dictate the game in the midfield's passing." comments Nisar Khan on the first half of the game.
Second half
Rio Ferdinand was the only change to start the second half, replacing Rafael.
Michael Carrick delivered the first chance to start the second half, which had potential to really threaten goal. Juan Mata delivered a ball in from the right that was headed on by Carrick, but no-one could meet the big chance at the far post.
Manchester United had positive early spells to start the second half however into the hour mark, after plenty of back-and-forth lackluster football, the pace and noise would pick up in favor of the hosts.
Arsenal had two consecutive big chances, with Antonio Valencia heading Laurent Kosielny's attempt off the line, before De Gea scrambled to save another chance late on.
Manchester United had some odd shots at goal, but Arsenal were quick enough to track them down or restrict them, such as Juan Mata's 65th minute attempt from a long-range shot gone wide.
While at times it was a feisty encounter, it would take 73 minutes until referee Mark Clattenburg dished out the first booking, to Antonio Valencia.
Alex-Oxlade Chamberlain would be introduced into the match in the 74th minute, replacing Thomas Rosicky. Juan Mata off for Adnan Januzaj would follow shortly after.
Olivier Giroud had a crucial chance in the 77th minute. It was the closest chance of the game to that point with Bacary Sagna's great ball in, but Giroud missed the touch and it went out wide, much to the relief of Manchester United, who looked beaten on that occasion.
A few minutes later and it would take an incredible save from Wojciech Szczęsny to deny what would have been a sublime team goal. Wayne Rooney linked up extremely well with his striking partner Robin van Persie to set him up for a header, tipped onto the bar with a great save.
Arsenal would build up some quality passing that would force the best of Manchester United's defenders. De Gea would force a save from great Cazorla and Ozil build-up late on. Arsenal were dominating possession as the game approached stoppage time.
Santi Cazorla was brought down 20 yards from goal with a free-kick in possible scoring range. Mesut Ozil's free kick was fired at the wall, and the cross after the ball came out was strongly headed away by Vidic, who had been a defensive rock at the back for the away side.
More pressure was being put on Manchester United, with Cazorla weaving in and out to force a low save from De Gea.
Manchester Uniteds counter-attacks would break down, and the full-time whistle would blow with both teams knowing they could have won.
Comment & Analysis: "Slowburner and frustrating outing for both could have won" writes Nisar Khan
We really could have seen three or four goals in the early fast-paced start to the game, yet for Robin van Persie it was a case of poor composure - while Arsenal's was the opposite, lacking urgency on the ball and not being fast enough to keep Manchester United defenders on alert.
While Olivier Giroud did trouble with some chances, he failed to be as effective as he should of been, especially his wide header. Manchester United were managing to close him down and restrict the Frenchman to little.
Tempo continued to fluctuate throughout the contest. The opening half-an-hour was fast, atmospheric and well-contested, while the game fell flat to conclude the first half as Arsenal took control. It was quite the slowburner, but increased onward from the hour mark.

It was not one of the most entertaining games, but switched on and off. Highlights are from the beginning five minutes to the last ten minutes while in between was a mere slowburner. A point for their efforts can be seen either way.
Arsenal and Manchester United's encounter on Wednesday night won't be remembered as one of the best, but a lot was learned in a night where there will be regrets, but relief that at least a point was taken.
- Sports for the Fans, by the Fans.
Connect With Us!