TOTTENHAM - Manchester City climbed back to the top of the table with a dominant victory over Spurs at White Hart Lane and roadblocked Tottenham's hopes of getting fourth place.

Yaya Toure added a goal with a second half penalty.

COURTESY: GETTY IMAGES
Kick-Off: Wednesday 29 January at 7:45pm (GMT)
Location: White Hart Lane, Tottenham
Score: Tottenham Hotspur 1 - 5 Manchester City
Goalscorers: Aguero 15', Y. Toure 51', Dzeko 53', Capoue 59', Jovetic 78', Kompany 89'
League Positions following game: Manchester City 1st and Tottenham 5th
Sergio Aguero added a goal just fifteen minutes in, but concern from Manchester City would rouse towards the late stages of the first half, as the Argentine suffered a hamstring injury.
SEE ALSO: Everton 5 - 1 Liverpool (Report, Comment & Analysis)
Steven Jovetic scored his first Premier League, while Yaya Toure scored a penalty after Danny Rose was sent off. Edin Dzeko also added to the scoreline culminating a great team goal from the visitors. Vincent Kompany captained his team to an even bigger win, scoring his third goal of the season. With a different scorer for every goal, Manchester City had another clockwork-like performance to top the league.
In one of four simultaneous kick-offs around the league, the rain poured heavily on White Hart Lane with the proceedings underway. There was nothing to differentiate between the teams in the early goings of the game.
Approximately seven minutes in, and Manchester City looked like the team carrying a more legitimate goal-scoring threat. Sergio Aguero, who had been on flying form ever since his return from injury, rattled the woodwork to culminate an exquisite passing build-up from the visitors.
Moments later, his striking partner, Edin Džeko, squandered an opportunity to take the lead with his build-up with Aguero. The ball was blasted over and into the stands.
Manchester City were off to the much better start, with Tottenham failing to register any early scares or threats to the visitors.
Sergio Aguero would score in his eighth consecutive game, affirmatively slotting it past Lloris after David Silva set him up with a delightful through ball. Manchester City instantaneously swung the game in their favour, with Aguero's twenty-sixth goal of the season.
While it was all-City for the moments following the goal, Tottenham began to make a little more noise to the delight of their home fans at White Hart Lane. Emanuel Adebayor's surging run, followed by an attempt at goal, was deflected and out for a corner - of which Eriksen swung in brilliantly, only to come off Kompany and into Joe Hart's hands.
Soon after, almost in a back-and-forth manner, Sergio Aguero would be emphatically denied in doubling the lead. Hugo Lloris made one of the best saves of the season to deny the Uruguayan, as he stuck out a strong hand to keep the deficit down to one goal for the time being.
Sergio Aguero was causing a World of troubles for Tottenham, with another one of his attempts being frantically dealt with. Danny Rose cleared his shot off the line, before his second effort fizzed over the bar.
Manchester City continued to press and put pressure on Spurs throughout the first half.
Tottenham's fans momentarily erupted in celebration when Michael Dawson struck the ball into the net from Christian Eriksen. However, as they were running to celebrate, the raising of an offside flag silenced the crowd with Manchester City maintaining their lead.
While it was looking to be a comfortable and promising finish to the first half for The Citizens, a bitter blow was felt when Sergio Aguero pulled up with a hamstring injury. In pursuit with Michael Dawson, the Argentine pulled up with concern on the touchline, considering Aguero's importance to the side and only returning from injury a few weeks ago,
That would be all for the first forty-five. Manchester City were all over Tottenham for a vast majority of the game, however the hosts had their glimpses and when doing so proved a threat with the likes of Christian Eriksen and Emanuel Adebayor causing some trouble. Meanwhile, Sergio Aguero - who had made the night uneasy for Tottenham's defenders - suffered an injury blow, leaving for a very open second half that had all to play for.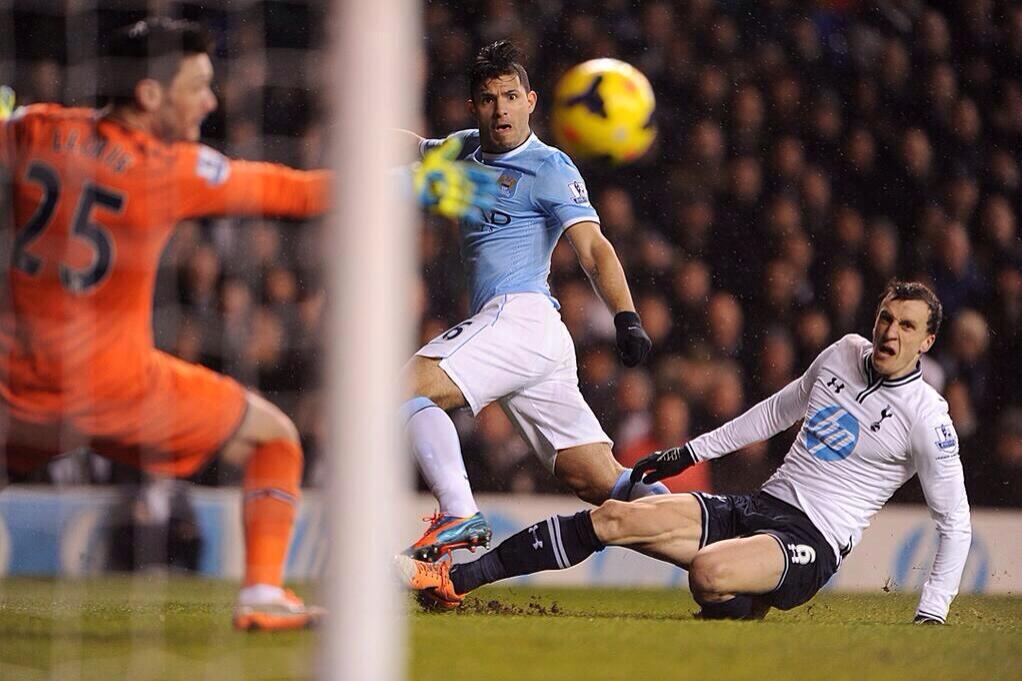 Goal Machine: Sergio Aguero added to his goals tally at White Hart Lane, but suffered a second half
hamstring injury.

COURTESY: TWITTER.COM/MCFC
Just minutes into the second half and Manchester City had a slight scare, as their Spanish maestro David Silva was down and injured. After receiving some treatment, he was good to continue.
A controversial penalty award to Manchester City would firmly place the game into the visitors' grasp. Danny Rose was sent off for a challenge on Edin Dzeko in the box. Later replays showed that the Englishman did get the ball, but also may have got the player. Fans at the Lane were evidently furious at the call. Yaya Toure stepped up to the penalty, striking it right and calmly doubling the lead.
Edin Dzeko scored a terrific third goal for the away side with some excellent build-up from City, defining what a team goal should look like. Firing from close range, Dzeko took advantage of poor work from Spurs' defense to clear away safely. Nine minutes into the second half and all hope was lost for Tottenham, down by three goals and also lost a player with the red card.
Suddenly the spirit of Spurs would come into play, and White Hart Lane became significantly louder. Etienne Capoue smashed home his first goal for Spurs from a corner, where Fernandinho could easily have been sent off for an attempted stoppage of it. White Hart Lane was roaring, with Spurs getting a goal back and the crowd fully behind them, as they took advantage of City's slack for the first.
Manchester City enjoyed a lengthy spell of keeping the ball and increasing possession, taking the sting out of the game and extinguishing any hopes refueled by Capoue's goal.
Steven Jovetic scored his first Premier League goal to add a fourth and further crush and humiliate Spurs at home. Fernandinho's run opened up Jovetic, who drove to the side in the box and his shot took a deflection, moving away from Lloris to add a fourth.
Tottenham were looking the side where the final whistle would be welcomed with open arms.
Even captain Vincent Kompany would get in on the act, scoring the rebound after Lloris parried Dzeko's shot to edge home an unprecedented fifth goal.
With the full-time whistle blowing, it was all over. Manchester City made a masterclass at White Hart Lane, while Tottenham suffer another big loss at home.
Comment & Analysis: "Spurs Simply Outdone" writes Nisar Khan
Manchester City once again re-instate their claim to the title, with another huge win over a big team.
And they also emphatically dismissed claims of a one-man time, with a different goalscorer for every goal.
Sergio Aguero, scores, in what is becoming a routinely sight now - although causes for concern came with his injury. However, that didn't stop Manchester City from going on to score four more goals.
The real turning point in this game was Danny Rose's sending off. Spurs are right to feel hard-done-by from the decision, as it was a speculative call. From then on, it was one steep battle for Tottenham to reduce the deficit, and they were simply outdone.
An interval with optimism for Tottenham would be greeted by a sudden turn of events where it was all turned upside down.
The only positive that can be taken is that Spurs only lost by five goals this time, rather than six in their fixture earlier this season. Hardly an improvement, but that is one of the only takeaways from this game for them, along with not having to face City in the league again this season.
One thing Manchester City need to make sure of is that they are not vulnerable to injuries. When Aguero was injured, concern was high. And even when David Silva and Jesus Navas were down (although they would continue playing after) there were causes for concern on the City touchline. Should they amend their injury issues, they are strong league candidates.
Manchester City were relaxed for everything but around two minutes of the second half. Creative, composed and just having a field day out there, a completely one-sided affair.
Spurs also clearly missed Paulinho and Sandro among others, they simply were outdone. Another dominant win from City, its becoming nothing out of the ordinary nowadays.
Questions are back around again for Tottenham, with another heavy loss at home.
Manchester City thump Tottenham in emphatic fashion once again. Another away win sees them top the table with a goal difference that is unheard of. Yet again, Manchester City have a goal-fest against a top team.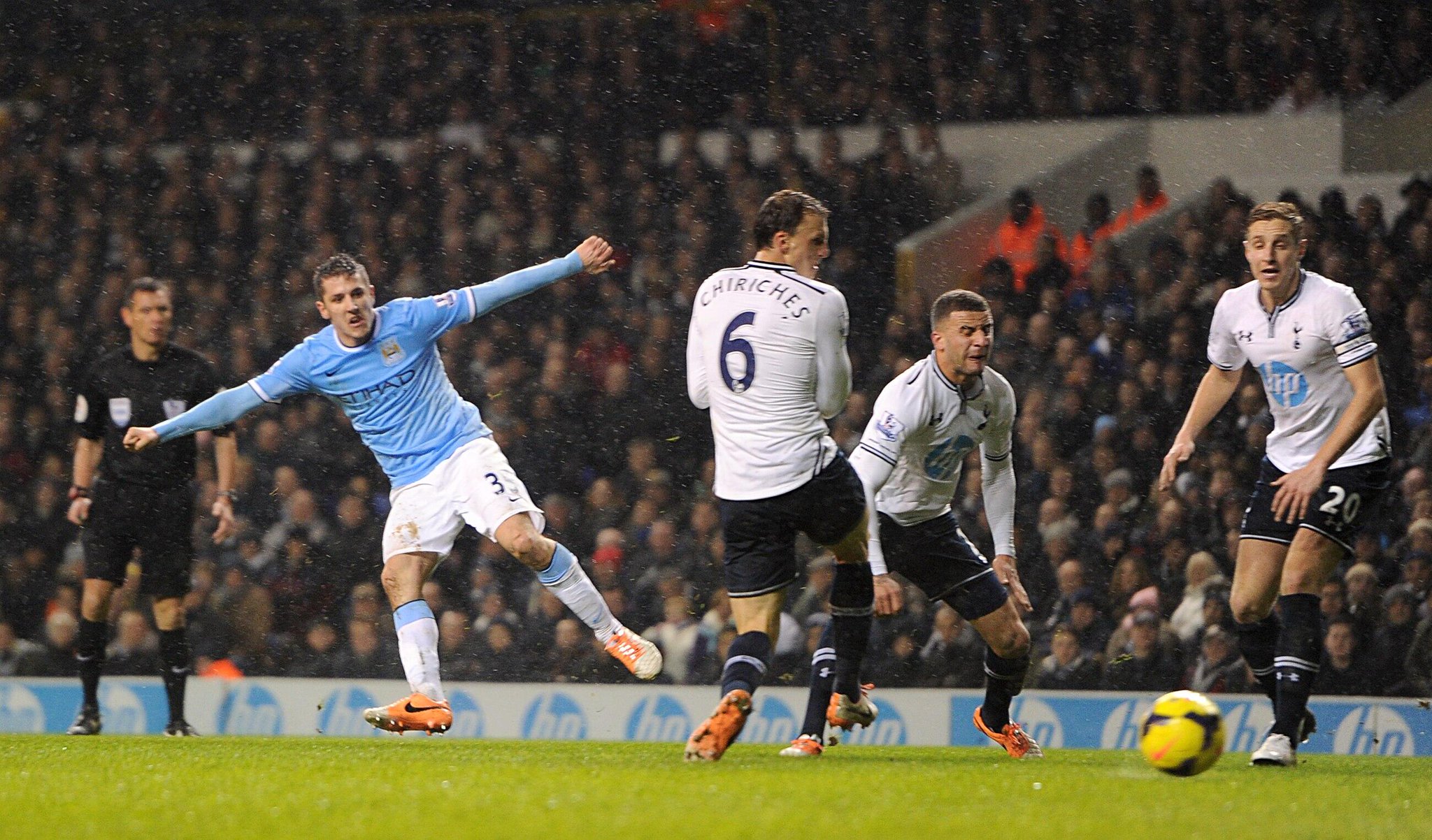 TheSportMatrix.com
- Sports for the Fans, by the Fans.
Connect With Us!