Miami thrived in their Finals rematch, and the Knicks picked up a big win at the Garden with Carmelo Anthony's shooting form continuing - as the NBA delivered some big games on Grammy Sunday.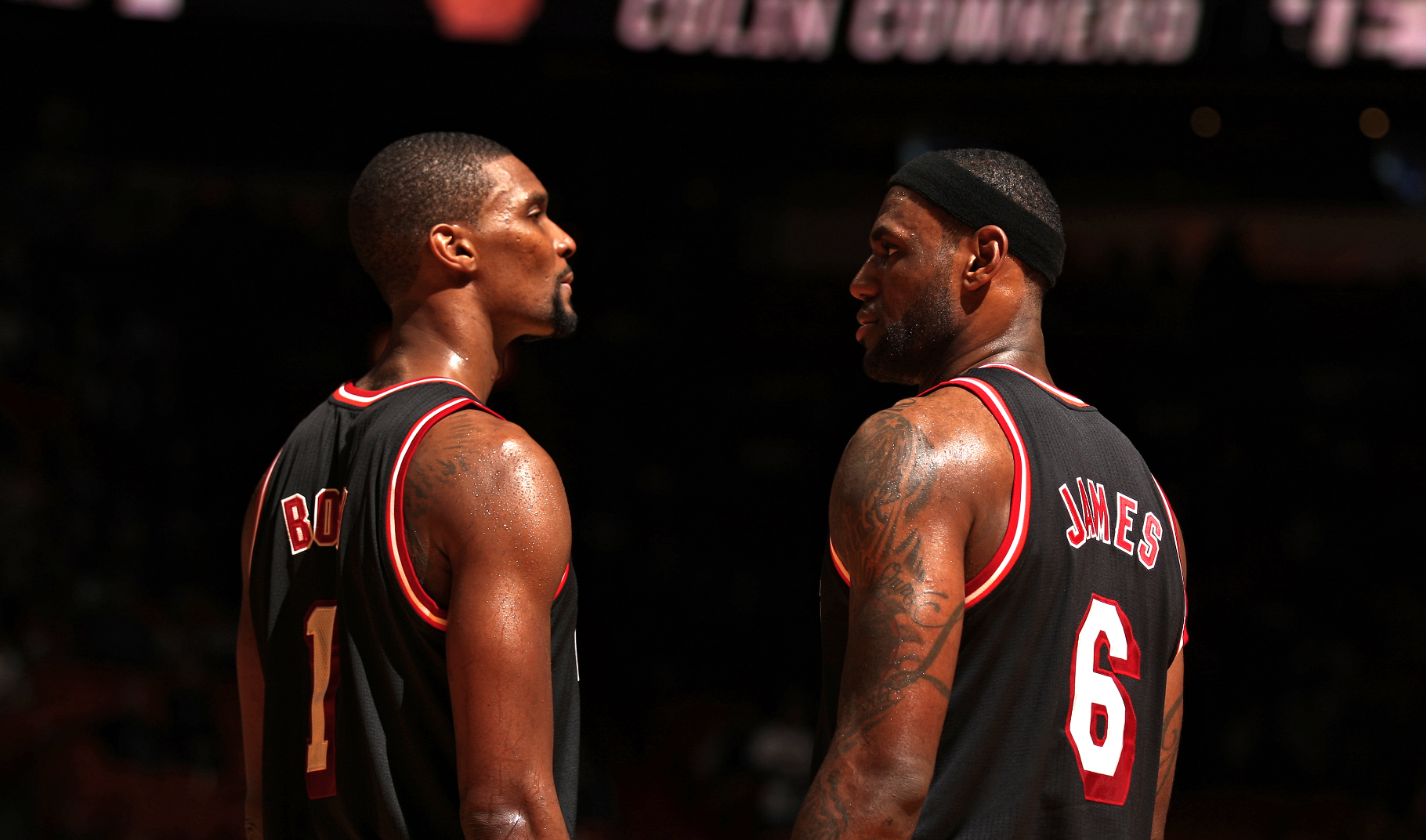 Pivotal: LeBron James and Chris Bosh contributed to Miami's 101 - 113 win over the Spurs.

©
In a rematch from the NBA Finals, San Antonio Spurs traveled to the AmericanAirlines Arena in Miami to face the reigning Champions, while painful memories of the renowned Game 7 loss in the same arena were clear.
Chris Bosh delivered a standout performance for his side, scoring twenty-four points and shooting 9-10, while Dwyane Wade came off the bench to play for only the sixth time in his career having rested the four previous games.
Never trailing in the game, and extending a lead as far as 29 points, Miami comfortably raced away in the game after the first half finished closely.
Spurs, who were without three of their important players used last season, saw 'The Big Fundamental' Tim Duncan score a team-high twenty-three points. Meanwhile, the other part of the duo, Tony Parker, put up eleven points.
Despite the subdued atmosphere at the AmericanAirlines Arena - that seemed to be filling up far too slowly for such a big game - Miami HEAT would thrive on their home court.
Miami got off to a great start with an 8 - 0 run to open the game, moving the ball around well to Ray Allen, wide open in space to nail a three pointer forcing a Spurs' timeout.
Ray Allen was short of completing a play completely reminiscent to his Game 6 winner last season, with the same motion to get into his corner three-pointer, only missing this time.
Mario Chalmers also put on a good performance, with himself receiving praise from many-a-pundit for his important, yet sometimes underrated contributions to the HEAT.
It was set up to be a terrific contest with both teams tied at fourty-four points each before the interval. However, it was a very different story when the third quarter wrapped up.
Post-game, Spurs' coach Greg Poppovich praised the HEAT, while pointing out his side's problems. Indeed, the HEAT "brought their 'A' game".
Heat shot 58%, the best any team has shot vs Spurs this season pic.twitter.com/QKKWL3P82b
— ESPN Stats & Info (@ESPNStatsInfo) January 26, 2014
Miami saw off a great first half Spurs effort, to thrive in a decisive third quarter of which Chris Bosh stood out in.
Madison Square Garden would continue the action for the second part of the NBA on ABC double-header, as the Los Angeles Lakers concluded their GRAMMY Road-Trip with a game against the New York Knicks.
Carmelo Anthony continued his scoring form with 35 points against the Lakers. Having scored an incredible 62 points in his previous game, he was influential in the Knicks' 110 - 103 win.
Both teams started off at a very level footrace to open the game. But eventually, despite a run to get back into the game, the Lakers would suffer their fifth, and to many thankfully final, road trip loss on the GRAMMY Road Trip.
Los Angeles did themselves justice for a while, staying in it till late, scoring twelve of their eighteen attempted shots in the third quarter.
With the minutes left of the fourth, Knicks were clearly on course to a win, as the clock ticked down, and Knicks eased their way to their second straight win.
Quick Stats Overview
San Antonio Spurs 101 - 113 Miami HEAT
HIGHEST POINTS: Chris Bosh, 24 pts (MIA)
HIGHEST ASSISTS: Mario Chalmers, 7 (MIA) & Tony Parker, 7 (SAS)
HIGHEST REBOUNDS: LeBron James, 7 (MIA)
Los Angeles Lakers 103 - 110 New York Knicks
HIGHEST POINTS: Carmelo Anthony, 35 pts (NYK)
HIGHEST ASSISTS: Kendall Marshall, 5 (LAL), Carmelo Anthony, 5 (NYK) & Ray Felton, 5 (NYK)
HIGHEST REBOUNDS: Tyson Chandler, 14 (NYK)
Comment: "From well-contested openings, to runaways - and everything in between"
First of all, like many have noted, the attendance was worse than expected in Miami. For a game which sees two finalists rematch, many wouldn't expect to see so many empty seats. Such a shame.
It was well-contested to start out, some fine shooting on both ends but the third quarter proved too costly for repair for the visitors.
Chris Bosh proved not to be the weak-link for the HEAT's big three, while another member is still in doubt after injuries. A key here is ensuring Dwyane's health going forward, as he is an important piece to the HEAT's puzzle - just like Mario Chalmers, who in my opinion had an outstanding performance on Sunday.
For the Spurs, although they lacked three key players, still put up a valiant effort. Even with Miami's highest lead of twenty-nine points on one occasion, they fought back to reduce the deficit.
Its been a problematic GRAMMY Road Trip for the Lakers, "just bring Kobe back!". Well, if only things were that simple, in fact far from it. Kobe has some rehabilitation to continue, but will be welcomed with open arms, if not desperate, upon his return to the Lakers.
Games in the near-future will be left to determine how the Knicks can redeem themselves. Carmelo Anthony has quickly went from simmering to stand-out, and now continued form will be pivotal for the Knicks getting back on track.
A big double-header of NBA basketball provides some fantastic sporting action for Sunday, with Miami HEAT getting another one-up over Spurs, while the Knicks continue to build a resurgence.
- Sports for the Fans, by the Fans.
Connect With Us!