LIVERPOOL - Daniel Sturridge scored twice in Liverpool's emphatic four-goal Merseyside Derby win over Everton, in a glorious night for the Reds.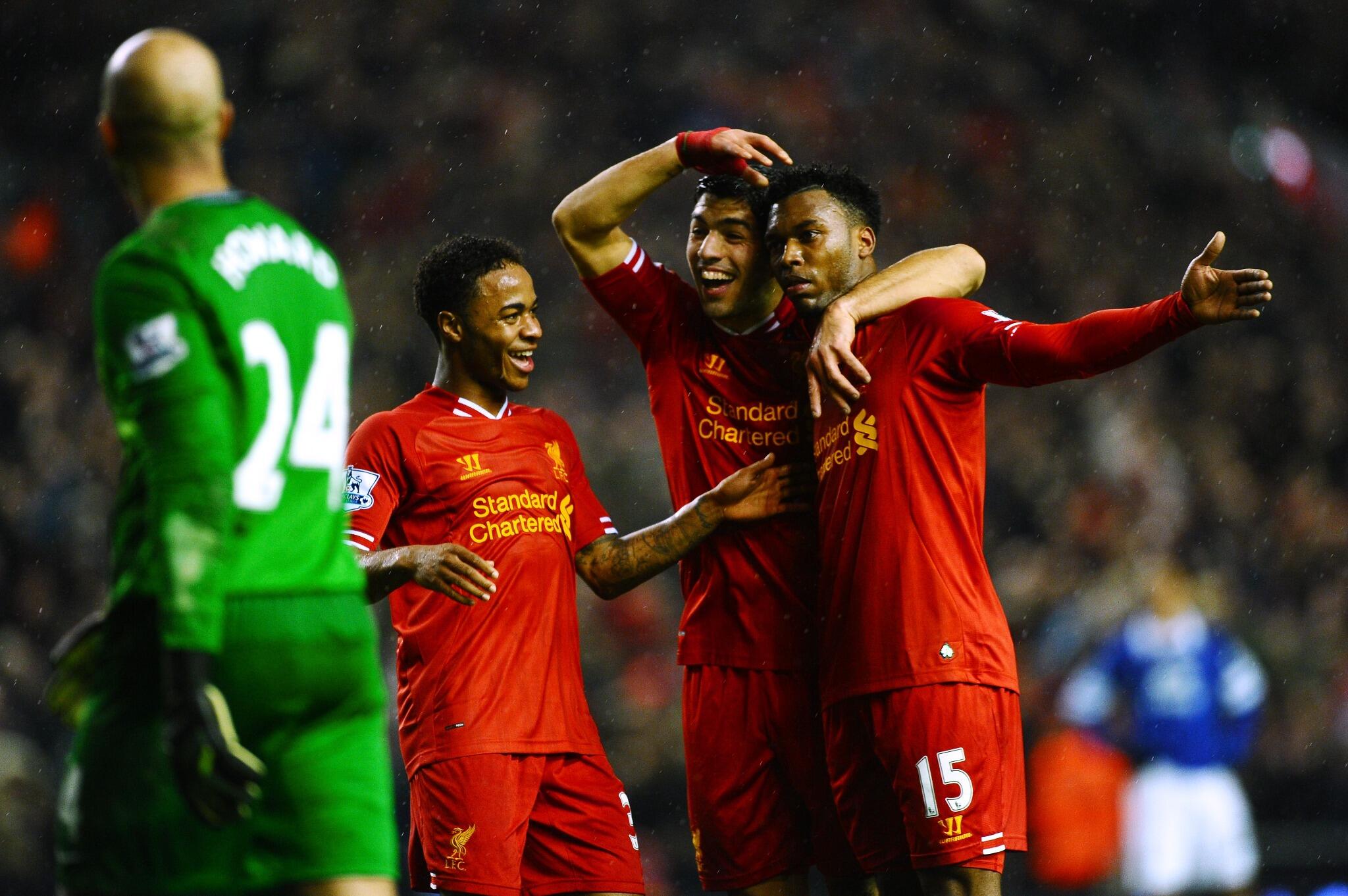 Deadly Duo: Daniel Sturridge scored twice while Luis Suarez added another.

COURTESY: TWITTER.COM/LFC
Kick-Off: Tuesday 28 January at 8pm (GMT)
Location: Anfield Football Ground, Liverpool
Score: Liverpool 4 - 0 Everton
Goalscorers: Gerrard 21, Sturridge 33' & 35', Suarez 50'
Daniel Sturridge fell short of a hat-trick, in a game where the skipper, and his striking partner hit the back of the net as they thumped four goals past their Merseyside rivals.
An atmospheric Anfield witnessed an opening ten minutes of some good quality football, with great tackles being made around the pitch. Uruguayian Luis Suarez had the closest chance of the game to that point, forcing Everton's keeper Tim Howard to make a save in the corner.
Jordan Henderson and Ross Barkley were eager to get in the act early on, with long-range efforts, none too troubling for either goalkeeper.
Rather than a frantic start, it was a good one, with the rain pouring down on the pitch - although not dampening Liverpool's hopes as we would come to see just minutes later.
Twenty-one minutes in, and the rout would begin. Liverpool's skipper Steven Gerrard scored in his 31st Merseyside Derby heading in from Luis Suarez's curled cross. England's captain left no doubt as he powerfully headed it past the Toffees.
And if conceding the opener was bad, Everton's fans' despair would instantly turn up a notch, as Romelu Lukaku was substituted after picking up an injury in the corner. Teammate Gareth Barry collided with the Belgian, resulting in a suspected ankle ligament injury.
It was a Liverpool takeover for the next few minutes to follow, as Everton were on the backfoot and at the verge of breaking point. The hosts were smelling blood early on.
Daniel Sturridge would continue his superb run of goalscoring form, getting on the end of a pin-point ball from Phillipe Coutinho and clipped it past to double the lead.
Just two minutes later and it seemed that the game was up and beyond Everton's grasp. Daniel Sturridge doubled his goal tally with an excellent lofted ball past the onrushing Tim Howard. Kolo Toure provided the assist for Sturridge's second.
Liverpool comfortably eased their way towards the interval, while away fans watched in disarray. Roberto Martinez had one tough time talk to ensue during the break, but we would soon realize that it would not turn things around.
Gareth Barry had his name in the books for a foul on Raheem Sterling. Whether it was out of frustration or just a bad tackle, it was reminiscent of what was becoming a very troublesome outing for Everton.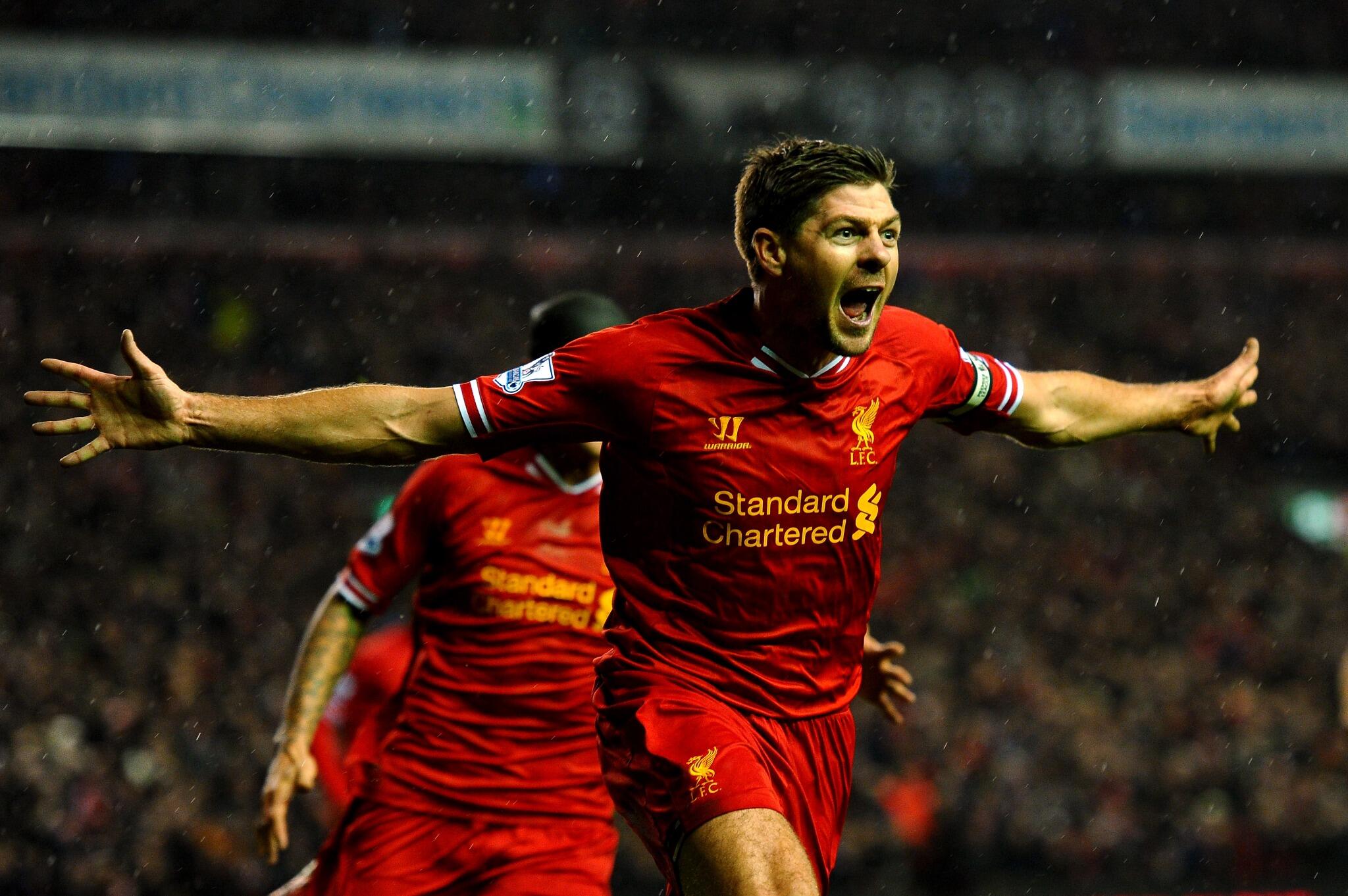 Captain Fantastic: Steven Gerrard celebrates the opening goal.

COURTESY: TWITTER.COM/LFC
Everton came out on a roll to start the second half. Liverpool were being pushed back and their resolve was being tested most to that point in the game. Around five minutes of this would amount to nothing, in fact further damage, for Everton.
A defensive mishap from Phil Jagielka would let Luis Suarez through, surging down the middle with two defenders hot on his tails. Keeping composed, he slotted it past Tim Howard to surely seal the game for the hosts.
It had become a game almost contrary to their six-goal thriller earlier this season.
Liverpool continued to dominate the game with a four-goal cushion. Daniel Sturridge scuffed a hat-trick opportunity with a penalty to make it five. The penalty was awarded after Tim Howard fouled Raheem Sterling in the box. Sturridge blasted it over the bar, and would later be replaced for Victor Moses in the 70th minute.
Prior to his substitution, he failed to convert when it was three-on-two, but John Stones managed to clear away - with Suarez and Sturridge in a bit of a disagreement. Goals mean goals, no matter how much you are leading by.
Everton were down and out, but Ross Barkley had other ideas - and so did Mignolet, who batted away his effort to maintain his clean sheet thus far.
With the time slowly ticking down towards the full-time whistle, the fans were as contrasting as each team in the game. Glum Everton fans exited the arena, while Liverpool fans savored every minute as they cruised to a big victory over their neighbors.
Liverpool were unable to get a fifth in the 88th minute, as Victor Moses smashed it over, with Luis Suarez in promising territory, albeit shunned for that chance.
And it finished 4 - 0, with Liverpool embracing their glory as they picked up a vital win that catapulted them back into possible title contention.
"We wanted to get back to the way we've been playing. We've been ruthless at home." Steven Gerrard spoke to BT Sport following the game. The skipper also took responsibility for allowing Daniel Sturridge taking the penalty, "I wanted Daniel to experience the same feeling that I did" of scoring in the Derby.
"We played good football. And the boys created good chances," double-scorer Daniel Sturridge explained. He also apologized if anyone was offended by his reaction to being substituted off.
Comment & Analysis: "From a thrilling draw last season to an undoubted rout this time round" writes Nisar Khan
A win of this magnitude is simply unheard in the Merseyside Derby.
With Everton placing one of their best Merseyside Derby squads for this game, a lot of questions need to be asked as to how they were so dominated by Liverpool at Anfield.
Quick comparisons of their match and the thriller earlier this season have shown a vast change. Romelu Lukaku, arguably the most significant piece to the puzzle, was taken off twenty-one minutes in, a bitter blow to Everton that the loss will only further worsen.
While the first goal came from a set-piece, they wouldn't prove a factor. It would be through balls, that for some reason, Jagielka and his defensive teammates were unable to deal with. Sturridge's second goal showed it all, how was he let into so much vast space to finish like that?
The number of chances, even with Lukaku on, show Everton's problem (at least one of them) in the game. In the first twenty minutes, the hosts had six chances to Everton's one chance - despite a very even and top-quality start for both sides.
Everton no doubt can bounce back from this game, but it will be a real test of their resolve. This acts as encouragement for Liverpool, going six games unbeaten, and now a demolition over their rivals to keep them well-and-truly alive in the title race, taking advantage of Arsenal's draw on the same night.
Striking prowess was yet again clearly evident for all to see on the Reds' part. Luis Suarez and Daniel Sturridge's partnership is proving to be a lethal one, of which Everton have witnessed firsthand.
Midfielders were yet again influential, with Coutinho working his socks off today, along with Steven Gerrard, thriving in his 31st Merseyside Derby appearance.
Maybe the only negative performances was Aly Cissokho, who was wasteful in possession and messed up on creating assists for the strikers downfield. Meanwhile, Kevin Mirallas stood out for Everton with his vein effort amounting to nothing, except a pinch of recognition.
Everton's chance to go ahead of Liverpool has been thwarted, and thwarted in some emphatic fashion by the hosts, putting on a superb performance against their rivals.
It's the biggest win in a Merseyside Derby since 1982.
It's Liverpool's day as they leave no doubt to thwart Everton's chances to go ahead of them. Four goals in a problematic outing for the Toffees, while Liverpool were on another level.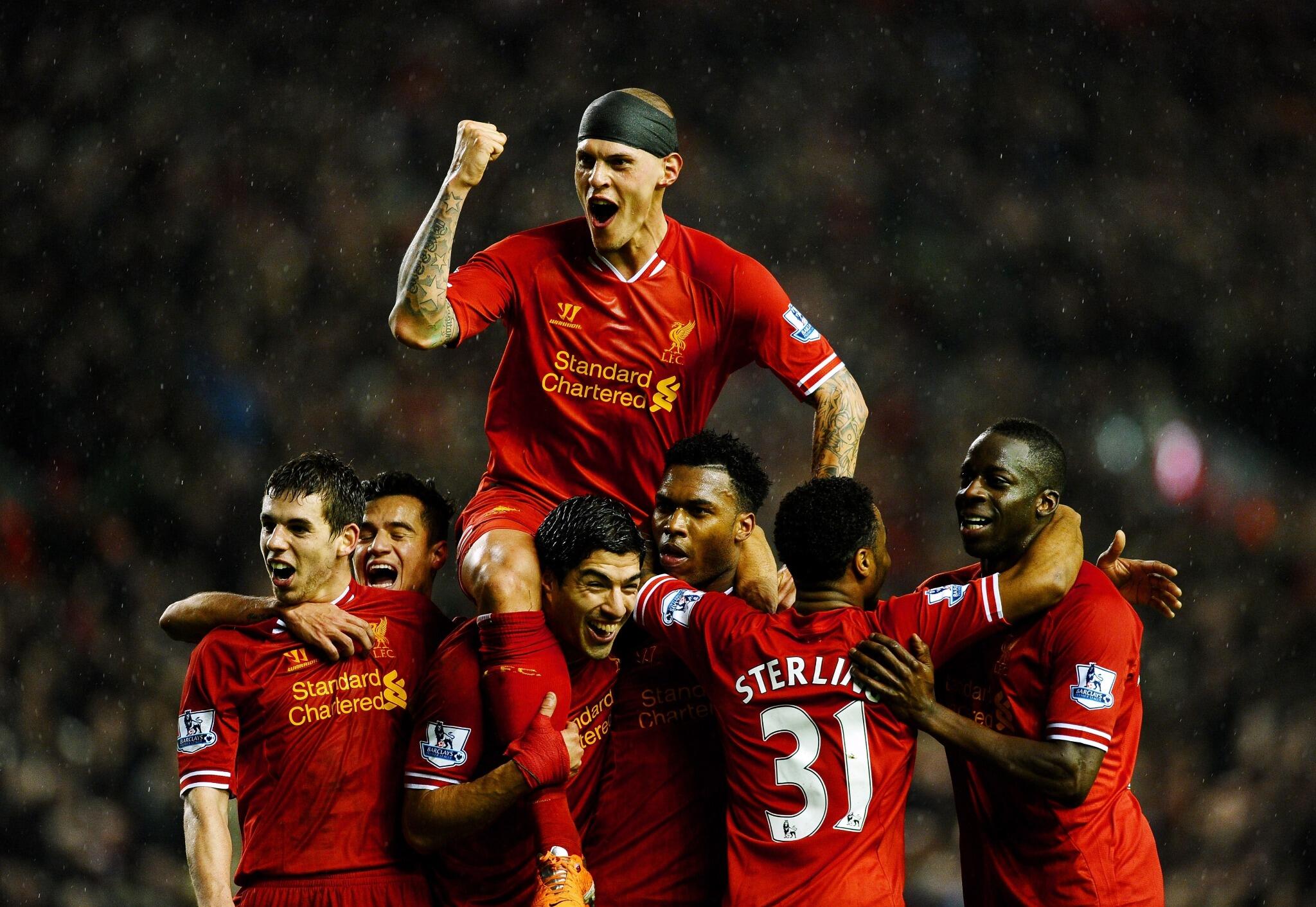 TheSportMatrix.com
- Sports for the Fans, by the Fans.
Connect With Us!