Full report from Manchester City vs. Swansea City on New Year's Day 2014 from the English Football Barclays Premier League.
Football
Premier League
Week 20
SWANSEA CITY 2 - 3 MANCHESTER CITY
Fernandinho 13', Bony 45+1', Y. Toure 56', Kolarov 62', Bony 90+1
1 January 2014 at 12:45pm
Liberty Stadium, Swansea, Wales.
SWANSEA - Manchester City defied a resilient and late Swansea City surge to start the New Year at the top of the league.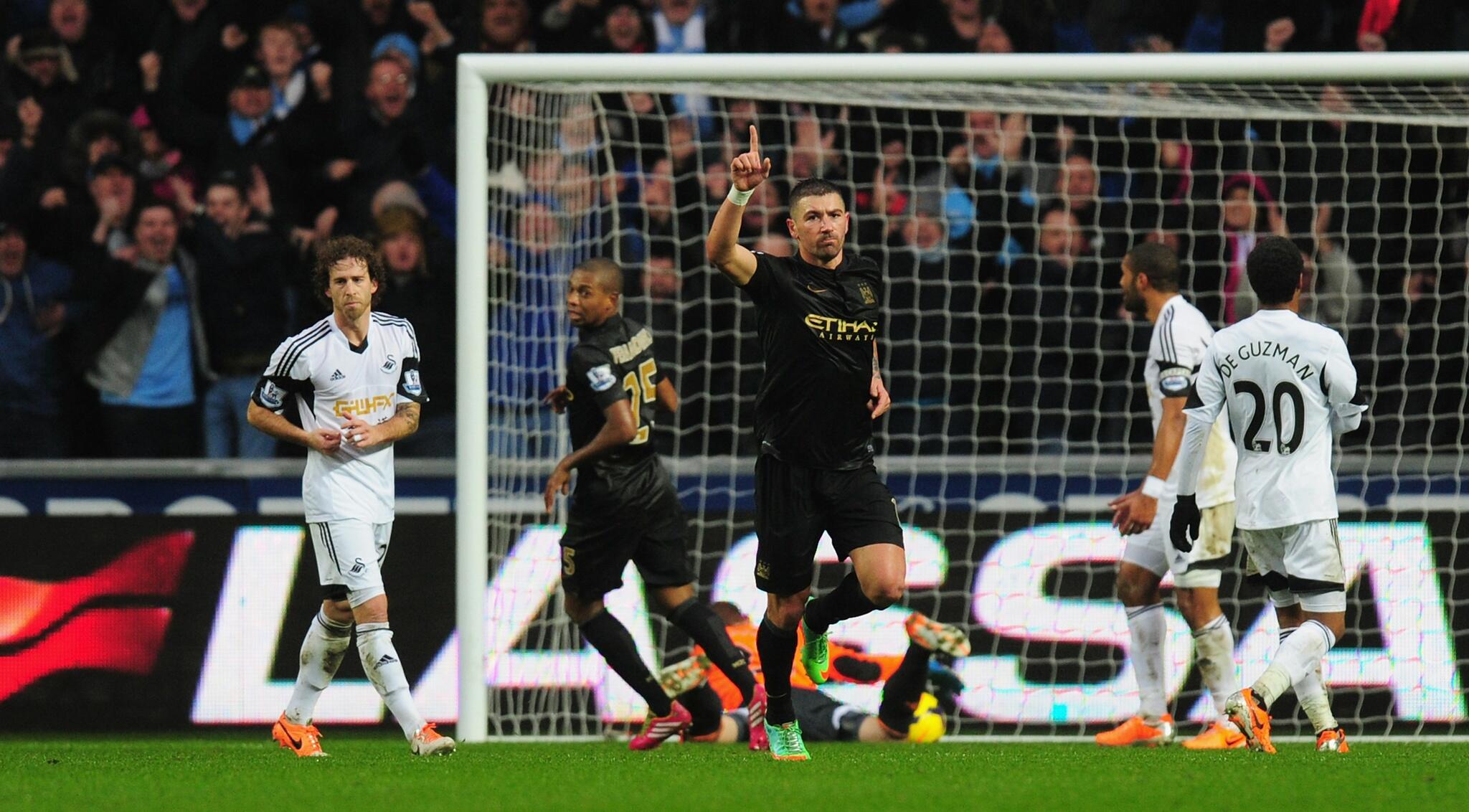 Kolarov was one of the scorers in a great game to start the New Year. Courtesy: PremierLeague.com
Rain may have been pouring at the Liberty, but that did not dampen the game, in a very entertaining match.
Manchester City looked cruising towards an easy victory, but Wilfried Bony's late goal set up for a tight finish.
A sloppy start to the game saw a kit change for the goalkeeper within three minutes, as Swansea's keeper Tremmel had to change into correct attire. The hosts had a positive spell to start the game with early chances although the Swans couldn't take an early lead.
Edin Dzeko had an early chance on the other side of the pitch following a Manchester City counter-attack. Navas ran through to lay it off to Negredo, then the Spaniard flicked it to Dzeko whose shot went wide.
Wilfried Bony was whiskers away of an opening goal with a low, powerful shot to the right just going wide within five minutes.
Swansea had to make an early substitution due to an injury. Pablo Hernandez picked up a hamstring injury just seven minutes in, and was replaced minutes later by Roland Lamah.
Fernandinho capitalized on Swansea' failure to clear from Samir Nasri's corner kick, firing it low past defenders to score the first goal of the year.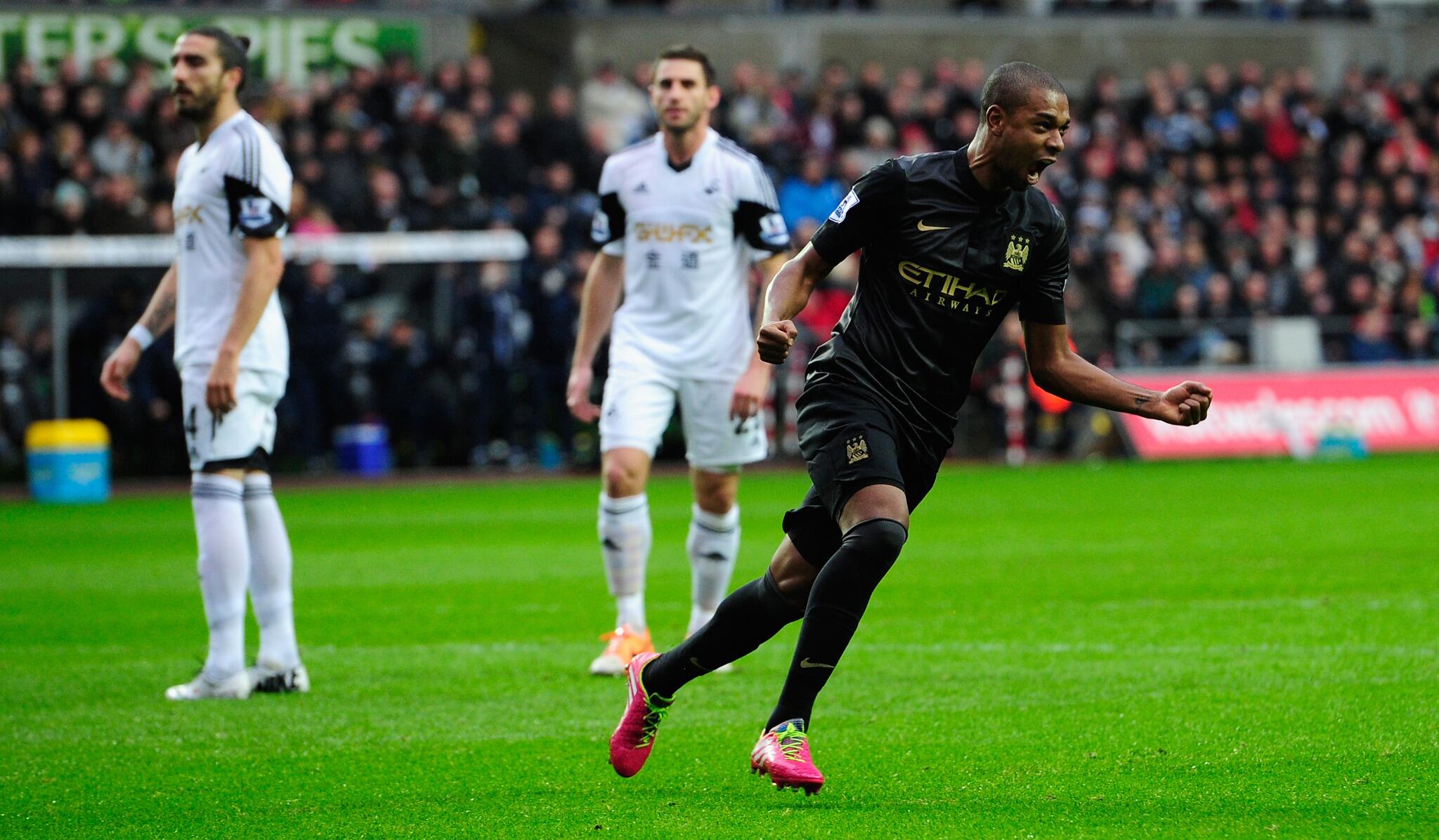 Fernandinho has emerged as a goal threat for City over the final months of the year. Courtesy: PremierLeague.com
Wilfried Bony's acrobatic attempt was way off goal, and yet again Manchester City were potent on the break, this time restricted by the Swans' defense as Alvaro Negredo couldn't get the shot off.
With action on both sides of the field, Swansea had another chance with Jonjo Shelvey, cutting on to the outside of the box, but sliced his shot wide.
Johnathan de Guzman's free-kick was blocked, awarded after Nasri was booked for a foul, then rebounded but the shot was wide.
It continued with back-and-forth action, with Wilfried Bony coming close once again before the end of the first half.
A positive and spell of much better chances for Swansea City would culminate in stoppage time, as Wilfried Bony headed home into the bottom corner off de Guzman's chip. Later highlights revealed that Wilfried Bony was in fact offside.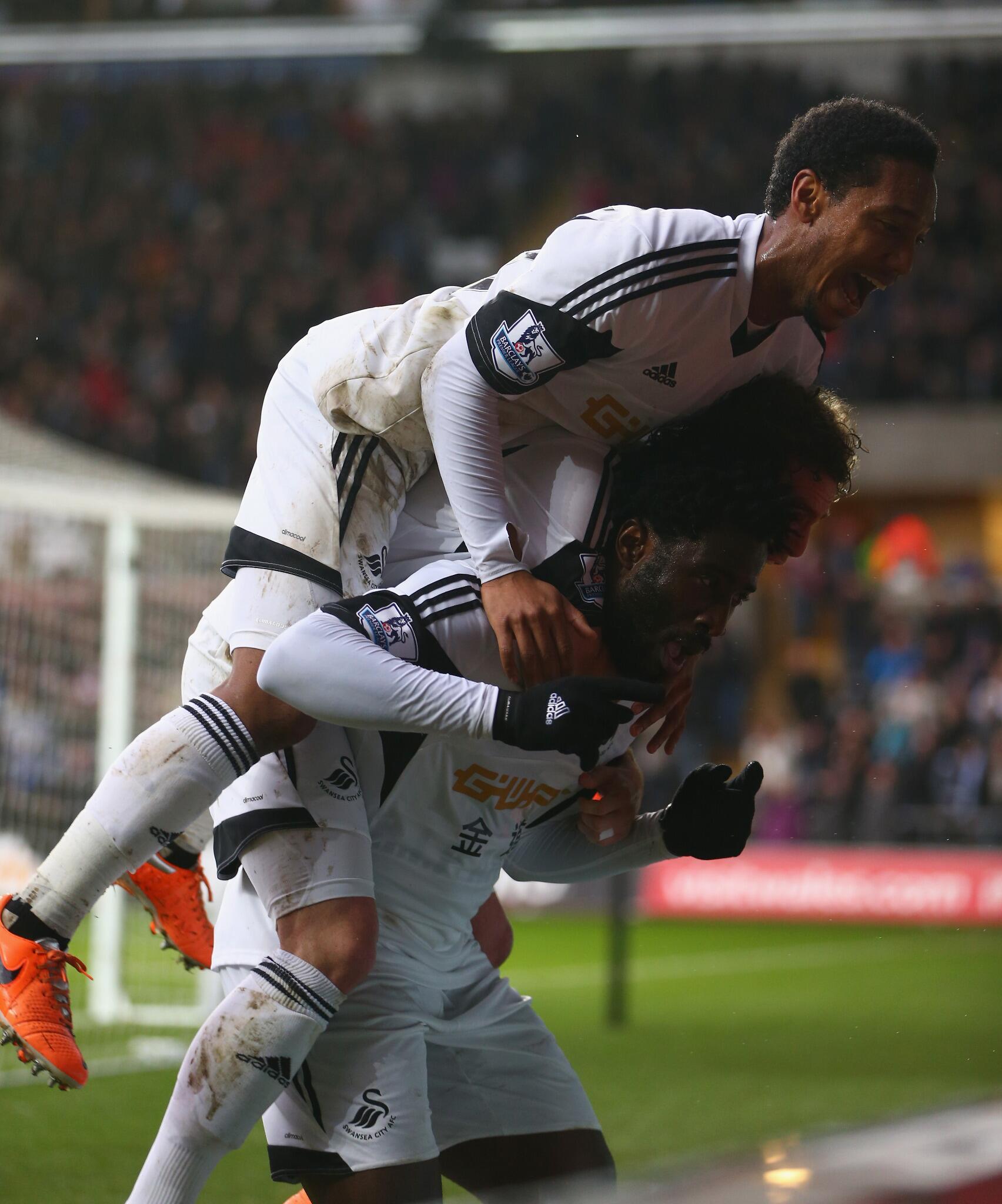 Wilfried Bony, the Swans' top scorer, hit two
past the visitors on New Year's Day.
Courtesy: PremierLeague.com
The second half followed the same tone as the first, a very quick and back-and-forth game. Manchester City developed into more likely scorers as the half progressed.
Fifty-six minutes in and Manchester City would take the lead once again, by way of Yaya Toure. It fell to the Ivorian from Canas' failed clearance, worked into space then struck it past the keeper, with a deflection to go with it.
Swansea however were still showing resilience to keep going, but a third goal six minutes after the second would almost crush the hosts.
Kolarov surged down the left flank after picking up possession, then cut in, making use of Yaya Toure's decoy run to strike it with his right past Tremmel.
Swansea were showing signs of the fatigue with the tempo drastically slowing down. Manchester City were comfortably in control and looking like they were cruising towards the victory.
Although seemingly buried for fifteen minutes, things suddenly lightened up when Wilfried Bony scored his second goal in stoppage time. Bony picked up the ball after a sequence of passes from the hosts, to strike low past Joe Hart.
Manchester City pick up another win to top the league at the start of the year. Swansea put on another solid performance, yet fail to pick up the points that are becoming imperative.
- Sports for the Fans, by the Fans.
Connect With Us!