BY NISAR KHAN
UFC 168: Weidman vs. Silva 2
Saturday 28 December 2013
MGM Grand Garden Arena, Las Vegas, NV.
LAS VEGAS - Chris Weidman retained the UFC Middleweight Championship after Anderson Silva was severely injured in the second round.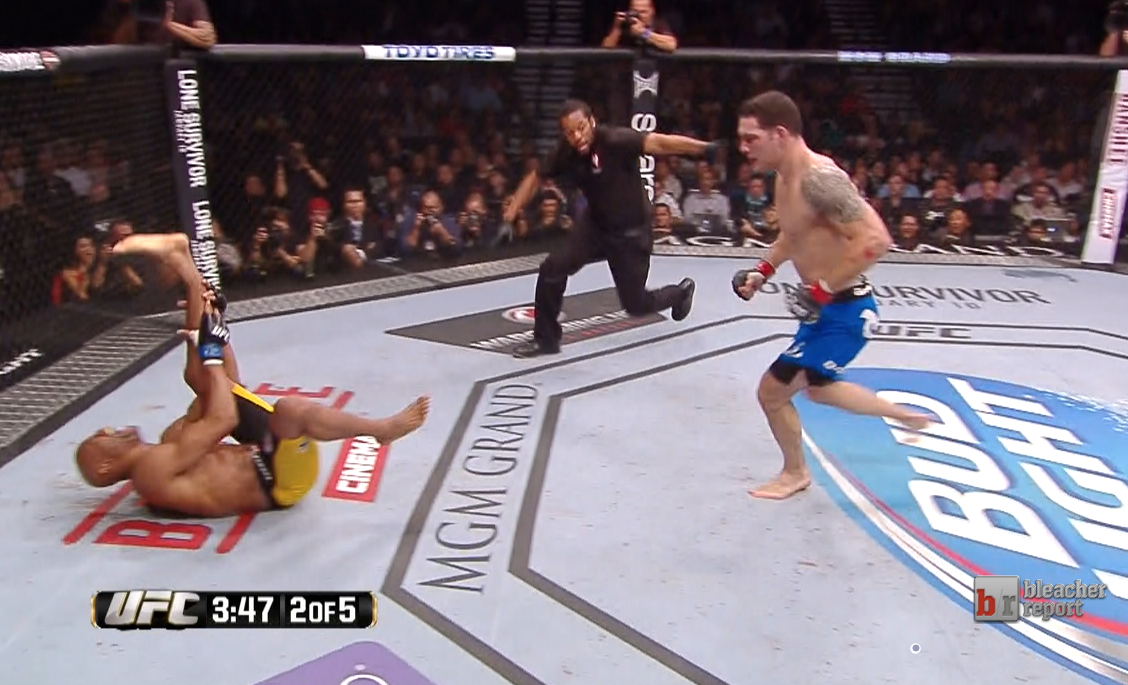 With two title fights that entailed two of the biggest rematches in history, there was history to be made, and legacies to be defined in the biggest fight card of the year.
An exciting preliminary card featured three finishes along with close fights that set up for an exciting main card of action.
Anderson Silva's horrific injury stopped the bout, a shocking end to the night.
Overview: Fights at a Glance
Robbie Peralta knocks out Estevan Payan 0:18 into Round 3

William Macario outclasses Bobby Voelker in decision

Howard goes the distance to knock-off Bahadurzada

Siver edges Gamburyan in close Featherweight tilt

Johnson leaves Tibau out cold in Round 2 knockout

Uriah Hall TKOs Leben for impressive first Octagon win

Poirier rocks Brandao with first round knockout

Jim Miller submits Fabricio Camoes with emphatic armbar
Preliminary Action
Robbie Peralta scored his third victory inside the Octagon with a third-round knockout of Estevan Paryan. Following two close rounds, Peralta exploded out of the blocks to nail Paryan with a left, and finish the job.
#UFC168 fight night facts: @PeraltaMMA KO at 12 seconds into the 3rd round is the quickest knockout ever in the 3rd round of a UFC bout.
— UFC (@ufc) December 29, 2013
William Macario left Bobby Voelker as a bloody mess in his Unanimous Decision victory. Voelker's resilience and sheer toughness was at full display with him continuing to fight to the finish, although beaten on all cylinders in the fight.
Big UD win for @williampatolino over a tough @MMA_Voelker! He even had time to dye his hair. #UFC168 pic.twitter.com/PduGjXSwFZ
— UFC (@ufc) December 29, 2013
John Doomsday Howard came close to finishing, but was unable to stop Siyar Bahadurzada in a solid bout. It was overshadowed however in the most particular of ways, with a fart, yes a fart, was heard from one of the fighters during the bout.
Dennis Siver impressed in the third round to defeat Manny Gamburyan via Unanimous Decision. Following two close rounds, Siver would control the third with an enforcing ground game display.
Michael Johnson delivered an emphatic knockout to Gleison Tibau with a left hook that culminated a series of in-and-out jabs. Referee Yves Lavigne put a stop to it as Johnson brutally struck him on the ground.
GIF: Michael Johnson knocks out Gleison Tibau in the preliminary card
Uriah Hall picked up his first UFC victory over Chris Leben. Landing an early flying knee, Uriah Hall had the threshold of strikes on the statpad. Moving around the Octagon and switching stances, Uriah Hall would eventually pounce and seemingly knock out Chris Leben, only before the first round bell would sound. Based on doctor's advice after Leben asked if he was knocked out, the fight was stopped.
GIF: Highlights and finishing moments to the bout between Uriah Hall and Chris Leben

Dustin Poirier def. Diego Brandao

With just seconds remaining of the first round, Dustin Poirier scored a TKO victory over Diego Brandao.

Diego Brandao landed a few takedowns in the fight, but was unable to produce effectively on them. A fantastic striking display from Dustin Poirier would eventually take its toll on the Brazillian.
As the clock winded down for the first round, Dustin Poirier landed body shots before striking the head. Brandao went down and Poirier ruthlessly finished him on the mat.
Speaking post-fight, Poirier outlined the importance of his victory, "Words can't explain how happy I am. I busted by a** for this."
Its a win that catapults Poirier back into the title picture in a competitive Featherweight Division.
Poirier triumphantly walks away following his victory. Courtesy: TODAY Sports
Jim Miller def. Fabricio Camoes
Jim Miller submitted Fabricio Camoes in emphatic fashion as he exemplified more of his best skills.
It wasn't all plain sailing however, as Camoes took an early advantage in the stand-up striking, followed by a takedown at ease.
Miller would eventually regroup and manage to get hold of the arm during the ground-and-pound, soon working into an Armbar for the finish.
Yet again, Jim Miller outclasses a Brazillian Jiu-Jitsu belt in his own game.
Victory: Herb Dean raises Jim Miller's hand after his victory.
Travis Browne def. Josh Barnett
Travis Browne viciously knocked out Josh Barnett with elbows to pick up his third consecutive knockout victory.
From the beginning, they exchanged strikes, with Travis Browne landing the first shot but it was responded to by some kicks from Barnett.
Josh Barnett's early attempt to push against the cage was thwarted, and then a takedown attempt was stopped by a huge knee from Browne. This would allow the Hawaiian to follow up with vicious elbows to put Barnett out.
GIF: Travis Browne emphatically finishes Josh Barnett
After his victory, Travis Browne called out Fabricio Werdum, with himself now firmly placed in the Heavyweight title picture. "Looks like me and Werdum have a date", exclaimed Browne after speaking to Joe Rogan in his post-fight interview.
Another quick knockout on the card, and another knockout for Browne. Emphatic statement that has him fully fledged in the title picture.
Contrast: Travis Browne celebrates while Barnett is disappointed about the outcome


Ronda Rousey def. Miesha Tate
Ronda Rousey retains UFC Women's Bantamweight Championship

Ronda Rousey retained the UFC Women's Bantamweight Championship with her signature Armbar Submission to defeat a valiant Miesha Tate.

With clear intentions of not touching gloves, the two came out swinging for each other and trading some shots.
Miesha Tate significantly took down Ronda Rousey in the first round, a very rarity especially to Rousey. Armbar attempts were stubbed, and Ronda Rousey would go to the second round for the first time ever in her career.
Even a dominant second round was not enough to finish Miesha Tate. Tough work on the ground left Miesha Tate a wreck, but she did not end up in an armbar, just yet. Setting up the toughest fight for Ronda's career, her few shots in the striking exchanges and defence kept her in it.
The challenger seemed to be entertained and got into Rousey's head, but eventually after one armbar was escaped from, Miesha Tate would eventually tap out to another armbar.
Post-fight, Miesha Tate extended a handshake out to Ronda Rousey, but Rousey walked away and it was met with boos from a majority of the fans in the MGM Grand Garden Arena. Rousey later congratulated Ronda and acknowledged her improvements, while Tate accepted defeat.
An incredible battle that sees both women show their greatness, and Ronda Rousey picks up her 8th victory by her signature Armbar.... again.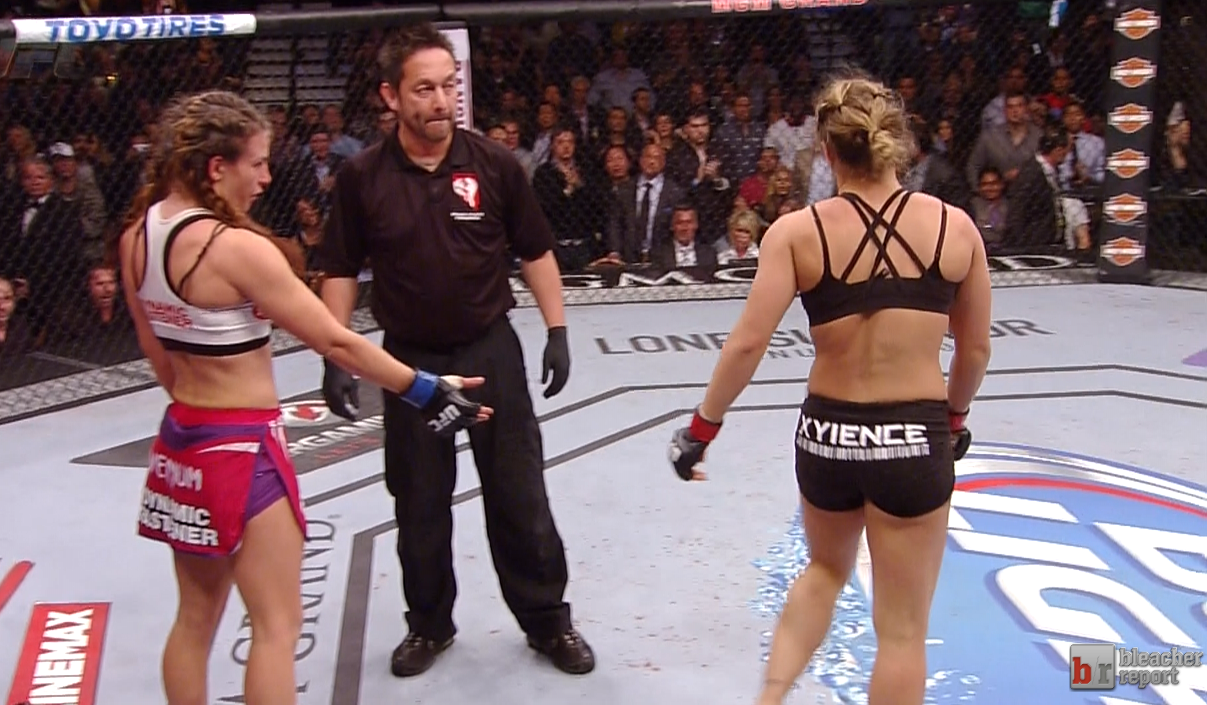 Ronda Rousey rejects Miesha Tate's handshake
Chris Weidman def. Anderson Silva
Chris Weidman retains UFC Middleweight Championship due to injury
Chris Weidman retained the UFC Middleweight Championship in shocking circumstances after Anderson Silva broke his leg horrifically in the second round.
There was a big fight feel as the bout got underway. Following a slow feeling-out process of the bout, Chris Weidman hurt Anderson Silva in the clinch, with his eyes rolling back and almost getting KO'd. However, the Spider would manage to survive and hold on with the full guard.
In the second round, in the striking exchange, Silva began to throw leg-kicks. Chris Weidman blocked one with his leg and Silva instantly went down in pain.
VIEW A GIF OF THE INJURY - WARNING: GRAPHIC
Anderson Silva's leg had completely snapped, a gruesome looking injury and Silva was in complete pain and agony as he was attended to.
Chris Weidman remained Champion, in a crazy end to a crazy night.
It could very well be the end of the great career of Anderson Silva. The greatest MMA fighter in history could have had his last battle in the Octagon.
For Weidman, it could very well be the start of a new era.
- Sports for the Fans, by the Fans.
Connect With Us!