BY NISAR KHAN
Aguero 14', Walcott 31', Negredo 38', Fernandinho 50' & 88', Walcott 63', Silva 66', Mertesacker 90'+4', Toure 90+6'
Saturday 14 December at 12:45pm, Etihad Stadium, Manchester.


MANCHESTER - Manchester City fired six past Arsenal at the Etihad Stadium to topple the league leaders in a phenomenal goal-fest.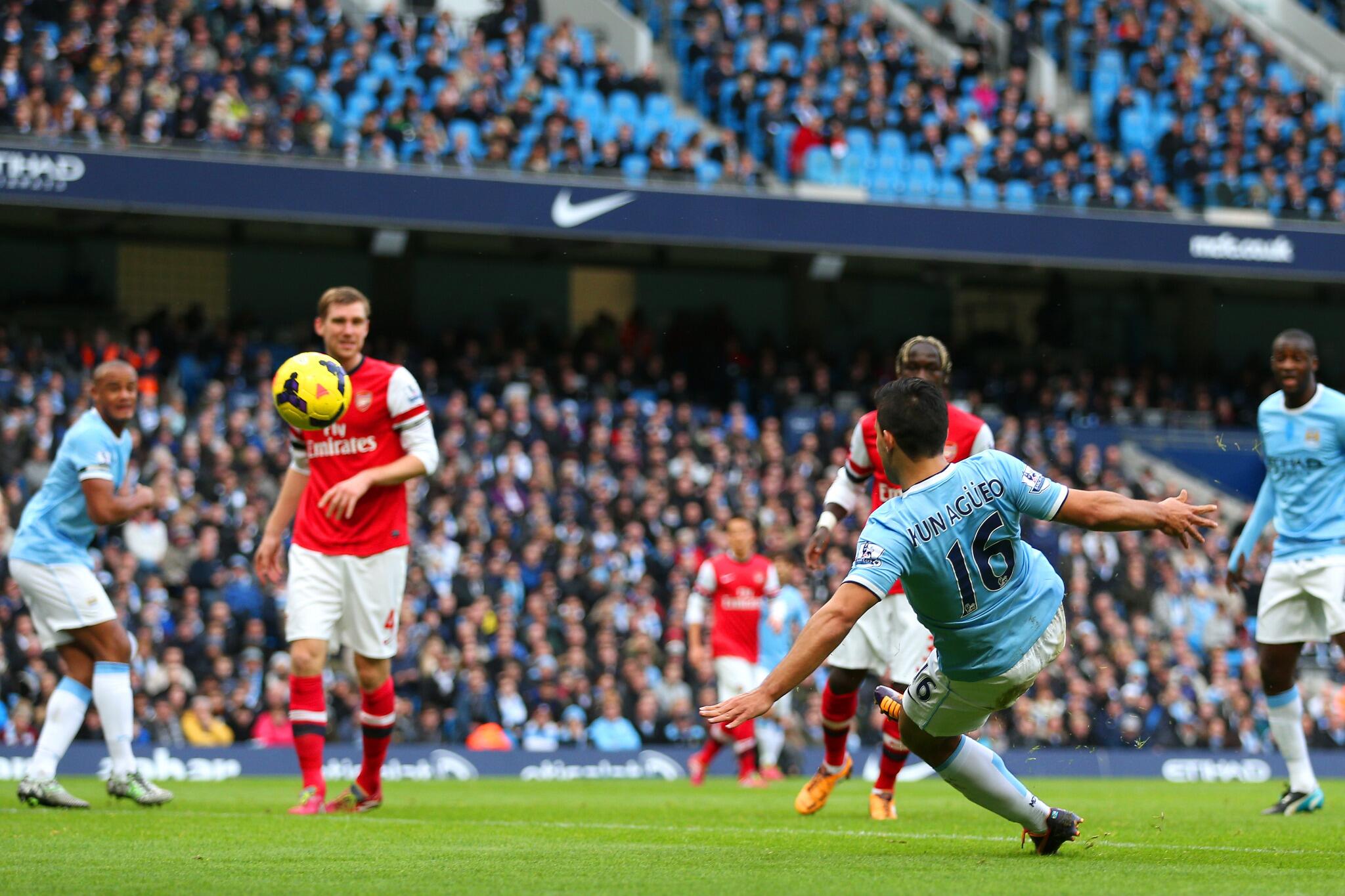 Goal Machine: Aguero scored his 8th goal in seven home games for the opener. Courtesy: PremierLeague.com
Arsenal got the game underway at the Etihad Stadium, but Monreal gave it away within seconds to Sergio Aguero down the right. Fortunately for Arsenal, the hosts did not pounce eagerly for the early chance.

However, the opening minutes would consist of a heavy onslaught of Manchester City attack with chances frequently coming in. Arsenal would stay put to resist Aguero and Negredo adding to their goal tallies early on.

Eventually, Arsenal would receive a break from the early onslaught, and what followed was a great spell for the Gunners, including Wilshere messing up a big chance to score the opener.

But as the play shifted yet again, Pablo Zabaleta found himself standing over a corner kick from the left. Demichelis headed the ball onto Sergio Aguero, who struck the back of the net with a phenomenal volley to give the hosts the lead.
GIF: Sergio Aguero scores an emphatic volley to put City ahead. Courtesy: BT Sport

Manchester City controlled the game following the goal, as Arsenal's fatigue seemed to kick in after arriving from Naples on Thursday.

Finding it a pretty tough going, Arsenal managed just to restrict another goal up to twenty minutes, but seemed to pose little threat on the rebound.
Aguero can't stop scoring...
8 - Sergio Aguero has scored eight goals in his last seven appearances at the Etihad Stadium (all competitions). Update.


— OptaJoe (@OptaJoe) December 14, 2013
As the end-to-end action became suddenly revitalized, a more meaningful Arsenal put up some problems for Manchester City. They were easily exploited when David Silva almost put Negredo through following Clichy's clearance, looking far too easy.

Manchester City's fans gasped in admiration when David Silva was almost put through with a lovely one-two with Yaya Toure. Arsenal just managed to see it and break it down, keeping the deficit to one for the time being.

Theo Walcott caused some troubles for City's keeper Pantillmon, who's punch-out from Walcott's free-kick fell to Ozil, before being cut down by the hosts' defence.

Once again, the action was end-to-end, with Negredo having a decent volleyed attempt from Aguero, but the shot was blocked. It was a well-oiled machine for Manchester City in terms of their passing.

Yaya Toure was dispossessed in midfield from Monreal, whose pass was followed up to Walcott. With an on-target strike, Walcott's shot took a crucial deflection from Demicheilis and went past Pantillmon.
GIF: Walcott's shot is deflected and slowly crosses the line for the equalizer. Courtesy: BT Sport
The pulsating end-to-end action would once again continue following Arsenal's equalizer. Arsenal began to play with more life, while City still posed a significant threat.

It would take another piece of attacking brilliance from Manchester City to take the lead. Yaya Toure sent an incredible pass to Pablo Zabaleta, who applied a marvelous touch before squaring it across to Negredo, firing past Szczęsny for the second goal.
GIF: Alvaro Negredo scores the second for Manchester City after Zabaleta assists him off Toure's pass. Courtesy: FRED Sports via BT Sport

Concerns quickly roused the pitch when Koscielny was receiving treatment after picking up an injury. After standing up to play, he went back down knowing something was wrong, and was stretchered off the pitch, being replaced by Vermaelen.

As half-time approached, Arsenal were looking shaky. There were let-ups in Arsenal's defence allowing City to break through, but they were a bit too lackadaisical for the third goal.

The first-half whistle blew to conclude an exhilarating forty-five minutes of end-to-end action. Manchester City began with a lot of assault, but Arsenal pulled the odds back in their favor. With the pendulum of the game swinging again, City's attacking brilliance paid off, but Arsenal got back in it, and so on and so forth. Manchester City finished the first half in a very strong manner.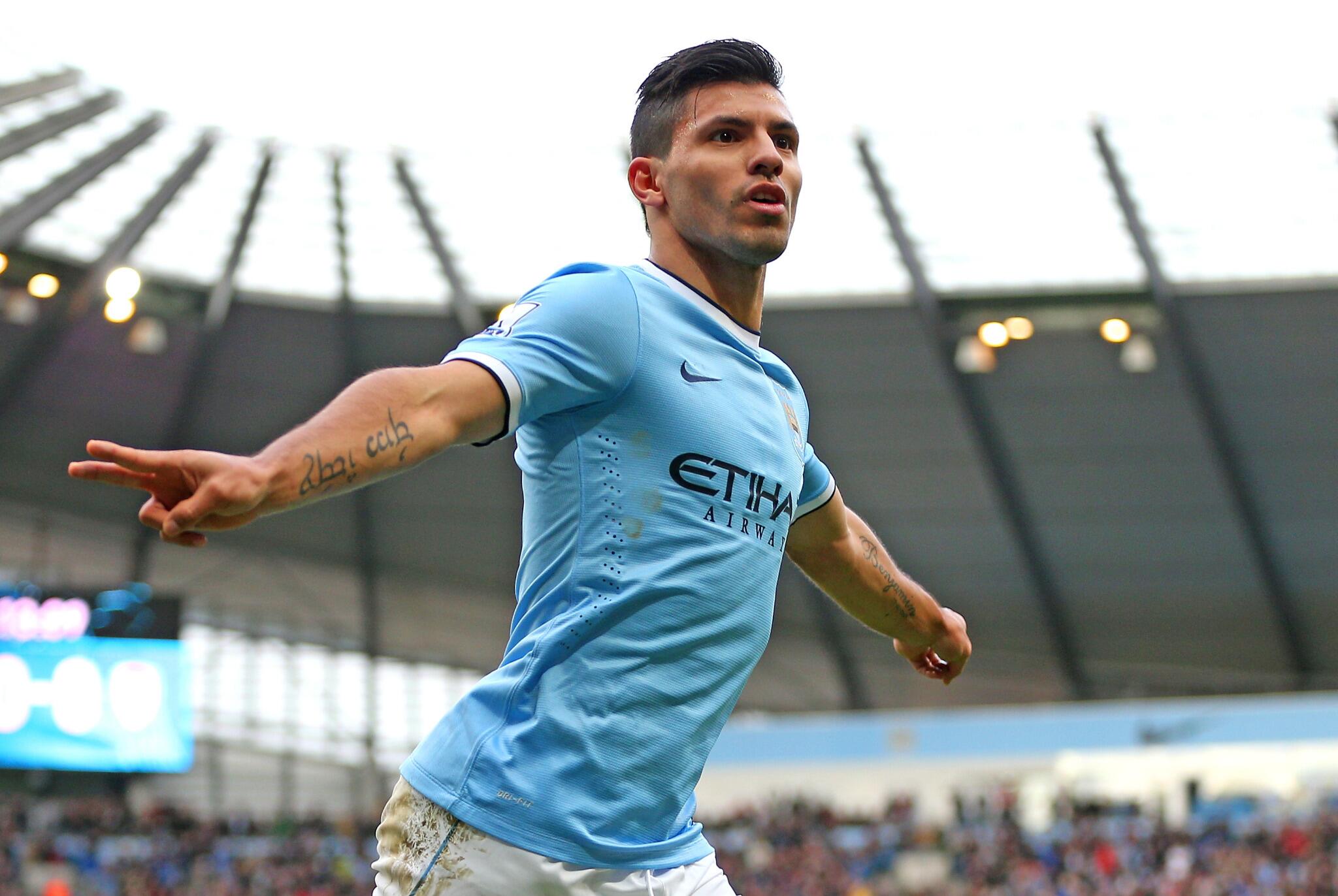 Sergio Aguero was sidelined after picking up a calf injury just a minute into the second half.

After a mixed start to the second half, an Arsenal give-away in possession would fall to Fernandinho, who surged forward and struck it into the top corner.
GIF: Fernandinho scores his first goal for Manchester City. Courtesy: BT Sport
Manchester City were in their own flow or play now, with fantastic passing and remaining composed on their lead.

But Arsenal would not let in, as they continued to go for the game, and it paid off.

An excellent team goal concluded with a sublime finish by Theo Walcott to put Arsenal back into the game.
GIF: Theo Walcott scores his second. Courtesy: BT Sport

Just as the visitors were beginning to stage a comeback into the match, David Silva restored his team's lead to two goals after some great work on the right by Jesus Navas, allowing Silva to finish easily past Szczęsny. Arsenal were caught on the backfoot, and City made them pay.
GIF: David Silva finishes delightfully from Jesus Navas' assist. Image Courtesy: BT Sport

Arsenal were still trying though, as the game intensified further, Jack Wilshere was denied with a phenomenal save from Pantillmon. The momentum continued to change.

Arsene Wenger made a statement of intent, with the removal of his holding midfielder to try and scramble back something from the game.

Manchester City were still causing problems though, with Yaya Toure surging down the middle and striking it low and wide.

Then, Fernandinho would seal it, as Arsenal became lack-luster, Wilshere was dispossessed, and Fernandinho would go one-on-one and chip it over Szczęsny.
GIF: Fernandinho scores his second. Courtesy: BT Sport

Moments later, the net would bulge at the other end, only for Bendtner to be ruled offside.

However, Mertesacker would head home a consolation in stoppage time.

Yaya Toure would score a penalty in stoppage time in the ninth and final goal of the game.
"What a fantastic game of football. Nine goals in one game, an absolute privilege to watch and report on. There were times in the game where it was too much. Just a fantastic game. Its days like these where we need more superlatives." - Game reporter Nisar Khan
One word to describe this game. Breathtaking.
In one of the biggest games of the season to date, Manchester City and Arsenal put on a show. Phenomenal.
- Sports for the Fans, by the Fans.
Connect With Us!