LAS VEGAS - Georges St-Pierre retained his UFC Welterweight Championship via Split Decision to score a record 18th UFC win.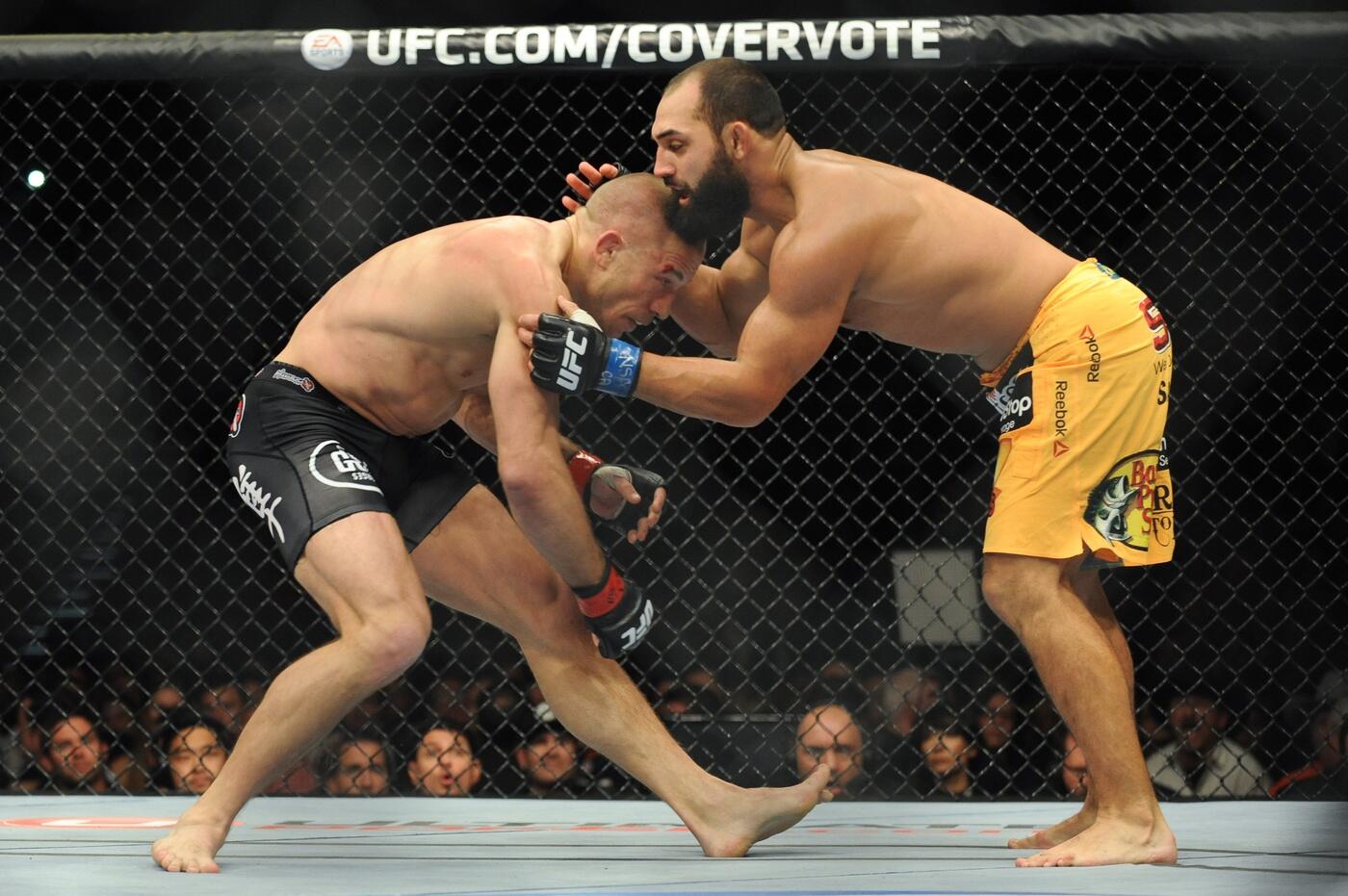 It was a win that came in controversial fashion with many believing that Johny Hendricks had actually won the fight.
Prior to the main event, Rashad Evans knocked out Chael Sonnen, and Rory MacDonald battled Robbie Lawler in an entertaining battle.
At a Glance: Prelims
Cody Donovan and Gian Villante engaged in a terrific fight to kick things off in the Online Prelims, which saw Villante land a huge shot in the second round to open the night with a victory.
Sergio Pettis - younger brother to UFC Lightweight Champion Anthony Pettis - scored a Unanimous Decision win over Will Campuzano.
Jason High dominated Anthony Lapsley in a dominant Unanimous Decision win to conclude the online preliminary bouts.
Erik Perez decimated Edwin Figueroa in a Unanimous Decision victory to rebound from his previous loss.
Rick Story was unable to finish Brian Ebersole although defeating him all around the Octagon as he won via Unanimous Decision, while Leite wins in same fashion against Ed Herman.
Donald Cerrone was looking at his peak with a top performance with a Triangle that forced Evan Dunham to tap.
Tim Elliott vs. Ali Bagautinov
Tim Elliott and Ali Bagautinov went the distance in the main card opener, which saw the Russian prevail by decision.
Fast paced from the outset, the duo battled around the Octagon with ferocious striking - perhaps containing the most important difference, Bagautinov's striking accuracy, constantly putting damage on Elliott whenever he advanced.
Josh Koscheck vs. Tyron Woodley
Heavy-hitting Welterweights Josh Koscheck and Tyron Woodley shared the Octagon floor with Koscheck landing a brutal KO in the late stages of Round 1.
Right from the outset, Josh Koscheck was momentarily dropped as Woodley hurt him early. For the majority of the first round the two traded shots with Koscheck landing the majority. As the round progressed, Koscheck was tagged again, cut from Woodley and having to cling on to the guard to stop any further punishment. With seconds remaining of the first round, Tyron Woodley landed a brutal right hand, followed by another as Koscheck dropped before the referee brought a stop to the bout.
GIF: Tyron Woodley knocks out Josh Koscheck in Round 1.
Rory MacDonald vs. Robbie Lawler
Welterweight up-comer and experienced fighters collided in a superb fight that celebrated UFC's 20th Anniversary emphatically. Robbie Lawler defeated Rory MacDonald in a fight that went the distance.
In the first round, Rory MacDonald was making the most noise, along with the crowd in the arena who backed him, with strikes that were not significant, but plentiful. A close opener saw neither take control, but Robbie Lawler hurt MacDonald with a big shot causing MacDonald to take it to the ground.
After a close first round, Robbie Lawler looked certain to have won the second with more shots hurting MacDonald. The Canadian was slow, hurt possibly, as he took it to the ground with little work done.
As Robbie Lawler continued to throw bombs, Rory MacDonald was able to stay put and finish the fight. A great battle with Lawler getting the majority of the damage served. MacDonald finished with a late flurry of elbows, but Lawler won by Split Decision.
GIF: Robbie Lawler lands big shots on Rory MacDonald, but none stop the Canadian.
Rashad Evans vs. Chael Sonnen

A friendship was put on hold in the co-main event as Rashad Evans battled Chael Sonnen. From start to finish, it was a mauling by Evans who won by way of TKO.
The two began trading early on and Chael Sonnen got hurt from an early shot. Eventually when Chael Sonnen looked to impose his wrestling game, Evans obliged and worked down on the Ground & Pound. After finally turning the "American Gangster" onto his front, he threw the shots down forcing the stoppage.
GIF: Chael Sonnen scores the TKO victory against Chael Sonnen.
Georges St-Pierre vs. Johny Hendricks
There was a big fight feel in Vegas as the two touched gloves before heading to their corners to fight. It was a promising start for Johny Hendricks who landed a few shots early, traded with Georges and kept his wrestling game up. St-Pierre took some big shots and took a cut in one striking exchange. Hendricks also had a promising second round where it looked possible that he could finish St-Pierre.
In the third round, Hendricks seemed to have slowed down quite a bit but Hendricks landed a late takedown. The bout would continue as we were headed to the Championship rounds.
The two battled in the Championship rounds but neither could finish. It was fantastic to watch as the two battled back-and-forth. With seconds remaining, a Kimura attempt from GSP was unsuccessful.
Georges St-Pierre went on to win by a close Split Decision victory. Controversial? You bet.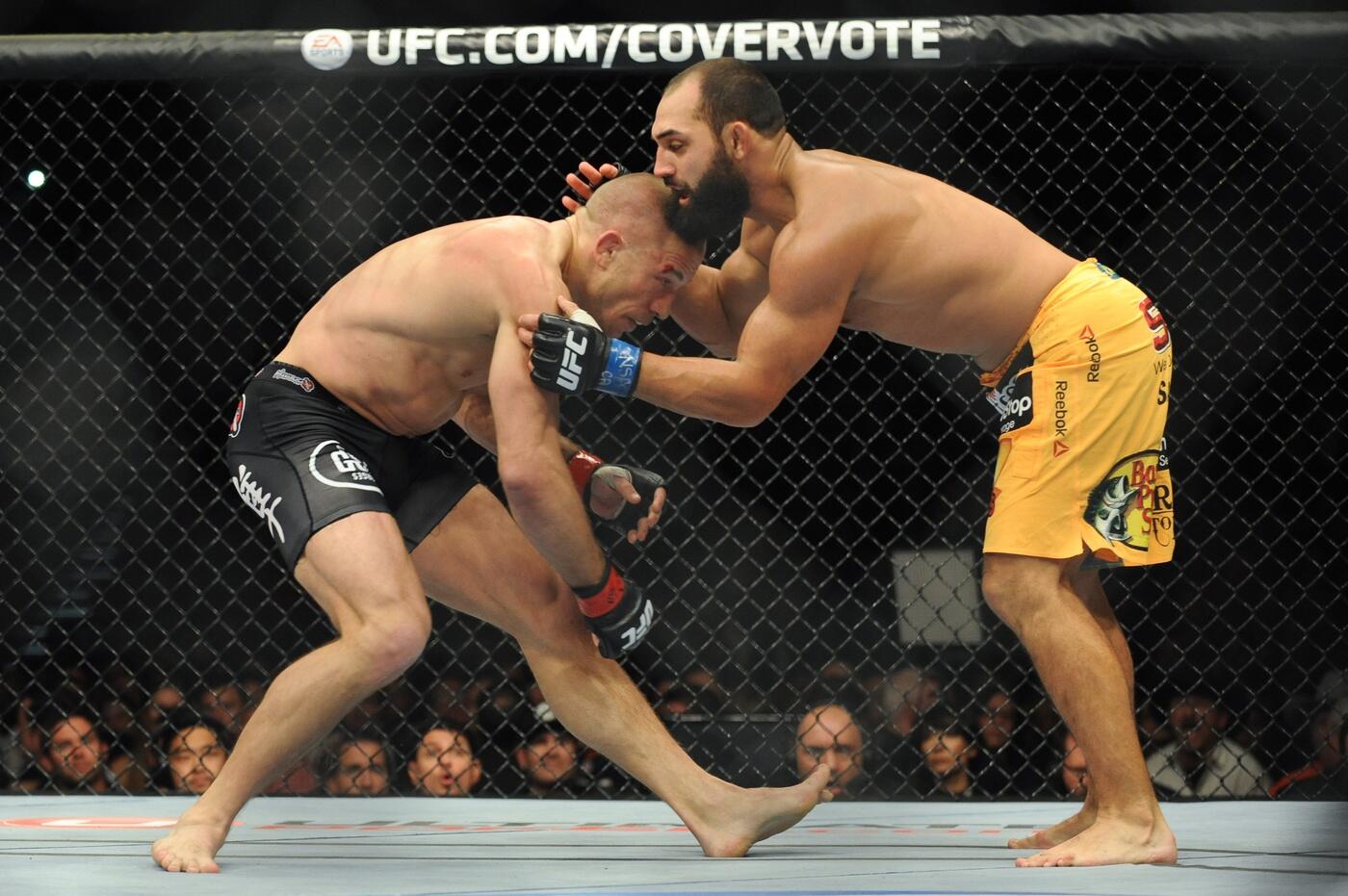 Post-fight, Georges St-Pierre said he was "taking a break" from the UFC to deal with "personal" matters. Is this the end of GSP? It was a tough fight, he took punishment yet surprisingly still won.
Johny Hendricks gave the performance of his life at UFC 167. Hendricks punished GSP and pushed him to the limit, but it didn't look like that on the judges scorecards.
GSP remains on top. For Hendricks, tonight was not the night although many thought he deserved to win. The UFC celebrates twenty years in the same way that got the World's attention in its birth, an exciting night in the Octagon.
- Sports for the Fans, by the Fans.
Connect With Us!