The fourth set of group games in the Champions League commenced which saw Manchester City triumphantly make their way into the Knockout stages. Meanwhile, Gareth Bale scored for Madrid along with much more from the elite of European football.
Sergio Aguero helped Manchester City in their emphatic win over CSKA Moscow. (Image Courtesy: UEFA.com)
With eight consecutive kick-offs, there was plenty of action around Europe. In spite of an early goal drought, things began to pick up.
Games at a Glance
United hold tight to goalless draw with ten men

Aguero and Negredo demolish Moscow

Levurkusen's Leno defies Shakhtar in draw

Early Braaten goal powers Copenhagen to win over Galatasaray

Bale and Ronaldo strike for Madrid in tantalising 2 -2 draw with Juventus

Kostas Monala strikes early in Olympiakos' win over Benfica

Anderlecht take a point from PSG to overcome odds

Mandzukic scores off bench to slay Plzen
Real Sociedad 0 - 0 Manchester United
Real Sociedad and Manchester United took a point each from their efforts with United coming closest from van Persie's penalty that was saved.
If the like-for-likeness of these two teams which we saw a few weeks ago at Old Trafford where anything to come by, this game was to show it. After forty-five minutes, the teams went into the break with a goal yet to be scored. However, the situation could have been different in the late stages of the first half. Shinji Kagawa was denied by Bargara, while late on, Nemanja Vidic defied Carlos Vela to go into the break even.
Manchester United were looking imminent to score when they were awarded a penalty kick, as Robin Van Persie's penalty was saved on to the cross bar. Justice served? Most probably as Ashley Young was diving for the penalty. Marouane Fellaini was sent off late in the match, but
Manchester City 5 - 2 CSKA Moscow
Manchester City showed their attacking prowess as they outclassed CSKA Moscow with a hat-trick from Negredo and a double from Aguero.
A mere three minutes into the game and Manchester City would be leading. Former City player Tosic fouled David Silva in the box, before the Argentinian stepped up to the penalty spot and added to his Champions League goal-scoring tally.
Seventeen minutes later, Aguero would strike once again as he turned away from a defender to side-foot his shot into the bottom-right corner.
Manchester City reinforced their dominance with a third goal after thirty minutes. This time it was the Spaniard, Alvaro Negredo, who tapped it in from a Aguero's low cross.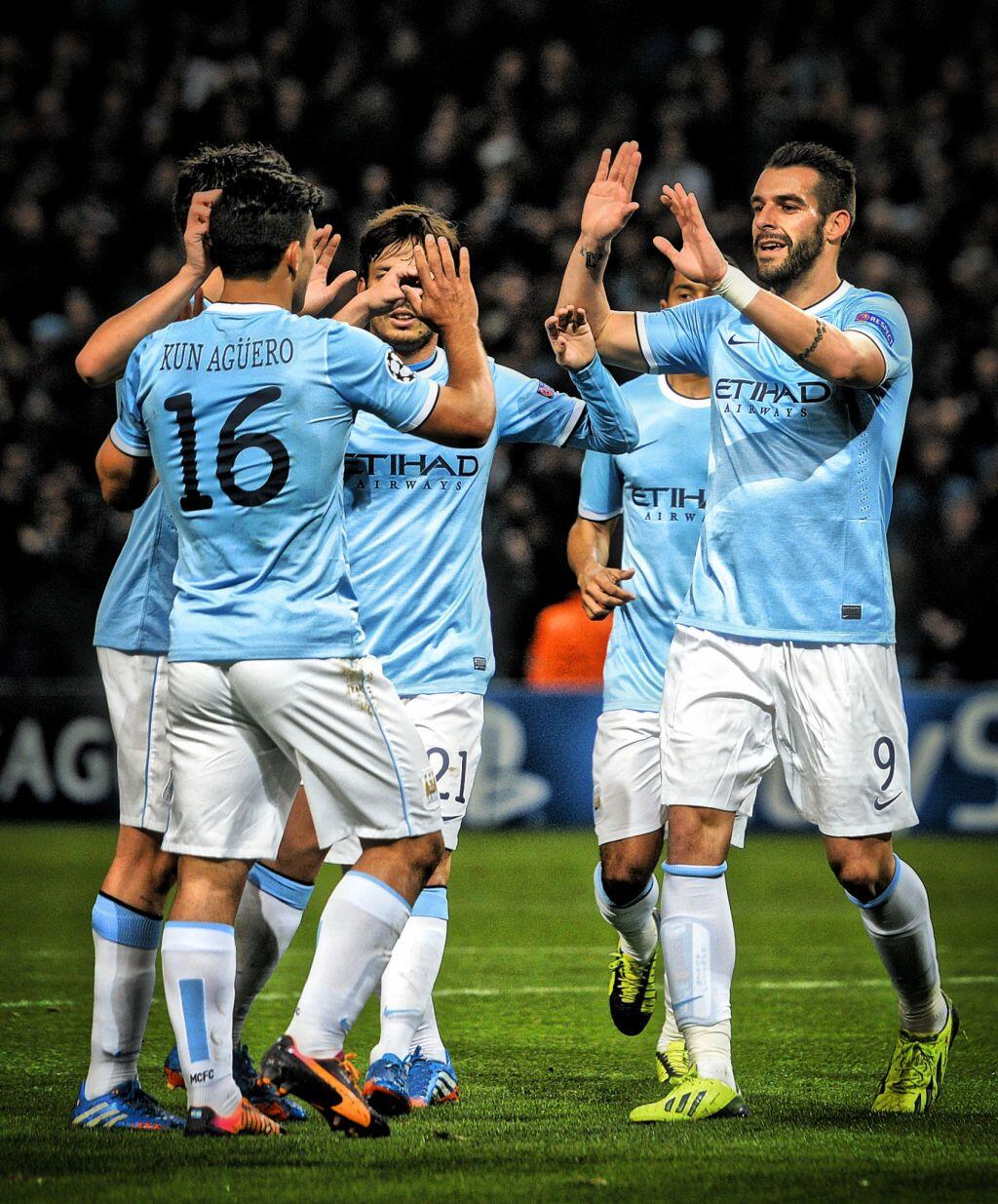 In stoppage time, Moscow pulled one back with Doumbia having fortune on his side as he pounced on an awkwardly-bouncing ball to slot it past Pantillimon.
That goal wouldn't phase the hosts at all. Alvaro Negredo scored early in the second half to double his goal-tally and further push City towards the Knockout Stages. It was another simple finish from the Spaniard who scored of Nasri's pass.
Doumbia would induct himself into the double-club scoring his second from the penalty spot. Deceiving Pantillimon with the stuttered run, the Ivorian struck low cutting down the deficit to two goals.
Negredo would complete the hat-trick in the dying moments of the match to add insult to injury as City marked their progression to the knockout stages in emphatic fashion.
Shakhtar Donetsk
0 - 0
Bayer Leverkusen
Bernard Leno proved too good for Shakhtar as they battled to a frustrating goalless draw with Leverkusen.

An outstanding performance in between the sticks from Bernard Leno kept it even going into the break. Shakhtar had a landslide in chances, but none would get past Leno in the first 45.
In the second, no goals were scored. The game finished even, courtesy of Bernaard Leno.
Copenhagen 1 - 0 Galatasaray
An early goal by Braaten would prove the winning goal for Copenhagen who defeated Galatasaray.
The hosts would take an early lead by way of Braaten, scoring his first goal of the club with a backheel from Gislason's assist from the right.
The hosts just managed to keep their lead before the full-time whistle was blown.
Juventus 2 - 2 Real Madrid
Ronaldo and Bale scored in an enticing game which saw Madrid and Juventus tie two goals a piece in Turin.

It took forty-two minutes for a goal to come in Turin. Juventus scored with Vidal striking affirmatively from the penalty spot. Varane brought down Paul Pogba to be awarded the penalty. Beforehand, it was an evenly poised game, with Juventus just looking stronger. A lead deserved with more chances as the game progressed and Real Madrid were looking rather inactive in the first half.
Cristiano Ronaldo gave Madrid the start they needed after play resumed. Benzema was gifted the ball after hesitation from Caceres in the attacking half, awaiting his striking partner to slot the ball past Buffon.
Gareth Bale scored on his first Champions League start for Madrid on the hour mark to give Real Madrid the lead and turn the game around. The Welshman struck it low after Ronaldo assisted him.
The game was turned around, but not for long. Having caused the set up for Madrid's second, Caceres would set up Llorente for the equalizer. The cross went in and Llorente beat Varane to head in goal.
A win is the most fair result it seems, very good battle.
Olympiakos 1 - 0 Benfica
Kostas Manolas' thirteenth minute header was decisive as Olympiakos picked up essential points with a win over Benfica.

A thirteenth-minute header from Kostas Manolas put the home side in the lead. Heading downwards with some power, the Greek side took an early lead. Although leading as the first half ended, the Greeks had to survive an onslaught of chances from Benfica.
Olympiakos' keeper Roberto managed to keep a clean sheet with a superb goalkeeping performance.
Uncontainable Excitement: Kostas Manolas celebrates after scoring a goal thirteen minutes in. (Image Courtesy: UEFA.com)
Paris Saint Germain 1 - 1 Anderlecht
A resilient Anderlecht managed to wrestle a draw in a game which saw them go down to 10-men and score their first goal in the group stage.

Although thumping them a fortnight ago, Paris Saint German were unable to break through Anderlecht's defense through the half-hour mark. The visitors were looking resilient and defiant to that point standing toe-to-toe with PSG's ammunition in attack. Paris were dominant on every stat in chances, possession, but one imperative thing was missing - they were yet to score a goal as the first half ended.
And then, it would pay off. In the midst of the second half, De Zeeuw scored with a low shot from around 10 yds to score Anderlecht's first in the group stage taking a shock lead against the hosts.
But, the re-occurrence of an Ibrahimovic goal would bust open the game once again. Seventy minutes in and the Swede scored two minutes after Anderlecht's goal. A great initial save from Kaminski would not be enough as it came off the post deflecting off him into goal. The odds were stacked against Anderlecht when USA International Kjestan was sent off after receiving his second booking of the game.
A big result for Anderlecht, who will see this as huge to overcome the odds and take a point.
Deadlock: Anderlecht kept it even at the start of the game. (Image Courtesy: UEFA.com)
Viktoria Plzen 0 - 1 Bayern Munich
Mandzukic scored the winning goal when he came off the bench to edge Munich into a victory over Viktoria Plzen.

Viktoria Plzen may have been thrashed away at the Allianz Stadium two weeks prior to their repeat fixture with Bayern, but the hosts were holding their own in the first half, where it finished goalless between the two sides. Viktoria Plzen were not being dominated either, as they had a fair share of chances before the first half culminated.
Mandzukic would finally break the deadlock after the hour mark. An impact substitute struck immediately after Philip Lahm crossed it in with much space. That would be the difference in the game, as Mandzukic's goal would prove the winner.
(Image Courtesy: UEFA.com)
Awards/Breakdown
Player of the Night:
Alvaro Negredo
Team of the Night:
Manchester City
Game of the Night:
Juventus vs. Real Madrid
Manchester City emphatically secured a place in the knockouts with a return win over Moscow, a superb performance by Pellegrini's men who are on a flyer following their demolition of Norwich in the weekend.
Meanwhile, Anderlecht and Plzen - who were expected to be thumped again - would either draw or lose by the smallest of margins. The draws came into, with the best football being seen between Madrid and Juventus.
The goals, the drama and the football will continue coming in from around Europe, as the Champions League takes centre stage once again. Keep refreshing for more content.
- Sports for the Fans, by the Fans.
Connect With Us!