EVERTON 3 - 3 LIVERPOOL
KICK-OFF: 23 Nov 2013 at 12:45pm, Goodison Park
Coutinho '5', Mirallas 8', Suarez 19', Lukaku 72', Lukaku 82', Sturridge 89'
EVERTON - Daniel Sturridge scored an 89th minute equalizer to tie it all up in an incredible game at Goodison Park in the Merseyside Derby.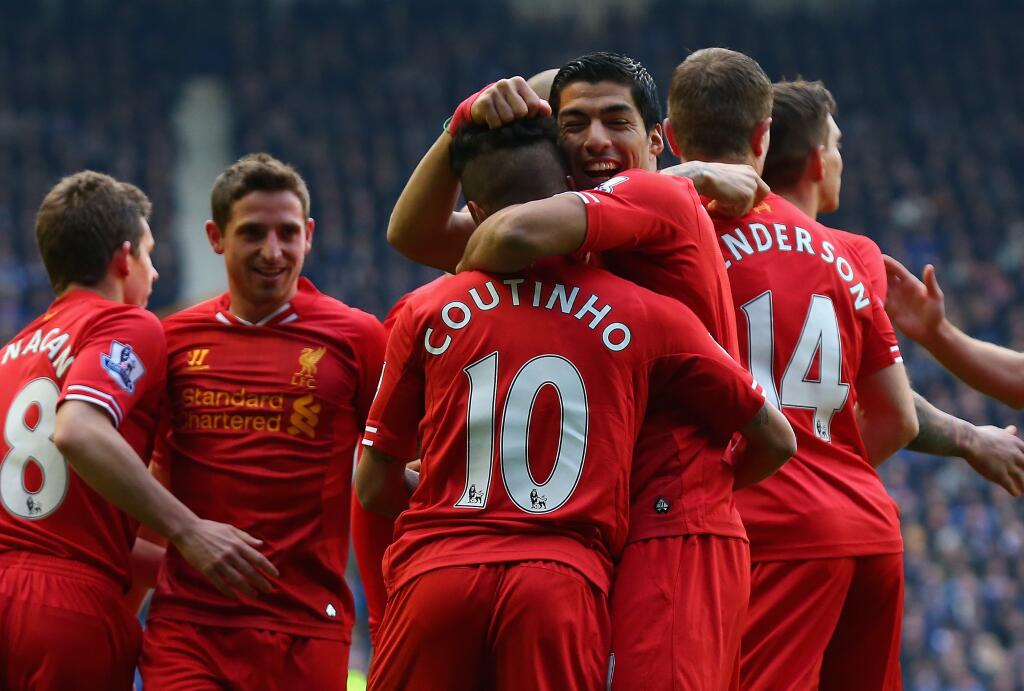 Philipe Coutino edged his side into the lead early on after Luis Suarez provided the assist.
But minutes later, Kevin Mirallas would equalize off some poor-defending after Leighton Baines' long-range free-kick.
Luis Suarez would take advantage of defensive errors as he beat the wall, and Tim Howard with a curled, low shot to put Liverpool ahead.
In the second half, a double from Romelu Lukaku within ten minutes would set Goodison Park up for a huge win.
But it was not to be, as a late goal from Daniel Sturridge, coming off from the bench, finished the game with both scoring three each.
In a game filled with talking points, every goal coming from a set-piece, fouls and speculation, it was an absolute classic.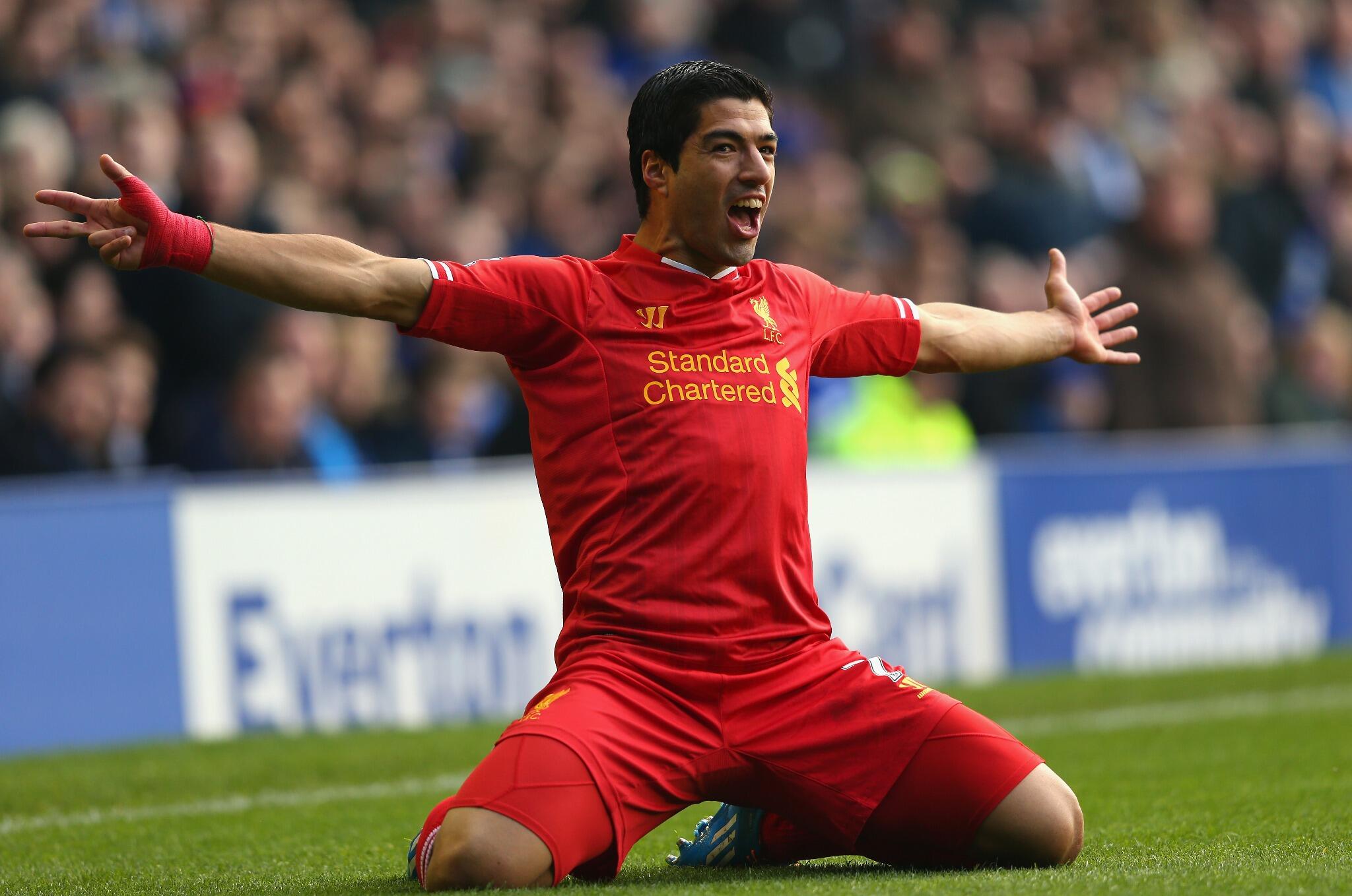 A huge roar was greeted as the hosts got the game underway. With an electric atmosphere at Gooidson Park, Everton passed the ball around for the opening stages with Liverpool putting on the pressure.
The Toffees provided early encouragement for the home fans with the majority of early possession while Liverpool looked to settle them down.
Steven Gerrard had the first corner of the game four minutes in. It would fall to Luis Suarez, flicking it on to Coutinho - who controlled the ball before striking it into goal, scoring his first Derby goal after just four minutes.
GIF: Philipe Coutinho scores in the fifth minute to open the scoring. Courtsesy: OffThePost
While Liverpool's early goal was the start needed, Everton would look to fire back, and that they did.
Kevin Mirallas flicked the ball in from close range of Leighton Baines' distant free-kick. An acrobatic effort would put Everton back in it, capitalizing of poor defending from Liverpool. It was even once again, with Goodison Park with an even more electric atmosphere.
GIF: Kevin Mirallas equalizes quickly following Liverpool's goal. Courtesy: OffThePost
Everton came close to a second, minutes after, but Romelu Lukaku was thwarted by Simon Mignolet who risked life and limb (and a red card maybe) to deny him on the edge of the area.
Following a frantic start to the game, around eighteen-minutes in and the game had finally settled. Liverpool were putting together a string of passes, while Everton were still well in contention.
Luis Suarez had a free-kick in the 19th minute in some promising territory. Tim Howard set the wall up, but the wall would not stop it, as Suarez curled it low beating Howard with a stunning free-kick to put Liverpool ahead.
GIF: Luis Suarez scores a free-kick to put his side back in the lead. Courtesy: theScore
With half-an-hour of play passed, Liverpool were still in the lead. The game had quietened down with no refereeing issues up to that point. Everton were trying for the equalizer but found themselves playing from the back far too often.
Ross Barkley was the recipient of the first booking of the game when he dived from Lucas' challenge. That was the busiest that Phil Dowd had to be thus far.
But he was busier, just moments later. Kevin Mirallas' fouled Luis Suarez with a high foot that resulted in a very lengthy stoppage, as Phil Dowd took his time to present a yellow card to Kevin Mirallas.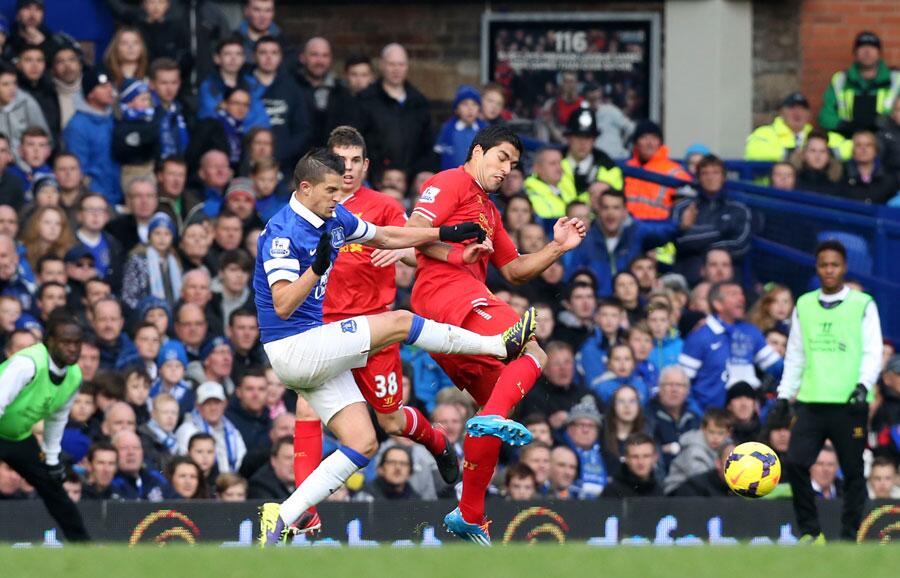 Should Kevin Mirallas have been sent off for this foul?
With half-time approaching, Liverpool finished with a threshold of the game as Everton grew frustrated. More 'Derby' fouls were coming in, but Liverpool finished with the lead.

Luis Suarez gingerly made his way back on to the pitch for the second half, but despite his injuries, Leighton Baines would be replaced by Gerard Deulofeu. Deulofu would almost make an impact as Liverpool were sloppy of a throw-in. Going one-on-one with Mignolet, he hit in straight at Liverpool's keeper.
A let off for Liverpool so to speak, but it was a word of warning from the Toffees.
Everton's chances increased, but Joe Allen could have well and truly settled it for the visitors when it was him and Suarez up against the keeper. Allen could have tapped it past Howard or passed it to Suarez for a tap-in, but he chose neither and hit it wide.
Romelu Lukaku caused another scare, but another save from Simon Mignolet - keeping Everton once again at bay in the 63rd minute.
On the 70th minute, Lukaku's goalless game would continue as he was once again thwarted by fellow Belgian Simon Mignolet, who made a much more comfortable save. A few minutes later, Lukaku would finally beat Mignolet.
After his free-kick was deflected but strongly saved from Mignolet, Lukaku got into the box and struck it low to equalize in the 72nd minute, setting the fans on euphoria at Goodison Park with their team back in it.
GIF: Romelu Lukaku equalizes for Everton
Brendan Rogers looked to make an attacking statement by putting on Sturridge as he replaced Lucas.
Set-pieces would once again come into play as Romelu Lukaku scored in the 82nd minute with a powerful header of a corner just ten minutes after equalizing.
With Liverpool looking to equalize late, a foul in the third quarter of the pitch had Gerrard standing over a long range free-kick.
Gerrard whipped it in, with Sturridge getting the header on to it, beating Tim Howard to equalize making it 3 - 3, a huge impact off the bench.
Daniel Sturridge thought he scored the winner in stoppage time but was offside.
And with that, the final whistle would blow with both teams going off satisfied after a hard-fought game. Even by Derby standards, an absolutely fantastic game of football.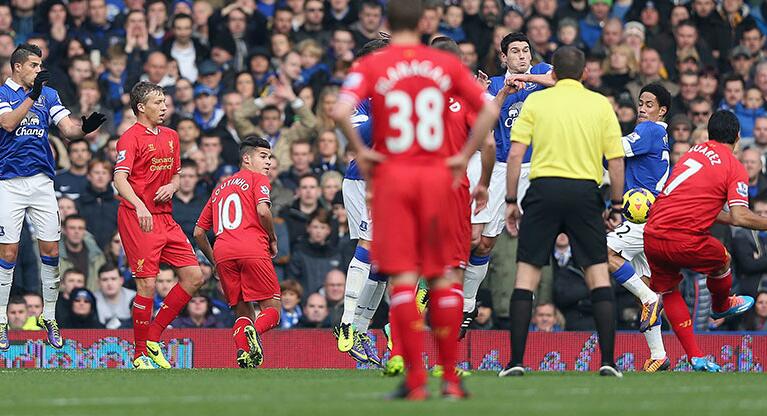 THE BREAKDOWN
Breaking down the game with analysis and the main headlines
SET PIECES: The Difference as Every Goal Came from a Set Piece
Coutinho scored of a set-piece early on to give Liverpool the lead. But just minutes after, when Mirallas scored of a set piece, it was clear - Liverpool were vulnerable and defedning set-pieces was their weakness. Then, it was possibly the opposite when Luis Suarez scored in the 19th minute of a poor defensive set-up by the Toffees. Later on, Lukaku would score twice off set pieces, before Sturridge headed the equalizer from Gerrard's free kick.
SUAREZ FREE-KICK: Sublime Goal, But Could Everton have done btter?
Luis Suarez scored a stunning free-kick to put Liverpool ahead. But after watching the goal again, the wall was a huge issue. Tim Howard made a mistake with a well, as it was just to easy for Suarez to curl it round and creep in from the bottom corner.
PHIL DOWD: Should there have still been 22 players on the pitch after the first half?
Kevin Mirallas may have only Phil Dowd to thank after him still being on the pitch when the first half whistle blew. His rash challenge on Luis Suarez left the Uruguayian with big marks on his leg and was very dangerous. Yet Phil Dowd's hesitation and taking too long just left him to only justify the yellow.
SIMON MIGNOLET: Incredible Goalkeeping Performance Kept Game in Sight
Simon Mignolet had a fantastic performance in between the sticks. The amount of saves he had to make was unreal, although conceding two late on. Had he not have been on top form, Everton may have dominated.
MAN OF THE MATCH: Romelu Lukaku
Lukaku's chances came throughout the game. In spite of him missing out, he continued to work and deservedly scored the double. Simon Mignolet deserves recognition too after fantastic goalkeeping.
Everton Thwart Liverpool's Chance to go Top
Liverpool were on course to go top, but Everton were defiant and kept them at bay. Outstanding.
GAME OF THE SEASON CANDIDATE? No Doubt!
Well, well, well. What a game. Props to both managers, and players. It did not come down to refereeing despite the numerous fouls. The highest scoring Merseyside Derby in over 80 years provided great entertainment. No doubt game of the season thus far.
THE FINAL SAY
Opinions on the game from the reporter
What a treat. An oustanding game of football to watch. It provided drama, plenty of goals, and everything you wanted from a derby. Both teams can be satisfied as they threw it all at each other. It comes down to the little things, even with these don't give either team the win. A thriller of a draw.
The best game of the season to date, as Everton and Liverpool provided a derby for memory.
Set-pieces proved the difference in the game, as all goals came from them.
Goodison Park witnesses a superb game. Just like a derby should be, it was thrilling and dramatic.
Everton and Liverpool battle end-to-end in an extraordinary game. Goals, drama, tension, thrilling moments and speculation - it had it all.
Image Courtesy: PremierLeague.com, LiverpoolFC.com
- Sports for the Fans, by the Fans.
Connect With Us!