SUNDERLAND 1 - 0 MANCHESTER CITY
Bardsley 21'
KICK-OFF: Sunday 10 November 2013 at 2:05pm (GMT)
(GAMEWEEK 11) at Stadium of Light, Sunderland.
SUNDERLAND - Sunderland got their second win of the season after defeating Manchester City by one goal scored by Phil Bardsley.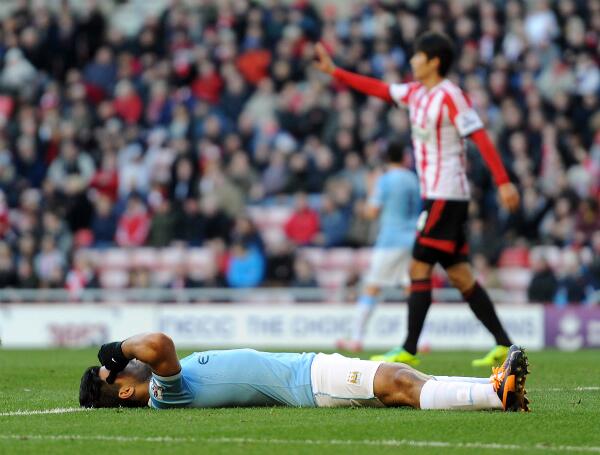 Manchester City got things underway, with the first five minutes being rather slow as both teams had a general touch on the ball to get a feel of the game. There was not much pressure from either side in the opening minutes.
Fletcher came close to putting the Black Cats ahead in the thirteenth minute, but his header was off from goal. Steven Fletcher usually would make better of headers, but this was not the case.
Sunderland stunned the visitors with a goal twenty minutes in. Wes Brown hurled the ball forward and Phil Bardsley chased it down. Under pressure in the box, James Milner lost his footing (or maybe a foul) and turned the ball to his right foot to smash it past Pantillimon to put Gus Poyet's side ahead.
Following the goal, the hosts were looking strong and well into the game. However, Manchester City were slowly becoming dangerous with chances that were just a final touch short of goal. Aguero missed a header that was bound on goal following Kolarov's cross after the half-an-hour mark.
Sunderland were in the lead as the half-time break commenced. Sunderland's goal made it hard work for Manchester City who were working hard but unable to equalize to that point.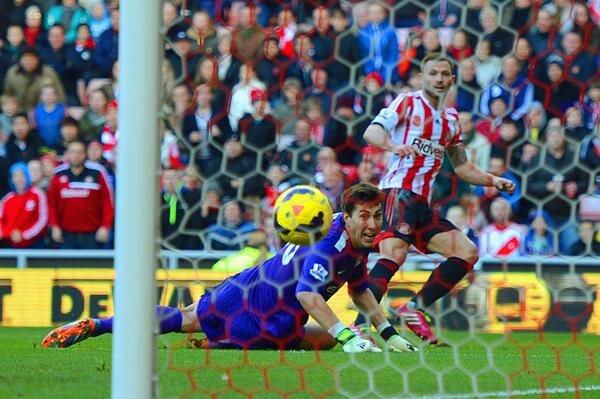 Phil Bardsley's goal was the difference in the first half (Image Courtesy: PremierLeague.com)
Manchester City made a change in the break as Javi Garcia came off and Jesus Navas replaced him, hoping to offer more width to exploit the hosts and equalize.
Jesus Navas was causing some trouble early but still Sunderland kept them at bay. Manchester City were setting up chances but reminiscent to the other side of the break, the finishing quality was a stretch from their usual.
Sunderland continued to pile the players in the box to defend and Manchester City's equalizing hopes were at a standstill.
As stoppage time approached, Sunderland still lead but they were on the backfoot. Manchester City continued to come at them and their chances came... and went.
Frustration was clear from the players as they chopped down Sunderland numerous times, fouls and chances coming from City.
Manchester City had one final chance with a free-kick, and as it was headed out, the Stadium of Light erupted in celebration as they picked up their second win of the season.
Its a huge win for Sunderland. For Manchester City, more questions are raised about their away performances. Can Sunderland continue on the rise?