There was controversy, goals (some late, but plenty), shock wins and more questions raised. Here is all from Week 11 in the Premier League.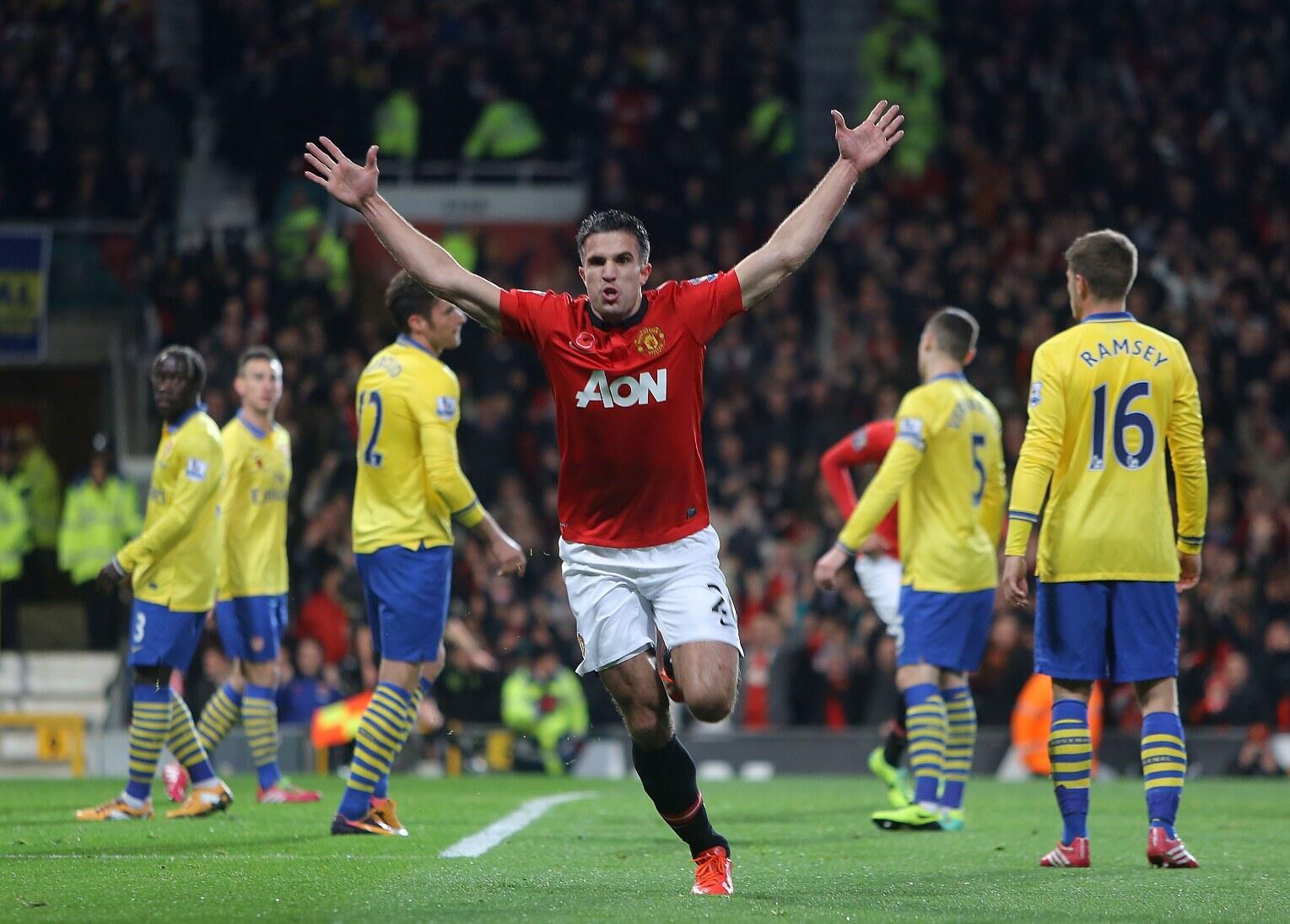 It was the final weekend of action before a fortnight's break from the Premier League due to International football.
A few teams dropped points in the top quarter of the team, allowing for others to make their move upwards.
A total of twenty-eight goals were scored throughout the fixtures in Week 11.
There was controversy as Chelsea won of a penalty awarded with much speculation to debate. In Swansea, Stoke City did similar with a late penalty - not controversially though.
Newcastle United and Sunderland picked up big wins over big teams as part of a fantastic weekend of football.
There was just one goalless encounter in the ten games.
In the article, there is a summary of each game, followed by breakdowns and the Goal of the Week, Team of the Week and League Table.
Crystal Palace 0 - 0 Everton
GOALSCORERS:
N/A
MAN OF THE MATCH: Dean Moxey
HEADLINE: Crystal Palace Pick Up First Point in Eight Games after Missed Chances
Chances came and went for Crystal Palace who drew with Everton at Selhurst Park.
It could have been three for the hosts, but they only took the point.
Dikgacoi could have scored for Palace, but he was unable to get on the end of the free header. Also, Jerome Thomas shot was saved.
In spite of the vast backlog of Palace chances, lack of quality in finishing is the reason that they only take a point.
Mid-Air Battle: Tim Howard punches out the ball to safety (Image Courtesy/
©
PA)
Chelsea 2 -2 West Brom
GOALSCORERS:
Eto'o 45', Long 60', Sessegnon 68', Hazard (pen) 90+6'
MAN OF THE MATCH: Shane Long
HEADLINE: Controversial Hazard Penalty Sustains Mourinho Unbeaten Record

Eden Hazard scored a controversially-awarded penalty six minutes into stoppage time as Chelsea stole a point from West Bromwich Albion.
Samuel Eto'o scored on the brink of half time to put Chelsea in the lead. Eden Hazard forced the save from the keeper who parried it out to the Cameroonian - striking it affirmatively to put Chelsea ahead.
Shane Long equalized for the visitors right on the hour mark, beating three Chelsea defenders after Cech's save pushed the ball upwards.
Sessegnon scored eight minutes later to turn the game around, picking up the ball on the edge of the box, taking it away from Terry and slotted it past Cech, who could have done much better to save.
As the clock ticked, Chelsea continued to press on Albion for the chances but they would be just kept at bay. Brunt almost secured it late on, but hesitation resulted in him putting his shot over.
In the dying moments of the game, Ramires went down in the box and Andre Marriner awarded the penalty - a controversial penalty to say the least. Eden Hazard composedly hit the ball to the bottom right corner as Chelsea scraped back a point.
Eden Hazard comfortably slots away the penalty (Image Courtesy: DailyStar.co.uk)
Liverpool 4 - 0 Fulham
GOALSCORERS:
Amorebieta (OG) 23', Skrtel 26', Suarez 36' + 54'
MAN OF THE MATCH: Luis Suarez
HEADLINE: Liverpool Thump Fulham in Devastating Day Out For the Cottagers
Liverpool capitalized on a weak Fulham side including Luis Suarez double and an own goal to further plunge Martin Jol's time in charge of Fulham.
Liverpool dominated early with plenty of chances coming thick and fast. Their first goal would come from an own goal though, as Amorebieta headed it in to his own net from Steven Gerrard's free-kick.
Four minutes later, another header. Amorebieta was involved (not heading the ball, but failure to stop another player from heading it) as he was unable to mark Skrtel scoring of a corner. The Slovakian scored for the first time in 11 months.
A fantastic through ball from Henderson put Suarez through in the box as he hit it past the keeper to score Liverpool's third. Well-orchestrated goal from the hosts to set up the Uruguayan.
GIF: Luis Suarez scores Liverpool's third (Courtesy: B/R UK)
Luis Suarez scored his second when he scored with his shot to the near-post following another through-ball, this time from Gerrard. Suarez took one touch to throw off the defender and keeper, then scored.
Liverpool continued to dominate over a Fulham side that just did not turn up. It came extremely easy for Liverpool. While Brendan Rogers embraces his side for success, time could be running out for Martin Jol.
Captain Steven Gerrard and striker Luis Suarez performed fantastically in the game (Image Courtesy/
© GETTY IMAGES)
Southampton 4 - 1 Hull City
GOALSCORERS:
Schneiderlin 16', Lambert 30', Lallana 37', Sagbo 55', Davis 88'
MAN OF THE MATCH: Adam Lallana
HEADLINE: Saints Continue Roll with Convincing Win over Tigers

Southampton's run of form continued as they impressed home fans with another victory, this time taming the Tigers with a 4 - 1 win.
It took only fifteen minutes for the hosts to score as Morgan Schneiderlin scored his first of the season. Rickie Lambert's header of a cross went upwards, before Schneiderlin beat others in the air to head home.
Adam Lallana was fouled by Hull's goalkeeper Harper as he charged through into the box thus a penalty was awarded. Rickie Lambert doubled the lead as he blasted it in.
Lallana would score an incredible individual goal as he got past numerous Hull players to score from the left slotting it past Harper. Sensational from the Saints' skipper.
GIF: Lallana scores a great individual goal
Sagbo pulled one back for Hull after pouncing on loss of possession with the defenders. His strike crept in from the near post but Southampton did not look at all on the brink of a decline.
Davis scored the fourth in the proverbial 'icing on the cake' as he scored of a wonderful curled cross from Adam Lallana.
Aston Villa 2 - 0 Cardiff
GOALSCORERS:
Bacuna 76', Kozak 84'
MAN OF THE MATCH:
HEADLINE: Aston Villa Leave it Late to Knock Off Cardiff

Aston Villa ended their goal drought to defeat Cardiff at Villa Park that included a terrific free-kick from Leandro Bacuna.
It was an even game with chances just leaning towards the favor of the home side as the game progressed. No goals would come until the 76th minute.
Bacuna scored a sensational free-kick to end Villa's seven hours and thirty-minutes of goal drought emphatically.
Eight minutes later his teammate Libor Kozak scored from close-range to secure the three points.
Bacuna scores a sensational free kick (Image Courtesy/
© GETTY IMAGES)
Norwich City 3 - 1 West Ham
GOALSCORERS:
Morrison 32', Hooper (pen) '54, Snodgrass 72', Fer 90+3'
MAN OF THE MATCH: Robert Snodgrass
REPORT:
Read the match report here
HEADLINE:
Norwich City Claim Second Home Win with Second Half Turnaround
Norwich City turned the game around in the second half to defeat Fulham 3 - 1 in front of a vibrant attendance at Carrow Road.
West Ham dominated early and throughout the first half, with Morrison making the breakthrough of Noble's ground pass to score from close-range. The visitors went into the break leading and in control.
Norwich came out in the second half as a very different team. Causing all sorts of trouble for the Hammers, they were awarded a penalty after Jaaskaleinen fouled Hooper in the box. Hooper scored in the top corner to put his team back on level terms.
Jonny Howson struck the bar in the 71st minute, followed by Snodgrass getting fouled when going for the rebound. Snodgrass would score the free-kick emphatically curling into the right. Sublime goal that put Norwich in the lead.
Leroy Fer would seal the win for the Canaries late in stoppage time after running through of a lucky touch and placed it too far for Jaaskaleinen to reach.
Norwich's second half is a good one with three goals scored, earning three points.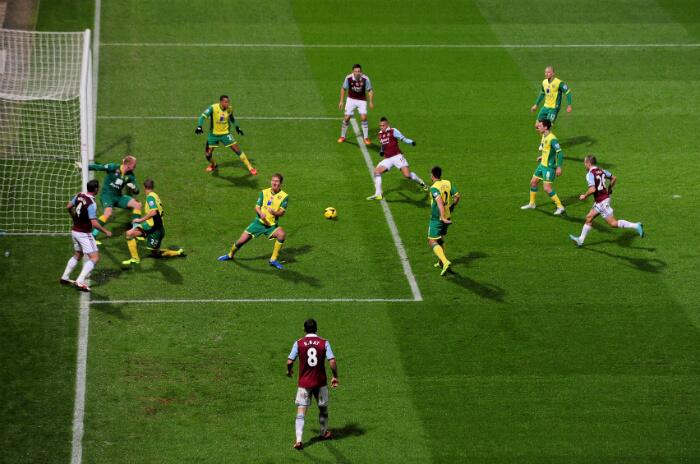 Tottenham 0 - 1 Newcastle
GOALSCORERS:
Remy 13'
MAN OF THE MATCH: Tim Krul
HEADLINE:
Magpies Stun Spurs with Remy Goal and Incredible Krul Goalkeeping Effort

Newcastle United stunningly prevailed over Tottenham at White Hart Lane after Loic Remy scored thirteen minutes in for the visitors reinforced by a magnificent performance in between the sticks from Tim Krul.
Loic Remy scored early after a defensive mishap from the hosts. Dembele gave the ball away and Paulinho was looking reluctant to challenge for the ball. Gouffran put it through to Remy, who went one-on-one with Friedel and slotted it past the American.
Tim Krul would have a very busy afternoon, making a total of 14 saves to deny Tottenham. Spurs were unable to create a chance that would beat Krul, it was a performance that completely lacked in the attacking sector. However, when they did get through, Tim Krul would be in the way and keep Tottenham on the trail.
GIF: One out of fourteen saves Tim Krul made in the game
As the final moments clocked down, Tottenham were working hard, but alas in vein as they were unable to beat Tim Krul who made the most saves out of any keeper this season.
Once again, Loic Remy pays dividends in Newcastle's glory
Sunderland 1 - 0 Manchester City
GOALSCORERS:
Bardsley 21',
MAN OF THE MATCH: Wes Brown
HEADLINE: Sunderland Triumph to Second League Win
REPORT: Read the match report here
Sunderland triumphed to their second win of the season from Phil Bardsley's goal to pick up three points against a Manchester City team who threw it all at them.
Phil Bardlsey scored twenty-one minutes in after capitalizing on James Milner's slip up in the box. Bardsley - who has scored twice in two weeks - put it on to his right to smash it past the onrushing Pantillimon.
In the second half, Manchester City continued to bring the chances full on to Sunderland, but they were defiant, keeping them at bay to win.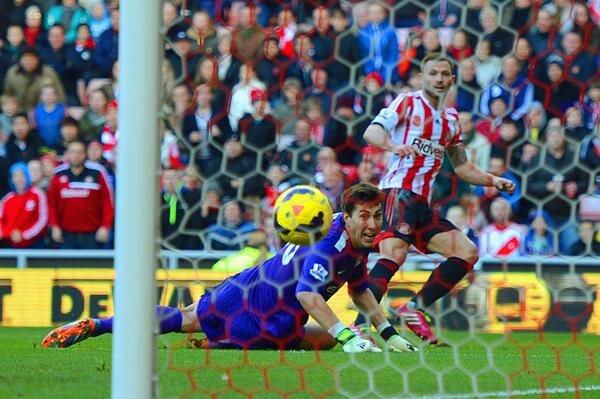 Swansea City 3 - 3 Stoke City
GOALSCORERS:
Walters 8', Ireland 25', Bony 56' + 86', Dyer 74', Adam (pen) 90'
MAN OF THE MATCH: Wilfried Bony
HEADLINE: Charlie Adam Late Penalty Settles Goal Filled Swansea/Stoke Clash
Charlie Adam scored a penalty on the 90th minute to wrestle back a point for Stoke City in a fantastic encounter.
Walters scored early for the visitors, just eight minutes in. Peter Crouch headed it on to him where he struck low for the opener.
Soon after, Peter Crouch would assist Stoke's second as Steven Ireland scored in the bottom corner to give Stoke an early threshold of the game at the Liberty Stadium.
Just over ten minutes into the second half, Wilfr
i
ed Bony pulled one back for the hosts. The Ivorian headed from close range of De Guzman's corner kick.
Nathan Dyer scored a big equalizer for Swansea with fifteen minutes remaining to cap off a well worked set piece from Swansea.
Many thought that Wilfried Bony's second goal in the 85th minute was surely the winner. From the center of the box he struck it low to beat Begovic.
Just as it looked like Swansea's turnaround would be completed, Wayne Routledge's hand ball would result in a penalty awarded to the visitors. Charlie Adam scored striking low to magnificently equalize for the away side.
Manchester United 1 - 0 Arsenal
GOALSCORERS:
Van Persie 27'
MAN OF THE MATCH: Wayne Rooney
REPORT: Read the match report here
HEADLINE: Van Persie Heads Manchester United Back into Title Race
Robin van Persie scored in Manchester United's 1 - 0 victory over Arsenal to put them within five points of the top spot.
The Dutchman scored twenty-seven minutes in from a well-worked set piece, heading it as he was unchallenged in the air.
The game also featured a few head injuries, including Nemanja Vidic who went off before halftime.
Arsenal continued to press for an equalizer, but the defending Champions stood firm and maintained their victory.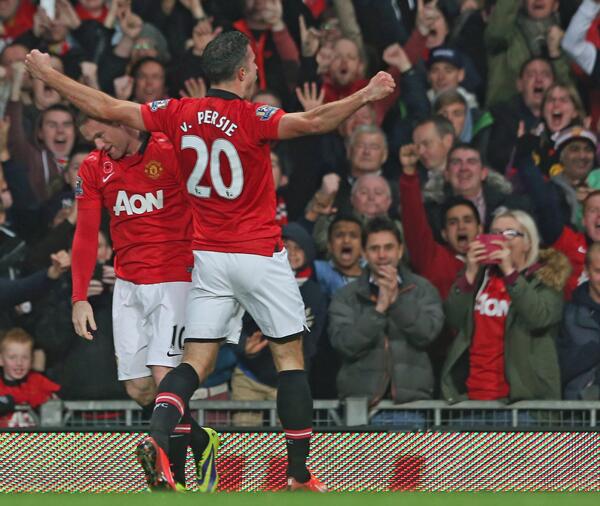 Breakdown & Analysis
Crystal Palace 0 - 0 Everton: Eagles Could Have Taken Three, But One Point is Something to Build On
Far from the most of entertaining goalless draws, but Palace definitely have something to move on from. Palace had more chances but the finishing quality lacked. Going forward, this is what Palace need. Points. And a point is a point. For the Toffees, they would want much better performances.

Chelsea 2 - 2 West Brom: Wrong Referee Decision Saves Chelsea... and Mourinho's Undefeated Home Record
Let's face it. West Bromwich Albion deserved the three points, but the penalty turned things around. It was just shoulders running together between Reid and Ramires - Andre Marriner's decision is probably the biggest talking point from the weekend's action. Three points are taken away from the Baggies. While they may have been beaten all ends up in the first 45, they came out a revitalized and determined team in the second.

Liverpool 4 - 0 Fulham: Poor Fulham Side Come As Easy Pickings for
Fulham simply had no response for Liverpool, in fact they did not even give themselves a chance. Failure to mark, defend and even attack was just completely poor. Meanwhile, Liverpool were clinical and took the advantage to dominate.

Southampton 4 - 1 Hull City: Captain Lallana Drives Saints to Clinical Win
Steve Bruce's side may have stuck at it right in the second half, but they seemed no match for Southampton in the game. Adam Lallana put on a fantastic performance including a delightful individual goal, drawing the foul for the penalty and assisting the fourth. Covering plenty of the pitch, he spurred on his side in their big win. For Hull City, there's not much to take from the one goal scored, except the fact that they were opportunistic to pull one back.

Aston Villa 2 - 0 Cardiff: Aston Villa Get the Much Needed Win
Aston Villa needed something special to end their goal-drought, and they found solace in Bacuna's free-kick. The goal from Kozak eight minutes later set up a comfortable final minutes of the game. A much better Villa today who manage to halt Cardiff.

Norwich City 3 - 1 West Ham: West Ham's First Half Hard Work is Thrown Away
In the first half, the Hammers were all over Norwich, with plenty of possession and chances. But Norwich came out a changed team to complete a magnificent turnaround in Carrow Road. The penalty was correctly awarded and well delivered. A fantastic free-kick followed, and some touch of luck in Fer's goal. An important win for Norwich who needed the change, and did change, in half time. Fantastic way to bounce back from the demolition they received at the hands of City last week, too.

Tottenham 0 - 1 Newcastle: Spurs' Critics Loud Following Loss
A loss at home to Newcastle causes problems for Tottenham. They simply did not create any real chances that would have had a significant chance. Taking nothing away from Krul's extraordinary performance, Tottenham could have done much better. For Newcastle, it is another big win over a big team. Having beat Chelsea last week, and Tottenham now, the next two home games are 'winnable' for the Magpies who can go on to put themselves in a very secure position.

Sunderland 1 - 0 Manchester City: Big Win for Sunderland, Disarray for City
Manchester City's away performances continue to raise questions. Its another trip where they have had plenty more chances, yet they have not been clinical in the finishing. Sunderland yet again beat City, its a huge second League win for the club. Consistency is a major issue for Manchester City now, having won 7 - 0 last week, they now lose to Sunderland.

Swansea City 3 - 3 Stoke City: A Point Each From Entertaining Encounter
Well, 3 - 3 is quite the scoreline. What a fantastic game. Stoke City were cruising when they lead by two after twenty-five minutes. But Swansea's turnaround was sudden but big for the fans at the Liberty Stadium. Wilfried Bony was working his socks off throughout the game and has two goals for it. Stoke City stole it back, or at least a point, in a game where teams dominated each other in different speels of the game.

Manchester United 1 - 0 Arsenal: Back in the Title Race?
Its a huge win for Manchester United. But the break comes at a good time for Arsenal who were beginning to look worn out after some peak performances. Arsenal's passing just lacked in the game, but for United it is really uplifting and they are five points from the top.

Late Penalties: Chelsea, Stoke City
Chelsea and Stoke City scored penalties either on or after 90 minutes. Whether controversial or not, they would draw back a point for their respective teams.

Triumphant Underdogs: Newcastle United, Sunderland
Newcastle United and Sunderland secured big wins over Tottenham and Manchester City. These were huge wins for the team and raised questions for City (with their away performances and consistency) and Tottenham slipping up again.


Goal of the Gameweek
The best goal from the weekend's action
Leandro Bacuna vs. Cardiff City
Bacuna scored a free-kick for Aston Villa in their 2 - 1 victory over Cardiff City.
Team of the Gameweek
The best team from the weekend's action
Liverpool
Just beating out Southampton this time for the honors, Liverpol were on another level to Fulham in the game this week. Sunderland could have been there, but Manchester City looked statistically better in the second half.
Trending: The Biggest Talking Point
Chelsea Controversial Penalty
Chelsea were awarded a penalty in controversial fashion that lead to the equalizer. But was it really a penalty?
League Table
After 11 weeks and going into the International Break, Arsenal are two points clear at the top. Meanwhile, Crystal Palace's one point puts them six points from safety.
League Table powered by Google
Everything seems to have suddenly opened up, with five points between 1st and 7th place. All to play for when the Premier League returns in two weeks, as teams will look to hit the ground running.
That's all from Week 11. Manchester United are back in the title race in a weekend of drama and shock wins.
- Sports for the Fans, by the Fans.
Connect With Us!