By Nisar Khan
European football came at it's prime once again on Wednesday night with the second batch of games in Matchday 3. With masterclasses from PSG and Bayern, some tight wins and 27 goals in total, there was plenty more Champions League action to enjoy.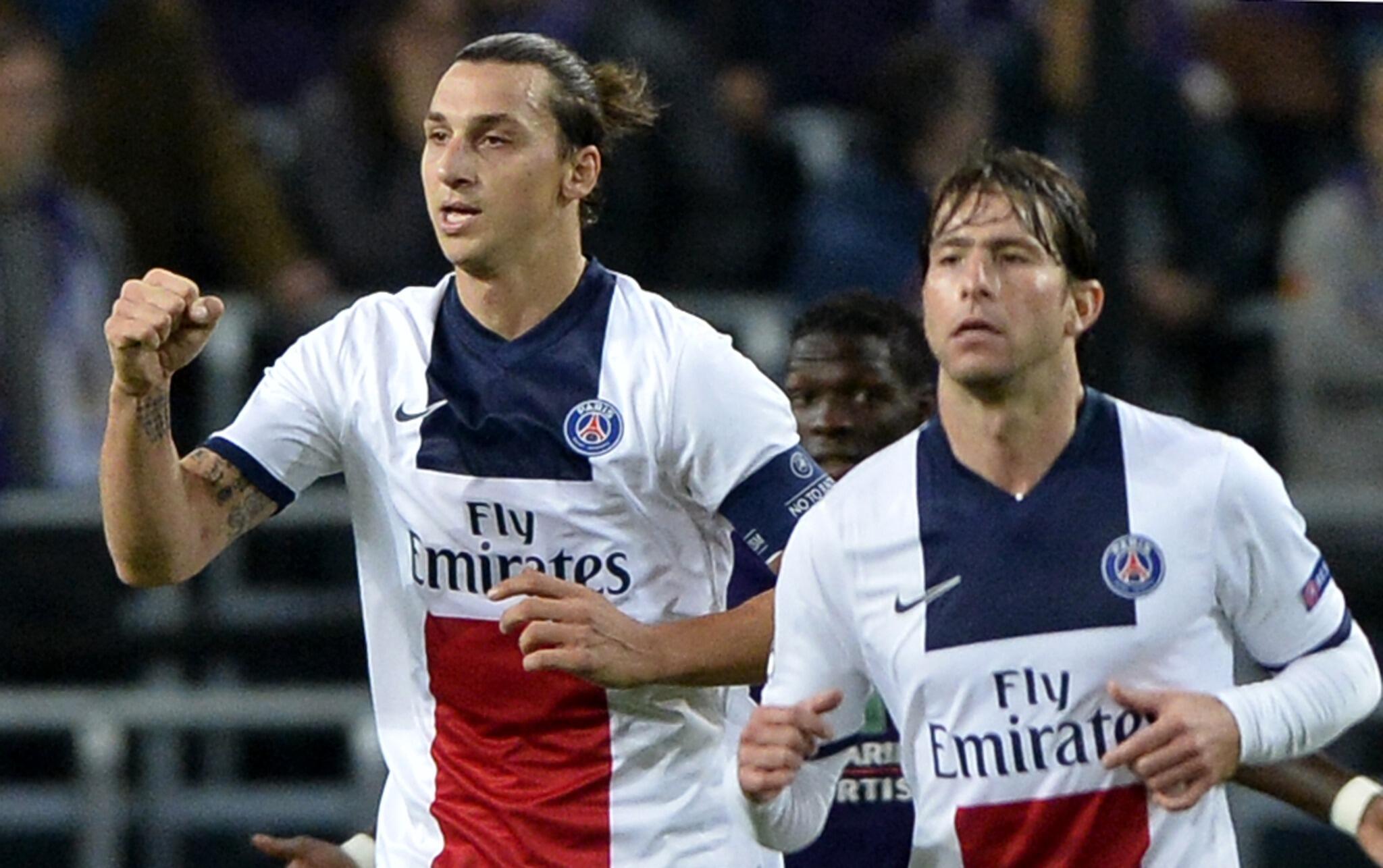 Ibrahimovic was on the headlines yet again. Read on to find out why
SEE ALSO: Complete Round-Up of Yesterday's Champions League action
In Summary: Games at a Glance
Aguero double gives City away win at Moscow

Second half turnaround by Levurkusen to beat Shakhtar

Ronaldo goal cancels out Galatasaray lead

Ibrahimovic scores four as PSG thump Anderlecht

Munich beat Viktoria Plzen by five

Galatasaray outplay Copenhagen

Manchester United edge out Sociedad at Old Trafford

Late Benfica equalizer scrapes point at home
CSKA Moscow 1 - 2 Manchester City
Sergio Aguero's two goals away at Moscow gave Manchester City a vital victory to defy a tough effort from the hosts at the CSKA Moscow Stadium.
Tosic scored right after the half-hour mark in front of the home crowd after Honda out-headed Javi Garcia to set up Tosic to score. However, the hosts' glory would only last moments with Sergio Aguero firing back two minutes after.
The Argentinian scored of David Silva's cross from the left with an easy short-range shot. Eight minutes later, the comeback would be solidified as Aguero scored his second in quick succession after Negredo demonstrated his superb skill setting up Aguero for a headed goal.
City went in leading after 45 minutes, and likewise would emerge the same after full-time. Moscow pushed them right up to the final whistle, and Honda's volley almost equalized the encounter. But when the game came to an end, City were the victors.
Fantastic result for Manchester City, who now go three points ahead of their opponents with the away win. They held on to the end and were resilient to get the win, but it could have been different had Honda scored the volley of course. Well-deserved win worked hard for.
Rejoice: The squad celebrate Aguero's goal. (Image Courtesy: UEFA.com)
Bayer Leverkusen 4 - 0 Shakhtar Donetsk
Two goals from Kiessling and a quick response in the second half allowed Bayer Leverkusen to cruise into a victory as they thumped Shakhtar Donetsk.
To open the scoring, Kiessling scored of Donati's curling cross to head into goal giving the home side the lead twenty-two minutes into the game.
The hosts got off to the right start when Rolfes scored a penalty five minutes in to double their lead. And in quick succession they would have a third to get a very tight grasp on the game as Sidney Sam slotted it in. A mistake by Pyatov allowed Kiessling to score his second to wrap up the game.
Real Madrid 2 - 1 Juventus
Real Madrid prevailed from an entertaining clash with a 10-man Juventus to maintain manager Carlo Ancelloti's 100% record.
Cristiano Ronaldo scored just four minutes in with a great assist from Di Maria, who came in from the right and got the pass off to Ronaldo in spite of being surrounded by Juventus defenders. Ronaldo calmly slotted it past Buffon to give Madrid the lead at the Bernabeu.
Fernando Llorente equalized eighteen minutes later after he rebounded of Pogba's header from Caceres' cross to strike home for the equalizer.
But Chillieni's mistake to foul Ramos in the box would prove costly for Juventus, as Ronaldo stepped up to the penalty spot and put Madrid back in the lead.
The game was further grasped in the threshold of Real Madrid when Chillieni was sent off. Having fouled Ramos earlier for the penalty, now his foul on Ronaldo had him sent back to the dressing rooms.
In the second half the entertaining pace resumed, but neither would score and Madrid would fight to their victory over a defiant Juventus.
Ronaldo added to his already substantial goal count with two against Juventus (Image Courtesy: UEFA.com)
Anderlecht 0 - 5 PSG

Zlatan Ibrahimovic's four goals depicted Anderlecht as PSG depicted them on their territory with an incredible performance by the Swede.

The Swede Zlatan Ibrahimovic would score yet another European goal to put the visitors ahead. van Der Wiel broke from the right and passed it across the box for Ibrahimovic to score with the side-footed shot.
Minutes later, Ibrahimovic would strike again with another assist from van Der Wiel, this time a low cross allowing Ibrahimovic to backheel a top class goal.
Thirty-six minutes in and Ibrahimovic would instantaneously steal the headlines with the completion of a remarkable hat-trick. A long range volley into the top corner pretty much sealed the game early on, with another breath-taking finish.
And if you thought they were done, they weren't as Cavani would get his name on the score cards when Matuidi assisted him for Paris' fourth goal. And neither was Ibrahimovic done as he scored his fourth with another sublime finish.
Breathtaking: Ibrahimovic once again puts on a great performance on the European stage. (Image Courtesy: UEFA.com)
Bayern Munich 5 - 0 Viktoria Plzen
Bayern turned on the style at a vibrant Allianz Arena as they destroyed Viktoria Plzen with another top quality performance.

Franck Ribery scored for Bayern in the 25th minute with a penalty in the bottom right corner, further adding to his goals in European competition.
Alaba doubled Bayern's lead just as it was becoming inevitable. Mandzukic made the pass to Alaba who smashed it past the keeper.
Ribery scored his second, and Munich's third following great build-up play between Mandzukic and Robben to set up Ribery to scoop the ball over the keeper. Three minutes later, Schweinsteiger scored Bayern's fourth as they were dominating. Mario Gotze completed the domination with a goal after a great substitute performance.
Image Courtesy: UEFA.com
Galatasaray 3 - 1 Copenhagen
Galatasaray managed to take down Copenhagen emphatically with a 3 -1 victory in Turkey.

The hosts took the lead nine minutes in with Felipe Melo's goal. Initially orchestrated by Drogba - with great work down the flanks to set up for Nounkeu's cross - ending in a header from Melo to put home the opener at the Turk Telekom Arena.
Eboue found Sneijder who slotted it in the corner for Galatasaray's second stacking the odds against Copenhagen. Didier Drogba secured the game on the brink of half-time to bury Copenhagen and look to cruise to the win in the second half.
Claudemir pulled on back for the visitors, but it was not enough.
Turk Turnover: Galatasaray lead comfortably going into half time (Image Courtesy: UEFA.com)
Manchester United 1 - 0 Real Sociedad
Manchester United scored a marginal win at Old Trafford by Real Sociedad with Martinez's own goal being the difference.
The home side were gifted their first, with Inigo Martinez's own goal. It was some superb play by Rooney to manipulate his way through numerous Sociedad players with his shot hitting the woodwork, rebounding to Inigo Martinez who attempted to clear it, but it went all wrong for the Spaniard who turned it into his own net.
Wayne Rooney performed fantastically in the game but he did not have a goal to show for his efforts. Nonetheless, United won the game by a narrow margin as Sociedad looked for the equalizer - to no avail.
Manchester United's win comes at a good time (Image Courtesy: UEFA.com)
Benfica 1 - 1 Olympiacos
Benfica managed to scrape a point with Oscar Cardozo's late equalizer.
After scoring plenty in the last matchday, Mitroglou assisted Dominguez goal with a great touch and pass to set up Dominguez for the away goal for Olympiacos.
When it looked like the away side were cruising towards a victory, Oscar Cardozo scored an equalizer seven minutes before the final whistle, finally breaking Olympiacos' defense.
Player of the Night
Zlatan Ibrahimovic
Scoring a hat-trick within 20 minutes, the Swede gets the honours again. Four goals throughout the game, his finishing was absolutely incredible during the game, and probably getting the goal of the week with the volley too. An amazing player.
Team of the Night
Paris Saint-Germain
A tight one with Bayern for the best team here. Both thumped their opponents, but the goals for PSG were better which gets them the Team of the Night for a sublime performance.
Breathtaking: Ibrahimovic once again puts on a great performance on the European stage. (Image Courtesy: UEFA.com)
Matchday 3 comes to an end, with Bayern Munich and PSG emphatically making a statement with their huge wins. Meanwhile, the win could not have came better for Manchester United who scraped three points against Real Sociedad. But the night belongs to one, the incredible Zlatan Ibrahimovic.
By
Nisar Khan
- Read more articles from this author
TheSportMatrix.com
- Sports for the Fans, by the Fans.
Connect With Us!