By Nisar Khan
The Champions League came back into action with Matchday 3 which saw Arsenal's shine momentarily be taken by Dortmund, Atletico and Chelsea dominate, along with some drama and the rest of the great stuff from European football.

Masterclass: Chelsea were on top form at Schalke.(Image Courtesy: UEFA.com)
SEE ALSO: Full Round-Up & Analysis from Gameweek 8 in the Premier League
In Summary: Games at a Glance
Robert Lewandowski's goal proved divident against Arsenal after catching them on an attack for the winner.

Zenit would eventually wear down a 10-man Porto to pick up the win over the home side were handicapped just six minutes in.

Celtic prevailed with two goals at Celtic Park, but had to sit tight at the end when Ajax almost built up the complete resistance effort.

Chelsea thumped Schalke with a dominant away display.

Napoli picked up an away win too over Marseille, but late goals made it tough.

Austria Wien simply had no response for Atletico's dominance.

Milan and Barcelona battled to a 1 - 1 draw.

Late goals, late drama as Basel drew with Steaua.
Arsenal 1 - 2 Dortmund
Robert Lewandowski's emphatic volley gave Dortmund a win over Arsenal at the Emirates in a close game which saw the teams go back and forth.
A slow start to the game by the hosts would be defined by a defensive error that resulted in Dortmund's opener. Mkhitaryan drilled it past the keeper after Lewandowski dispossessed Aaron Ramsey.
Arsenal began to pick up the pace in search of an equalizer, and eventually it came with five minutes before the break. Bacary Sagna's cross into the box brought a long some problems with the keeper and Hummels, allowing Giroud to smash it in to the back of the net in the easiest of ways to put Arsenal on level ground going into half time.
Arsenal really were going for the late winner and had Dortmund on the backfoot, but then out of nowhere came the sucker punch 82 minutes in, with Robert Lewnadowski scoring to turn the Emirates into silence with an emphatic volley.
Their attempt to win would be their downfall, as Lewandowski's goal proved the winner.
Arsenal were out of the game early, but Dortmund's first acted as an eye-opener for the Gunners who really fired back. It looked like Dortmund were beginning to shut down and Arsenal were closing in on the winner, but then came the sucker punch and Arsenal were done for with short exposure at the back of which Dortmund made them pay.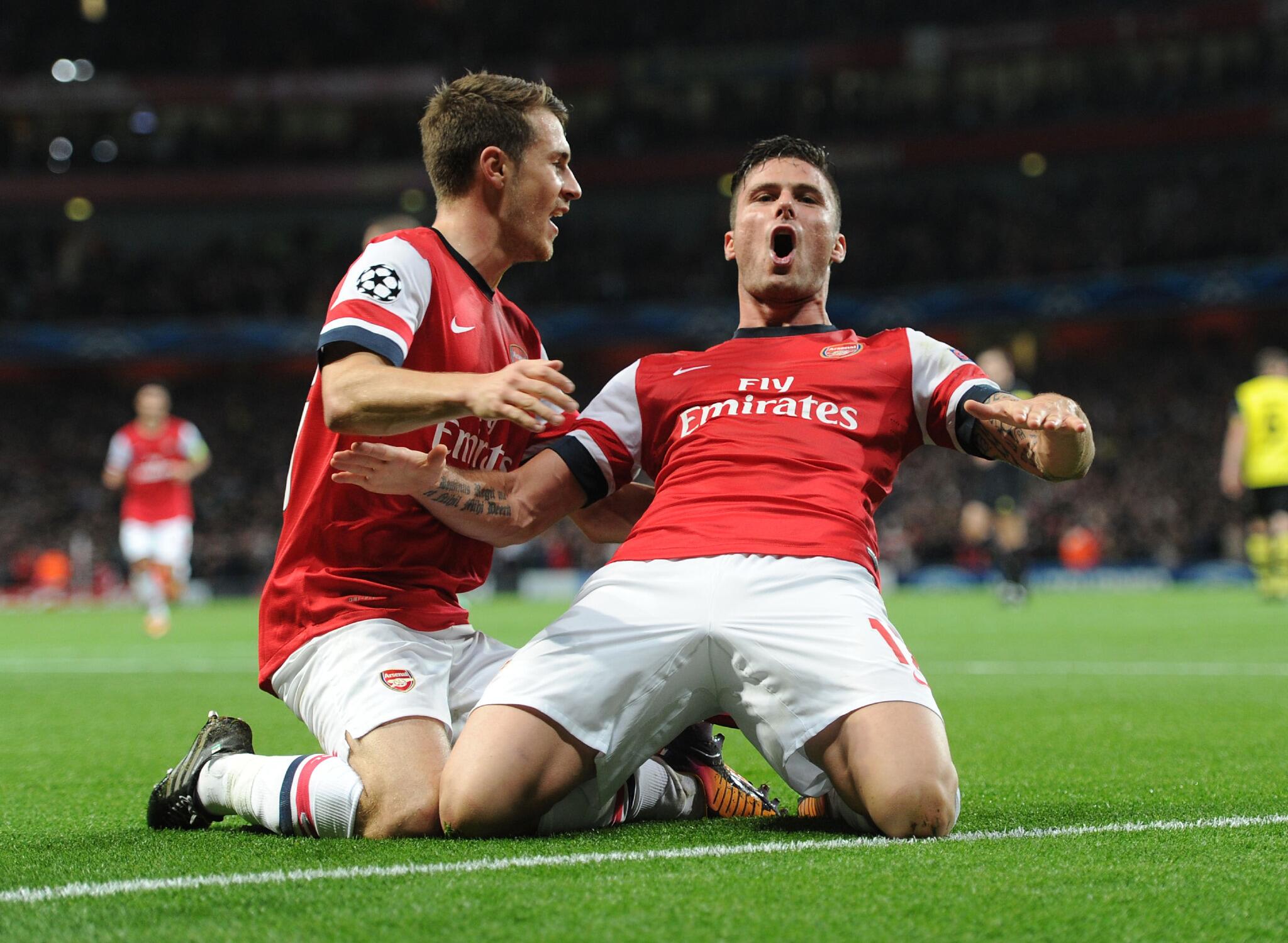 Man of the Moment: Olivier Giroud celebrates after equalizing at the Emirates (Image Courtesy: Arsenal.com)
Porto 0 - 1 Zenit
Kerzhakov's late goal would be enough to wear down a ten-man Porto in spite of their resilient effort for the draw.
It was far from the best of debuts for Porto's Herrera, as he put the club in deep waters from the 6th minute as he was the recipient of a red card. Having received a booking for a foul, he then intruded the free-kick, and was dismissed. Quite an action-deprived game except for the red card which was quite a shocker.
In the second half, Zenit would eventually wear down Porton in the late minutes with Kerzhakov's winner.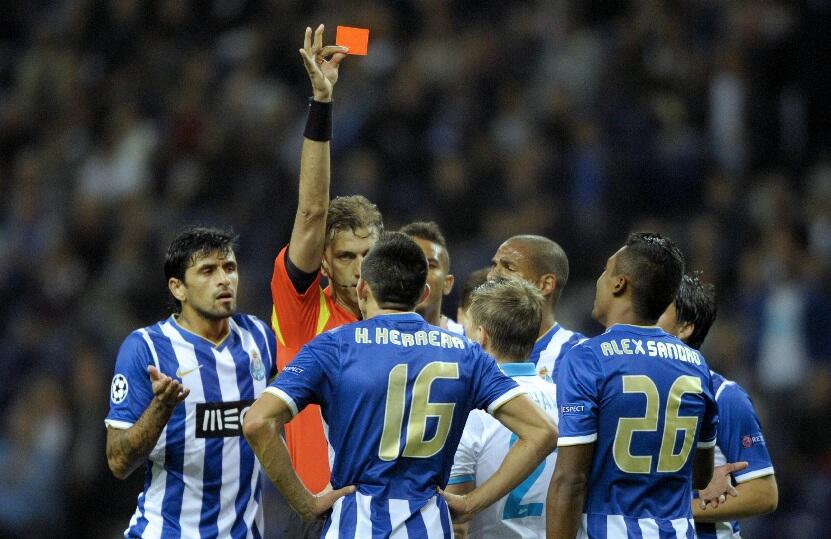 Six minute debut: Herrera is sent off just six minutes into his first Champions League game (Image Courtesy: Cancha.com)
Celtic 2
- 1 Ajax
Goals from Kayal and Forrest would give Celtic three-points against Ajax despite a late red card to Biton and a late goal from Ajax.
The game was looking on course for a goalless draw when half-time approached, but a few minutes before, Celtic would find themselves on the penalty spot. James Forrest hit the ball into the top corner with a side-footed penalty to give Celtic a lead going into the interval.
A little bit of luck would double the Scots' lead, as Kayal's shot took a big deflection ending up in the back of the net. With five minutes left of the game, Nir Biton was sent off for a late challenge, even with two goals up, he put his team in some discomfort. Further discomfort came when Schone scored with a wonderful strike to pull one back for Ajax, but not enough to halt Celtic.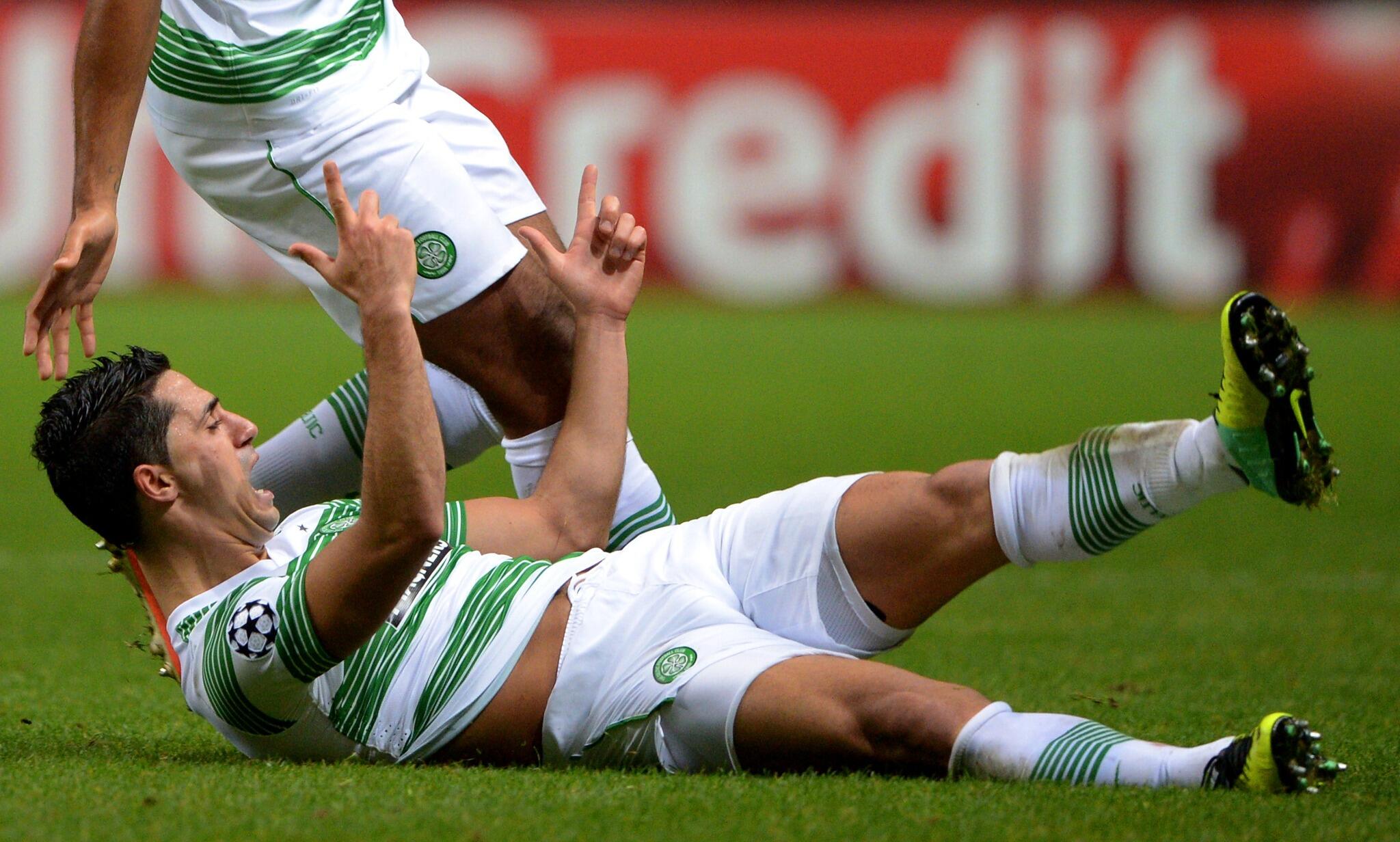 Schalke 0 - 3 Chelsea
Fernando Torres scored two goals on his 100th Chelsea game as part of a dominant win over Schalke.
Fernando Torres scored the first goal of the matchnight just five minutes in, as the Spaniard scored from Frank Lampard's corner in his 100th club appearance. Ivanovic was first to get on the cross with his flick beating the defenders allowing Torres to take an easy header. The half-time whistle blew with Chelsea leading by the one goal.
With Chelsea looking in a firm position as they entered the second half, Fernando Torres would find himself hitting in his second goal right before the 70th minute, tapping home easily of a great run orchestrated by Oscar. Eden Hazard further solidified the three points with Hazard's goal.
Celebration: Chelsea players embrace Torres' first goal (Image Courtesy: UEFA.com)
Marseille 1 - 2 Napoli
Some late tension with a goal from the home side would not dampen the resolve of Napoli who picked up an away win over Marseille.
Napoli's goal finally came after a dominant spell which saw them dictate the majority of the field Callejon took one touch then hit the ball with a great finish, giving the away side the edge into
half time.
Zapata doubled their lead after the hour mark in the game as the substitute calmly dipped it over Mandanda in a delightful finish. A tense ending was in store however, as the home side pulled back a late goal with Ayew scoring off his brother's assist.
In spite of the late goal, Napoli would still go on to win.
Austria Wien 0 - 3 Atletico Madrid
Atletico Madrid thumped Austria Wien 3 - 0 in a convincing performance where Diego Costa scored two.
Raul Garcia got Atletico leading with an easy open goal. Koke's run down the flank was came to Filipe Luis who squared it across the box setting up an open-goal for Garcia to score. Diego Costa doubled the lead 12 minutes after to give the visitors a real threshold of the game at the Franz Horr Stadium. The goal culminated a fast break from Atletico where Costa was able to hit it past the approaching keeper. Atletico comfortably went into the half time break with full control of the game.
In the second half, any doubt was further eradicated when Diego Costa scored his second goal, and Atletico's third, eight minutes into the second half. A cut-back pass from Insua gave him plenty of time to pick his shot perfectly.
Milan 1 - 1 Barcelona
A compelling draw would be the conclusion as Milan and Barcelona's goals each meant they took a point home from the encounter.
Robinho would score early to stun Barcelona in Milan, after Centre-Backs Gerard Pique and Maschearano were unable to deal with a pass that fell to Robinho. The Brazillian played it back to his fellow compatriot Kaka, who then set up Robinho to score. The lead didn't last long though, as Barcelona were able to fire back in the 23rd minute with a goal from Lionel Messi. Iniesta picked up the ball in the middle of the park and passed it to Messi, who dealt with Montolivo to get off a precise finish to make the encounter even. The first 45 minutes finished all even with both teams well in it.
Both teams played to a standstill in the second half, finishing where they started - even.
Level Playing Field: Messi celebrates with teammates following the equalizer
Steaua Bucharest 1 - 1 Basel
Landro Tatu's equaliser would halt Basel who thought they had it won when they ended a deadlock lasting over an hour.
In the goalless first half, Valentin Stocker came closest for the visitors when his shot hit the post, one of Basel's majority of chances in the first half.
The numerous chances for Basel in the first half would pay off just hree minutes into the second, as Diaz scored a cracking top corner curl to put Basel ahead.
Out of nowhere, substitute Leandro Tatu would score a pivotal equalizer with a nice side-footed goal.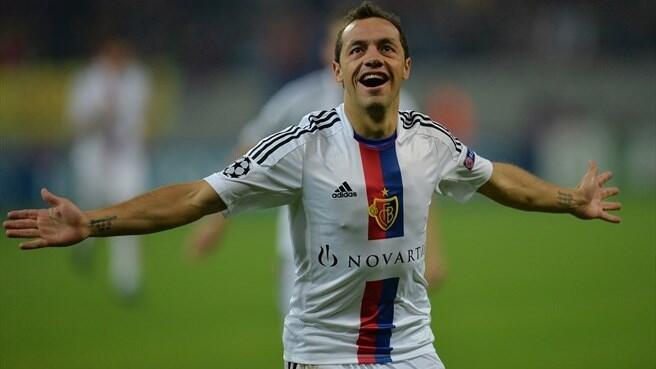 Diaz celebrates the opener for Basel (Image Courtesy: UEFA.com)
Player of the Night
Fernando Torres
On his 100th game for Chelsea, Torres proved he is still a quality player with two goals against Schalke.
Team of the Night
Chelsea
Just beating out Atletico Madrid for the honours, Chelsea simply outclassed Schalke on all levels.
Goalscorers
List of all the scorers in Tuesday's Matchday 3 action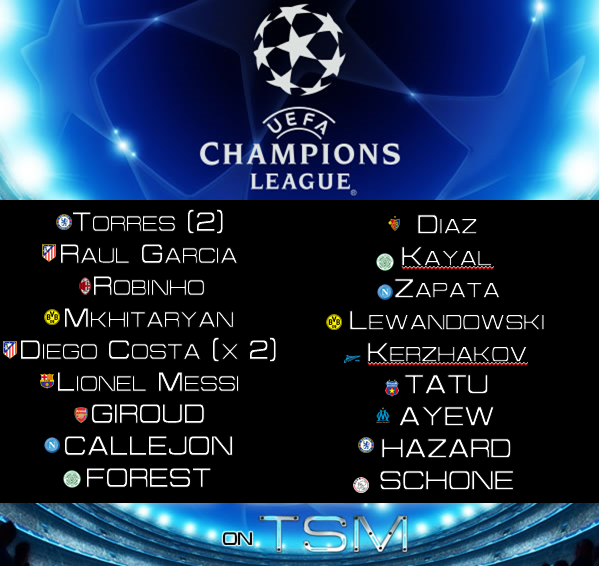 More dominance, some thrilling draws and a few red cards. European Football continues with another entertaining night that sees Chelsea and Atletico thump teams emphatically, meanwhile Dortmund edge out Arsenal to momentarily exstinguish them.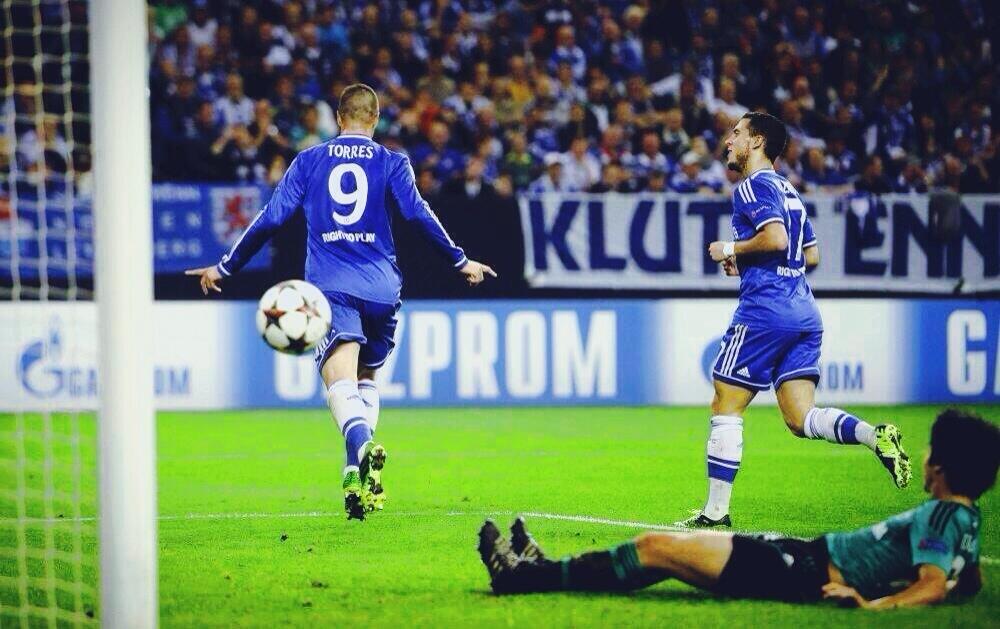 By
Nisar Khan
- Read more articles from this author
TheSportMatrix.com
- Sports for the Fans, by the Fans.
Connect With Us!