By Nisar Khan
BUFFALO - The WWE Championship remains vacant, after chaotic end to WWE Battleground which saw The Big Show knock out both Daniel Bryan and Randy Orton.
Opening the night in the "Kick-Off" show, Dolph Ziggler knocked off Money in the Bank holder Damien Sandow following an enticing contest. The Intellectual Savior of the Masses seemed to pick up a knee injury, while speculation was abuzz about the possibility of him cashing in on the night.
Fans were packed in and ready to go for WWE Battleground, as it came LIVE from the First Niagara Center in Buffalo, NY.
Alberto Del Rio def. Rob Van Dam
In the first match of the pay-per-view, Alberto Del Rio defended his World Heavyweight Championship in a hardcore match against Rob Van Dam. In spite of Van Dam's advantage being in his element, the Mexican Aristocrat would prevail.
High Risk: Van Dam went hardcore throughout the match (Image Courtesy: WWE.com)

Alberto Del Rio viciously attacked Rob Van Dam straight from the bell, but after the Champion took to long retrieving weapons, the challenger gained an early advantage. Soon after, Rob Van Dam would utilize a chair, hitting Del Rio's head followed by an impressive Slingshot DDT straight onto the chair. Complexion quickly changed yet again as Del Rio used the chair to his advantage. After some battle for control, Rob Van Dam would introduce a ladder to the match - then introducing it to Del Rio by throwing him straight into it and crashing to the outside. After a few more vicious throws, Van Dam's leg would get trapped in it, allowing Del Rio to nail him with an enziguri. Hardcore Rules indeed... the next thing in the ring would be a garbage can - soon becoming a dented garbage can at the expense of Van Dam's kick. And a real indication of trouble would be when Van Dam hit Del Rio with a Split-Leg Moonsault, the Champion only just managing to kick out. Van Dam was in full control. But Del Rio would capitalise on the right opportunity, setting up a chair and trapping Rob Van Dam's arm inside it, before locking in the lethal Cross-Arm Breaker. And so, Del Rio's title reign continues...
RESULT: Alberto Del Rio def. Rob Van Dam via Submission (Retains World Heavyweight Championship)
Alberto Del Rio beats Rob Van Dam at his own game. Van Dam's hardcore approach to the match was not enough to stop Del Rio's Cross-Arm Breaker.
Still Champion: Del Rio admires his work (Image Courtesy: WWE.com)
The Real Americans def. The Great Khali & Santino Marella
Zeb Colter's men were on a quest to give their "We The People" campaign a lasting impression in Buffalo, and they were successful in their attempt after Cesaro's freak strength shocked the WWE Universe.
Antonio Cesaro and Jack Swagger did a great job of isolating Santino Marella and leaving The Great Khali out of action. But when things spilled over, The Great Khali was in and wrecking The Real Americans. It would take some crafty tag-teaming from The Real Americans to distract The Great Khali. Antonio Cesaro seized on the opportunity, grabbing both legs of Khali and swinging him around much to the shock of the WWE Universe.
RESULT: The Real Americans def. The Great Khali & Santino Marella via Pinfall
The Real Americans get their word in at WWE Battleground as Antonio Cesaro leaves The Great Khali dizzy.
Giant Swing: Cesaro's feat of strength amazed many (Image Courtesy: WWE.com)
Curtis Axel def. R-Truth
Intercontinental Champion Curtis Axel managed to put R-Truth's Championship hopes away as he put on a solid performance to retain the Intercontinental Championship.
R-Truth brought a lot of offence to the table but the Intercontinental Champion managed to keep him at bay. Soon, an advantage would open for Axel to seize on the advantage and he did effectively, finishing R-Truth to retain.
RESULT: Curtis Axel def. R-Truth via Pinfall (Retains Intercontinental Championship)
Curtis Axel remains Intercontinental Champion. Meanwhile, the woes continue for R-Truth in a not so perfect night for the challenger.
Perfect: Curtis Axel's title reign spans from June this year (Image Courtesy: WWE.com)
AJ Lee def. Brie Bella
Divas Champion AJ Lee would once again prevail over a Total Divas cast member as she defended her title against Brie Bella in one of the better Diva's matches in recent memory.
AJ Lee took a lot of damage from Brie Bella, and when things were looking to epitomize, it would take a distraction from Tamina Snuka to give AJ Lee the advantage. Tamina attacked Nikki Bella, prompting Brie Bella's distraction, allowing AJ Lee to get the quick pin.
RESULT: AJ Lee def. Brie Bella via Pinfall (Retains Divas Championship)
The Championship reign of AJ Lee continues, but its the edge given from a Tamina Snuka distraction that proves the advantage.
Re-Group: AJ Lee clutches her title after retaining it (Image Courtesy: WWE.com)
Cody Rhodes & Goldust def. Seth Rollins & Roman Reigns
The Rhodes Family solidified their returns to WWE when they knocked off The Shield in an epic match to lighten up fans in Buffalo.
Determination: Cody Rhodes gave it his all (Image Courtesy: WWE.com)
Emotions were running high, the Rhodes Family were united in battle to fight for their family. It was indeed a big fight feel in Buffalo. Momentum was in the favor of the Rhodes for the start of the match, but The Shield soon isolated Cody Rhodes. After The Shield had a lapse in control, Cody Rhodes was able to tag in his brother, Goldust, who came in with a huge frenzy leaving Romn Reigns dazed. But when Goldust missed big on a huge move, Roman Reigns and Seth Rollins were able to take control. Then another let-up, seeing Cody Rhodes taking out Seth Rollins and delivering a vintage Alabama Slam. Cody Rhodes was distracted from The Shield on the outside, but the rest of the family would sort out tat problem, as Dusty Rhodes delivered a VINTAGE Bionic Elbow, before Goldust tok out Roman Reigns. Then, Seth Rollins could have stolen it, but Cody Rhodes was hell-bent on protecting his family and delivered the Cross-Rhodes to win. The Rhodes Family are back, and with that, the fans at the stadium embraced the feel-good moment as the roster came out to congratulate them.
RESULT: Cody Rhodes & Goldust def. Roman Reigns and Seth Rollins via Pinfall
Finally, someone stands up to The Shield. The Rhodes Family embrace and get their jobs back following an epic bout. With the return of the Bionic Elbow and Cross-Rhodes, they stand a family re-united, and a family back in the WWE.
United Embrace: The Rhodes Family celebrate with the roster
(Image Courtesy: WWE.com)
Bray Wyatt def. Kofi Kingston
Kofi Kingston would become Bray Wyatt's next victim at WWE Battleground, after The Eater of Worlds managed to see off Kofi Kingston's unorthodox offence.
The Jamaican Sensation held his own during the match, but took a huge blow early in the match when Bray Wyatt came in like a train - tremendous impact. Kofi Kingston looked good during the match and Bray Wyatt seemed to sell it well. Then, he went flying over the top rope to take out the Wyatt Family, but the SOS would be fluently reversed to the Sister Abigail in a nice finish. What followed after saw Kofi get decimated by Luke Harper and Erick Rowan.
RESULT: Bray Wyatt def. Kofi Kingston via Pinfall
Bray Wyatt makes Kofi Kingston the next "one" to fall in spite of a valiant effort by Kofi Kingston.
Follow the Buzzards.
Game Plan: Bray Wyatt grounds Kofi Kingston (Image Courtesy: WWE.com)
CM Punk def. Ryback
Paul Heyman's empire came to a standstill with CM Punk defeating Ryback per the mistakes from Paul Heyman himself.
CM Punk was able to keep Ryback at bay for the time being, but soon he found himself on the receiving end of a savage beating by the Human Wrecking Ball. However, CM Punk managed to luster together some offense before looking to finish with a GTS. But with Heyman ringside, the match wouldn't finish just yet, as The Mad Scientist grabbed the microphone and distracted CM Punk referring to the Night of Champions match allowing Ryback to gain an advantage. But the referee turned his attention to Heyman, allowing CM Punk to beat Ryback with a low-blow and
win. Paul Heyman and Ryback were left shocked in dismay.
RESULT: CM Punk def. Ryback via Pinfall
The Straight Edge Savior gets one-up over Paul Heyman with a win over Ryback. But his quest to get his hands on Heyman continues.
Daniel Bryan/Randy Orton draw
Following power shortages in Buffalo that interrupted the WWE Battleground broadcast for a few minutes, the WWE Championship match would finally get underway.
Our #WWEBattleground broadcast was disrupted by a power outage in the Buffalo area. We apologize for the interruption.
— WWE (@WWE) October 7, 2013
The WWE Championship may not have been hindered by the power shortages, but it was by The Big Show.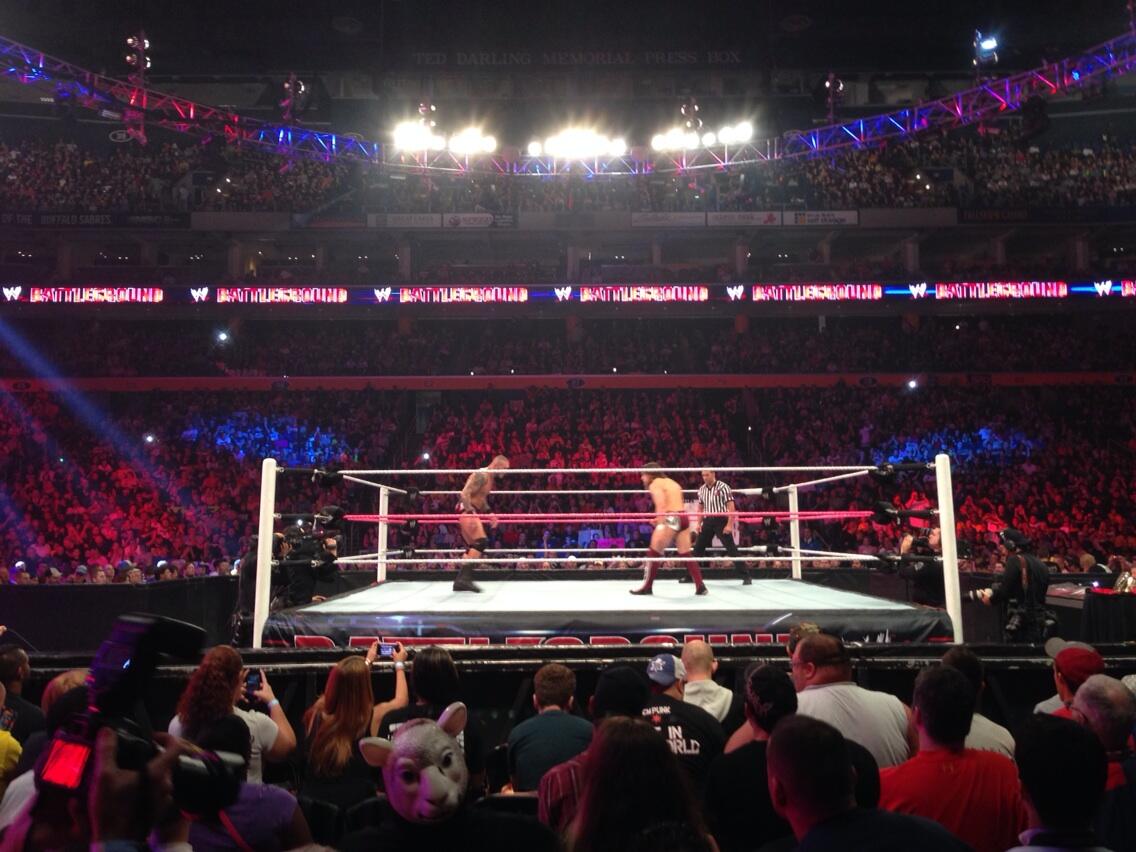 The match went back and forth with the WWE Universe in Buffalo right behind Daniel Bryan. Randy Orton took many shots, but also damaged Bryan looking to pulverize him. Danile Bryan needed to pull out his best to win, and he did, going from the top rope with a diving headbutt before unleashing a huge frenzy that head the WWE Universe in Buffalo abuzz. When the YES! Lock was locked in, out came The Big Show who pulled out the referee and knocked out Bryan. Just as it looked like Orton was to win, The Big Show knocked out referee Scot Armstrong - who coincidentally returned, then knocked out Randy Orton before getting pumped up in front of the WWE Universe.
The WWE Championship remains vacated. The Big Show has finally stepped up against the Corporation.
In a night where Alberto Del Rio retained his World Heavyweight Championship, and The Rhodes marked their returns to WWE, it was a night to remember at WWE Battleground.
But it was The Big Show who stole the headlines at WWE Battleground, as he stands up against the Corporation. One must think that consequences lie ahead without a doubt, what price will Big Show pay for his shocking actions?
By
Nisar Khan -
Read more articles from this author
TheSportMatrix.com
- Sports for the Fans, by the Fans.
Connect With Us!