By Nisar Khan
The Premier League returned from the International break to deliver yet another compelling weekend of football. With a plentiful supply of goals, some controversy and a few shocking moments, there's a lot to cover for Gameweek 8. Here's coverage of all the games, and things you may have missed.
+
There were goals galore with
THIRTY-FOUR
being scored throughout the gameweek. Some teams made a big statement following the International break, meanwhile it was turmoil resumed for other clubs. There was a fair share of controversy too, with a few events that have critics and the footballing World abuzz.
In this article, we'll give you your weekly fix from the gameweek's action, with descriptions and reports from each game, along with things you may have missed.
From an embarrassing hand gesture on live tv, a sublime goal, historic moments and plenty on the news, here is your Premier League fix, starting with the opening match of the gameweek...
Newcastle United 2 - 2 Liverpool
Despite being down to 10-men, a resilient Newcastle United would give their fans plenty to celebrate - albeit a draw - in a thrilling contest that continued the goalscoring nature of the fixture.
(READ FULL MATCH REPORT HERE)
The Magpies' Yohan Cabaye scored the opener twenty-three minutes in with a delightful swerving strike that beat Simon Mignolet from long-range. The hosts continued to maintain a dominant threshold of the game up to the forty-minute mark, when it all turned sour for Newcastle.
Yanga-Mbiwa was sent off for a foul on Luis Suarez in the box, but there were outcries that Luis Suarez was offside. Steven Gerrard scored the penalty to reach his milestone 100th Premier League goal.
It was looking an uphill climb for Newcastle as they resumed play at St. James' Park. Following an onslaught from Liverpool, Paul Dummett stunned Liverpool with a goal from a free-kick.
Going over the defenders in the box, Dummett was able to slot it past goal.
Looking to hold on to the lead, Newcastle continued to defend - alas in vein, when the Suarez and Sturridge partnership would come into the fray again, as the Uruguayan awarded Sturridge an easy goal to score the equalizer.
With a man down, and now looking to scrape a point, Liverpool's onslaught contined, but chances came and were denied. Luis Suarez had the final kick of the game with a free-kick on the edge of the box, but it was parried by Krul before the full-time whistle blew.
Steven Gerrard scores a historic 100th Premier League goal, but it ends in a draw that had drama, controversy and (not surprisingly) goals.
Milestone: Steven Gerrard strikes home his 100th Premier League goal (Image Courtesy: Telegraph.co.uk)
Chelsea 4 - 1 Cardiff City
After a scare at Stamford Bridge that saw Cardiff leading ten minutes in, Chelsea's forwards would fire back emphatically to thrash Cardiff in spite of a controversial goal.
David Luiz's mistake put Jordan Mutch through who gave Cardiff the lead after ten minutes. Chelsea's long-awaited equalizer would finally come after the half-hour mark in a controversial equalizer. Goalkeeper David Marshall was bouncing the ball in the box, when Eto'o kicked it away to Hazard, passed it back then came back to Hazard who hit it home to score. According to FIFA rules, kicking the ball away from when the keeper is bouncing it is a foul, so the equalizer, theoretically, should not have stood.
Samuel Eto'o scored his first Chelsea goal to give them the lead with a shot low into the bottom corner. Jose Mourinho was sent to the stands for ranting at time-wasting tactics from Cardiff. But that would not prove dividend, as Hazard scored his second and Oscar came off the bench to score a fantastic goal from 25 yards.
Cardiff's glory proved only temporary, as Chelsea fought back to rip them apart as Chelsea look on a course of redemption.
Controversial: Eto'o taking the ball from the keeper may have been deemed a foul.
Arsenal 4 - 1 Norwich City
Any injury worries for Ozil were quickly eradicated when he fired two goals for Arsenal in the Gunner's masterclass performance against Norwich.
Looking sharp straight after the International break, Arsenal worked the ball amazingly around the pitch setting up for Wilshere to volley the first goal. Excellence in passing personified.
On the other side of the half-time break, Mesut Ozil headed home his first Premier League goal off a delightful cross from Giroud to give the German his first. Half an hour later, Ozil would have an easy second goal with a tap-in from Ramsey's pass. Aaron Ramsey himself was also on the score-boards with a sensational goal to cap off the win for the Gunners that sealed their position at the top for another week.
The Gunners hit the ground running as they depict the Canaries in a masterclass performance at the Emirates.
Masterclass: Wilshere embraces after scoring a spectacular team goal.
Manchester United 1 - 1 Southampton
Adam Lallana's goal in the dying moments of the game would shock Manchester United once again with a frustrating game for David Moyes.
Young prospect Adam Januzaj was looking promising once again, as he set up for Robin van Persie to give Manchester United the lead in the quarter-mark of the match. The Champions were looking good and on course for a win that would get them back on track.
Pressure epitomized as Southampton looked to near the equalizer. And it finally came from a corner, when Adam Lallana tapped it in to score a last-gasp goal that would crush Manchester United. The Saints' team embraced and celebrated as they picked up the draw.
David Moyes' frustration continues as Southampton steal a draw with a late dramatic goal to pick up the point.
Frustration: The side finish the game with only the point to take. (Copyright / Ownership / Credit: EPA)
Everton 2 - 1 Hull City
Steven Pienaar made an emphatic return from an injury making an impact just ten seconds into his return to give Everton the winner against the Tigers at Goodison Park.
The home side took the lead a mere eight minutes into the game with Mirallas surging into the box to strike for the opener, but on further inspection his shot came past Gareth Barry and may have hit him - when he was offside. Manager Steve Bruce said that the goal should not have stood if he touched it or not. Hull's equalizer came from their substitute, as Yannick Sagbo scored from Aluko's cross right on the half-hour mark.
After a hiatus from action due to an injury in August, Steven Pienaar's first touch on his return would end up in the net as he got on the end of Mirallas' cross to get the winner. Everton looked far from their best following conceding the goal, but Pienaar's return and scoring was uplifting for the Toffees who controlled the game from there on in.
Everton pick up a win that secures them at 7th place (at the least) following the gameweek. Steven Pienaar's return turns it all around for Everton who pick up more points in front of their home crowd.
First Touch, First Goal: Pienaar celebrates scoring on his return.
Swansea 4 - 0 Sunderland
The Swans ran riot in the second half at the Liberty Stadium in a class performance that escalated the turmoil with new Sunderland manager Gus Poyet seeing his team get thumped in his first game in charge.
Michael Laudrup's side were looking comfortable in the first half with most of the chances. Sunderland looked on much more even footing when play resumed following the break, but the home side would quickly take a threshold of the game and dominate.
Starting from misfortune, presumably, as Phil Bardsley turned it into his own net from a corner in the 57th minute. De Guzman seemingly put the game to bed when he took advantage on a low-motivated Sunderland following the own goal to curl it into the net.
Six minutes after De Guzman's goal, Wilfred Bony scored a penalty that was awarded when Craig Gardner fouled Leon Britton in the box. And for further damage, a late corner from Chico Flores was ended up in another own goal - this time by Craig Gardner - when Sunderland scrambled to clear. Having looked promising in the midpoints of the game, the own goal crumbled Sunderland and shows that the new manager has a lot of work to do.
Turmoil continues for Sunderland as they break down against an over-powered Swansea who put on a show for their fans at the Liberty Stadium.
Disarray: One of two Sunderland own goals in the game.
Stoke City 0 - 0 West Brom
The Potters' winless spell continued at the Britannia Stadium when they hosted West Bromwich Albion and played out to a goalless draw.
In the only goalless encounter out of Saturday's eight games, there was just a lot lacking in passing quality, and the little chances produced really came to nothing. West Brom and Stoke take the point, but not much to talk about in a very action-deprived game.
West Ham United 1 - 3 Manchester City
Manchester City overcame West Ham United at Upton Park with a 3 - 1 victory, but West Ham United's goal could have caused a flurry of problems.
Sixteen minutes in, Fernandinho passed it to Alverao Negredo, but he let it go past and it found Aguero in plenty of space, with the Hammers' defense looking open. The Argentinian opened the scoring striking past Jaaskaleinen. Six minutes into the second half, Aguero would have an easy header in an open box to give Manchester City a secure lead. However, the home side responded well pulling one back with an insane overhead kick by Ricardo Vaz Te.
It set up for a very tense game, as West Ham were in their best of the duration, but the game was put to bed when Aguero set up David Silva with a delightful back-heel allowing the Spaniard to fire to the left of goal.
Manchester City were able to outdo a game West Ham United to pick up their first away win of the season.
Sensational: Silva curls in City's third (Image Courtesy: DailyStar.co.uk)
Aston Villa 0 -2 Totenham
Tottenham hit the ground running following the International break with a potent win over Aston Villa at Villa Park in Sunday's only game.
Andros Townsend's euphoria in his games recently would continue, as his cross beat the keeper to score a goal - with a big touch of luck. There was a controversial incident that resulted in linesman David Bryan being hurt by a smoking flare that was thrown from the stands. Fortunately, he could continue in the game. Arrests were made to people who threw the flare, and the investigation is ongoing. But the conclusion is simply, football cannot be overshadowed by incidents like this, its a shame that some fans ruin it.
Roberto Soldado wrapped up the game when he finished delightfully capping off some great passing from the visitors. Christian Benteke couldn't make an impact when he was substituted, but throughout following the goal, Tottenham were in full control after the goal toppled Villa's momentum.
After a crushing loss to West Ham prior to the International break, it looks like the Spurs are back in business with their strong win at Villa.
Shocked: The linesman recovers from being hit by a flare (Image Courtesy: Matt West / BPI)
Crystal Palace 1 - 4 Fulham
Palace stunned Fulham early with Mariappa scoring just seven minutes in with a close range header. Kasami equalized for Fulham with a shot into the top left corner before his teammate, Steve Sidwell gave his side the lead on the brink of half-time.
Kasami's goal was just incredible though, amazing volley.
Berbatov and Senderos scored within the space of 10 minutes to turn the game around and begin to cruise to an unassailable lead.
Crystal Palace looked to be leading and outdoing Fulham, but they managed to quickly turn it around and dominate.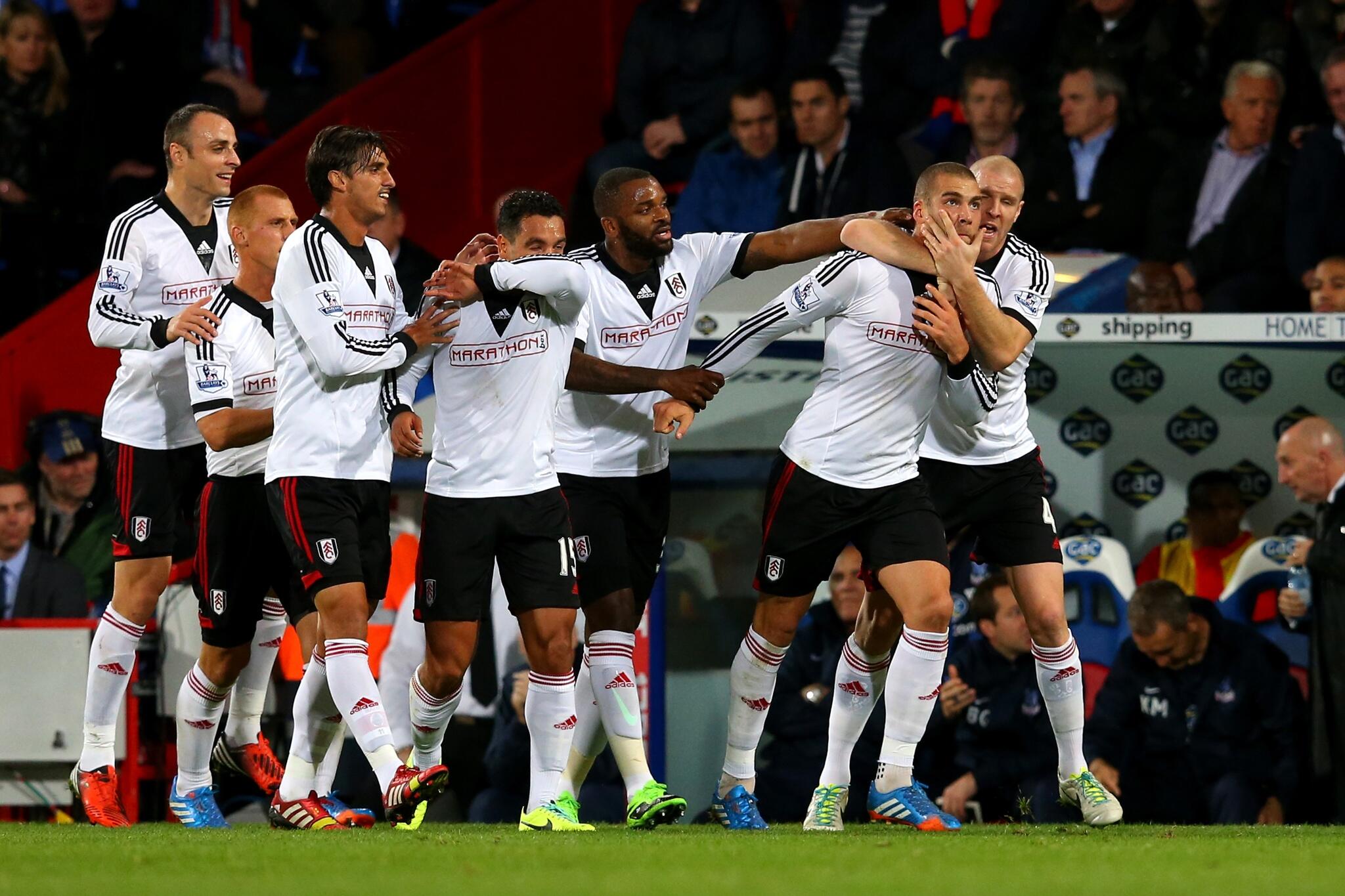 Successful outing: The players celebrate their win (Image Courtesy: PremierLeague.com)
Overview: The Gameweek at a Glance
Steven Gerrard scored his 100th Premier League goal against Newcastle United

The call that resulted in a penalty was debated as Suarez may have been offside before he was fouled. However, that does not justify the foul, so the penalty should have still been given.

Brendan Rogers will see it as two points dropped for Liverpool, where as Newcastle's boss Alan Pardew would see it as a point well-earned considering the circumstances under 10 men.
More speculation came about from Chelsea's encounter with Cardiff City. Samuel Eto'o kicked the ball away from the keeper when he was bouncing the ball. According to FIFA, the laws state this as a foul. So maybe the equalizer should not have been given after all.

At least Chelsea made it a convincing victory however, with three goals after to thump Cardiff City.
Only one word describes Arsenal's victory over Norwich City. A masterclass. The Gunners came, well, all guns blazing to the game and really a turning a lot of heads now. They are really playing the best football in the league currently.
Southampton stunned Manchester United by stealing a draw with a late equalizer. In all honesty, the Saints were working for it and once again, mistakes cost points. Manchester United's slow start continues, although I wouldn't count them out just yet.
In case it wasn't clear enough for you already, Sunderland have hit rockbottom. With only one point in the season, even the new manager had a torrid time on his debut in charge. With two own goals from Sunderland, it was another devastating outing for Sunderland - their club crisis continues.
First touch. Goal. The story of Steven Pienaar when he returned for Everton. What an impact he made to tame the tigers at Goodison.
Manchester City are really making good use of their talent now. Meanwhile, the team they defeated - West Ham - have something to smile about with Vaz Te's overhead kick.
In spite of the scoreline, Aston Villa held their own in their game with Tottenham. Shame it did not really come to much though.
Only four teams were goalless in the gameweek, meanwhile London clubs Fulham, Chelsea and Arsenal triumphed in four-goal victories while Swansea hit four past Sunderland who had no response.
Goal of the Gameweek: Wilshere, Kasami share honours
Jack Wilshere's opener at the Emirates exemplified Arsenal's quality in passing, and finishing. Kasami's goal on Monday night was however a late contender, but the goals differentiated so they both got the nod.
Biggest Topic from Gameweek: Linesman David Bryan hit by flare
During the Aston Villa vs. Tottenham game at Villa Park, David Bryan was hit by a flare - allegedly from Spurs fans - that could have been a lot worse.
Fortunately, he did not suffer any injuries and could continue the game.
The fact of the matter is that linesmen should not be put at risk. Things like this are damaging football. There is safety at stake.
Currently under investigation, there could be more to follow from this incident.
Trending: BT Sport p
undit
David Ginola makes rude gesture on live television
During the introduction to BT Sport's coverage of Newcastle vs. Liverpool, David Ginola was seen on camera doing a rude hand gesture that definitely embarassed them. Wonder what Jake Humphrey thought about it...
They soon apologised via Twitter:
David Ginola apologised straight afterwards as he realised this was an inappropriate action. #btsport
— BT Sport (@btsport) October 19, 2013
Well... this is awkward...
On Form: Arsenal still top the table (Courtesy: DailyMirror)
Gameweek eight is now in the books. Arsenal maintain their lead at the top of the table, being one of the four teams who dominated scoring four goals. There's some Champions League action coming up, along with Chelsea vs. Manchester City next weekend.
The league is taking shape... More statements made, more points earned. Controversy, speculation, emphatic returns and goals.
That's
a wrap for gameweek 8 of the Premier League.
By Nisar Khan -
Read more articles from this author
TheSportMatrix.com
- Sports for the Fans, by the Fans.
Connect With Us!