By
Nisar Khan
Bayern Munich slayed Manchester City at the Etihad, masterclasses from Olympiacos, Real Madrid and PSG on display, plus a thrilling draw, a late winner and much more from another entertaining night in the Champions League.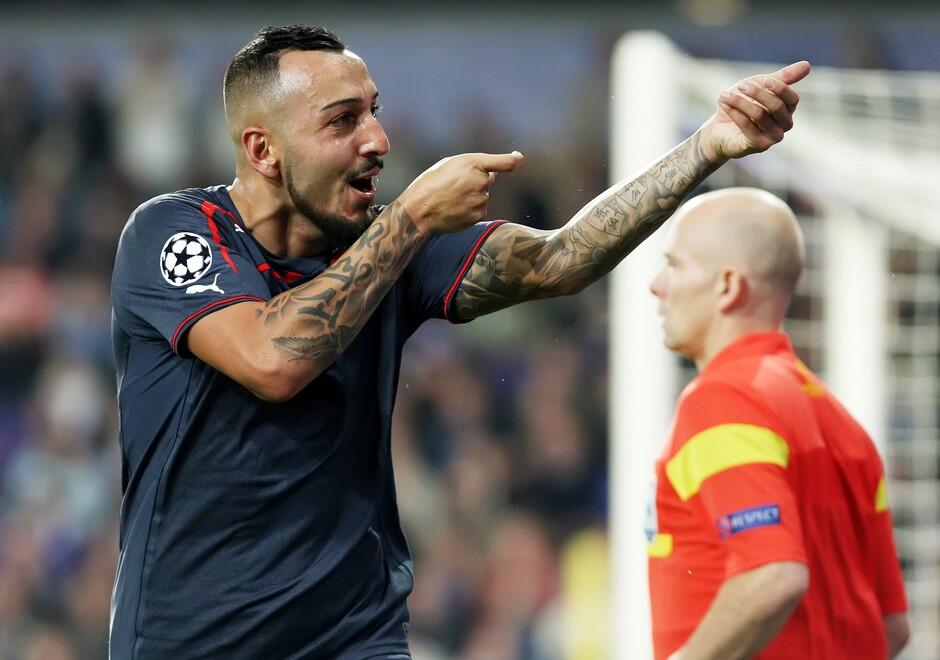 Hat-Trick Hero: Mitroglou was on flying form
SEE ALSO: Complete Round-Up, Analysis from Tuesday's Champions League Matchday 2 Action
Manchester City 1 - 3 Bayern Munich
Bayern Munich dominated Manchester City with a sublime performance away, despite a last ditch revival attempt from City.
In front of a loud crowd at the Etihad Stadium, Manchester City got things underway with a quick attack. But they would find themselves on the losing end early in the game, after Ribery scored his fourth goal of the season. Ribery picked up the ball following a long pass, threw-off a defender by cutting in then struck it low into the net beating Joe Hart. Surprised that it went in, but then again, look at that power. Great strike by Ribery. Manchester City could have counted themselves lucky for conceding the only goal, as Bayern looked capable of scoring more. Joe Hart may have been disappointed in himself for conceding the goal, but there was just one goal in it as half-time approached albeit with Bayern looking the better by far.
Just as Man City looked to be getting back into it as the second half commenced, four minutes of anguish put the game to bed. Muller found himself up against Hart off a ball from Dante, and the German was able to control it, keep composed and finish for Bayern's second. Four minutes later, Arjen Robben was able to outdo Nastasic to hit a goal in the bottom corner with another delightful finish. With ten minutes to go, Manchester City's Negredo pulled a goal back - great finish with the left foot, blasting it into the goal. In spite of it's magnificence, Bayern would still win the game. Maybe more hope in the offing altered the fans, as Boateng was sent off for a goal-denying foul, setting up for a Silva free-kick that rattled the woodwork. A few more chances came, and went, as City suffered their heaviest European defeat.
Franck Ribery scored early to silence the home crowd (Image Courtesy: UEFA.com)
Shakhtar Donesk 1 - 1 Manchester United

A second half equalizer would stun Manchester United when it looked like the points had been taken by Moyes' side.
It was the ideal start that David Moyes needed. Manchester United capped off a great start to the game with a goal from Danny Welbeck. Fellaini used his physical advantage to break down near the area, passing it across to Danny Welbeck who had little work to do with an easy hit just a short distance from goal. A first half that David Moyes would have been pleased with, as they continued to play to their best throughout the first fourty-five minutes and looked promising to win as they went in for the break.

Approaching the win, one small let-up in United's defense would prove costly. Taison was able to rocket the ball home after they got through the defenders. Donetsk steal the point away from United.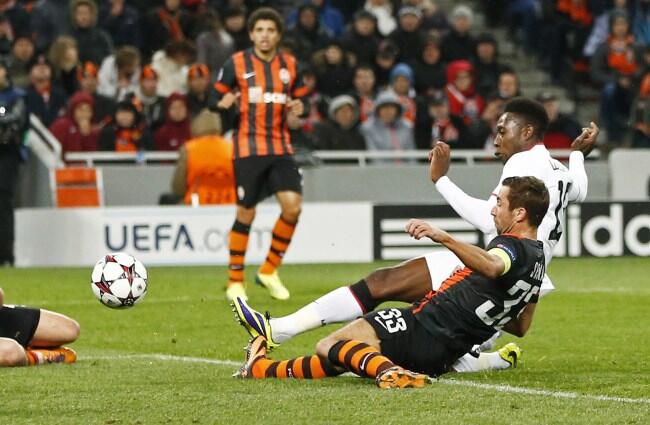 Danny Welbeck's goal looked to pay divident, but Donetsk equalized.
Real Madrid 3 - 0 FC Copenhagen
Spanish giants Real Madrid dominated Copenhagen in front of a passionate audience at the Bernebeu, which witnessed two magnificent goals from that man again, Cristiano Ronaldo.

Real Madrid took Copenhagen out the equation early on, with a well-orchestrated line of significant passes that lead to Ronaldo's header. Luka Modric precisely handed the ball to Marcelo, who's cross in the box found the Portugese sensation Cristiano Ronaldo, who headed it in affirmatively.

It was easy-going in the second half for Madrid, too. Copenhagen were beaten all ends up, and Cristiano Ronaldo was able to score his - and Madrid's - second goal of the game. Ronaldo got on the end of another delightful cross, this time from Di Maria, to head Madrid right into the lead. After the assist, Di Maria would get on the scoresheets with a surging run ending with a shot in the top corner.
CSKA Moscow 3 - 2 Viktoria Plzen
The proceedings got underway in Moscow as the home club defeated Plzen 3 - 2. CSKA Moscow were able to overcome the challenge and get their first win in the 2013/14 Champions League.

Viktoria Plzen started off promising as they stunned the hosts with an early goal in the fourth minute. Full-back Rajtoral gave the Czech side an early lead. They continued a dominant spell in the game, before Moscow snatched a goal back with Tosic getting the equalizer. Ten minutes later, Japanese striker Honda scored another for the hosts to give them the threshold of the game as the half-hour mark approached.
Plzen worked hard in search for an equalizer as the second half got underway. But with over ten minutes remaining, their hopes were instantly shattered with an own goal. Raznik initally intercepted a pass, only to give it back to the keeper of who miscalculated it and pretty much put the game away for the home side. In spite of Bakos' stoppage time headed goal, Plzen were unable to get the third and CSKA Moscow picked up the win.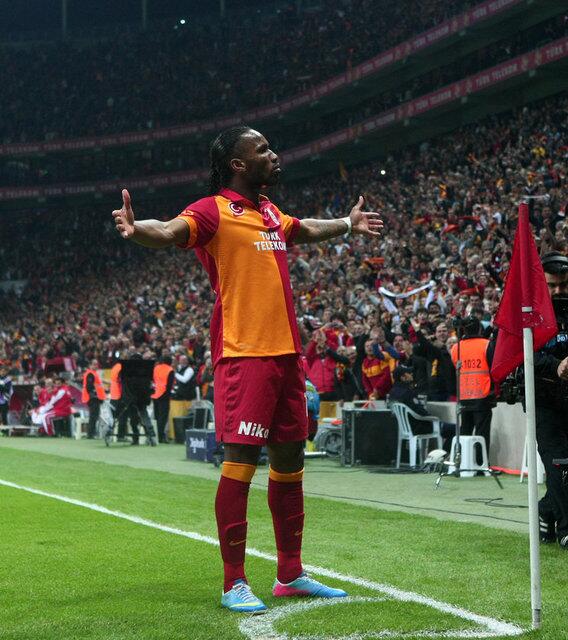 Didier Drogba scored for his side in the
36th minute.
Juventus 2 - 2 Galatasaray
Draws don't often come more thrilling than the type played at the Juventus Stadium. Galatasaray's early goal was equalized, before Juventus received a taste of their own medicine with late drama that ended in a draw.
Not the most entertaining first half start. Both teams were playing to a lackluster stalemate before Didier Drogba finally got the breakthrough putting Galatasaray in the lead. The home crowd were silenced after Drogba's goal - the former Chelsea marksmen took advantage of poor defending by Juventus to take the lead.

In what was looking like a gradual win for Galatasaray, Juventus would equalize late on, with Vidal scoring a penalty. Juventus were awarded the penalty after Amrabat fouled Quagierella. Then things escalated. It seemed that Quagierella had scored the winner, but Umut Bulut equalized a minute after! More late drama on the cards!
PSG 3 - 0 Benfica

Paris-Saint German cruised to a dominant win as they hosted Benfica. Following the team running rampant in the first half, PSG sat back on their win in the second half.

Both teams opened the game with the intention of gaining a threshold on Group C. And it wasn't long before a team was leading. PSG captain Zlatan Ibrahimovic struck the back of the net just five minutes in - albeit a tap in from a van der Wiel cross - but nonetheless, the home side lead in France's capital early on. 25 minutes in and young defender Marquinho made it two. Five minutes later, Zlatan Ibrahimovic gave PSG a 3 - 0 lead right on the half-hour mark with a headed goal of a corner kick from Thiago Motta. PSG were running riot in the first half.
No goals scored in the second, but PSG still dominated as they emphasized their win.
Anderlecht 0 - 3 Olympiacos
The home side had a positive start, alas in vein following Olympiacos goal in the 19th minute. Mitroglou was able to slot it past keeper Kaminsiki following some great set-up by his teammates' passing. An equalizer seemed surely in the offing when the homeside were on the penalty spot, but Mitrovic's penalty was saved by Roberto - and Olympiacos lead was retained.

And if the penalty miss was anything to come by, Mitroglou's second came off some bad luck for the home side, beating the offside trap to finish nicely. Mitroglou would complete his hat-trick in some fashion, with a magnificent curling shot.
Bayer Leverkusen 2 - 1 Real Sociedad
In what seemed destined for a draw, a late winner from Leverkusen would defy Sociedad's efforts.

A powerful header by Leverkusen's captain Simon Rolfes in the dying moments of the first half was all the difference as the teams went into the break. They remained even throughout the course with very few chances either side.

Sociedad had an early chance to equalize when Carlos Vela was on the penalty spot. Initially the penalty was missed, but he made sure that the rebound would hit the back of the net, and indeed it did.
Then came stoppage time, Hegeler looked to have sealed a win for Leverkusen with his goal, and this was the case with the final whistle being blown promptly after. Talk about super-subs! Hegeler comes in, scores a free-kick and wins it for Leverkusen.
Image Courtesy: UEFA.com
Breakdown & Analysis
In the early kick-off we saw CSKA Moscow defeat Viktoria Plzen 3 - 2. Now, don't let the scoreline deceive you. While the visitors did have a good bid of play in the game, it all seemed to crumble after the own goal. But props to them for getting the late goal although the game seemed pretty much in the bag from the final quarter of the match.

Bayern Munich completely outplayed Manchester City. Pep Guardiola's changes to the play is clear for many to see. The way they pass and move the ball around is just fluent and wonderful, too good for City. Domination. At least City played till the end, though.

Moyes was looking to head towards an encouraging win, but Shakhtar stole the goal for the draw in what would have been a crushing blow for the side. Shakhtar deserved it.

Mitroglou really brought it all to the table for Olympiacos, three great goals capped off with a superb hat-trick maker.

All the best came out tonight, including Ibrahimovic and Ronaldo, but it was Mitroglou who stole the headlines in this matter.

With late drama resulting in draws, a thrilling win for Leverkusen, masterclasses from Bayern, PSG and Madrid, it was another fantastic night in European football.

For the Manchester clubs, things are still out of shape. Following their losses in the weekend, a nasty draw and dominating display from Bayern has sent them into a tailspin.
Fantastic goals throughout the night, twenty-eight goals in eight games. What a night of European football.
A real eye-opener in the Champions League. Goals galore, drama and some fantastic European football. Bayern's domination is something to leave you with as we could be looking at their title being retained come May. Real Madrid, PSG and Bayern put on masterclasses, and late winners and draws are something to remember from tonight. That's what you get from the best of European football.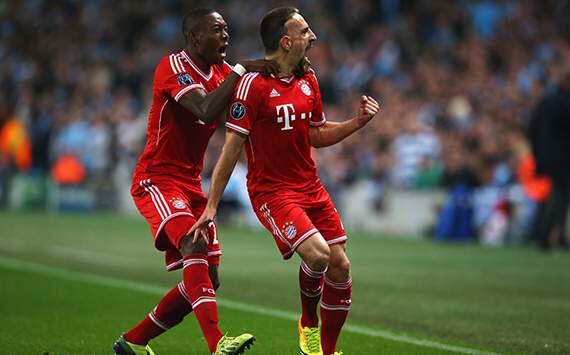 By Nisar Khan -
Read more articles from this author
TheSportMatrix.com
- Sports for the Fans, by the Fans.
Connect With Us!