Live reporting of Sunderland vs. Newcastle from the Barclays Premier League on Sunday 27 October 2013. Live blog.
SUNDERLAND 2 - 1 NEWCASTLE
LIVE - Fletcher '4, Debouchy '58, Borini '84


KICK-OFF: Sunday 27 October 2013 at 1:30pm (GMT)
(GAMEWEEK 9) at Stadium of Light, Sunderland

.
SUNDERLAND -
Sunderland manager Gus Poyet won his first home game at the Wear-Tyne Derby after Fabio Borini scored a fantastic winner at the Stadium of Light.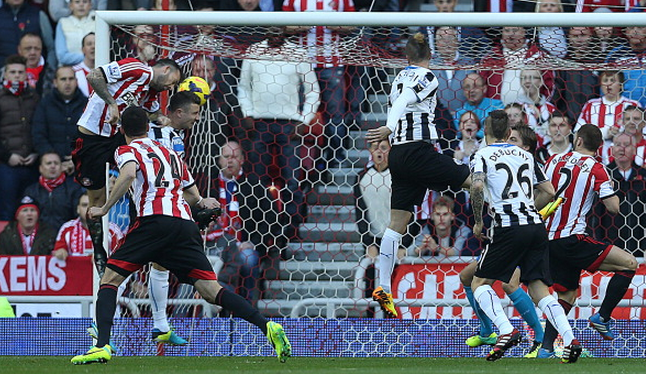 Steven Fletcher headed his side into the lead in the fourth minute.
SEE ALSO: Reporting From Yesterday's Premier League Action
There was an electric atmosphere at the Stadium of Light when the ball got rolling. Neither team had an early threshold possession with both teams already establishing the physical correlation of the game with tackles flying in.
Sunderland's home fans were looking to give them support early on, and that would be cranked up when Steven Fletcher hit home the opener.
In the first corner of the game, Adam Johnson whipped it in to Steven Fletcher who headed home just five minutes in to get the fans abuzz in celebration of a huge, huge goal.
Both teams looked sharp and piled the pressure on one another, a few fouls were flying in. No fights just yet (although if you want fights here is the report from UFC's event in Manchester last night).
As the game progressed, Newcastle's ball control seemed to decline with Sunderland working much harder than them. Cabaye had a few chances up to then but none really posing much of a threat to Westwood in between the sticks.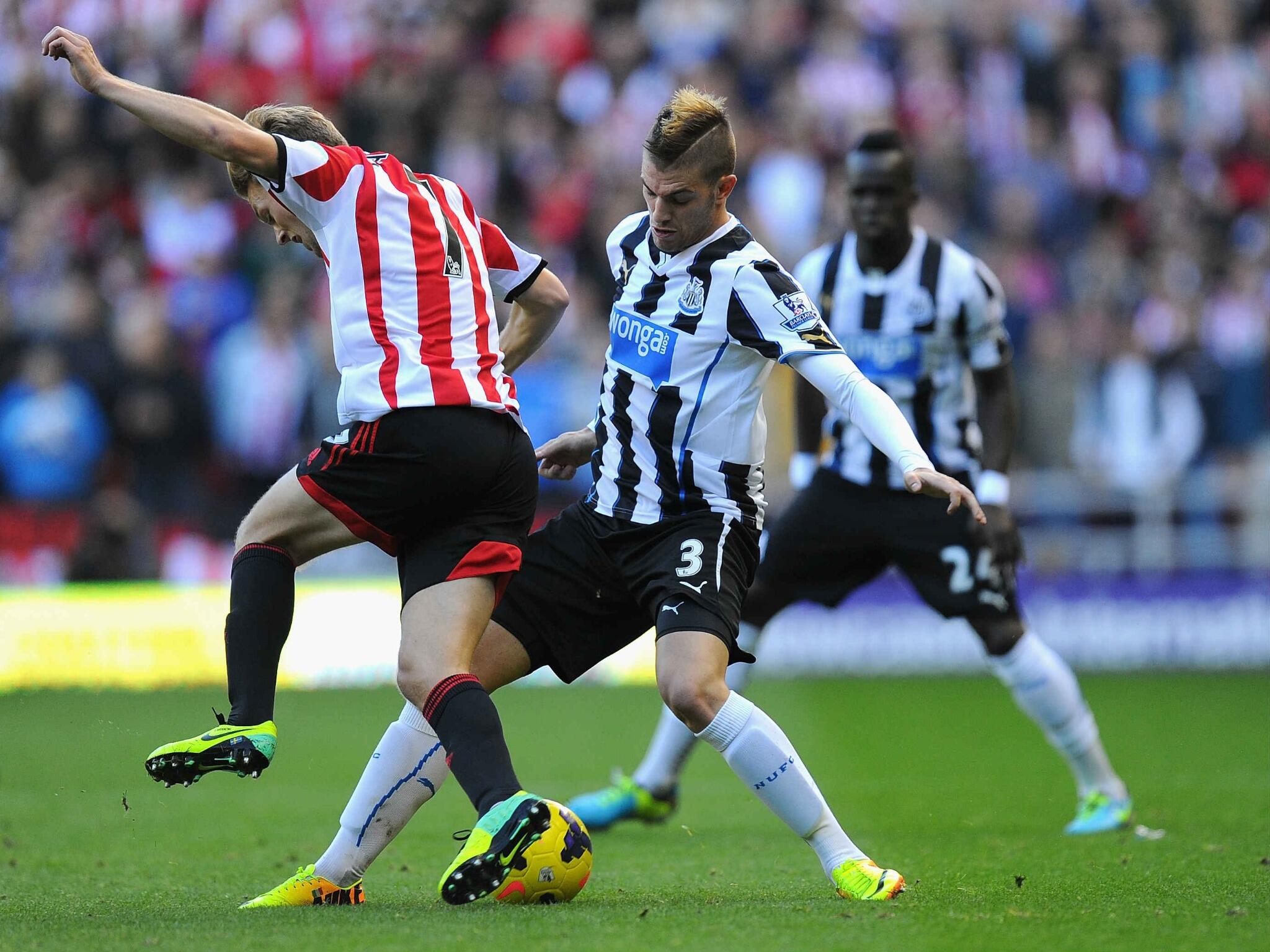 Battle: Santon, Larsson battle for possession. (Image Courtesy: PremierLeague.com)
Steven Fletcher came close to putting his team two goals up with a half volley, but Krul parried it out to Altidore, who was unable to close in and double the lead. A let off for Dummett to who lost control too.
Newcastle looked more comfortable however with Ben Arfa and Remy switching places forward, but what remained the same was the Black Cats' relentless work ethic on and off the ball.
Anton Cabaye picked up the first booking of the game for a typical Derby foul - expected to be one of many before the game was over.
Half an hour in, Sunderland were still leading but the game had developed into a very evenly-poised encounter. Newcastle were holding their own up to that point, pressing up against the Sunderland players in search of an equalizer.
With the half-time whistle putting an end to the first 45 minutes, the hosts went into the break leading. Newcastle were looking slow out of the blocks but did put Sunderland under pressure progressively. It was a very fast, intense first half that had more to give in the second.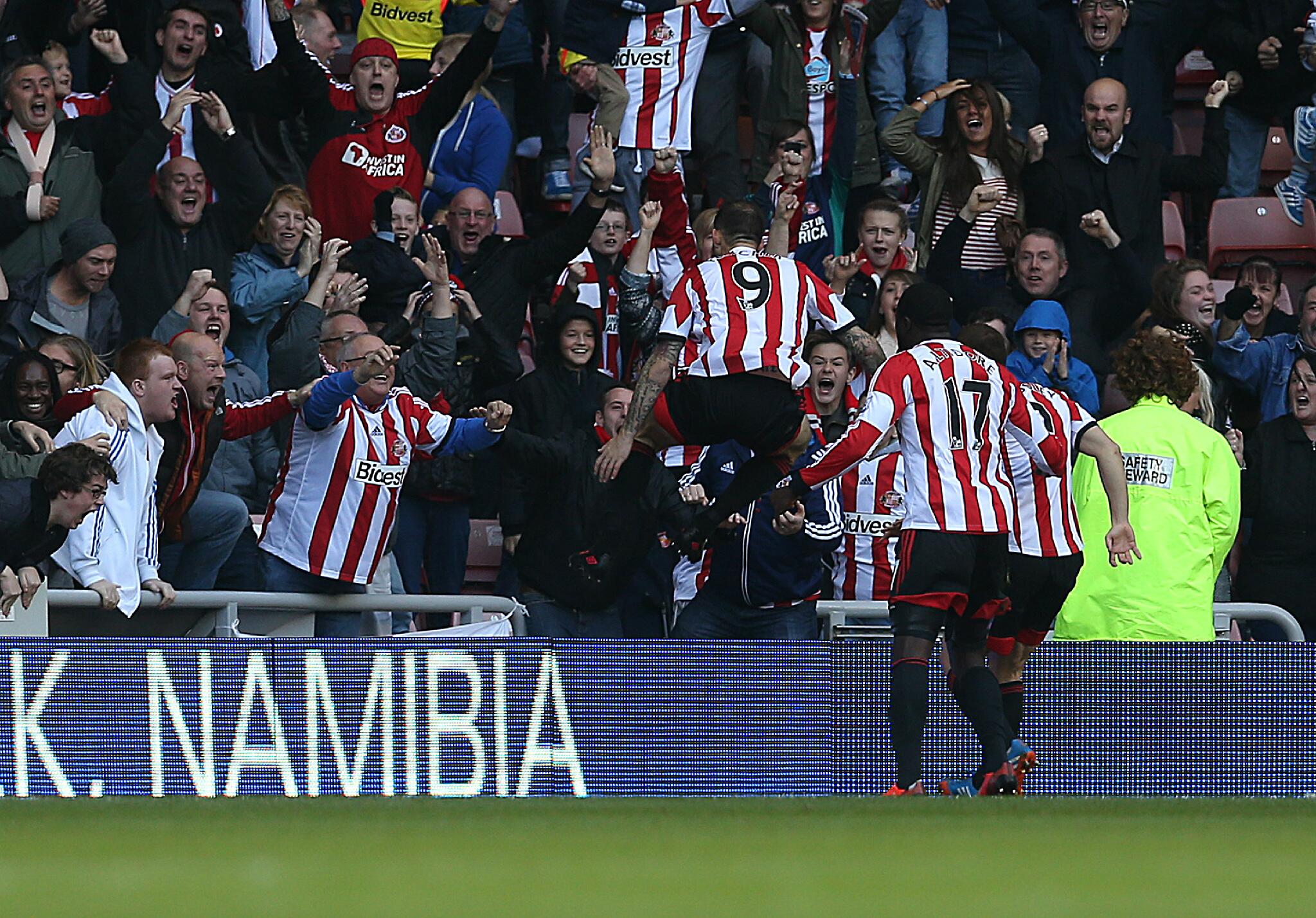 © Getty Images
The visitors got things underway in the second half with Papiss Cisse replacing Sissoko. Newcastle started an early search for an equalizer.
With a few minutes before the hour mark, Newcastle were progressively becoming a bigger threat as they lurked outside the box. Hatim Ben Arfa passed it along the ground into the box that resulted in the goal.
Exposing a lack in concentration, it went through to Debouchy who had an easy tap-in. Failure to mark him resulted in a gift of a goal as the Derby was even again.
Newcastle and Sunderland were fighting to a stalemate, as the game intensified.
Things got faster, but of course not as fast as Vettel - who clinched the F1 World title earlier today.
Then, it would take an incredible strike from Fabio Borini to set the Stadium of Light going wild as the pass fell to Borini who dribbled and struck it to the right leaving Krul no chance of saving. Surely the winner.
GIF: Borini puts his team back in front
And as the full-time whistle blew, Borini's goal proved the difference as Sunderland secured their first win of the season.
Could this be the turning point for Sunderland? A huge win at the Derby may put them back on track after picking up their first league win this season. They are celebrating this time round in Tyneside.