NEWCASTLE UNITED 2 - 2
LIVERPOOL FC
Cabaye ('23),

Gerrard ('40)

, Dummett ('57),

Sturridge ('72)

KICK-OFF: Saturday 19 October 2013 at 12:45pm (BST)
(GAMEWEEK 8) at St. James' Park, Newcastle.
By Nisar Khan
NEWCASTLE - Steven Gerrard scored his 100th Premier League goal against Newcastle United, but his team were unable to defeat the home-side who went down to 10-men during the game.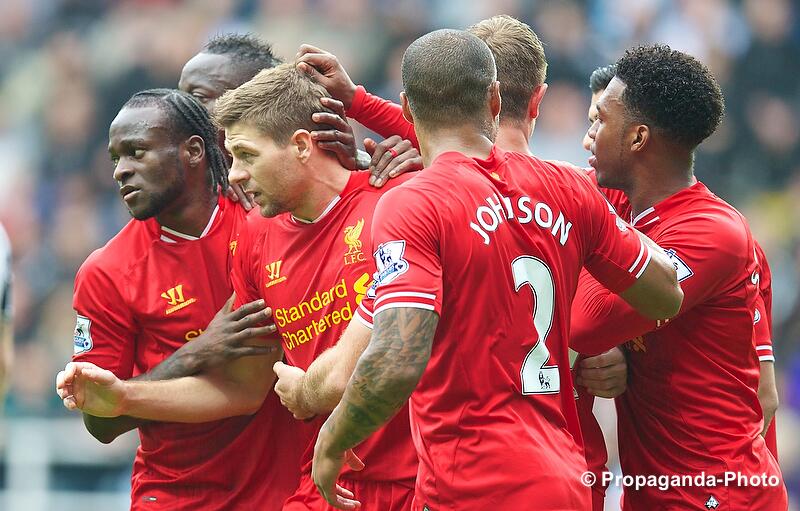 Steven Gerrard scored his 100th Premier League goal
MATCH REPORT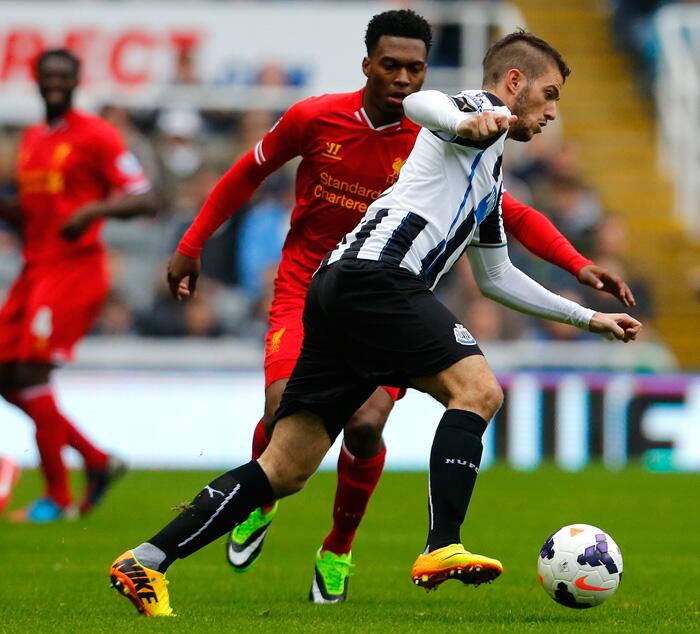 The game remained a battle of evens in the first
half (Image Courtesy: PremierLeague.com)
Liverpool got the things underway in confidence, moving the ball around early before being dispossessed by the home side. Meanwhile, Newcastle's early break was broken down by the Reds. Ben Arfa opened up another short chance with a break, but was unable to keep the ball. Thereafter, the away-side were confident in possession. On his return to playing for Liverpool, Glen Johnson had a penalty appeal, but one quickly waved away when he went down in the box.
On the other end, Anton Cabaye had a chance but his shot was quickly stopped by a strong looking Liverpool defense. In the opening ten minutes, both team had half-chances, Liverpool with more possession although Newcastle were staying put.
Right up to twenty minutes, Liverpool continued a good spell of pressure, but Newcastle would quickly dictate the game with a superb strike from Cabaye.


Seemingly out of nowhere, Cabaye picked up possession on the halfway line, ran forward and struck it from 30 yards. Swerving in the air, it beat Mignolet and the hosts would take the lead.
But Liverpool were quickly looking to fire back, with two close chances in the minute after. Suarez whipped in a troubling cross that was cleared, and another cross hit a defender's arm. Despite a great response, Newcastle were still leading.
As the half-hour mark was approached, Liverpool continued to try but up to that point, Sturridge and Suarez were unable to forge the goal-scoring link. Meanwhile, Anton Cabaye was having a fantastic game, along with his teammate, Ben Arfa, causing a catalog of problems for Liverpool.
After 40 minutes of play, Liverpool finally got the goal. Suarez came surging into the box, but was taken down by Yanga-Mbiwa. Yanga-Mbiwa was sent-off for denying a goal-scoring opportunity, and Steven Gerrard stepped up the spot.
Steven Gerrard hit low to the left, Krul dived the right way but it was not denied. Steven Gerrard scored his 100th Premier League goal and Liverpool equalized.
The first half finished even, but with Newcastle undoubtedly on the back foot. The hosts were looking confident as they started and scored, however the red card was their downfall allowing Liverpool to dictate the game.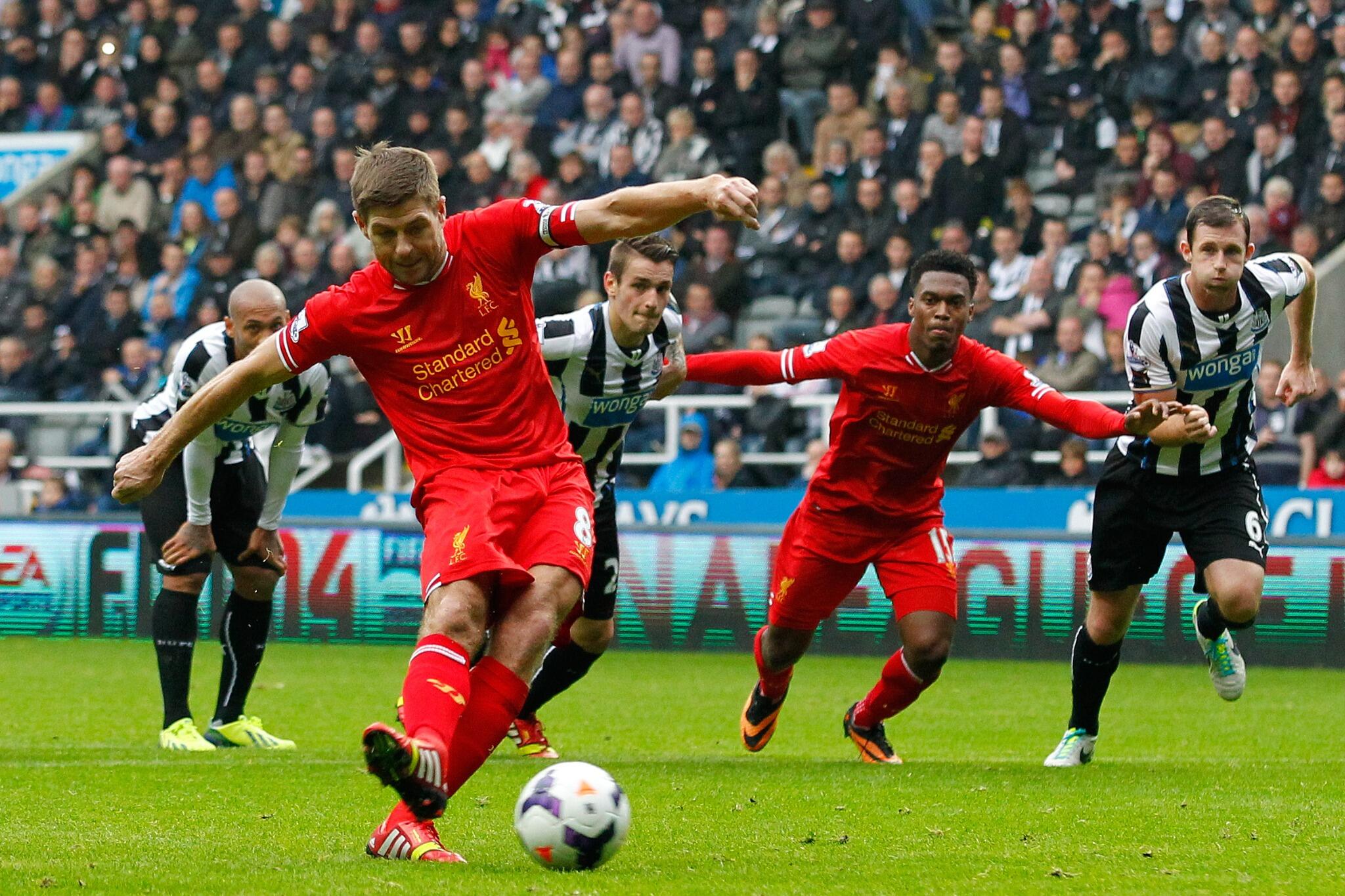 Captain Fantastic: Gerrard slots home the penalty (Image Courtesy: PremierLeague.com)
The fans at St. James' Park were eagerly trying to get their team back in front. In the 49th minute there were vocal outcries around the stadium when Remy surged forward but the ball was taken away with a tackle from behind by Skrtel. Inch perfect.
Liverpool were caught by surprise when substitute Paul Dummett scored a goal from a free-kick for Newcastle. The young defender slotted it home after the ball went over a few defenders in the box.
Seventy minutes in, and Newcastle were just managing to stay put, breaking down Liverpool attacks and denying them sometimes at the last breath. While the Suarez and Sturridge combination did not click in the early moments of the game, it did in the 72nd minute...
Moses ran it down to Suarez, with a fantastic pass to Sturridge allowing an easy equalizer for Liverpool to get back on even terms.
Then two more close chances followed for the visitors, the first offside, and the second, with Suarez rattling the woodwork in what would have been an incredible goal.
GIF: Inches off, Suarez's shot hits the woodwork
Liverpool made it really one-sided as they looked for the winner. However, Newcastle were not holding back and brought on some more ammunition to possibly stun the Reds.
The chances came and came, Newcastle were under a lot of pressure as Liverpool looked for the winner. Jordan Henderson was disappointed in himself when his shot went over, although looking promising. Steven Gerrard almost gifted Sturridge's second with a fantastic pass, but England's striker was unable to get it in.
GIF: Sturridge comes close off a pass from Gerrard
Loic Remy almost won it late, but Sissoko's fantastic tackle denied him. Inch-perfect.
GIF: Cissoko denies Remy
Liverpool continued to press for the chance, but the last kick of the game came from Suarez at the edge of the box, saved by Krul as the full-time whistle blew.
TONIGHT: UFC 166 LIVE from Houston, Texas. Junior Dos Santos and Cain Velasquez complete the trilogy for the UFC Heavyweight Championship. In what's sure to be a classic fight, its unmissable. COMPLETE COVERAGE on TheSportMatrix.com
THE BREAKDOWN
Breaking down the game with analysis and the main headlines
FIRST HALF: Newcastle Keep Liverpool at Bay... for 40 Minutes
When Newcastle scored the goal, they were looking in full control. Liverpool looked to hit back but Newcastle defended. It took one sloppy foul to change that around.
CAUGHT BY SURPRISE? Ben Arfa Playing Central, Paul Dummett Goal
The tactical change of Ben Arfa playing a central role obviously took a long time for Liverpool to adapt to, but when they did, they made them pay. Also, Paul Dummett's goal shocked many too.
FIRST-HALF: Cabaye Best Performer in First 45 Minutes
Up to 40 minutes, Anton Cabaye was looking the best performer in the game. Having a great time in the midfield, his cracking shot was an early game-changer. He seemed to slow down later on though.
NO COMPLAINTS: Liverpool Awarded Penalty, But Protests Were About Events Before
In the build-up to Luis Suarez winning the penalty for Liverpool, the players were protesting the penalty. It was not the call, but Suarez may have been offside when running into the box. Despite this however, Yanga-Mbiwa's foul was deserving of a red card.
CAPTAIN'S WEEK: Steven Gerrard on a Roll
Steven Gerrard scores his 100th goal in the Premier League, and earlier in the week lead England to World Cup qualification.
NEWCASTLE VS. LIVERPOOL: Goals Every Game Since 1974, Red Cards Every Game for Newcastle Since November 2012
Goals came... and so did the red cards. Yanga-Mbiwa's sending off made it three sending offs in three Liverpool vs. Newcastle games.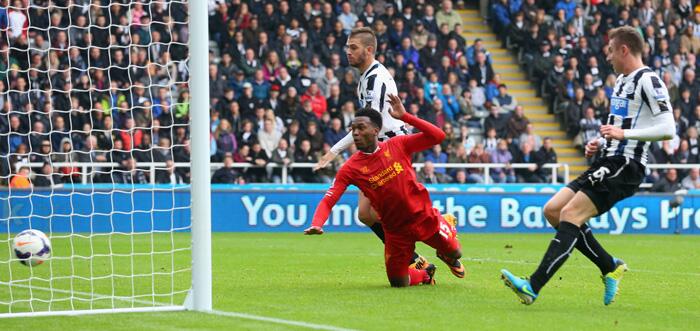 MAN OF THE MATCH
Who was the best player in the game?
Steven Gerrard
Its been an amazing week for Steven Gerrard. Captain Fantastic for both Liverpool and England. 100 Premier League goals.
THE FINAL SAY
The game in a summary with analysis.
Cracking game of football - from the neutral perspective at least. Newcastle were really on top in the first forty minutes, but the red card turned things round. After Gerrard's historic goal, Newcastle were looking handicapped. They still played well however, and an unlikely source, Dummett would catch them by surprise. Finally, the Suarez and Sturridge combination clicked for Sturridge's equalizer. Newcastle stayed put during the onslaught and will see this draw as a heroic win. Well deserved one-point, but Liverpool will most probably be frustrated that they couldn't pick up all three points against the 10-man side. Interpretations differentiate: Pardew sees it as a point earned, while Rogers sees it as two-points dropped. At least controversy is dismissed with the fair draw, but truly an incredible game to watch.
Liverpool and Newcastle take the point each, with the home-side feeling triumphant after a defiant effort to keep Liverpool from winning the game.
Although Newcastle were down to ten men, they still played for the game and its a real booster for the team.
Newcastle are pushed to the limit with ten-men, but they earned the point. Four goals, making it the highest goalscoring matchup in the Premier League. Steven Gerrard's historic 100th goal is a cornerstone moment for his career. Its a quality game that puts the Premier League back in full swing.
By
Nisar Khan -
Read more articles from this author
TheSportMatrix.com
- Sports for the Fans, by the Fans.
Connect With Us!