SUNDERLAND

1 - 2

MANCHESTER UNITED
Gardner ('5)
Januzaj ('55, '61)
KICK-OFF: Saturday 5 October at 5:30pm (BST)
(GAMEWEEK 7) at Stadium of Light, Sunderland.
By Nisar Khan
SUNDERLAND - An inspired performance by an inspired youngster, Adnan Januzaj was all the difference in Manchester United's victory over Sunderland as part of a well-contested game at the Stadium of Light on Saturday night.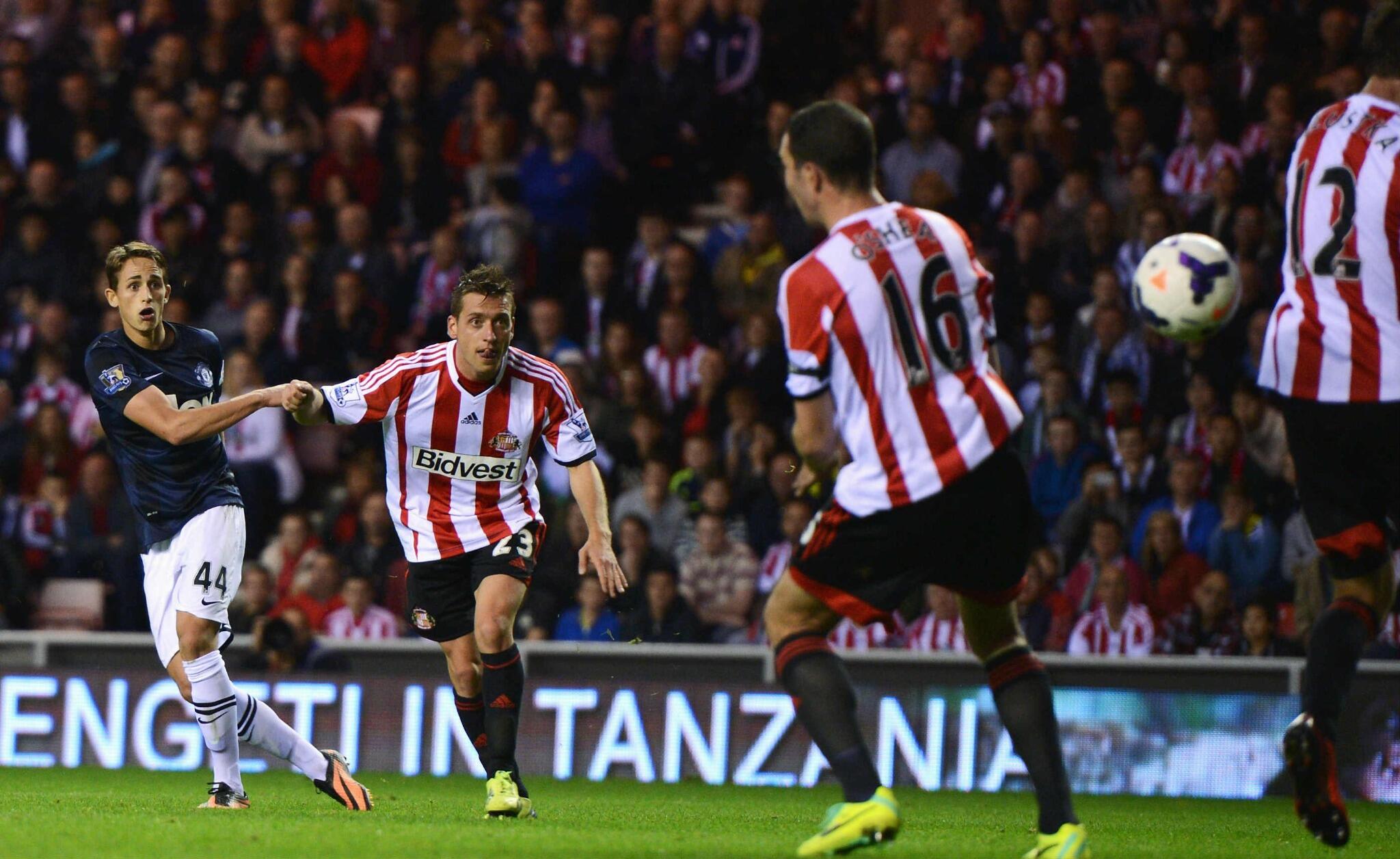 Adnan Januzaj struck twice in his first start for the club (Image Courtesy: PremierLeague.com)
MATCH REPORT

Onward from kick-off, the teams set to a relatively slow tempo. The teams just calmly passed the ball around at the Stadium of Light. First impressions of the start suggested that a goal would come after a long deadlock, but this was not the case at all...
Just five minutes into the game and the hosts were celebrating. Craig Gardner put the Black Cats ahead after a defensive mishap from United. Following a great run by Giaccherini, Jones looked to cleared it, but it was still in a troubling situation and Nemanja Vidic looked to clear it to safety, only for him to completely mishit it, falling to Gardner who smashed it home to give his team the lead.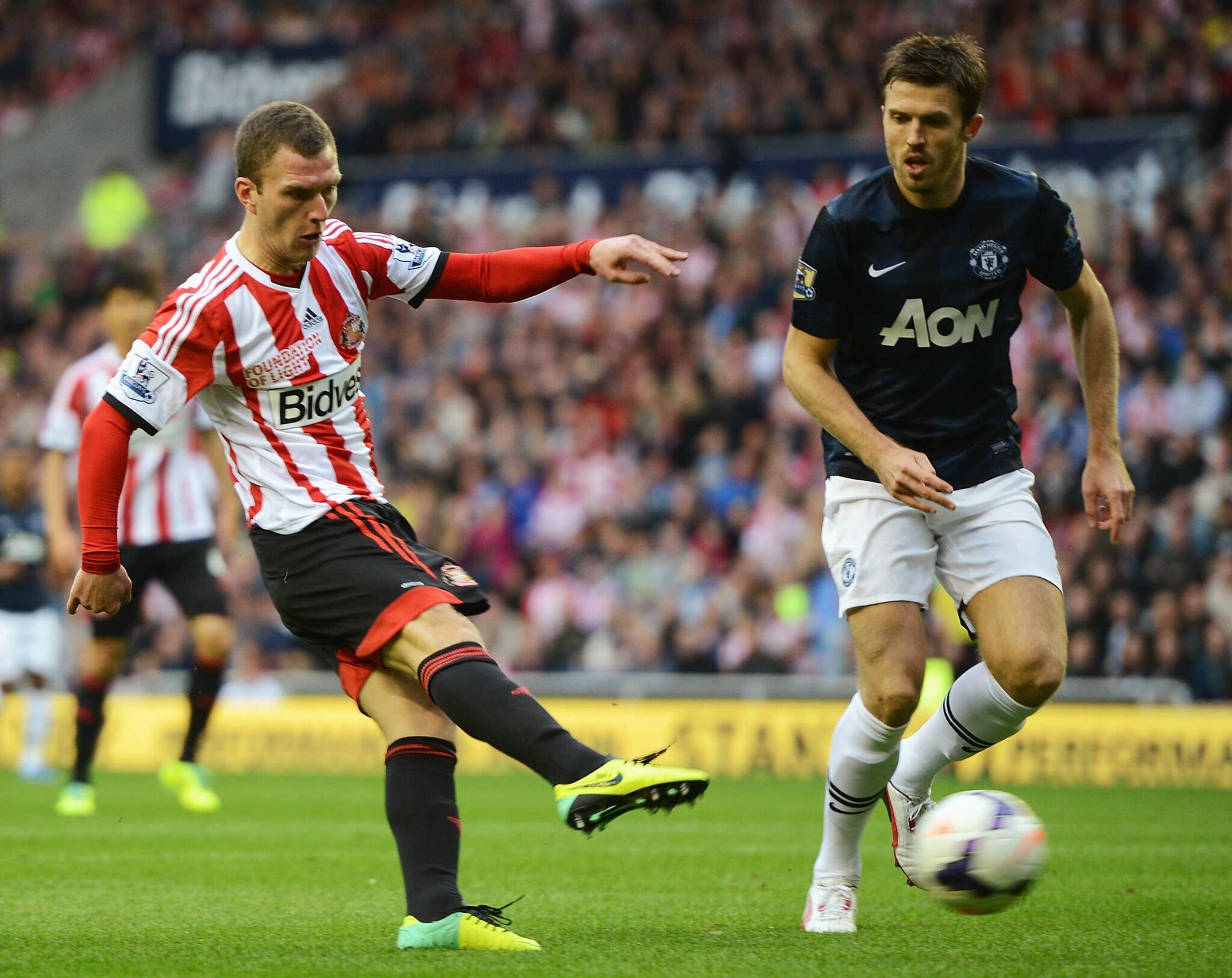 Craig Gardner struck home Sunderland's first goal (Image Courtesy: PremierLeague.com)
Manchester United responded fairly well to conceding the goal with Nani gettting a shot off albeit going wide. Soon after, Craig Gardner was in the box with the potential to score his second, but Phil Jones quickly put the ball out of danger. In spite of the odd chance Manchester United had, it was all Sunderland in the first fifteen minutes.
Januzaj got the closest chance for Manchester United up to that point in the game, with some fantastic skill followed by a shot that just went wide. The promising youngster for Manchester United was looking to be their best hope of an equalizer.
Nani got even closer for Manchester United, but his shot selection seemed to let him down, as he went for a side-footed volley that went off target.
Half an hour in and it was looking all good for the home side. Manchester United put together few attacks but nothing to trouble Sunderland. They were off to a real good start in the game and looked to be in full control.
David De Gea took a massive step to redeeming himself, with a cracking save to deny Giaccherini's header. That could have well and truly been 2 - 0 for the hosts, but De Gea emphatically rejects.
Frustration personified for the visitors - Wayne Rooney was dispossessed by Gardner so hacked him down in rage. He like many other United players, did not really click in the first half. In spite of them not 'clicking', they had more possession in the last 10 minutes of the first half. Sunderland were unable to materialize any attacks. Fortunate for them, nor could United.

As the first-half came to an end, Sunderland finished leading by one goal. Sunderland got off to a flying start and dictated a majority of the half. In spite of Manchester United's high pressure towards the end, Sunderland kept them at bay and went in with a deserved lead.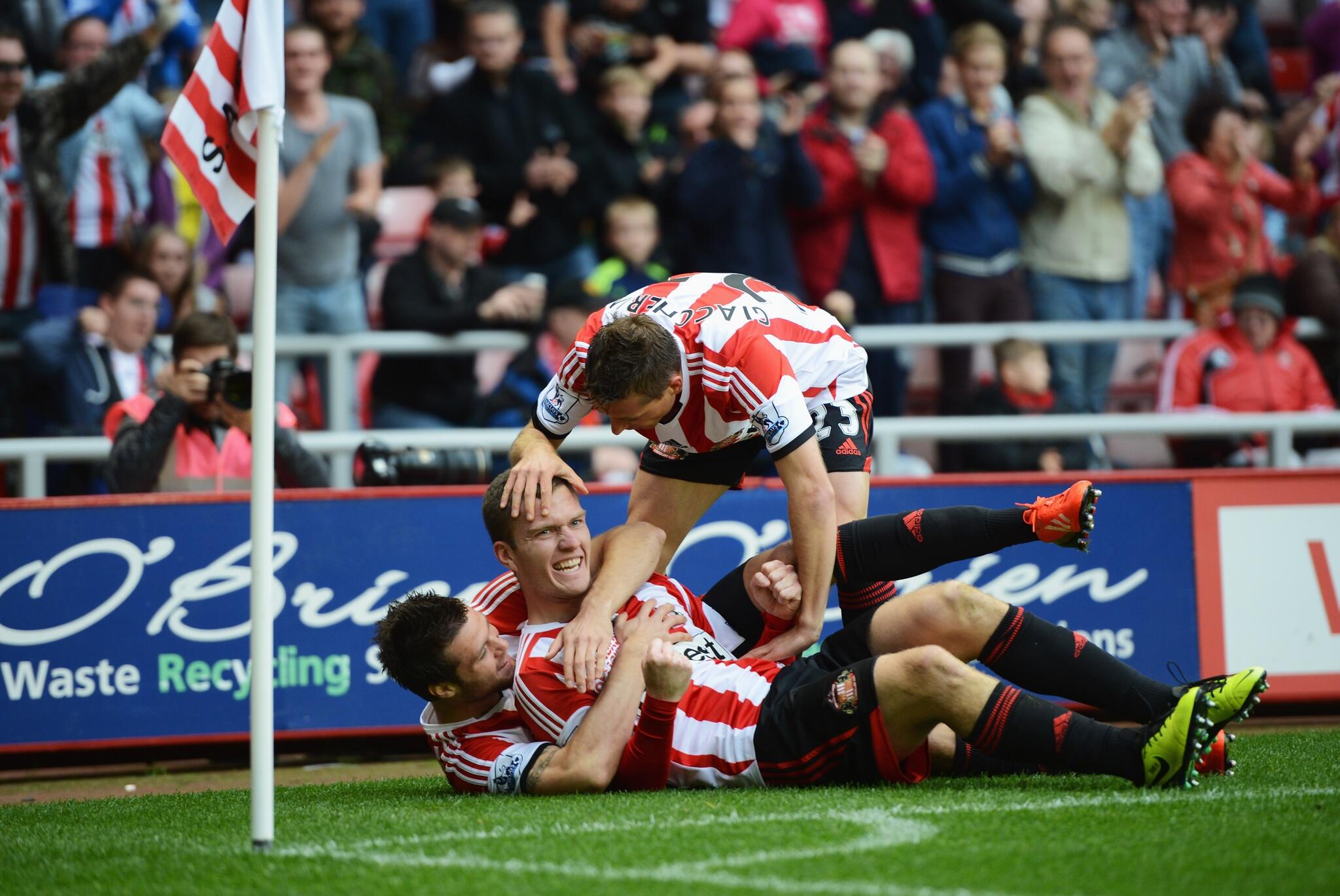 Craig Garder's fith minute goal was the difference in the first half (Image Courtesy: PremierLeague.com)

It would take a mere ten minutes of second half action for Manchester United's equalizer to come. The Manchester United prospect Adnan Januzaj struck home from around 15 yards out to finish in terrific fashion.
Manchester United were uplifted following the goal, and then, six minutes after, Januzaj would once again strike the back of the net with a sensational volley. Absolutely incredible.
And just like that, one hour in, Manchester United were leading and turned the game completely around - courtesy of one talented teenager, Adnan Januzaj.

Fatigue was kicking in for Sunderland, they looked like they had given it their all in the hour, but Manchester United had the lead. Manchester United continued to attack, before Adnan Januzaj was substituted after a cracking game where he was truly the difference.
Sunderland had a promising spell five minutes before stoppage time. Robin van Persie could have sealed the deal in the game, but the chance went begging in a terrible miss.
Further play, little signs of an equalizer, and then came the full-time whistle.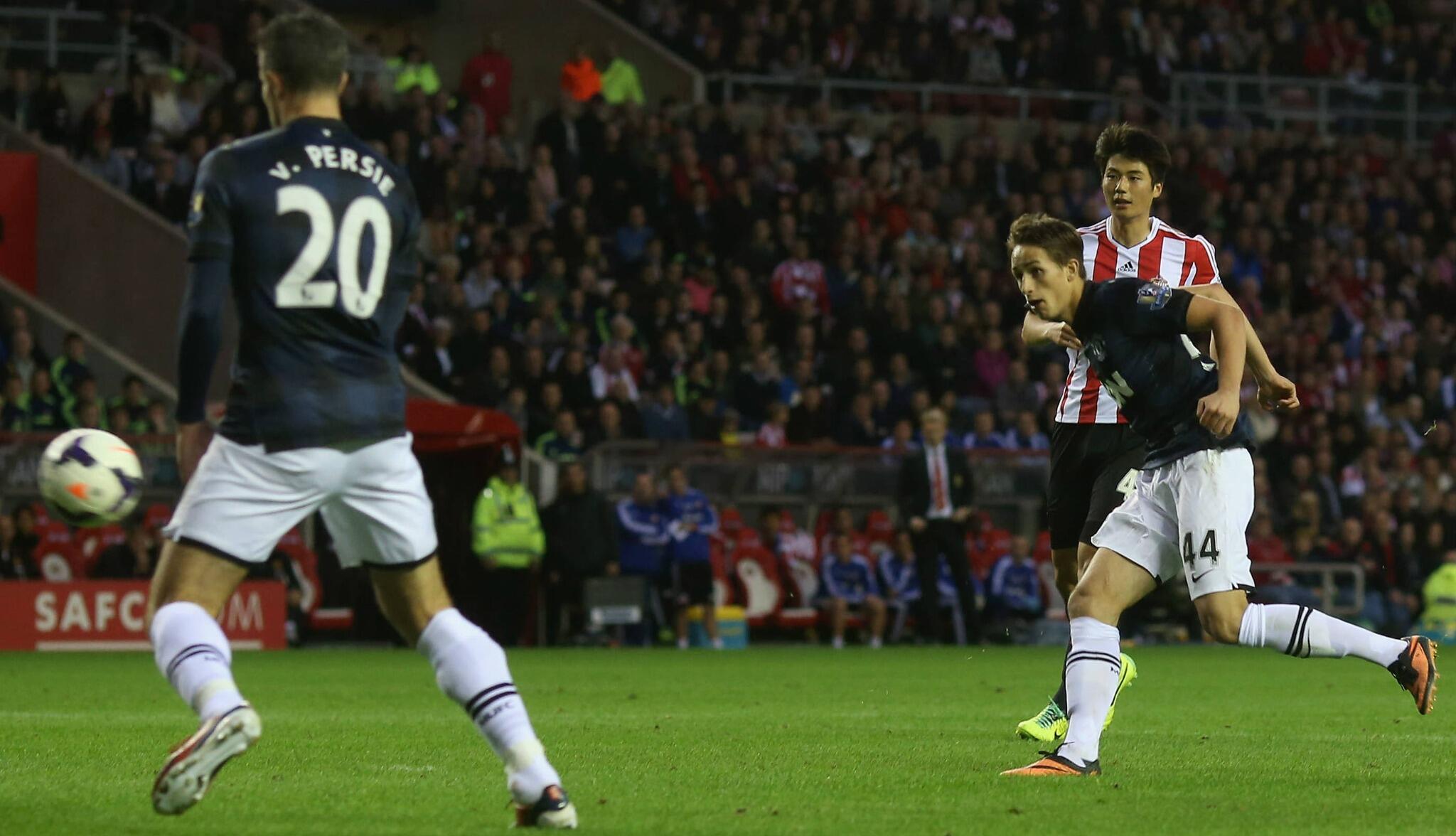 Star is Born: Januzaj on flying form in the game (Image Courtesy: PremierLeague.com)
AD
THE BREAKDOWN
Breaking down the game with analysis and the main headlines
JANUZAJ: UNITED'S FIRST-HALF HOPE
Adnan Januzaj looked very promising for Manchester United in the first fourty-five minutes. He looked the only legitimate goal threat throughout the entire game.
VAN

PERSIE'S FIRST HALF WOES
Robin van Persie's form has not been at its best recently, this was at display again in the first half with little to no chances.
GIACCHERINI: SUNDERLAND'S FIRST-HALF CATALYST
Giaccherini was terrific for Sunderland in the first half, a man of the match candidate no doubt.
JANUZAJ OUTSHINES VAN PERSIE, ROONEY
Januzaj outshined the best of talent in this game, a young man proving to be something special for the future.
MANAGER WORRIES A CONTRAST
David Moyes' worries may are momentarily at rest, meanwhile for Sunderland's interim manager, it is a very different story.
MAN OF THE MATCH
Who was the best player in the game?
Adnan Januzaj
The 18-year-old made his first start for Manchester United and put on a terrific performance. Looking the most promising of the first half, and in the second he struck twice in the span of six minutes. Two fantastic goals scored, and an impact made. Januzaj pays divident for Manchester United here. Moyes has found a special, special talent.
TALKING POINTS
The main talking points of the game. The questions that we could go on and on about, but the questions that we let you talk about. Sound off in response to some of the questions below using the comments section at the bottom of the page or Tweet Us with the hashtag #TSMChat.
Do you agree with Peter Schmeichel when he was on Sky Sports and called David De Gea's save to deny Giaccherini the best save ever?
One hell of a save that was. Emphatic from De Gea to deny Giaccherini's header. Talk about reflexes - De Gea's got them nailed.


GIF: De Gea's save

Do you think that Manchester United relying on a teenage youngster (Januzaj) is risky, efficient or shows that they lack quality?


With their backlog of talent, Manchester United are relying on a youngster, to an extent. Does this highlight their lack of quality?
THE FINAL SAY
The game (and analysis) in short.
Another fantastic game in the books. Manchester United get the win they have needed, courtesy of Adnan Januzaj. It looked to be a nightmare for the visitors initally with Gardner's early goal, but with a varied second half approach, Manchester United struck with their young hope to pick up a big win.
Adnan Januzaj proves pivotal for Manchester United as his two goals give his side the win. In spite of his booking for 'simulation', Januzaj has more than redeemed himself.

Meanwhile, Sunderland's woes continue, as the manager-less club suffer another loss and their season is in turmoil following a shaky start.
Similar to the situation in the other side of Manchester, the Red Devils have momentarily silenced the critics, but only for a short amount of time.
Adnan Januzaj proves that he is the future of the club with an excellent performance to give Manchester United an imperative win over Sunderland. The highlights of this match are not dedicated to the most expensive players, just the one, youngest, player.
By
Nisar Khan -
Read more articles from this author
TheSportMatrix.com
- Sports for the Fans, by the Fans.
Connect With Us!