MANCHESTER CITY

3 - 1

EVERTON FC
Lukaku ('16)

,

Negredo ('17), Aguero ('43), Howard OG ('70)
KICK-OFF: Saturday 5 October at 12:45pm (BST)
(GAMEWEEK 7) at Etihad Stadium, Manchester.
By Nisar Khan
MANCHESTER - Manchester City answered the critics at the Etihad Stadium with a win in front of the home crowd as they ended Everton's unbeaten run.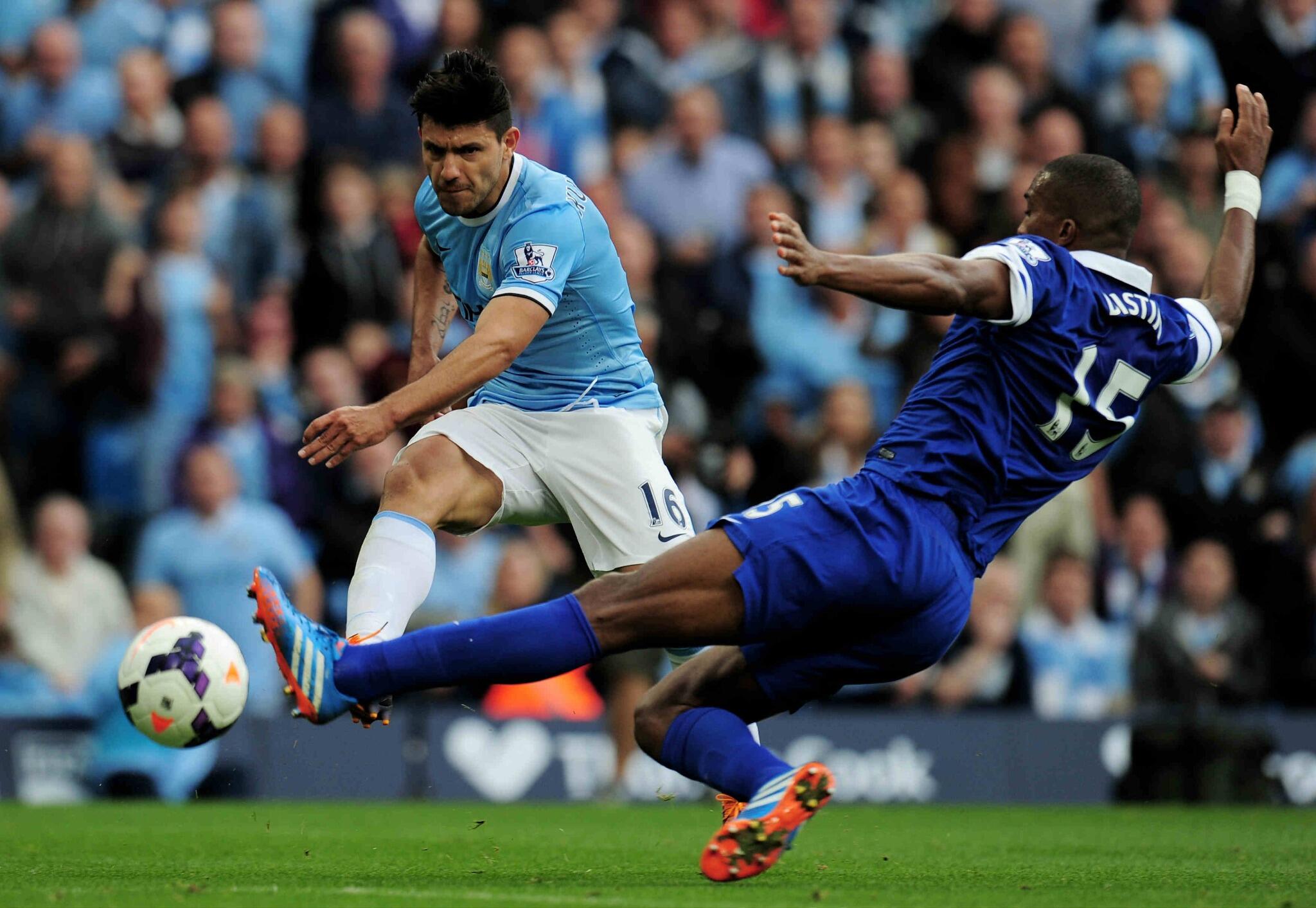 SEE ALSO: Complete Coverage of Champions League Matchday 2
The visitors got things underway at the Etihad Stadium, and opened up Manchester City early. Joe Hart snatched the ball from Romelo Lukaku's feet after Naismith played him in. City's keeper had a point to prove and got off to the right start needed. Everton started very positively restricting the home side to minimal possession in the opening minutes.
David Silva began to get things going as the early moments settled in. Initially dispossessed by Distin, Silva's next piece of possession fell to Yaya Toure outside the box but his shot was far from troubling Howard between the sticks. Manchester City looked a hint of vulnerability when Everton were back on the break but Lukaku was cut out by Vincent Kompany.
Back on the other side of the pitch, Kolarov found himself standing over a free-kick in decent territory. A sweet strike, but the cheers of the fans at the Etihad were quickly put to rest as it hit the side netting. Close though, great effort by the Serbian.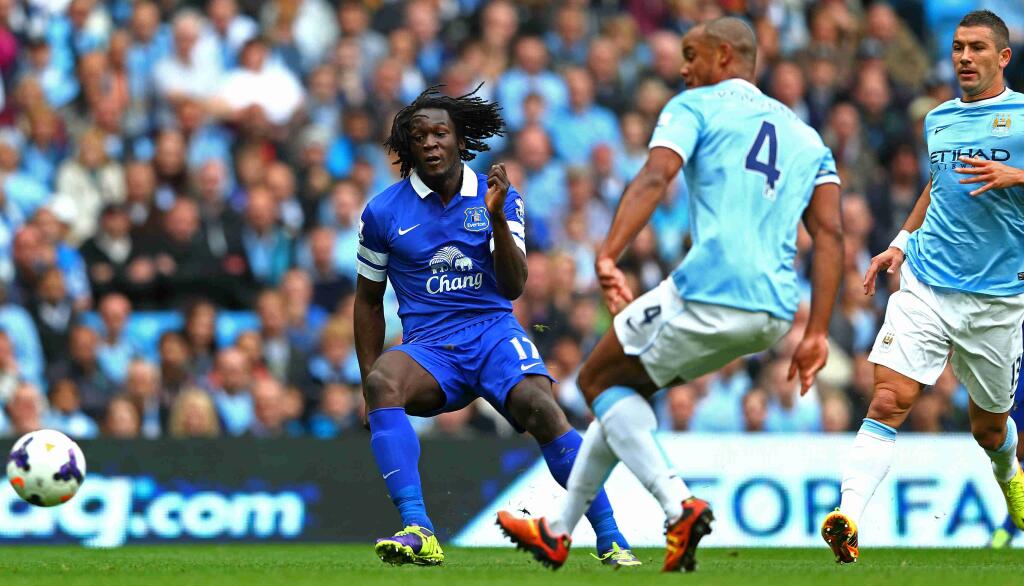 On Form: Romelu Lukaku continued his scoring run with a goal at the Etihad (Image Courtesy: PremierLeague.com)
Everton looked better in the first ten minutes or so, managing to cut down Manchester City's threats and be able to collate some attacks of their own. However, as the feeling-out process of the match moved away, Manchester City attacked - but still, looked vulnerable on with Everton on the break.
Kolarov made a surging run but was unable to get the ball under control for the shot. Everton may have felt some injustice when they were not awarded a corner following a counter on the other side and Hart's save, but the visitors would strike in the 16th minute...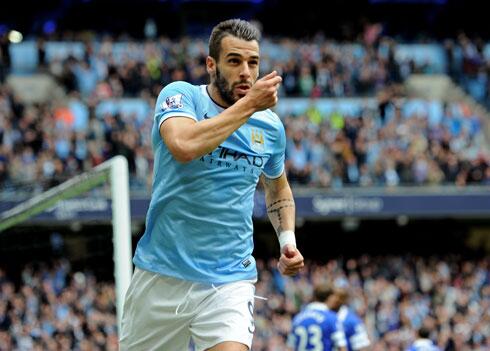 Cancelling Out: Negredo scored the equalizer (Image Courtesy: PremierLeague.com)
Romelu Lukaku's goalscoring run would continue with a delightful individual goal. Lukaku stole possession at fault from Kompany and Lescott. The Belgian slotted it under Joe Hart to score the goal - the keeper could have done much better.
GIF: Lukaku scores the opener
But the home side would strike back - very quickly.
In an almost parallel goal to Lukaku's, Negredo picked up the ball of a pass from Toure and slotted in straight under Howard. Two minutes, two goals, complexion changed. Manchester City were back in it right away, and it developed into an end-to-end game.
GIF:A frustrated Vincent Kompany sits down after picking up a thigh injury.
James Milner rattled the woodwork twenty-two minutes in, after his shot took a deflection. Manchester City continued to press (with Everton also holding their own) and a delightfully-orchestrated pass looked bound to be on goal, but Feranandinho quite frankly made a mess of it.
Vincent Kompany was forced off after picking up a knock. Nastastic replaced City's captain, and Yaya Toure picked up the captaincy for the game.
Following in a hindrance in the action as the pace slowed down, a great ball from Negredo set up for Aguero to give Manchester City the lead, but he could not get a touch on it as he completely miss-stepped from the ball. Rarity.

Everton looked a danger on the break but nothing came from it, and so the game continued, with five minutes remaining of the first half.
And to cap off a frantic first half, Sergio Aguero would get back into his rhythm thumping the ball from an acute angle right pass Tim Howard. It happened after altercations between players, which were sanctioned after the goal. Regardless, a superb finish by Aguero.
GIF: Aguero scores City's second
Indeed a hectic first half, but three great goals with Manchester City leading. Vincent Kompany was substituted following an injury, but Manchester City had managed to turn the tables, setting up for a very exciting second half.
In the lead, Manchester City came out looking dangerous. Everton were keeping them at bay for the time being but City looked to extend their lead as the hour mark approached.
Another injury substitution for Manchester City, as Kolarov suffered a cut in the head after colliding with Fernandinho from a Naismith push. Clichy replaced him with thirty minutes remaining.

Manchester City looked to have sealed the deal when Seamus Coleman fouled Pablo Zabaleta in the box, resulting in a penalty. Aguero struck it to the right bottom corner, with Howard getting fingertips on it and ricocheting of him into goal.
GIF: Aguero's penalty
Manchester City just played out the remainder of the time as Manchester City 's dominating first half came to a close. A strong game by Pelligrini's side to emphatically bounce back from their defeat to Bayern.
Everton's unbeaten run comes to an end, critics are momentarily silenced as Manchester City are now second in the table. Pelligrini's side look revitalized, but now consistency is the matter for the winning side.