KICK-OFF: Saturday 14 September at 5:30pm. (BST)
(GAMEWEEK 4) at Goodison Park, Liverpool.
By Nisar Khan
EVERTON - Everton shocked Chelsea at Goodison Park after Steven Naismith's headed goal became the difference in an entertaining night of football.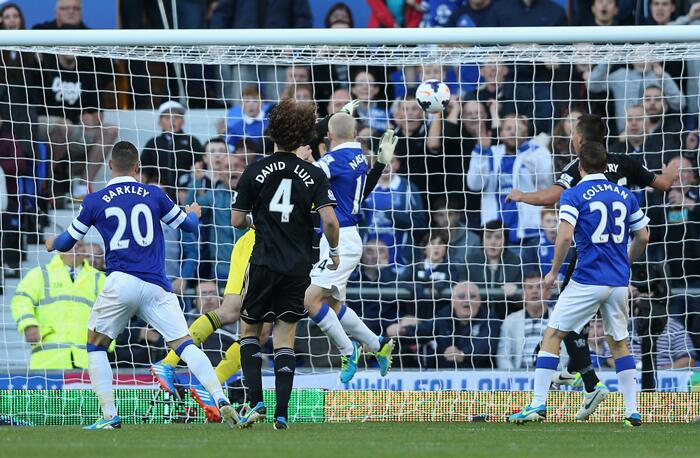 MATCH COVERAGE:
Everton were visibly taking many precautions when they kicked off. Passing it around in the so-called 'feeling-out process', Chelsea managed to get the break before it was squandered. The Toffees' debutant Gareth Barry was filling in well for Fellaini. Meanwhile, Chelsea debutant Samuel Eto'o got his first touch five minutes in, winning a corner of Distin.
The Cameroon forward had a fair chance to head at goal, but the header lacked control, and Eto'o was unable to get off the mark for the time being. Chelsea had a powerful start to the game, but things could have really turned upside down had the Everton counter-attack actually materialized. But once again, a header was squandered - this time by Jelavic.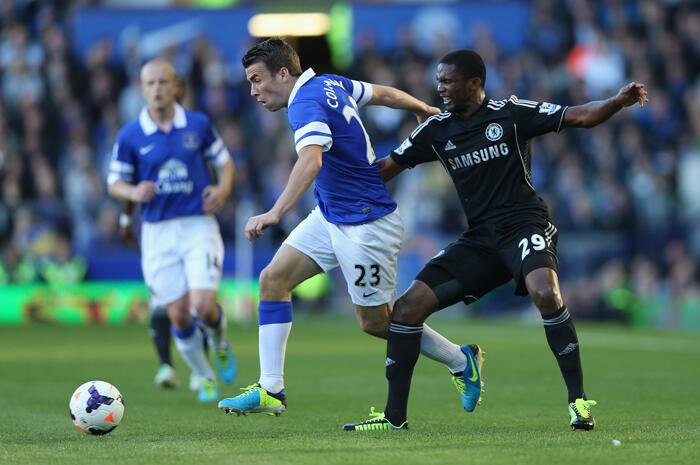 Eto'o and Coleman battle for possession (via PremierLeague.com)
Everton would continue to attempt for the opener, and as a result they were able to even things up a little bit more. As the first quarter of the match neared, things were quiet althoguh a break seemed imminent.
Gareth Barry reminded us why he is a quality player with a top-quality tackle on David Luiz as he looked to make a run down the pitch.
After Everton seemingly over-played, one debutant spoiled another debutant's scoring glory. It was almost inevitable that Eto'o would score an open goal after Howard drifted away, but Gareth Barry made a superb goal-saving tackle to deny the new Chelsea signing, and mark his Everton debut emphatically. As play went on, Eto'o looked a better assist player than scorer,
but the match was still in it's somewhat early stages.
Chelsea and Everton continued to battle in front of Goodison Park and the deadlock would be broken right before the half-time whistle.
Steven Naismith gave the home side the lead after Barkley orchestrated a great cross to Jelavic, who headed it across taking Cech out of the equation setting up an easy goal for Steven Naismith to score on his birthday, in the pivotal moments before half-time.
Naismith's goal is the last move in the first half. But the lead would be maintained during the second half, with tension constantly on the rise as Chelsea looked for the equalizer. Everton stood firm and maintained their lead to remain undefeated, and knock of Chelsea.
--
Mayweather vs. Canelo - Who will be "The One"? LIVE coverage tonight on TheSportMatrix.com
--
THE BREAKDOWN:
DEBUTING FIRST HALFS
Both Chelsea and Everton debuted their new signings who started the game. Gareth Barry
made the bigger impact in the first half with some great defending, and he is the sole reason that Everton kept a cleansheet before half-time after his goal saving tackle that denied Chelsea's debutant, Samuel Eto'o. Eto'o had his fair share of chances, but also dished out a few - Gareth Barry however is the better debutant in the first half.
BIRTHDAY BOY SCORES IN PIVOTAL TIME
The few minutes right before half-time are pivotal in the whole complexion of the game. Similar to what we saw between Manchester United and Crystal Palace, Naismith's goal before half time really changed things going into the second half. Happy Birthday.
FIRST HALF OVERVIEW
Chelsea began the game with domination, but Everton's few chances here and there would set a great platform to get in to the game. Everton's defense had to be good, and it was. Barkley and Mirallas did well for Everton, and the goal turned the first half on it's head.
MERSEYSIDE UNDEFEATED
Following Chelsea's loss, Everton and Liverpool are now the only undefeated teams in the league.
NEW STYLE, A WIN WITH MARTINEZ
Martinez new playing style was applied on Everton, and it worked, it really did work to beat Chelsea.
M
AN OF THE MATCH:
TSM Man of the Match - Ross Barkley
Everton knock off Chelsea following a hard-fought game. Roberto Martinez and his team are on a roll now with a big win in front of the home crowd.
By Nisar Khan
TheSportMatrix.com
- Sports for the Fans, by the Fans.
Connect With Us!