KICK-OFF: Saturday 28 September at 12:45pm (BST)
(GAMEWEEK 6) at White Hart Lane, London.
By Nisar Khan
LONDON - Goals, sending offs, confrontations, managerial tension. Just some words that summarize a fantastic game at White Hart Lane which saw Tottenham and Chelsea battle to a close draw to open gameweek six of the Premier League.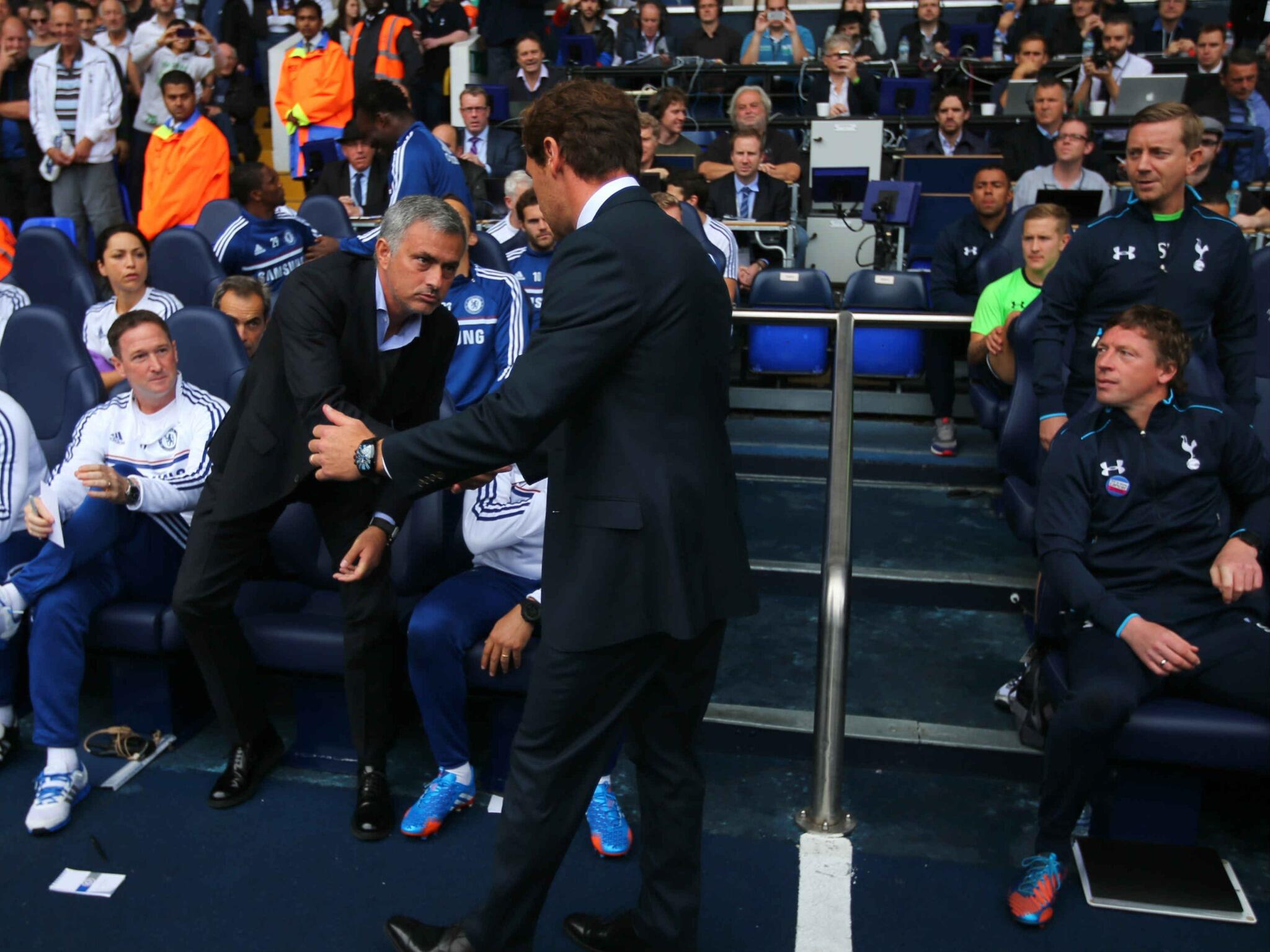 *This article is still being updated. Please refresh the page for more content.
MATCH REPORT
The hosts got things underway with the kick-off, after the teams got settled into a vibrant atmosphere at the lane. Portugese rivals Andres Villas-Boas and Jose Mourinho would take a short few moments to embrace in a hand-shake while debatable picks from Mourinho were another talking point, as Fernando Torres made the start - and Mata and Eto'o were left out.
Both teams proved to be on very even ground with the first few minutes of the play. No solid chances came to open the game, but it was looking volatile with the game set up to be a good one. Although Chelsea got the predictable early threshold in possession, it shifted into 50/50 as the game picked up pace.
Juan Mata was on the bench for the first half
Roberto Soldado was first in getting the near-legitimate chance, but the calling of Cech was not too much to ask as he maintained composure to save easily. You could suppose that the next chances would be far from it, as Paulinho's long rage shot went flying into the stands, before Lampard would do similar moments later on the other side.
Nine minutes in, and things were still looking even. No team had really gained a strong threshold before Eden Hazard was receiving treatment for a few moments. Nothing serious though - except a ripped sock of course - as Hazard got back onto the pitch.
A little bit of vulnerability was in the offing for Chelsea, as Totenham's early set pieces came relatively close, but chances were not capitalized upon. Vertonghen's header of an Eriksen free-kick went wide in the 12th minute.
Fernando Torres was looking lively for Chelsea early on in the game.
Chelsea then got their first taste of attack in the game, with a promising piece of play that was hesitantly dealt with as Torres, Ramires and others looked lively for the goal that was denied.
Eriksen is being touted as one of Tottenham's brightest players, and if his set-pieces did not prove it, his orchestrated chance that lead to the first goal did.
17 minutes in,
Gylfi Sigurðsson gave Tottenham the lead. The ball went into Roberto Soldado, who tipped it towards Sigurosson who slotted it past Cech in front of goal. It was a goal that prompted roars around the stadium as Tottenham fans embraced the breakthrough.
However, a small matter could hinder debates about the possibility of the chance. Fernando Torres' sarcastic clap to the linesman was not seen, and if it was it may have been sanctioned. It was not though, and lead to the goal-scoring chance.
3 - After only five apps this season Gylfi Sigurdsson has now matched his total number of PL goals from 2012-13. Streak.


— OptaJoe (@OptaJoe) September 28, 2013
Spurs may have attained complete dictation of the game when they came nail-bitingly close to a second right after 20 minutes. Towsend was able to get past a few defenders setting up Paulinho, but an emphatic tackle by Ivanovic would leave Tottenham leading by just the one goal. Superb tackle, that was a must-win tackle, and Ivanovic was successful.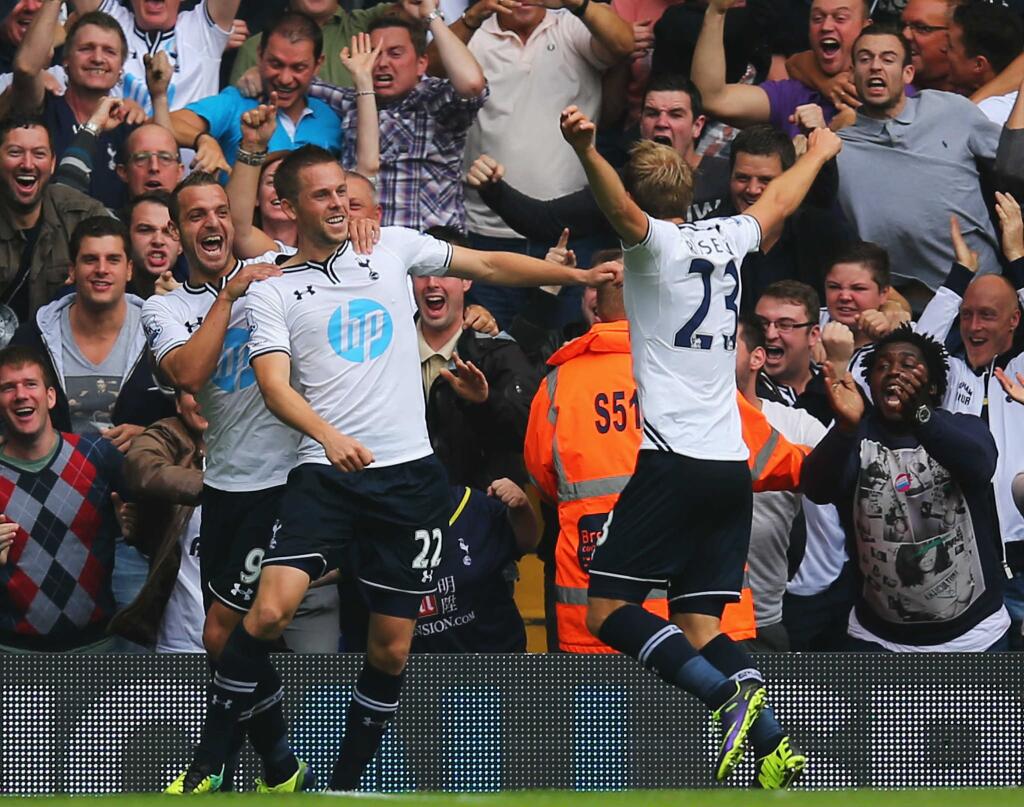 Sigurddson has scored three goals in five games (PremierLeague/BBCSport/Getty)
Frustration was seemingly building up for Chelsea, with Luiz getting a warning for a foul on Soldado and Ramires demonstrating his rage booting the ball away. However, this momentary lapse in concentration was followed by a surge in offense from Chelsea, looking for the equalizer as half-time approached.
The visitors had a big chance during the corner, but it was wasted. When it looked like the momentum would stop from then on in, it was not the case. Lloris put himself at risk of conceding when he ran out from the goal to get the ball to safety, but the Chelsea onslaught would continue.
Just before half-time, Andros Towsend received the first booking of the game. Chelsea had their chances denied, but they could have been well and truly extinguished when Paulinho's shot rattled the woodwork just minutes before the break.

The first fourty-five minutes finished with Tottenham leading by a goal. A 17th minute opener from Sigurrdson was the difference. Chelsea began to push back but nothing was done in the first half that got them on the scorecards. An excellent first half of football.
Would Chelsea get back in it in the second half? (Image Courtesy: ACTION IMAGES)
Leading the game, Tottenham began the second half. Juan Mata was on for Chelsea as the Vistiors looked to get an early equaliser. Tottenham started off strong though staying put to their 1 - 0 lead.
Fernando Torres opened up the second half with a fantastic spell of play. We were definitely seeing some of the original Torres of who was a prominent goal-scoring threat. Powering his way down the flanks, the Spaniard found space and delivered a dangerous ball to Oscar who got the strike off, but it went wide.
Torres then got into a confrontation with Vertonghen as Torres clipped the Tottenham defender. He got a booking, but then continued to pose a threat with another chance for the Chelsea. Making an ambitious run from the half-way line, a surge in performance by Torres triggered a save from Lloris to maintain Tottenham's lead.
Referee Mike Dean kept the game under good control, as he booked Ivanovic for his bad attitude meanwhile settled the confrontations between Vertonghen and Torres. Firm but fair and leaving the teams to play it, not the bad decisions.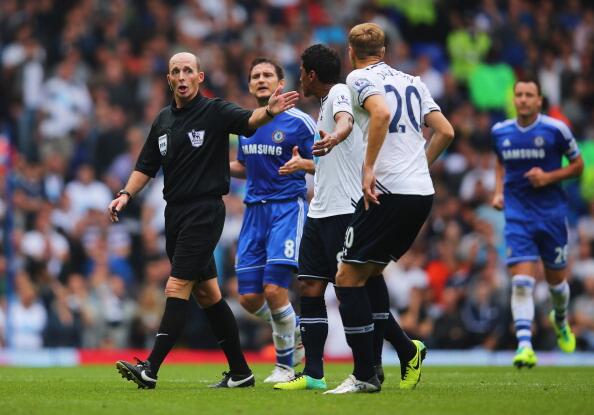 Referee Mike Dean kept a firm grip on the game (Courtesy: TheSpursWeb)
Tottenham's first substitution of the game came around the hour mark, with Andros Towsend going off for Chadli.
After a strong Chelsea bid for the equalizer, it finally came. Juan Mata stepped up to take a free-kick after Jan Vertonghen fouled Ramires. It was whipped in towards John Terry who got the glancing header to equalize. Mata proves that he should start, getting the assist.
Belgian replaced Belgian as Schurrle replaced Hazard, and Spurs' Eriksen capped of a good performance when Holtby came as his repl
acement.
33 - Excluding penalties, John Terry has scored eight goals more than any other defender in PL history (Gallas 25). Leader.


— OptaJoe (@OptaJoe) September 28, 2013
One of Torres' and Vertonghen's
numerous encounters (via ACTION IMAGES)
It developed into a very tense encounter, and the yellow cards continued to pile up, as Dawson, then Dembele got booked. Frustration, fouls, desperation maybe, this was a tense, tense situation.
Schurrle came close to scoring his first goal for Chelsea when he was one-on-one with Lloris, but the French keeper made a cracking save to keep things all even.
The clashes continued, and once again Vertonghen and Torres were at the cornerstone of Mike Dean's thoughts. It what looked like a collision mid-air, Mike Dean delivered a harsh second booking to Fernando Torres, and the Spaniard was sent off. Complexion, changed, drastically. Very harsh sending off, Mike Dean should not have sent him off.
With the game quickly ticking down, White Hart Lane was abuzz in possible anticipation of a late winner. Chelsea's ten men bombarded the box in order to defend and keep the hosts at bay. Sigurdsson had a try from far put, but it dipped and went wide. Good strike, but simply not good enough for the winner
.
Spurs continued to put pressure on Chelsea, but as the four minutes of stoppage time were announced, a possible winner loomed.
But, that winner did not come. Chances came and came, but the drama ended with the full-time whistle. Mourinho and AVB shared words as the game closed, but a superb game it was.
STATS
Updating...
THE BREAKDOWN
ERIKSEN 'FILLING BALE VOID'?
Christian Eriksen had a great first half, orchestrating the goal and setting up many chances. Promising for the Spurs, and as many believe, he could be filling the void left from Gareth Bale's departure.
SIGGURDSON ON STRIKE
Siggurdson's goal was the difference that gave Spurs the lead in the first-half. He continues his top goal-scoring form.
FIRST HALF ROUND-UP
Lively game. Vibrant atmosphere at White Hart Lane. Even Stevens to begin the game, but Tottenham's goal gave them the edge going up to the half-hour mark. Chelsea were looking the worse-for-ware after the goal but they picked up to end. Small talking point about the goal chance actually happening, but Tottenham went in with the lead, possibly could have been more with Paulinho's two close chances. Eriksen the best performer of the first half.
JUAN MATA SHOULD BE A STARTER
Jose Mourinho may have seen what he has been looking for, and that is Mata's quality. Mata should start now, he has proven so.
1 - Juan Mata records his first Premier League assist of the season after registering 25 over the past two seasons. Playmaker.
— OptaJoe (@OptaJoe) September 28, 2013
TORRES' EUPHORIA TO DISMAY
Fernando Torres was on flying form as he started the second half. But numerous confrontations with Vertonghen resulted in a sending off. He was looking a contender for Man of the Match, but that may no longer be the case.
FUN AND FIERY
A fun game to watch, but a fiery one with the players.
MAN OF THE MATCH
Updating...
TALKING POINTS
The things in the game that we can talk about, but the things we let YOU talk about. Tweet us using the hashtag #TSMChat to interact with us, or sound-off in the comments section below!
What do you think the first-half scoreline should have been?
Had Fernando Torres been sanctioned for the sarcastic clap, the chance that lead to the opener may not have came into fruition. However, Paulinho came close with two chances in the half, one with Ivanovic's superb tackle, and when he hit the woodwork in the latter stages.
Should Juan Mata have started for the visitors?
Once again, Jose Mourinho left Juan Mata out of the starting 11. Although he did come on in the second half, should he have been started?
Should Fernando Torres have been sent off?
Torres was sent off with just fifteen minutes remaining. Mike Dean gave him a red card for a seemingly accidental collision with Vertonghen. That foul should not have been booked, right? Or, was it a booking combined with his actions previously during the match?
THE FINAL SAY
What an entertaining game. Drama, suspense, goals, controversy, managers... it had it all. Tottenham started off strong, but Chelsea really picked up throughout the midst of the game. The drawing moment - so to speak - was the sending off. But from the neutral perspective a fair game, at least no one wins in controversy. Really good stuff.
Managers Andres Villas Boas and Jose Mourinho may meet again later in the season, and many will be looking forward to watching the teams lock horns again following a thrilling encounter.
Both teams rightfully take the point each from the game.
Both teams take one point each from a dramatic encounter at White Hart Lane. Sigurddson and Terry get on the scoresheets, as their goals tell little to the tale of what was an excellent game of football.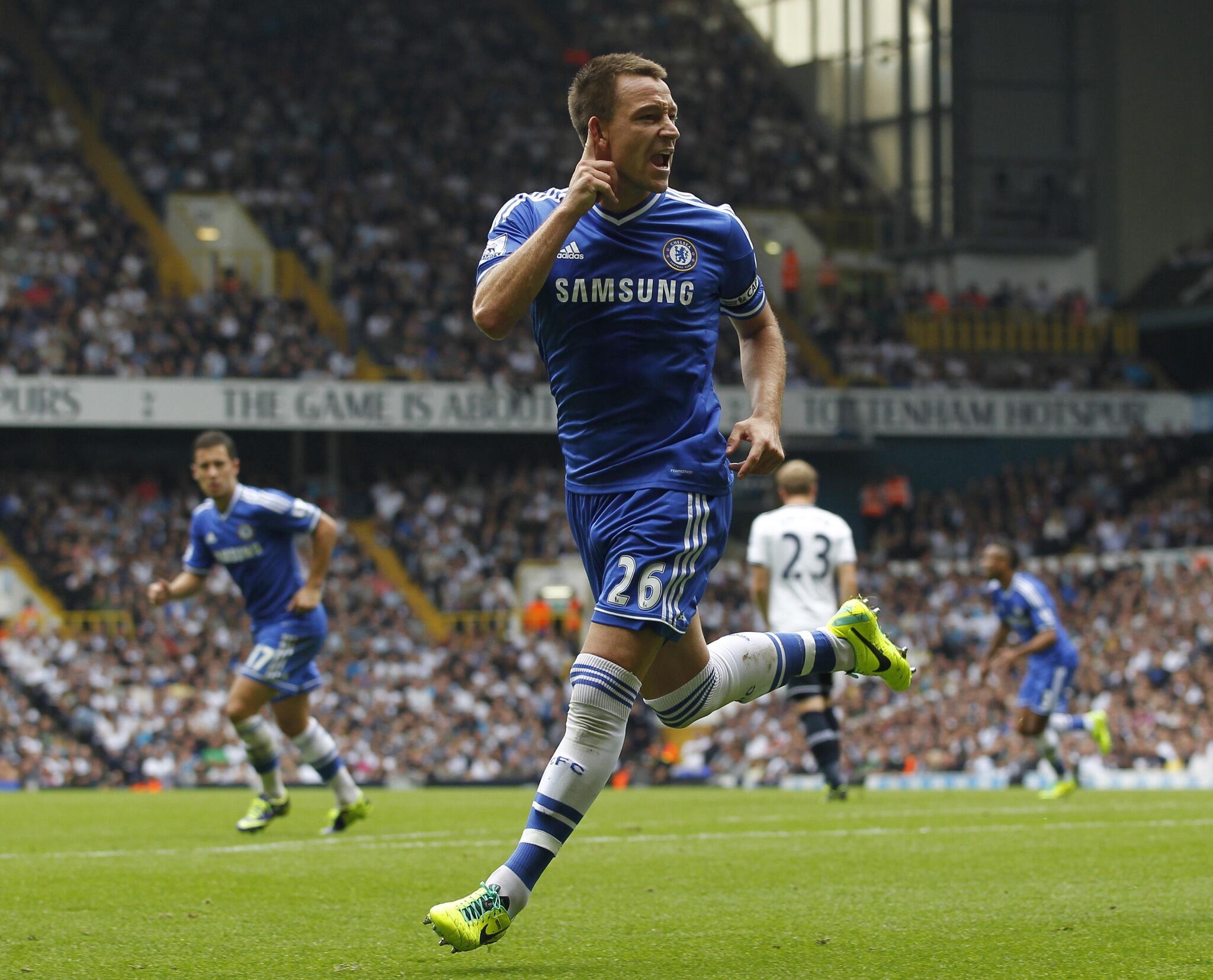 John Terry's equalizer was the settling point (Courtesy: GETTY)
By
Nisar Khan
TheSportMatrix.com
- Sports for the Fans, by the Fans.
Connect With Us!