Manchester United defeated Wigan 2 - 0 to win the Community Shield following two goals by star marksman Robin van Persie.
Robin van Persie opened the scoring six minutes into the game with a wonderful header off the cross from Evra. A neatly played goal down the right by Manchester United ended in a well-executed header that had Scott Carson completely beaten.

Rafael picked up an injury and limped off the pitch after 16 minutes and was substituted for Chris Smalling. It appeared that Rafael suffered an injury to his ankle.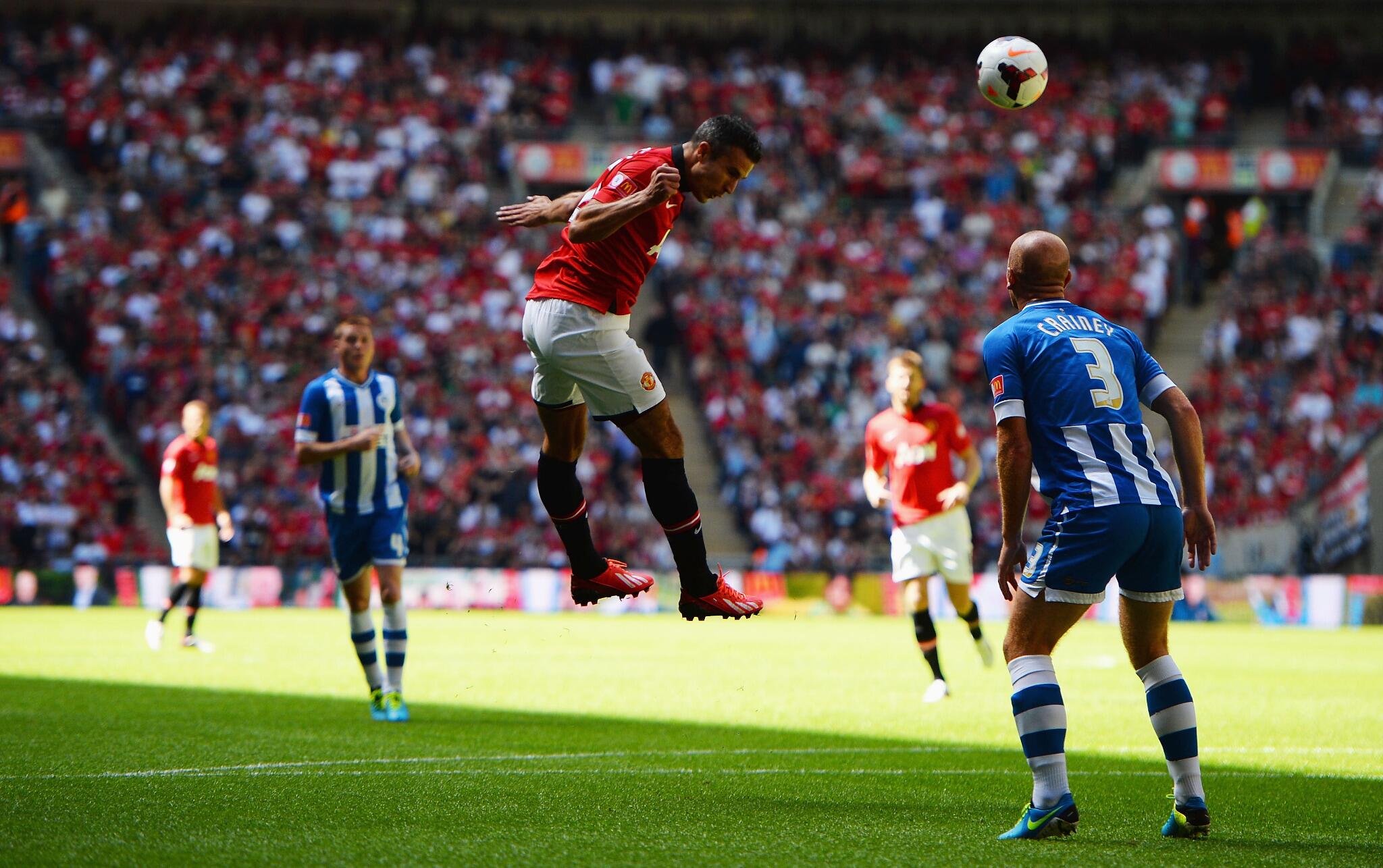 Image: PremierLeague.com
Manchester United finished the first half with a 1 - 0 lead, an impressive performance but they went slightly quiet as the first half drew to a close. Wigan were not vastly damaged in the first 45 minutes and made some ground by putting Manchester United under pressure as the first half ended.
PHOTO OF THE HALF: Two buzz topic players Rafael - now injured - and goalscorer Robin van Persie embrace. #MUFC #WAFC pic.twitter.com/Wtv6hlWlks
— TheSportMatrix (@TheSportMatrix) August 11, 2013
Robin van Persie's second goal came in the 59th minute, when his shot received a major deflection off Perch. A great buildup to the goal with United's speed across the box but van Persie's shot initially would not have caused a great deal of problems for Carson. Obviously, the deflection did.
In the first half, Wigan picked up some pressure and took it to Manchester United. With the same mentality for the next half, it all seemed to crumble with van Persie's goal.
Not much occurred in the final 4 minutes of stoppage time other than chances lacking significance, and the inevitability of Manchester United's win increasing.
Manchester United win the Community Shield for the 20th time, now equivalent to the amount of their Premier League wins.
Speaking to ITV after the game, Robin Van Persie said "Last year I did not score too many headers, so I have to improve on that" and he has done exactly that. He also discussed Manchester United's title chances saying "I cannot explain us being third favourites for the title. We will compete again."
Although far from the most exciting of games there is no doubt that Manchester United are off to a great start. While they may have looked like they were holding back some.
For Wigan, the story remains of inconsistency. The only good spells at the end of the first half and some at the start of the second. Owen Coyle seemed to grow desperate towards the end and will leave disappointed.
Both teams have a lot to improve on, while Moyes may be joyed with the win he can still work on a lot following this game.