KICK-OFF: Sunday 18 August at 4:00pm.
(GAMEWEEK 1)
at Stamford Bridge, Fulham, London.
By Nisar Khan
Jose Mourinho's return to Stamford Bridge was marked with an emphatic 2 - 0 victory over Hull City that included an incredible free-kick by Frank Lampard.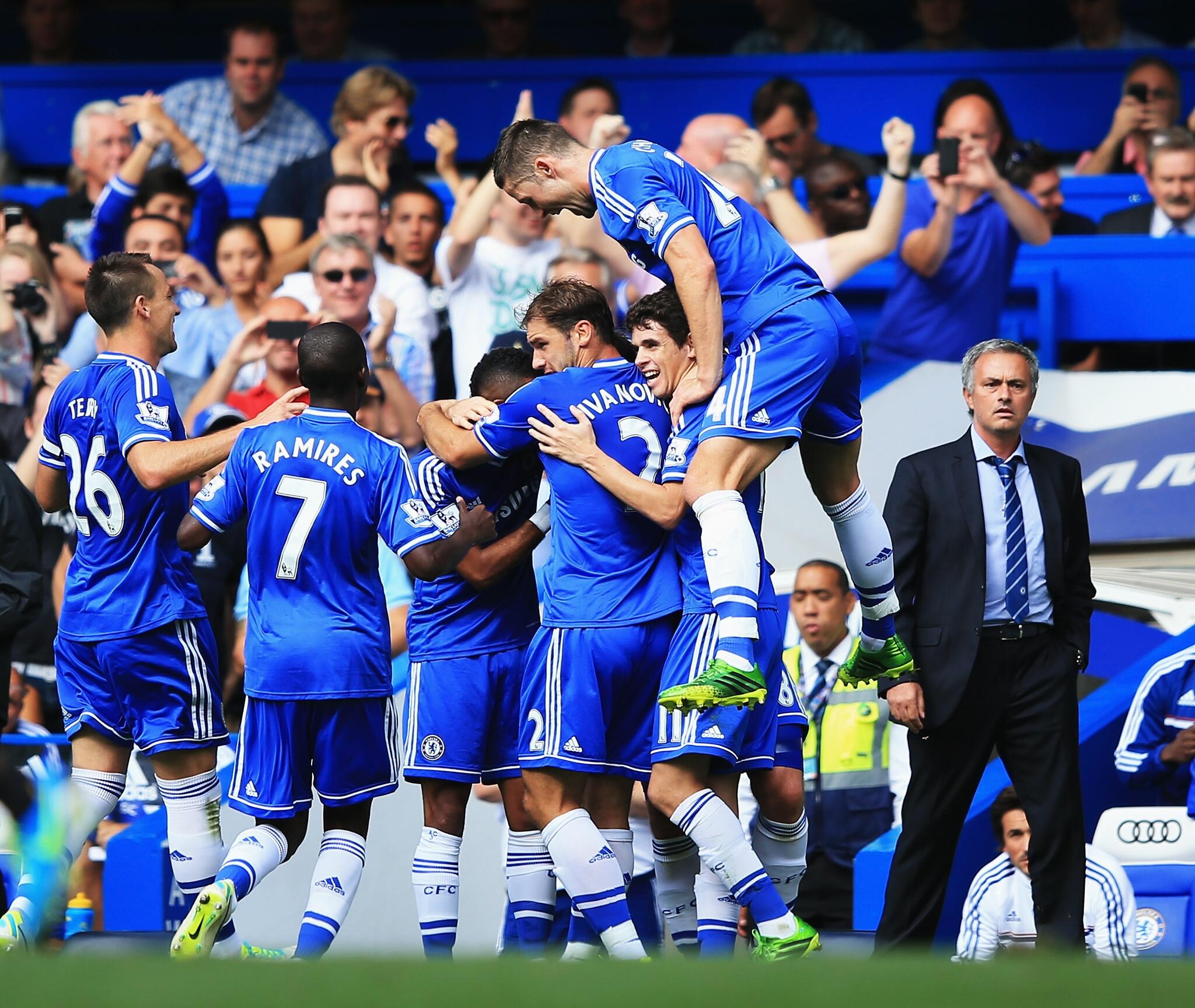 Chelsea celebrate their second goal (via PremierLeague.com)
Jose Mourinho received a standing ovation when he entered the ground at Stamford Bridge. The Special One spoke to Sky Sports before the match and said he had been waiting for this game since the start of the pre-season.
After a few minutes of introductory play, sort of the feeling-out process, things drastically picked up. Fernando Torres was fouled by goalkeeper Allan McGregor on his Hull City debut. However, he would quickly redeem himself as he saved Lampard's penalty in the bottom left corner. It was not the best of penalties and the save from McGregor kept Hull City in it... for the time being.
More chances followed but Hull managed to keep them out, but it would only last till the 13th minute until Brazillian youngster Oscar got Chelsea off the mark.
A well-timed run by Oscar off a pass from Kevin De Bruyne allowed him to slot it past the keeper. In all honesty, it was imminent that Chelsea would score as they were all over Hull City's defence. Chelsea were looking on another level.
GIF: OSCAR'S GOAL:
(GIF via 101GreatGoals)
Another Frank Lampard goal attempt was thwarted by the keeper, after Hazard set him up for a shot at goal, he was emphatically denied. Jose Mourinho was guilty of the premature celebration.
Kevin De Bruyne was off to an excellent start too, as Mourinho's young man and his veterans in the defense were on top form.
Hull City were continuously being diffused and their defence were all over the place - if Sky Sports' cameras were awful, then you wouldn't think that you're seeing a football team, but the particles of a gas!
And, the domination continued, until Frank Lampard found himself taking a free-kick from a promising range. Lampard stepped up and scored an INCREDIBLE free-kick!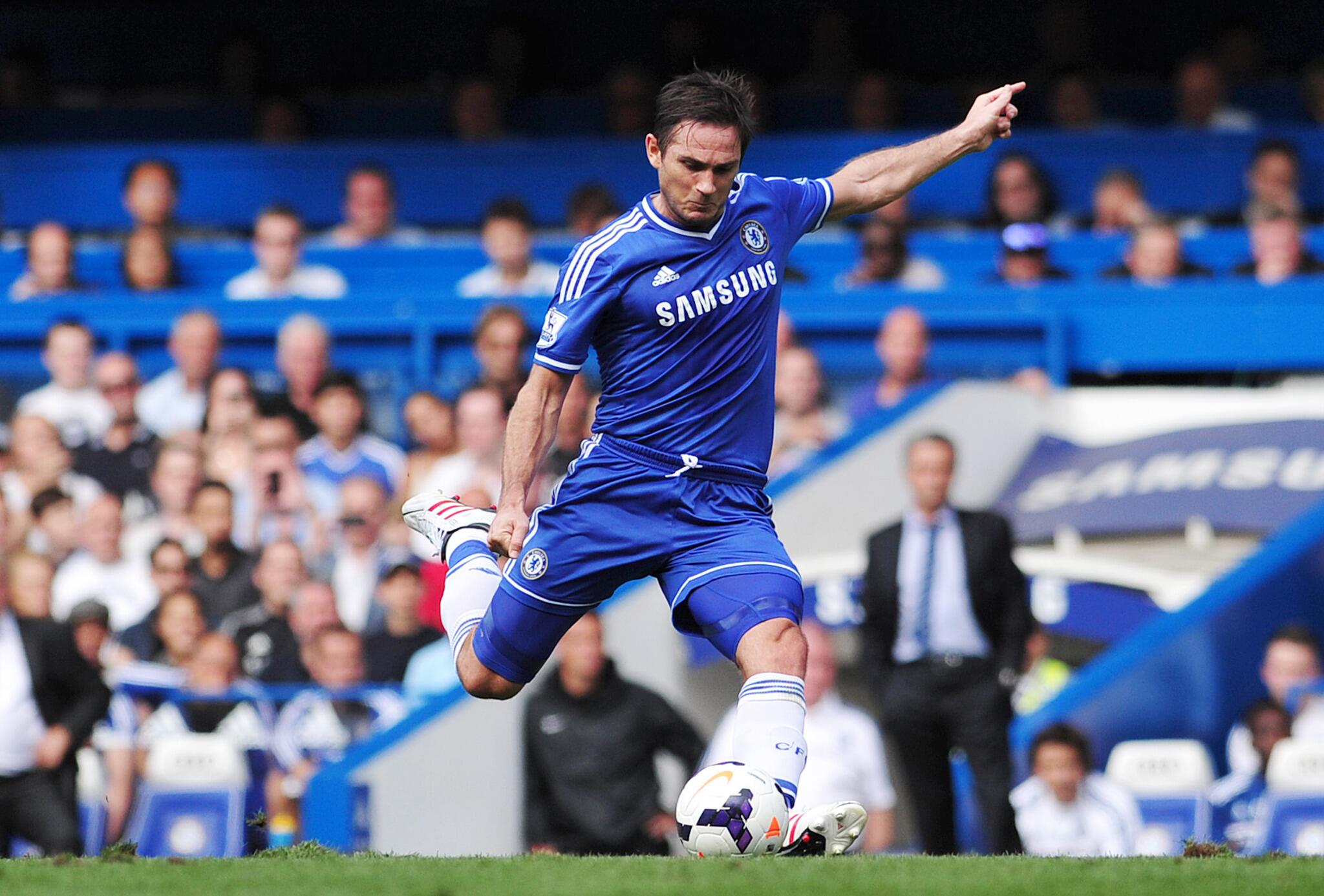 Lampard takes the free kick (via PremierLeague.com)
Maybe the keeper should have saved it, but there is no denying that Lampard is a World-class free-kick taker. Amazing goal that gave Chelsea a 2 - 0 lead, and they looked like they were in for much more.
Hull City were able to get some breathing time with the pace slowing down and the pressure being lifted off by Chelsea, although the chances still continued.
The game generally abided to a flow for the remainder of the first half, with Chelsea pressing for chances slower than in earlier, but they continued to persist.
Another great save was pulled out by McGregor, saving it right on the line from the corner and goalline technology also proved it did not cross the line.
Dominant performance by Chelsea throughout the first half. They got their chances flowing fast and Lampard's goal was superb. Hull City did not get much going and needed drastic changes for any success in the second half.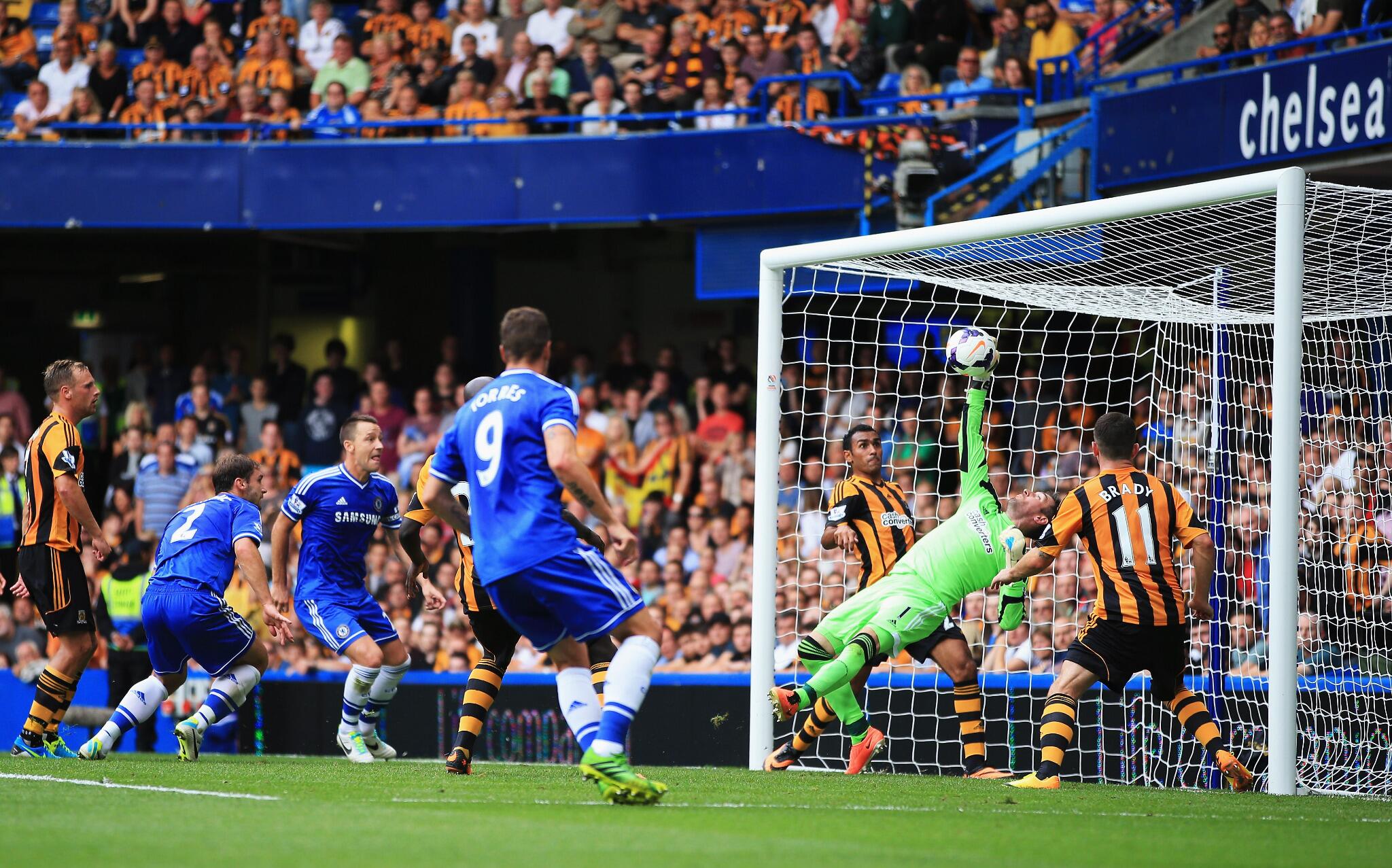 McGregor denies the header. (via PremierLeague.com)
The second half was much less eventful than the first, lack of action in the first 20 minutes, Chelsea's chances continued but the clock continued to count down, as Chelsea further enforced their dominance.
Fernando Torres was more involved in the second half with linking up the play, although he did not pose much of a threat in front of goal. Torres was substituted after 75 minutes for Lukaku.
Petr Cech denied Ahmed Elmohamady in the Tigers' best chance, into the final 10 minutes it was even, Hull were trying harder but Chelsea continued to defend.
Chelsea ultimately cruised to the win, although Livermore and Huddlestone improved the midfielding, but Chelsea sustained a clean sheet, and Mourinho is back at Stamford Bridge, and Chelsea pick up 3 points.
THE BREAKDOWN:
FACTORS DON'T UNDERMINE THE STRIKE
Luck and controversy may seem to be clouding the quality of Lampard's free kick. Having watched the foul on Torres that ultimately lead to the free-kick, some doubts have risen as to whether the free kick should have been awarded or not. Plus, many have been saying that McGregor should have saved it. But those factors take NOTHING away from the quality of the strike. Frank Lampard is just on another level in that respect.
BELGIAN OPTIMISM

Kevin De Bruyne had a great game, the future seems bright for him, and it does for the drastically emerging Belgian players. This could be the new nation for footballing future.
BETTER FOR TORRES
While Torres may have not looked like a huge threat with regards to goalscoring, he played decent and Mourinho could be content with his performance. He did however go down for the penalty and free-kick, so he had some indirect goal involvement in essence.
GAME OF TWO HALVES
The first half was totally dominated by Chelsea, scoring both their goals and not giving Hull City any legitimate chances for a goal. However in the second half it was much more even although Chelsea had the more chances.
CLOSEST CHANCE... TOO LATE
Ahmed Elmohamady's header was the closest that Hull City got to a goal, but it was far too late just after 70 minutes with Chelsea looking strong.
STATS:
THE FINAL SAY:
Chelsea run rampant in the first half to secure a firm lead, allowing Hull City hardly any thing to work ahead for a goal. A much more even second half however sees Hull City get more chances, but Chelsea keep the clean sheet. Hull City were not good enough to contend with Mourinho's side and there is a lot of optimism for the Blues with their young players. Hull City had a hard first game, but we will see how they do in their future fixtures.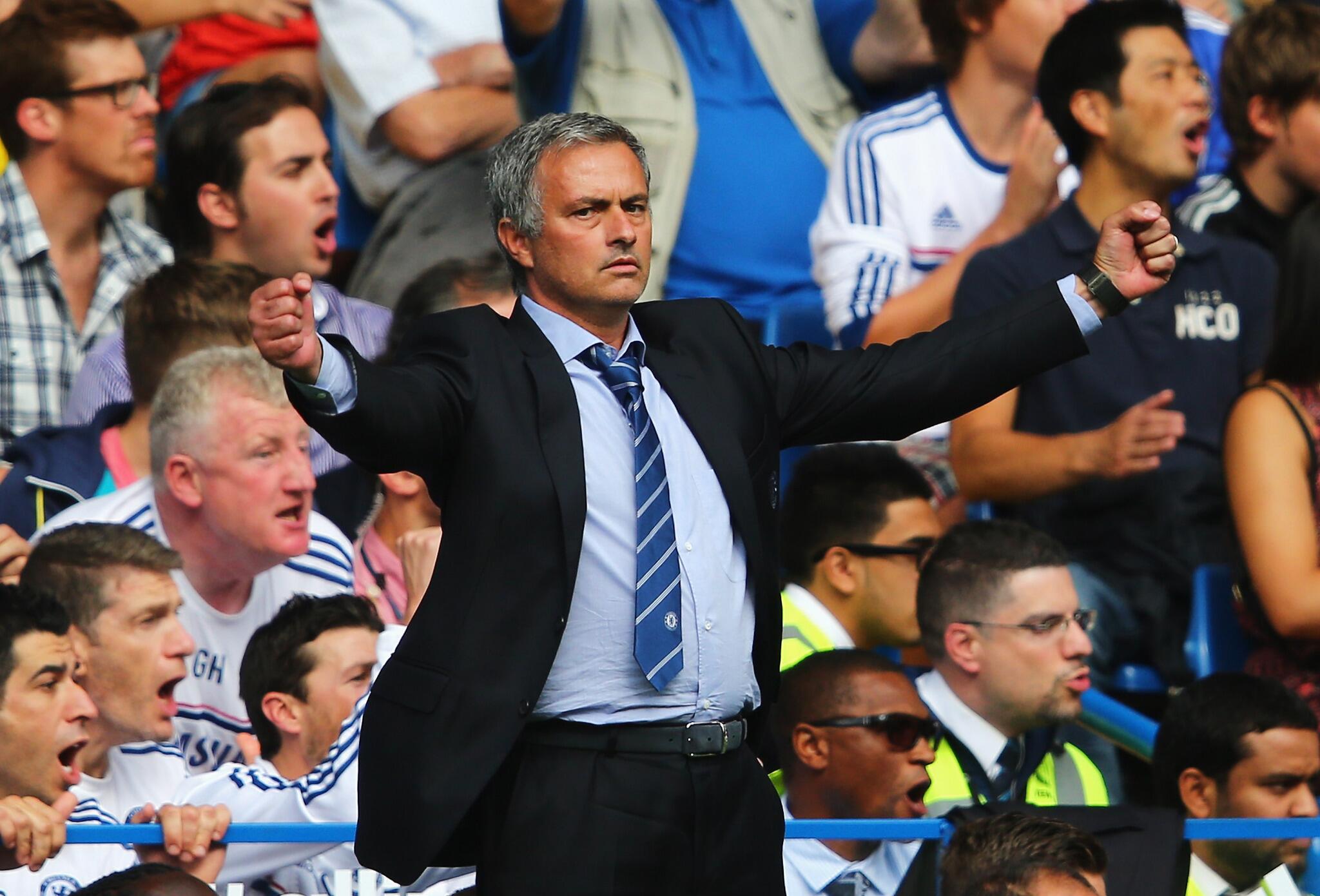 Mourinho celebrates the goal (via PremierLeague.com)
Mourinho's return to the Premier League is marked with a dominant win over the Hull City Tigers. The Special One has returned to Stamford Bridge, and he is back on winning ways. The Mourinho Era is back for the Blues.
By Nisar Khan
TheSportMatrix.com
- Sports for the Fans, by the Fans.
Connect With Us!